Artists
Niki de Saint Phalle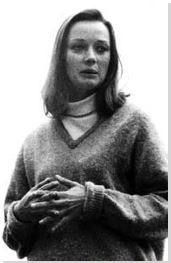 Born: October 29, 1930 - Neuilly-sur-Seine, Hauts-de-Seine, France
Died: May 21, 2002 - La Jolla, California, USA

"I'm following a course that was chosen for me, following a pressing need to show that a woman can work on a monumental scale."
Summary of Niki de Saint Phalle
Niki de Saint Phalle paired bold, jubilant, and cartoonish feminine forms with dark and disturbing material in her multifaceted artistic career. Throughout, she continually disrupted long-held conventions in art, and her iconoclastic approach to her identity and society at large made her an early and important voice to both the Feminist movement and the development of early Conceptual Art. Unlike many of her contemporaries who prioritized the idea behind the work of art rather than the aesthetic demonstration of the idea, Saint Phalle's pieces were highly expressive, visually bold, and often playful - a style that celebrated aesthetics instead of interrogating its structures and conventions. She realized some of the most ambitious, immersive sculptural environments of the 20th century, and also made intensely personal, inward-looking work that reflected on her inner life and relationships. Saint Phalle's broad influence is marked by the variety of contemporary cultural identities and communities that now 'claim' her as their own, including feminist, queer, and racial empowerment movements.
Key Ideas
Saint Phalle's unique brand of feminist art expressed both angst and jouissance in full and equal measure, and explored the complex and confounding ways in which culture and biology co-construct the female experience.
Her groundbreaking Nanas works, the most prolific series in her career, linked the social issues of the universal empowerment of women with the politics of the Black Rights movement in the United States.
Her vibrant, rotund, colorful female figures contrasted heavily with the stark, monumental, and often masculine styles of her contemporaries, including the work of other feminist architects such as
Louise Bourgeois
and
Louise Nevelson
.
Her art practice was intensely dialogic and collaborative in a time when the brand of the individual artist 'genius' was most heavily promoted in the art world. Her
Tirs
(Shooting) painting incorporated the participation of the public, as well as some of the 20
th
century's most influential artists, including
Jasper Johns
and
Robert Rauschenberg
.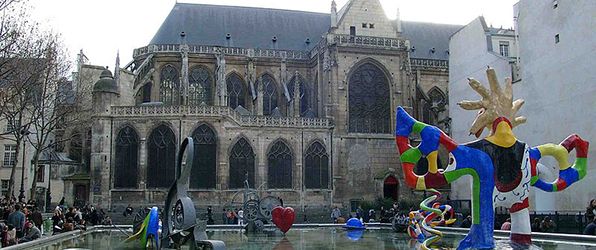 After years of creating innovative art de Saint Phalle came upon a signature visual language that can now be found in various location in the world. For example, her work (created along with her partner Jean Tinguely) enlivens The Stravinsky Fountain in Paris, which is located just to the side of the Center Pompidou.
Important Art by Niki de Saint Phalle

The below artworks are the most important by Niki de Saint Phalle - that both overview the major creative periods, and highlight the greatest achievements by the artist.


Artwork Images

Tirs (Shooting) Picture (1961)

Artwork description & Analysis: In 1961, Niki de Saint Phalle held an exhibition at Galerie J entitled "Fire at Will." On show were several of her Tirs or Shooting Paintings (Tir is the French word for "shooting" or "to fire"), including this one. They were made by fixing polythene bags of paint to a board, and covering them with a thick plaster surface. Viewers were then invited to shoot a rifle at the surface, popping the bags and causing the paint to run down the textured white surface. This particular work was shot at by a number of notable artists, including Jasper Johns and Robert Rauschenberg.

The process of creating the artwork became a live performative event done in the public eye and with the public's participation, challenging traditional perceptions of the artist as a solitary, hermetic figure. Shooting Paintings involve the viewer directly and physically in the creation of work, and leave the resulting image to chance. Critic Craig Staff interprets the aggressive nature of these shooting pictures as representing the death of traditional painting as a medium. He claims "it is difficult not to interpret Saint Phalle's Shooting Paintings iconoclastically and within a set of terms that unequivocally sought to negate, if not entirely bring down, the medium." While the aspect of group authorship and the combative action of shooting at the physical canvas suggested, in Staff's view, a totally antagonistic relationship to painting, the Tirs pieces were not so precisely oppositional. They still retained many of the essentials of painting: a canvas as a blank ground, and paint constituting the form that populates the ground.

The element of spectacle, particularly the arresting image of an attractive young girl wielding a gun as part of her art, was a crucial aspect of these performance-paintings. The Tirs events drew personalities such as Jane Fonda, whose image as a young and beautiful political dissident of the state was also a media spectacle in the 1960s. "In certain respects," writes critic Ariel Levy, "Saint Phalle's career was as much like Fonda's as it was like Rauschenberg's, built at the juncture of art, personal charisma, and political gesture." After a couple of years, Saint Phalle stopped making these works, claiming she had become "addicted to shooting, like one becomes addicted to a drug."

Plaster, paint, string, polythene and wire on wood - Tate, London


Artwork Images

Crucifixion (1963)

Artwork description & Analysis: This abstracted female figure is made from found objects and fixed on the flat surface of a wall. It resembles, but does not completely conform, to the method of sculptural assemblage, a combination of sculpture and collage that brings in a third dimension by adding elements that protrude or project out of a planar, two-dimensional surface. This work responds to the genre-blending of mid-century abstraction, and is definitive of Saint Phalle early feminist works. The figure is strangely proportioned, with a physical emphasis on the center of her body: her breasts, groin and hips are strongly exaggerated. The piece expresses Saint Phalle's attitude towards the female condition, which she saw as a highly ambiguous and contentious state.

The figure stitches together suggestions and formal elements of the constructed, biological-cultural stages of womanhood: youthful and sexualized, maternal and abundant, elderly and confined. The figure also has no arms, indicating a lack of female agency and disempowerment within a society that strongly delineates women's roles in accordance with diminishing reproductive capacity.

In addition, the woman is presented in cruciform, a symbol of suffering and martyrdom that also implicates the church and its androcentric view of the world. As Eunice Lipton puts it, "this aristocratic Catholic woman who'd been brought up in a strict household attacked the church with sculptures [...]. In perfectly calibrated formal choices, de Saint Phalle disfigured long-held articles of faith - high art, the family, the church." This sculpture marks an important moment in Saint Phalle's career, as it prefigures later famous Nana works.

Found objects and polyester paint - Centre Pompidou, Paris


Artwork Images

Black Venus (1965-67)

Artwork description & Analysis: This large-scale sculpture presents a highly non-traditional view of the goddess figure. Saint Phalle's Venus doesn't conform to the stereotypes of female beauty established by Western classical art, nor does it necessarily recall sculptural goddess forms of the ancient Eastern world and/or the Southern hemisphere. Instead, this figure is large-limbed, actively in motion, black-skinned, and adorned in a colorful, cartoonish bathing costume. Black Venus is one of several black Nanas (French slang term for woman; like chick or broad) Saint Phalle made during this period, as a statement of solidarity with the civil rights movement. The black Nanas were among the first in the series, and exhibited at the Alexander Iolas Gallery in Paris in September 1965.

As Elaine Hedges argues, "Saint Phalle is aware that most western myths handed down through time present few female models with whom women of today - particularly women of ethnic and racial minority groups - can identify, or even wish to identify. Portraying the goddess of love and beauty as strong, active and black, rather than mild, passive and white, Saint Phalle affirms the being and beauty of the black woman." Saint Phalle's voluptuous figure celebrates a new black goddess archetype, concurrent with a political culture of radical black love emergent in the mid-1960s that was also widely - if problematically - embraced by many progressive whites. "I saw a fat woman on the beach today and she reminded me of a great pagan goddess," Saint Phalle wrote of this work. "Black is different. I have made many black figures in my work. Black Venus, Black Madonna, Black Men, Black Nanas. It has always been an important color for me .. Black is also me now." She also made a series of white Nanas (along with an array of many other colors), reinforcing the concept that all women of all colors possessed, and were expressive of, universal goddess-like qualities.

Painted polyester - Whitney Museum, New York
More Niki de Saint Phalle Artwork and Analysis:
Influences and Connections
Influences on Artist
Artists, Friends, Movements
Influenced by Artist
Artists, Friends, Movements

Interactive chart with Niki de Saint Phalle's main influences, and the people and ideas that the artist influenced in turn.
View Influences Chart

| | | | | |
| --- | --- | --- | --- | --- |
| Artists | | Personal Contacts | | Movements |

Influences on Artist

Niki de Saint Phalle
Years Worked: 1955 - 2002
Influenced by Artist

| | | | | |
| --- | --- | --- | --- | --- |
| Artists | | Personal Contacts | | Movements |
If you see an error or typo, please:
tell us
Cite this page

Content compiled and written by Anna Souter
Edited and revised, with Synopsis and Key Ideas added by Brynn Hatton
" Artist Overview and Analysis". [Internet]. . TheArtStory.org
Content compiled and written by Anna Souter
Edited and revised, with Synopsis and Key Ideas added by Brynn Hatton
Available from:
First published on 19 Nov 2016. Updated and modified regularly.


[Accessed ]