Artists
Jean Tinguely
Born: May 22, 1925 - Fribourg, Switzerland
Died: August 30, 1991 - Bern, Switzerland

"Currently, my machines are black and sometimes gentle, if not sexy or exuding a contained violence; I finally found the technical means for accomplishing this."

Summary of Jean Tinguely
Jean Tinguely first began creating assemblages composed of found-objects, but soon thereafter, intrigued by the current debate regarding the effect of mechanization and industrial innovation on modern society, he completely altered these static works by putting them into motion. Tinguely was intrigued by the effect of these moving constructions on the spectator and devoted the rest of his career to its exploration. The resultant oeuvre, on both a small and large scale, in works that generated corollary works of art and those that self-destructed, instigated spectator reaction and forever challenged the concept of a static experience of viewing art.
Key Ideas
Tinguely updated the
Dada
practice of creating sculptural assemblage composed of found-objects, most often scrap metal that might easily have been considered junk, by actually mechanizing them. The revolutionary step of putting a work of art into motion would become known as
Kinetic Art
.
Also following the lead of Dada artists, who used various means to make fun of society, Tinguely's mechanized creations were intended to mock the "improvements" of the industrial revolution and modern reliance on technology.
Tinguely challenged the assumption of the artist's monopoly on creation with his metamatics, mechanized assemblages fitted with a drawing stylus chosen by any given spectator. The works of art that resulted were given significance on their own, separate to that of the original construction.
The self-destructing assemblages took the concepts explored in his earlier mechanized sculptures to a new level. Providing an actual spectacle for the viewers, a one-off experience with a defined beginning and end intended not only to be seen but in addition, to evoke their reaction, these assemblages illustrate Tinguely branching out into more interactive art whose effect simulates a performance.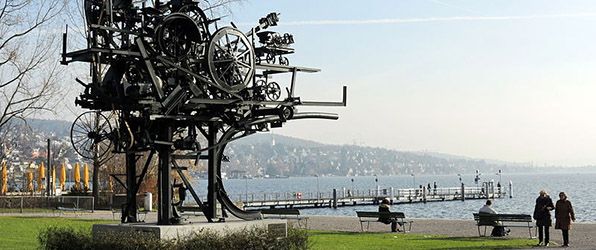 Heureka sculpture on the shores of Lake Zurich by Jean Tinguely in Switzerland
Declaring, "The only stable thing is movement," Jean Tinguely pioneered Kinetic Art. He was also a leader of many other artistic directions in his powerfully prolific, creative life.
Important Art by Jean Tinguely

The below artworks are the most important by Jean Tinguely - that both overview the major creative periods, and highlight the greatest achievements by the artist.


Artwork Images

Metamechanical Sculpture with Tripod (1954)

Artwork description & Analysis: Tinguely used the term "Metamechanics" to describe how he set his assemblage sculptures into motion with some form of motor or system of mechanics. The artist's development of this field, otherwise known as Kinetic art, is exemplified by Metamechanical Sculpture with Tripod. In this early example the artist assembles simple, found objects of the type elevated to artistic status by the Dada artists by whom he was influenced earlier. Wire wheels, to which are connected organically-shaped flat cardboard pieces, painted white on one side and black on the other, are strategically intertwined with stick-straight elements in an interlocking system. The assemblage is balanced above an iron tripod, whose legs echo the linearity of the straight elements assembled above, and the whole fragile assemblage is set into motion. The piece stands nearly 7 feet tall, making its effect quite impressive.

The idea to put assemblages such as this into movement was significant as it evoked an interactive relationship between the spectator and the object. No longer looking at a static collection from a fixed point but instead, moving around in order to get a better look at which parts of the construction were moving, the spectator's experience was actually integrated into the overall effect of the work itself.

Interestingly enough, although the work seems to laud the overall effect of mechanization, by expanding its effect on the spectator, there is some suggestion that instead, it exhibits Dada skepticism regarding the potential of technology to improve human life. By taking on human aspects, simulating limbs that move, for example, the mechanized assemblage itself challenges the concept that machines are necessarily superior to human beings, questioning whether mechanization is actually progress.

Steel, plastic, cardboard, mechanical motor - Tate Collection


Artwork Images

Metamatic, no. 17 (1959)

Artwork description & Analysis: Metamatic, no. 17 was created especially for the 1959 Paris Biennale. It is a sculptural work composed of a number of differently-shaped found objects, primarily black metal wires, wheels, belts, cogs and crank-shafts - all driven by a small engine. When mechanized, the elements - irregular in nature - rotate in different directions and at varying speeds; their movement is bumpy and jagged.

This work is an excellent example of Tinguely's Kinetic artwork and pushes even further his interest in involving the spectator. The viewer is invited to choose a drawing tool (color, charcoal, or pencil) and place it in the special holder mounted on the assemblage. Paper can be seen cascading down the side of the structure, suspended from above an elevated section of the work. When put into motion, the turning wheels would activate the chosen drawing tool, moving it along a piece of paper. The result would be a work of art in itself. The artwork created was of a necessarily unforeseen nature, differing each and every time, and directly affected by the random movement of the asymmetrical mechanical device.

Tinguely's Metamatic, no. 17 altered the already challenging nature of his earlier metamechanical works by introducing a product directly affected by the spectator. No longer just watching a process, the viewer, by choosing an artistic instrument, plays a role in the creation of an entirely new work of art. In effect, the artist's work challenged the centuries-old tradition of artistic creation: taking part of the art-making out of the hands of the artist and placing it in those of the spectator. Beyond blurring the line of the role of the artist/viewer, here we see the beginnings of interactive art, a practice that is now highlighted by dozens of artists and takes center stage at many museums.

- De Lairesse, Amsterdam


Artwork Images

Homage to New York (1960)

Artwork description & Analysis: On March 18, 1960, Tinguely unveiled what would later be considered his most famous work in the sculpture garden of the Museum of Modern Art in New York. A number of artists and engineers collaborated on the project, including Robert Rauschenberg. The massive sculpture stood twenty-seven feet tall, was twenty-three feet wide, and was painted primarily white. Built out of various pieces of metal, bicycle parts, self-operating motors, a go-cart, a bathtub, a piano, all jutting out into space at odd angles and creating an absolute tangle of abstract forms. The original idea was to set the mechanized elements into motion, allow the audience to watch and figure out its changing path of movement, and then set off an explosion that would destroy it. The work was to be a masterpiece of self-destructing Kinetic art. However, 27 minutes into the premiere, one of the processes within the moving parts misfired and sparked a flame that engulfed the entire machine in a blazing fire. The spectacle to which this esteemed audience (including the Governor of New York) was subjected became as much a part of the artistic experience as the original work itself.

The launch of this intricate, self-destructing sculpture changed the nature of Tinguely's art. Although he had already harnessed active viewer interaction in his Metamatics, this work's significance was to be even further enhanced by the experience of being present as it self-destructed. In total, the work was to assume an alternative symbolism, suggesting, for example the organic nature of New York City - known for both destruction and reconstruction, exhaustion and renewal.

A "fragment" of the original sculpture exists in the permanent collection of the MOMA.

Found objects, motorized elements - Museum of Modern Art
More Jean Tinguely Artwork and Analysis:
Influences and Connections
Influences on Artist
Artists, Friends, Movements
Influenced by Artist
Artists, Friends, Movements

Interactive chart with Jean Tinguely's main influences, and the people and ideas that the artist influenced in turn.
View Influences Chart


Influences on Artist

Jean Tinguely
Years Worked: 1947 - 1991
Influenced by Artist

| | | | | |
| --- | --- | --- | --- | --- |
| Artists | | Personal Contacts | | Movements |
If you see an error or typo, please:
tell us
Cite this page

Content compiled and written by The Art Story Contributors
Edited and revised, with Synopsis and Key Ideas added by Caroline Igra
" Artist Overview and Analysis". [Internet]. . TheArtStory.org
Content compiled and written by The Art Story Contributors
Edited and revised, with Synopsis and Key Ideas added by Caroline Igra
Available from:
First published on 22 Jun 2016. Updated and modified regularly.


[Accessed ]