Artists
Corita Kent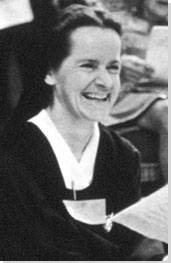 Corita Kent
American Printmaker and Pop Artist
Movement: Pop Art
Born: November 20, 1918 - Fort Dodge, Iowa
Died: September 18, 1986 - Boston, Massachusetts

"Words have life and must be cared for. If they are stolen for ugly uses or careless slang or false promotion work, they need to be brought back to their original meaning - back to their roots."
Summary of Corita Kent
Corita Kent, a nun for over three decades, created bold and colorful silkscreen prints that championed social justice causes. Kent took seriously the Catholic ideas of finding the holy in one's everyday life and so turned to popular images and song lyrics as well as commodity labels and lettering. Kent combined these with biblical verses and her own handwriting to create compositions that spoke to the weighty themes of poverty, racism, and war. Kent merged a Pop Art aesthetic, inspired by Andy Warhol, with spiritual and compassionate thinking in order that her art be accessible to the largest public possible. Through her work and her decades of teaching avant-garde art Kent inspired and showed new directions for numerous artists and activists.
Key Ideas
Working almost exclusively in silkscreen printing, or serigraphy, Kent not only emulated Pop Art methods, but she was also adamant that this medium, which created multiple prints of the same image, was more accessible and affordable for more people. This democratic notion of art making and art buying went hand-in-hand with her social justice activism.
Unlike much Pop Art, which glorified and criticized the new American commodity culture, Kent used the everyday - a loaf of bread or a can of tomatoes - to imbue it with a sense of spirituality and religiosity. Additionally, her inclusion of texts written in her own handwriting added a sense of the personal that most Pop Art lacked.
Steeped in the liberal tradition of Catholicism that promoted social justice, Kent, even after she left the convent, combined the radicality of artistic avant-garde practice with social activism, creating a protest art that railed against America's war in Vietnam, that supported Civil Rights, and that shone a light on poverty and hunger. While much Pop Art eschewed overt politics, Kent thoroughly embraced socially outspoken art.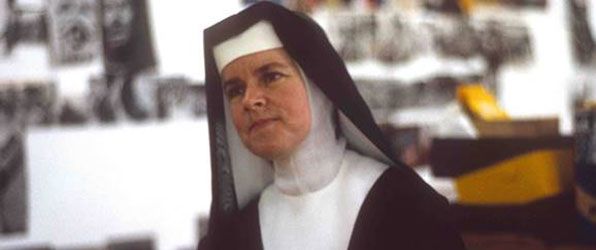 Corita at the Immaculate Heart College Art Department (c. 1964)
When Sister Corita Kent became an influential Pop Artist, religious elders were unhappy. Complaints were made about her art and she was asked to abandon her creative calling. She left her convent as a result and found herself at the age of 50 living alone for the first time and lacking life skills. Unable to drive or cook, she was unperturbed and went on to create a body of powerful art that wowed the likes of Andy Warhol!
Important Art by Corita Kent

The below artworks are the most important by Corita Kent - that both overview the major creative periods, and highlight the greatest achievements by the artist.

The Lord Is With Thee (1951)

Artwork description & Analysis: The Lord Is With Thee was Kent's breakthrough piece after graduating from her MA program at the University of Southern California. Kent remembered of her last year at USC, "[D]uring that course I made two prints. And the summer following that, I looked at one of them, and it was really so bad that I started adding colors on top of it, making a completely new print, which is that print hanging over there called The Lord Is With Thee. It turned into a completely different picture because underneath it was a picture of the Assumption, with a very, as I remember it, a kind of fashion-modelish lady in the center. It was a very unwhole picture."

In many ways, the composition is traditional, showing the veiled and crowned Virgin Mary with her hands raised, surrounded by haloed saints, angels, kings, and shepherds. Influenced by Byzantine and medieval art, which Kent had studied at college, the flat, two-dimensional style lends itself to the screen printing process. Yet in other ways the print is far from traditional. The scene is a riot of garishly celebratory color, with uneven lines and simplified figures. The searing yellow overlaps messily with the deep blue background and pastel pink detailing, while many of the figures are roughly filled in with earthy brown. Brushstrokes and drips of color are left visible in this print, clearly an early example of the influence of the Abstract Expressionists. Even in this early and most traditional of her works, Kent's idea of a celebration of the heavenly Madonna did not necessarily coincide with the more conservative Catholic taste of 1950s Los Angeles.

Serigraph - Corita Art Center, Immaculate Heart Community, Los Angeles, California

That They May Have Life (Enriched Bread) (1964)

Artwork description & Analysis: By 1962, Kent's art had changed significantly, having taught for many years and travelled to new places. The world had become more consumer-driven, and Hollywood was suddenly engulfed by advertising, branding, fashion, music, and movies. With this cultural background in mind, when Kent saw Andy Warhol's work for the first time in 1962, her immediate response was a print called Wonderbread.

In 1964 Kent developed the idea, creating a print called That They May Have Life (Enriched Bread). Kent took inspiration from the wrapper for Wonder Bread, where she noticed these same circular shapes were used to decorate the packaging. In her reproduction of the advertising, these shapes, paired with the phrase "enriched bread," transforms the geometric packaging design into a symbol of the Eucharist, the consecrated bread that Catholics believe is the body of Christ, which they consume in the Communion ceremony that commemorates the Last Supper. Here, Kent incorporates, or sees, Christ in the everyday, a real presence in the modern world, yet the piece also contains a social commentary on hunger. On the left side, Kent included a quote from a Kentucky miner's wife, talking about her struggles to feed her five hungry children. And across the smaller red circles, a quote from Gandhi: "There are so many hungry people that God cannot appear to them except in the form of bread." The two speakers, a poor white woman and a famous activist, are given equal space in the composition and so too their insights. By combining the written and the visual, Kent plays on the languages and graphics of advertising in early 1960s America, while imbuing them with real social and spiritual significance.

Serigraph - Photograph by Arthur Evans, Corita Art Center, Immaculate Heart Community, Los Angeles, California

The Juiciest Tomato of All (1964)

Artwork description & Analysis: In 1964, Sister Mary Corita appropriated the label for Del Monte tomatoes, whose tagline, "The Juiciest Tomatoes of All," became the basis for a print. The screen print perfectly represents Corita's use of what she would term "Footnotes and Headlines." She uses the "headline" of the word "tomato" in bold, supermarket-like lettering, making it reminiscent of a billboard advertisement or logo. An easy to understand and recognizable reference, it draws the viewer into the composition, and once drawn in, they then encounter the "footnote," the smaller, cursive writing inside the letters, which declares: "Mary Mother is the Juiciest Tomato of All"..."Perhaps this is what is meant by the slang 'she's a peach!' or 'what a tomato!'" Some saw such language - describing the Virgin Mary as a "juicy" tomato - as sacrilegious because of its sexual connotations.

This "footnote," or supporting text, completely transforms the meaning of the "headline" text. The word "tomato", rather than being a quotation from a food brand, becomes something imbued with the divine. It becomes a part of the everyday world in which the spiritual can shine through in a real, embodied way. The new Vatican II directives included combating world hunger, and Kent reclaimed the capitalist use of language to promote that goal. With characteristic humor, Sister Corita appropriated pop language for her own uses, allowing her to demonstrate the way in which the generosity, kindness, and abundance of the Mother Mary and Christ can be found in modern day-to-day existence.

Sister Corita wrote that "in a way, all the words we need are in the ads." While her contemporaries Jasper Johns, Jim Dine, Robert Indiana, and Edward Ruscha also played with language in their Pop compositions, none imbued it with Kent's spirituality. Despite her differences from Andy Warhol, he was fascinated by her work, perhaps because of his own complicated relationship with Catholicism. In 1965, an Immaculate Heart Sister wrote of Sister Corita's yearly winter exhibition, "The opening is crowded with fans. Andy Warhol is there. He would be captivated by the idea of an artist nun, especially one who uses Wonderbread wrapping as a symbol for Eucharist."

Screen print - Corita Art Center, Immaculate Heart Community, Los Angeles, California
More Corita Kent Artwork and Analysis:
Influences and Connections
Influences on Artist
Artists, Friends, Movements
Influenced by Artist
Artists, Friends, Movements

Interactive chart with Corita Kent's main influences, and the people and ideas that the artist influenced in turn.
View Influences Chart


Influences on Artist

Corita Kent
Years Worked: 1951 - 1986
Influenced by Artist

Artists

| | |
| --- | --- |
| | Charles Eames |
| | Ray Eames |
| | Buckminster Fuller |
| | Alfred Hitchcock |

Personal Contacts

| | |
| --- | --- |
| | Saul Bass |
| | Mike Kelley |
| | Lari Pittman |
| | Shepard Fairey |
| | Julie Ault |

Movements
If you see an error or typo, please:
tell us
Cite this page

Content compiled and written by The Art Story Contributors
Edited and published by The Art Story Contributors
" Artist Overview and Analysis". [Internet]. . TheArtStory.org
Content compiled and written by The Art Story Contributors
Edited and published by The Art Story Contributors
Available from:
First published on 13 Mar 2019. Updated and modified regularly.


[Accessed ]