Artists
Ben Shahn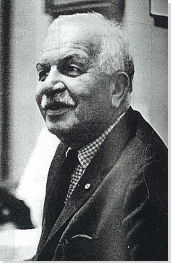 Born: September 12, 1898 - Kaunas, Lithuania
Died: March 14, 1969 - New York, New York

"If I am to be a painter I must show the world how it looks through my eyes, not theirs."

Summary of Ben Shahn
Ben Shahn's desire to create narrative art that focuses on social and political justice have come to exemplify Social Realism and the art of social consciousness. From his questioning religious teachings as a youth in Lithuania and up through the end of his life, Shahn remained true to his vision. He never failed to create artwork to draw attention to those for whom life was a struggle, and did so with dignity rather than pathos or sentimentality.
Key Ideas
Prior to World War II, Shahn was a lead practitioner of what has come to be called Social Realism. Such art works are narrative, figurative, and illustrative of the poor, oppressed, or those who live at the margins of society. The guiding spirit of Social Realism is a commitment to humanism.
Ben Shahn brought together different forms of visual culture to break down the barrier between mass media and fine art. In opposition to what Shahn called "the rules for pure art," the artist consistently inserted words, texts, and quotations into his artwork to emphasize the didactic nature of his art.
Because of Shahn's apprenticeship and friendship with
Diego Rivera
,
Frida Kahlo
, and other prominent artists, he upheld the supremacy and universality of art over the false boundaries of nation states. Through his work with Rivera, Shahn serves as a conduit between the United States and the arts of Mexico which were all the rage in the 1920s and 1930s, but fell out of favor until its revival in the 1980s.
Despite his rise in fame and prestige, Shahn remained committed to his audience and subject matter. Shahn never spoke down to the American people, rather he stood amongst the crowd and fought the same fights as they did.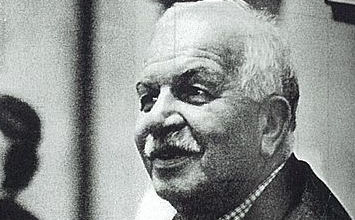 Born into an Orthodox Jewish family, Shahn witnessed both anti-Semitism and political persecution during his childhood in Lithuania. The Tsar's forces arrested Shahn's socialist father and imprisoned him in Siberia. As a young boy, Shahn began to take a stand against social injustice, a moral stance that would define his life's work. While as a youth studying the Bible, he accused God of acting unjustly when he struck a man dead who had disobeyed his command in the story of the building of Solomon's Temple. Initially, Shahn refused to return to religious school until the teacher would acknowledge this injustice; later, he only returned because of the urging of his beloved grandfather. In 1906, when Shahn was 8 years old, his family immigrated to New York and reunited with his father who had long since escaped and settled in Brooklyn. The year 1906 was the peak year of Eastern-European Jewish migration to America so Shahn's is very much an immigrant's story. While a child back in Lithuania, Shahn first became interested in art; but, as resources were scarce, he had to draw on the pages of his books.
Important Art by Ben Shahn

The below artworks are the most important by Ben Shahn - that both overview the major creative periods, and highlight the greatest achievements by the artist.

The Passion of Sacco and Vanzetti (1931-32)

Artwork description & Analysis: This is the only easel painting out of Ben Shahn's series of twenty-three gouaches depicting elements of the trial and subsequent execution of the two Italian immigrants, Nicola Sacco and Bartolomeo Vanzetti who were accused of murder during a robbery in Massachusetts. At the time and still today, controversy surrounds the guilty verdict, with many believing that the men were condemned because they were anarchists and because of the overt anti-immigrant sentiments of the era. In this painting, the three members of the Lowell Committee who denied the defendants' appeal hold lilies as they stand over open coffins containing the bodies of Sacco and Vanzetti. Judge Thayer can be seen in the background staring out the courthouse window onto the scene.

Shahn submitted this easel painting to an exhibition organized by Lincoln Kirstein at the Museum of Modern Art in New York. The museum's Board of Trustees objected to Shahn's depiction of the Lowell Committee members who were friends to many of the museum's trustees. Despite the Board's demand that Shahn's works along with the equally objectionable works by Hugo Gellert and William Gropper not be shown, the many other artists in the exhibition and the curator Kirstein refused to participate if the three artists were banned. The show eventually moved forward including Shahn's work with many of the trustees resigning in anger.

The painting's topic provides an early example of Shahn's use of his art against social injustice. This work helped to establish him as one of the great Social Realist painters. Also in the development of this artwork, Shahn had begun to think sequentially about narration through art, a process which ultimately led him to paint his complex public murals. Rather than painting for himself as other modernists did, Shahn painted for the public and for the cause of Sacco and Vanzetti, while simultaneously drawing upon the cubistic forms of Picasso in his figures. Shahn successfully melds together the formal with the political in this work.

Tempera on canvas - Collection of Whitney Museum of American Art, New York, New York

Untitled: Jersey Homesteads Mural (1936-38)

Artwork description & Analysis: Ben Shahn's 45 foot long x 12 feet high Jersey Homesteads Mural recounts the grand narrative of the Jewish exodus to the United States (1880- 1924), the Jews' quest for a decent livelihood in the punishing sweat shops of the unregulated garment trade, and the importance of Jewish labor unions. The left panel begins in 1930s Germany where a Nazi soldier holds a sign warning Germans not to buy anything from Jews; this threatening image by Shahn was the only reference to Nazi Germany in any New Deal mural. Two women seen mourning at open caskets which contain Sacco and Vanzetti are positioned above a depiction of the registry hall at Ellis Island where the Statute of Liberty is visible through an open doorway. A group of immigrants walking off a ship include representations of Shahn's mother, artist Raphael Soyer, and Albert Einstein who leads the group and who was on the board of Jersey Homesteads. The center panel depicts Jews and other immigrants working in a non-union, unsafe sweatshop. Shahn, a champion of unions, next painted an image which closely resembled President of the CIO John J. Lewis but is not to be taken literally as a portrait. The labor organizer presents a speech and quotes one by Lewis: "One of the great principles for which labor and America must stand in the future is the right of every man and woman to have a job, to earn their living if they are willing to work." Shahn concludes the narrative with the right panel with a happier life in Jersey Homesteads housing development. References to the importance of unions, is made by a sign on the development's entrance reading "ILGWU," standing for the International Ladies' Garment Workers Union. In the final scene, a group portrait of the Jewish garment union leaders, along with New York Senator Robert F. Wagner who was instrumental in the creation of labor-reform laws, look over the blueprints for Jersey Homesteads.

Shahn received this mural commission from the United States Resettlement Administration's new 200 home development Jersey Homesteads project that was created to provide housing, work, and farming opportunities for Jewish garment workers wanting to relocate from New York City and Philadelphia; many had lost their jobs due to the devastation of the Great Depression. This expansive and detailed mural reveals Shahn's commitment to improving the human condition through narrative storytelling, and his great skill at creating complex compositions.

Fresco - Collection of Roosevelt Public School, Roosevelt, New Jersey

Resources of America (1938-39)

Artwork description & Analysis: Resources of America (1938-39) is a commissioned mural Ben Shahn completed for the Bronx Central Post Office in New York City. His companion Bernarda Bryson served as his assistant on the project. The New Deal Program's Treasury Section of Painting and Sculpture, whose purpose was to oversee the commission of the best art possible for new federal buildings, selected Shahn's as the winning design. For example, one of the thirteen panels portrays both an agricultural and an industrial worker, displaying one man stooping down low to pick cotton, and a woman working at spindles in a mill. The central panel which is placed on a higher plane than the other panel depicts American poet Walt Whitman speaking to an assembled group of workers and pointing to a text-filled blackboard. His long, white beard makes the poet resemble a combination of Moses and Karl Marx.

Although not intending to be controversial, the Bronx mural did indeed elicit harsh criticism due to Shahn's inclusion of a quote by Whitman who was then on the Catholic Church's Index of Forbidden Books. Originally Shahn planned to include text from Whitman's poem "Thou Mother with Thy Equal Blood" but when preliminary sketches of the mural were displayed at the Bronx Post Office, a local priest took notice. Shortly after, Reverend Ignatius W. Cox, an ethics professor at Fordham University, publicly denounced the mural in front of thousands gathered in a church as being a government statement against religion. Cox urged parishioners to join him in demanding the text be changed, and began a letter-writing campaign which garnered much press coverage. As, Shahn had agreed when taking the job to make changes if there were any objections, he switched the text to lines from Whitman's poem "As I Walk These Broad Majestic Days." Despite the successful reception to the altered mural, the experience made clear to the artist the weight of censorship and the power that even a few members of the public could exert over an artist's work.

Egg tempera applied to plaster - Collection of Bronx Central Post Office, Bronx, New York
More Ben Shahn Artwork and Analysis:
Influences and Connections
Influences on Artist
Artists, Friends, Movements
Influenced by Artist
Artists, Friends, Movements

Interactive chart with Ben Shahn's main influences, and the people and ideas that the artist influenced in turn.
View Influences Chart

Artists

Personal Contacts

| | |
| --- | --- |
| | Meyer Schapiro |
| | William Carlos Williams |
| | Walker Evans |

Movements

| | |
| --- | --- |
| | African Art |
| | Cubism |
| | Expressionism |
| | Mexican Muralism |
| | Post-Impressionism |

Influences on Artist

Ben Shahn
Years Worked: 1921 - 1969
Influenced by Artist

| | | | | |
| --- | --- | --- | --- | --- |
| Artists | | Personal Contacts | | Movements |
If you see an error or typo, please:
tell us
Cite this page

Content compiled and written by The Art Story Contributors
Edited and revised, with Synopsis and Key Ideas added by Diana Linden
" Artist Overview and Analysis". [Internet]. . TheArtStory.org
Content compiled and written by The Art Story Contributors
Edited and revised, with Synopsis and Key Ideas added by Diana Linden
Available from:
First published on 07 Jun 2016. Updated and modified regularly.


[Accessed ]