Artists
Leon Golub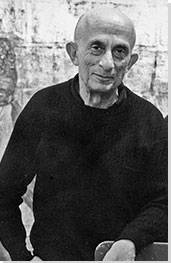 Born: January 23, 1922 - Chicago, Illinois
Died: August 8, 2004 - New York, New York

Summary of Leon Golub
Leon Golub carried within an unfailing love of people despite his ongoing exploration of the most monstrous scenes of humanity. Still strikingly relevant today, his paintings explore themes of struggle, conflict, and perverse power relations especially in times of war. He was inspired by ancient and contemporary source material alike; a gleaner of information of news stories from popular media, but also a learned classical art historian. Intrigued by the individual, he made portraits of significant personalities, yet simultaneously Golub rejected self-involvement to instead inspire engagement, collaboration, and to situate his art as a call for active resistance against all injustice.

Living in Paris during the early 1960s, Golub and his partner Nancy Spero were confronted by the haunting remnants of the Holocaust. They returned to the United States with an unflinching willingness to confront cultural darkness, only to be eerily greeted by the onset of the Vietnam War. Golub's understanding of the human condition penetrated so deeply that he successfully broke down barriers and transcended boundaries during his own lifetime, for example he was one of only a few white artists invited to be included in the exhibition Black Male: Representations of Masculinity in Contemporary American Art (1994).
Key Ideas
In tune with his roots, Golub cleverly incorporates his work into the trajectory of European figurative painting. His pictures behold the drama of
Expressionism
but with unflinching integrity move away from inward angst to explore the same practical, political, and outward reaching worldly goals of the
New Objectivity
artists (including
Max Beckmann
,
George Grosz
, and
Otto Dix
).
During the late 1940s, 50s, and 60s Golub's work was often spurned and not given due attention because of the American preference for abstraction, and later, for
Minimalism
. Due to Golub's perseverance, and to that of other individual artists, in the late 1970s,
Neo-Expressionism
emerged and the revealing power of figuration was once again revived.
Golub makes paintings that also have sculptural, drawing, and tapestry-like qualities and thus challenges the viewer's perception of what makes a painting. Thick paint is scraped and moulded on application and un-stretched and un-framed canvas make the works appear as though works on paper or fabric hangings. As such, by using apparently endless backgrounds, Golub successfully translates ideas and intentions that cannot be easily contained or concluded.
Like his wife and fellow artist, Nancy Spero, Golub believed in absolute equality and the destruction of hierarchy. The duo were aware that together their work was stronger and intentionally worked in parallel to provide the greatest of insights into the human condition. Like two sides of the same coin, Golub investigated male glory, aggression, and violence, whilst Spero focused on the subordination and regenerative powers of women.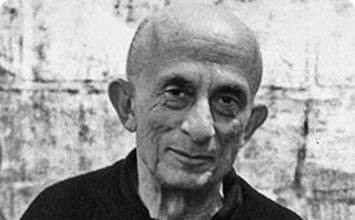 Leon Albert Golub, known as Leon Golub (1922-2004) was born and raised in Chicago, Illinois. Son of Jewish immigrants from Ukraine and Lithuania, Golub started making art from a young age. He initially intended to become an art historian and attended the University of Chicago where he received a BA in Art History in 1942. In particular, his studies in ancient Greek and Latin greatly influenced his work and would later become visible in his paintings. He drew inspiration from Greek tragedy and mythological scenes, as well as from Roman sculpture. While a student, in 1939, he saw Pablo Picasso's Guernica at the Chicago Arts Club; this image made a great impact on the young artist and powered his passion towards a highly political, and socially engaged creative vision. As he explained: "Guernica was like that. It was an art object that dealt with our world, OK? I was interested in seeing what that world looked like and was to a certain extent politically aware."
Important Art by Leon Golub

The below artworks are the most important by Leon Golub - that both overview the major creative periods, and highlight the greatest achievements by the artist.


Artwork Images

Gigantomachy II (1966)

Artwork description & Analysis: Golub began to paint images of men, specifically heroes, in classic moments of extreme glory and demise. Stemming from his acknowledgment and disdain for the fact that men ruled the world, whilst simultaneously looking at classical statues and popular athletic poses, writing frieze-like scenes of masculine struggle emerged. In this particular work, ten nude male figures engage in a frantic battle. Their fleshy, intertwined, thickly traced limbs suggest violence, mutilation, and slaughter. The lack of references, such as a recognizable background, or a defined character, refers to an eternal and meaningless state of violence; there is no information in regards to the cause of the battle, or a signifier indicating what may divide the group of characters: they are just fighting.

Golub used a series of Hellenistic references to develop his paintings. The horizontal arrangement of the figures in Gigantomachy II is reminiscent of those of ancient Doric friezes. Furthermore, the title directly references a Greek mythological battle between the gods and the giants. Art critic and historian Thomas McEvilley described this painting as "an allegorical picture of history", " a meaningless and endless battle." The at once fleshy quality of the figures resulting from the superimposition of thick paint, combined with the skeletal aspect determined by the use of the color white, together make these figures anonymous, unfinished, and representative of both anyone and everyone. Through this universal scene, Golub formulated a critique, albeit still relatively indirect and abstract, of the violence of his time, a period marked by the Vietnam crisis.

Acrylic on linen - The Metropolitan Museum of Art, NY


Artwork Images

Vietnam II (1973)

Artwork description & Analysis: Marking a shift from previous work, Vietnam II is an exceptional example of Golub's dramatic large-scale figurative style that explicitly addresses contemporary issues, here the Vietnam War. Over three metres high and twelve metres long, the composition is divided into two parts: on the left hand side American soldiers direct their weapons towards frightened Vietnamese civilians at the opposite side of the already torn canvas. The gestural dialogue between these two groups is striking; the weapons of the aggressors prepare to fire on the screaming victims; the violence of the soldiers provides contrast to the fear of the civilians, and most notably to the look of terror expressed by the boy at the forefront of the picture. In suitable symbolic guise, the aggressors wear black and point their protruding guns, whilst the innocents are clothed in white and curve their arms in attempt to shield one another.

In these, the largest and most physical paintings of his career, Golub adopted an active stance against the Vietnam War, engaged with the progression of the conflict throughout the Vietnam series. These works become less obviously concerned with ancient art and more with real and present atrocities that were even being televised at the time. The canvases dealing with the inexhaustible fall of man narrative are literally themselves physically broken. Departing here from any art historical source material, Golub would draw the figures directly onto un-stretched canvas looking at horrific and shocking images from contemporary newspapers and magazines. Art historian and Golub-expert Jonathan Bird observed that while "the scale and arrested action invoke cinema [...], the compositional structure, accuracy in dress and weaponry, close-up detailing of expression and gesture, all reference a spectacularized culture saturated with mass-media imagery."

Acrylic paint on canvas - Tate Modern London


Artwork Images

Portrait of Francisco Franco (1979)

Artwork description & Analysis: Between 1976 and 1979 Leon Golub worked on a series called The Political Portraits. The result is over a hundred heads of dictators, state, military, and religious leaders. These portraits, as most of Golub's figurative work, can be read as active critiques of organized political violence. They are further subversive in the way that they forefront frailty in usually considered invincible figures. Golub entirely shatters the idealization of powerful men, interestingly focusing on the inevitable mortality of all. Francisco Franco for instance is depicted as an old man. As well as a cruel Spanish dictator, who once appeared to have everlasting power, Franco becomes simply a man who will soon die and physically disappear.

Golub said of this work and others from the same series, "I think of the political portraits as skins or masks". He wants to reveal that to take hold of power is little more than an illusion. The recurrent visceral quality of this portrait of Franco, the skin tones and rendering of facial lines, result in a likely and realistic presentation of the dictator. The portrait was not painted from life, but from a culmination of magazine photographs and television images. As such, Golub made optimum use of public material as a means to engage with political reality. Through this process, the artist inverted the set of social relations that portraiture commonly entails; the sitter did not choose to be portrayed and the final image was not meant to be flattering in any way. With chilling reassurance, the series comments that even the most aggressively 'powerful' are not able to resist the progress of degeneration.

Acrylic on linen - Ulrich & Harriet Meyer Collection
More Leon Golub Artwork and Analysis:
Influences and Connections
Influences on Artist
Artists, Friends, Movements
Influenced by Artist
Artists, Friends, Movements

Interactive chart with Leon Golub's main influences, and the people and ideas that the artist influenced in turn.
View Influences Chart

| | | | | |
| --- | --- | --- | --- | --- |
| Artists | | Personal Contacts | | Movements |

Influences on Artist

Leon Golub
Years Worked: 1949 - 2004
Influenced by Artist

Artists

Personal Contacts

Movements

| | |
| --- | --- |
| | Chicago Imagists |
| | Monster Roster |
If you see an error or typo, please:
tell us
Cite this page

Content compiled and written by Tally de Orellana
Edited and revised, with Synopsis and Key Ideas added by Rebecca Baillie
" Artist Overview and Analysis". [Internet]. . TheArtStory.org
Content compiled and written by Tally de Orellana
Edited and revised, with Synopsis and Key Ideas added by Rebecca Baillie
Available from:
First published on 17 Jul 2018. Updated and modified regularly.


[Accessed ]