Movements, Styles, and Tendencies
Contemporary Realism
Contemporary Realism
Started: 1960
Ended: Early 1970s

Summary of Contemporary Realism
Contemporary Realism emerged out of New York in direct defiance to the prevailing popularity of Abstract Expressionism. The movement signified a return to a straightforward representation of life via figurative artworks. A loosely connected and disparate group of initial artists borrowed heavily from roots embedded earlier by the 19th century Realist painters who aimed to depict the real rather than the ideal. Yet these new artists, proficient in modern art, employed this mission in a decidedly fresh fashion that built upon tradition while incorporating a contemporary sophistication and techniques in line with the current times. Reality suddenly became cool again swathed in the unique perspectives of artists working with, and documenting, their own experiences within a 20th century world.
Key Ideas
Many of the movement's artists came from an earlier inclusion in the Abstract Expressionist movement. Even as they eschewed its principles, they did adapt many of its techniques such as a similar use of brushwork, flatness, the use of large canvas, and innovative color and composition.
Although there were other branches of art simultaneously inspired by the 19
th
century philosophies of
Realism
, such as
Social Realism
and
American Regionalism
, Contemporary Realist painters were largely distinctive for showing both urban and rural life in a simple fashion absent of sentimentality.
Contemporary Realism was a way to express an immediate environment, most often through a glance at the people, landscapes, geography, still lifes and interiors that informed an artist's personal existence. These first glimpses originated around life in New York, Maine and Southampton, yet they were inspirational in establishing the concept of regional centers of art for other painters working in this vein.
The movement revitalized realism, dusted off the perception of it being a dated historical antiquation, and gave it a new momentum that has continued throughout today in various forms including
Photorealism
, and
Neo-Expressionism
.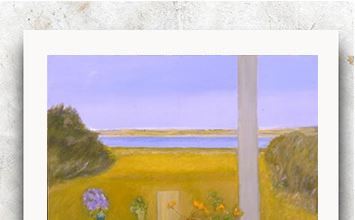 Beginnings:
In the 1950s, the dominant artistic movement was Abstract Expressionism, an anti-literal and anti-figuration movement that emphasized a burst of emotion, shape, and color on canvas as a visual metaphor for an artist's inner emotional state in regard to subject, circumstance or matter. The critic Russell Ferguson has written that this was the "most mythologized period in American art...the oversimplified narrative remains only too familiar: a heroic generation of Abstract Expressionist pioneers followed by a much weaker 'second generation,' and then by the explosion of Pop. In that version of history, there is little room for the strong tradition of realist and figurative painting that continued throughout the period."
Important Art and Artists of Contemporary Realism

The below artworks are the most important in Contemporary Realism - that both overview the major ideas of the movement, and highlight the greatest achievements by each artist in Contemporary Realism. Don't forget to visit the artist overview pages of the artists that interest you.


Artwork Images

Early New York Evening (1954)

Artist: Jane Freilicher

Artwork description & Analysis: This painting shows a twilight view of the city from an apartment window. A green vase full of purple irises sits on the window ledge, and, beyond the balcony railing, the colors of the tenement buildings deepen in the violet light. Four smokestacks are visible on the horizon, their plumes darkening the sky. We can imagine the artist surveying the scene as she paints it from life, capturing the distinctive hues of sunset in a New York City moment, transporting the viewer to the artist's piece of the world at the time.

Freilicher was known for painting urban and country scenes in the Contemporary Realist style of documenting place from her own authentic perspective of home in both Lower Manhattan and Walter Mill, Long Island. She studied with Hans Hoffman and began as an Abstract Expressionist but was inspired by a show of Pierre Bonnard's 19th century Realist works and made the switch, taking into her new direction a love for a nostalgic color palette and the juxtaposition between domestic interiors and landscape.

Throughout her career, she painted primarily still life, usually flowers, placed in front of a window through which could be seen a cityscape or a landscape. As she said in her seventies, "I suppose I'll just keep doing what I'm doing, Even though I'm using ostensibly the same subject matter, I keep on trying to get some other kind of sensation from it. Every flower has its own cosmology, its own relationship to the foliage, to the air around it."

Freilicher preferred to call her style, "painterly realism," a term which emphasizes not only the representational nature of her work but her emphasis on the lyrical effects of color. Yet the grimy crowded buildings and the smokestacks' sooty plumes convey a realistic view that is without idealization. Porter reviewed her work in 1952, praising her artistic pursuit of "first principles," which is evident here in her sense of composition. The size of the canvas is the same dimensions as the window it portrays, and the color of the windowsill harmonizes with the color of the sky, in effect framing the top and bottom of the canvas with the violet of twilight, highlighted by the irises.

Oil on linen - Tibor de Nagy Gallery, New York


Artwork Images

The Black Dress (1960)

Artist: Alex Katz

Artwork description & Analysis: This work portrays the artist's wife and muse, Ada, in six different poses, while on the wall to the right is partially seen a portrait of the poet, James Schuyler, who was a close friend of the couple. Ada is wearing a classic black dress and heels, reflecting the Jacqueline Kennedy style of the early 1960s.

Ada, was central to Katz's portrait practice, and became a recognizable figure in his work, furthering the Contemporary Realist signature of painting those one knows. The poet Frank O'Hara was to dub her the "First Lady of the Art World." The large scale of the canvas itself contributes to the iconic effect, as the art critic Kramer said of both Katz and Pearlstein, they "took the scale of their work from Abstract Expressionism. They wanted that big scale, but they wanted to keep that scale free for representational painting."

Katz has said that everything is about style, and his unique version can be seen here in his use of flat planes of color that create a two dimensional flatness. He also pioneered the representation of the human form as a cutout, which can also be seen in his Frank O'Hara (1959-1960), a full body portrait of the poet, cut out of wood.

Here, the sequence of different poses creates an effect like that of a classical Greek frieze, but while Ada is seen from multiple perspectives, there are only the slight variations in facial expression, primarily in the two poses on the right. The painting is so representational, that it can take a while to realize that it also departs from a purely naturalistic treatment. The figure standing behind the chair ends at the shoulders of the seated Ada, and the figures seem to be of varying heights creating an uncertainty about the space that they occupy.

Katz's individual interpretation of Contemporary Realism was toward stylization and creation of the iconic. In his billboard size portraits, the individual becomes a kind of 'sign', recognizable but reduced to essential elements, and this aspect of his work and its cool contemporaneity has had a significant influence upon other artists from the 1970s on.

Oil on linen - Brandhurst Collection, Berlin


Artwork Images

Croquet Party (1965)

Artist: Leland Bell

Artwork description & Analysis: This work depicts a moment in a weekend spent with family and friends, and is illustrative of the movement's devotion toward depicting everyday domestic scenes.

Bell is depicted at the far left with his arm around his wife, the Icelandic artist Louisa Matthiasdottir, whom he met while both were studying at the Hans Hoffman School in New York. Bell's work is distinguished by fluid brushwork, planes of color, and figural dark outlines that give his representational work a dynamic effect. Each of the people depicted here is vividly present, their personalities and relationships with each other, conveyed in an astute artistic understanding of body language. Created while working from photographs, the painting retains a photographic sense of a moment caught in time. However, the work eschews photographic accuracy and detail, as the faces are not clearly seen but only suggested, and the compositional elements are simplified.

Bell, in particular, rejoiced in the simplicity of regular life and portrayed his existence and its subjects with a unique dynamism. Hints of his past as a jazz musician can be seen in the rhythmic fluidity to his work that waffles between classical, abstract, and representational.

Oil on canvas - Center for Figurative Painting, New York
More Contemporary Realism Artwork and Analysis:
If you see an error or typo, please:
tell us
Cite this page

Content compiled and written by Rebecca Seiferle
Edited and revised, with Synopsis and Key Ideas added by Kimberly Nichols
" Movement Overview and Analysis". [Internet]. . TheArtStory.org
Content compiled and written by Rebecca Seiferle
Edited and revised, with Synopsis and Key Ideas added by Kimberly Nichols
Available from:
First published on 21 Aug 2017. Updated and modified regularly.


[Accessed ]