Artists
Norman Rockwell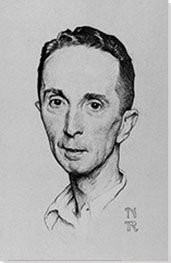 Norman Rockwell
American Illustrator, Painter, and Author
Movement: Realism
Born: February 3, 1894 - New York City
Died: November 8, 1978 - Stockbridge, Massachusetts

"I sometimes think we paint to fulfill ourselves and our lives, to supply the things we want and don't have."
Summary of Norman Rockwell
Rockwell presented the world with the definitive picture of what it meant to be "all-American". He is remembered chiefly for his 47-year association with The Saturday Evening Post weekly, for whom he painted over 320 cover images, and his long-standing connection with the Boy Scouts of America, for whom he provided artworks for its annual calendar for most of his working years. His preoccupation with the minutiae of the daily lives of the American nuclear family, not to mention his vital contribution to the World War II propaganda effort, have seen him achieve American icon status.

Preferring to be thought of as a genre painter (rather than an illustrator), he is best known perhaps for a particular type of painting rather than for specific works and, not unlike Edward Hopper, his vision of the American small town has seeped into the nation's collective consciousness. Though his unabashed patriotism and pictorial style made him an easy target for avant-gardists and left-wing intellectuals, his later work revealed the influence of Social Realism and several of his mature pieces, especially those he produced for Look magazine, took on a more socio-political edge. History has, quite rightly, tended to be very appreciative of Rockwell's contribution to the pictorial arts in America and his nostalgic images continue to adorn calendars, post-cards, posters and other arts ephemera.
Key Ideas
A religious and traditional thinker, Rockwell was above all else a patriot. His was a sympathetic and optimistic view of the average American and he, more than any other artist in its history, captured the daily customs and rituals of the comely ways of traditional American family life.
Though "dismissed" by some as an illustrator, Rockwell executed his scenes with humor and respect for his subjects, and with an attention to detail that, in his words, would make the spectator "want to sigh and smile at the same time." Painting at a time when abstract art was coming to the fore, Rockwell remained convinced that his positive and unambiguous images trumped the self-indulgences of abstract experimentation.
The champion of
Abstract Expressionism
,
Clement Greenberg
, was one of those who condemned Rockwell's work for being sentimental and commercial and he criticized the artist because he "chose not to be serious." But Rockwell was deeply serious about his art. His position was perhaps best summed up by his own granddaughter, Abigail Rockwell when she wrote: "Some say life will never be as perfect as life in a Norman Rockwell painting. But my grandfather's work isn't about an unachievable ideal. Pop's work is about believing in the goodness of people. It's about finding that goodness in ourselves and others and in the moments we spend with one another."
Though Rockwell maintained that he always "wanted to entertain" his late period paintings often promoted "causes" such as freedom of speech and the Civil Rights Movement. Even his more overtly sentimental paintings started to acknowledge shifting class and gender roles while he remained a strong advocate of democratic values and the acceptance of all races and religions throughout his adult life.
In the same way that, for example,
Vermeer
and
Caravaggio
used the camera obscura as an aid to producing their compositions, so Rockwell would use photography to capture an image of his sitters. Though his models were nearly always friends of acquaintances, Rockwell rotated a small squad of photographers who would record, under his direction, scenes that the painter himself would compose. Much to the chagrin of purists who believed that art should always be produced "freehand," Rockwell would, with the aid of a projector, trace and sketch the images onto his canvas before composing his intricate narrative paintings.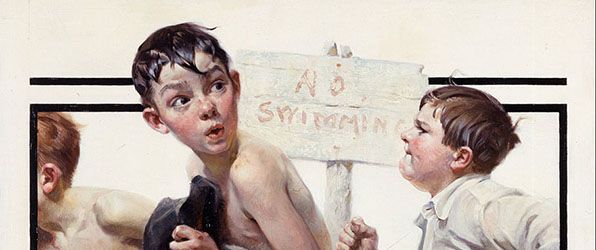 A look at the work of Norman Rockwell belies the man behind the images. Strangely, one biographer described him as "a twice-divorced workaholic who neglected wives and children, a religious nonbeliever, a closeted homosexual, a depressive forever anxious". But, that is probably an exagerated account, as such a conflicted character would have problems in producing some of the most optimistic and idealized images in American history.
Important Art by Norman Rockwell

The below artworks are the most important by Norman Rockwell - that both overview the major creative periods, and highlight the greatest achievements by the artist.

Boy With Baby Carriage (1916)

Artwork description & Analysis: Boy With Baby Carriage was Rockwell's first Post cover. Typical of his earlier montage paintings, this humorous boyhood coming-of-age theme is a fine example of his skill at capturing the gentle travails of human experience. The three figures and wicker carriage are positioned against a blank background so as to direct most of our attention onto the human figures in the composition. In this respect, the main "action" in the painting is created by the facial expressions of the boys. Rockwell created a simple, stark image relying on black, white and grey with touches of red to bring our attention to the boys' faces. It was his attention to details like this, and simple, but felt empathy with his subjects that so endeared Rockwell to the American public. Other illustrators of Norman Rockwell's time period, including Robert Gunn, Robert Tannenbaum and Leslie Thrasher, tried to imitate his style but failed to capture the essence of their characters or to emulate Rockwell's sixth sense for time and place.

Magazine editors were quick to recognize the human touch in Rockwell's exceptional compositions. The Post's art editor Kenneth Stuart, commented for instance that "No guide is needed for Norman's work" since the "warmth of his understanding reaches [the] People [who] experience his paintings." Stephanie Plunkett, chief curator at the Norman Rockwell Museum, backed that view when she said that for Americans Rockwell presented a picture of "who we are, what we could be, what we could look like [and] what our values could be."

Oil on Canvas - Norman Rockwell Museum, Stockbridge, Massachusetts

A Red Cross Man in the Making (1918)

Artwork description & Analysis: The Red Cross Red Crescent Magazine, the official magazine for a movement of the same name, is published by international groups in Geneva and Switzerland, and is written in six languages. The organization is humanitarian and dedicated to protecting the lives and dignity of victims of armed conflict. This painting was originally painted for the magazine to exemplify the good will of a Red Cross man, seen here in the guise of a scout attending to a small dog that has suffered an injury. It was also chosen to be used as Rockwell's first calendar cover for the Boy Scouts of America. Rockwell, always a keen observer of his world and its issues, captured the realities of individual lives as well as the mores held dear by society. In many of his paintings, he promotes personal responsibility, patriotism, heroism, gender equity and/or racial integration which he saw as the foundations of the American way.

In A Good Scout, Rockwell used a series of diagonal lines and a dramatic plan of light and dark to pull the viewer's attention to the small, forlorn dog resting on a red pillow in the center of the composition. The larger dog and the young man are also posed in angled positions to complete the grouping while the dark areas surrounding the figures keep our attention on the animals and the boy's helping hands are placed in the very center of the composition. The use of softly glowing areas which seem to disappear into the darkness is not unlike the technique of Rembrandt, an artist whom Rockwell admired greatly. The old dented pot filled with water, the scissors and a small glass bottle in the foreground introduce us to the event in the middle ground while the strong red shapes in the background, perhaps a wood or coal stove, seem to glow with warmth. Great attention was also given to the scout's uniform with the textured and banded hat, kerchief, his belt with key ring and study shoes with precisely detailed soles.

Oil on Canvas - Boy Scouts of America

Willie Gillis Food Package (1941)

Artwork description & Analysis: Rockwell first introduced Willie Gillis as a fictional character in the first of a series of World War II propaganda paintings. Eleven of these were used as magazine covers by the Post between 1941 and 1946. As a boyish private, Willie charmed the American public from his induction through discharge, and boyhood through manhood; he became a highlight of Rockwell's wartime work. Rockwell described Gillis as "an inoffensive, ordinary little guy thrown into the chaos of war". Many Post subscribers assumed that Rockwell's Willie Gillis was a real person which encouraged them to further support the war bond effort. The artist's intent was to infuse a sense of duty, patriotism and optimism for those young American gentlemen going to war.

Carefully holding a white package with a red label, "FOOD", Willie glances anxiously to his right. War zone tradition dictated that any package from home was to be shared among the troops. Seven muscular officers are tightly grouped behind him and looking expectantly at the small package. The men are older, taller and dressed in uniforms of a higher rank. Rockwell deliberately presented these six determined men as one solid form in the center of the composition as a worrisome pressure for Gillis. Their expressions range from happily expectant to grimly resolved as they march with purpose and vigor behind Willie and his package. The five blue uniforms and the different angles of the caps are arranged to bring our eyes into and around the dense grouping which is also broken up by the tan uniforms. The four swinging arms with clenched fists help separate the men and create some space behind Willie. It is a very simple, shallow composition but it is full of gentle humor as the expression on Willie's face suggests that he would prefer not to share his bounty with his companions!

Oil on Canvas - Location Unknown
More Norman Rockwell Artwork and Analysis:
Influences and Connections
Influences on Artist
Artists, Friends, Movements
Influenced by Artist
Artists, Friends, Movements

Interactive chart with Norman Rockwell's main influences, and the people and ideas that the artist influenced in turn.
View Influences Chart

Artists

Personal Contacts

Movements

| | |
| --- | --- |
| | The Golden Age of Illustration |
| | Realism |

Influences on Artist

Norman Rockwell
Years Worked: 1916 - 1976
Influenced by Artist

Artists

| | |
| --- | --- |
| | George Lucas |
| | Steven Spielberg |

Personal Contacts

Movements
If you see an error or typo, please:
tell us
Cite this page

Content compiled and written by Cheryl VanBuskirk
Edited and published by The Art Story Contributors
" Artist Overview and Analysis". [Internet]. . TheArtStory.org
Content compiled and written by Cheryl VanBuskirk
Edited and published by The Art Story Contributors
Available from:
First published on 13 Aug 2019. Updated and modified regularly.


[Accessed ]