Artists
Grant Wood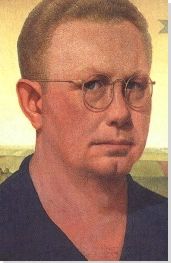 Born: February 13, 1891 - Anamosa, Iowa
Died: February 12, 1942 - Iowa City, Iowa

"I had to go to France to appreciate Iowa."
Summary of Grant Wood
Hailed as one of America's foremost Regionalist painters in the 1930s, Grant Wood strove to depict archetypal rural subjects that embodied the values of hard work, community, and austerity. Eschewing the idioms of avant-garde European art, Wood depicted his native Midwest with the clarity and precision he observed in Northern Renaissance art and the organic lines and curves of Art Deco design, melding these disparate styles into a uniquely American vision. In painting small town and rural life, Wood gave the American public an idealized vision of itself at a time during the Great Depression when most common, working Americans faced great hardship.

In subsequent decades, his work has been praised and derided by critics and public alike, but his paintings, and in particular American Gothic, remain some of the most iconic, and appropriated, paintings created by an American artist, thus providing Wood with a permanent place in American popular culture.
Key Ideas
Despite his relatively short mature career and his dismissal by important critics and scholars in the 1940s, Grant Wood endures as one of America's most popular artists, who painted quintessentially American scenes. His adherence to realism coupled with highly complex formal compositions and slightly strange perspectives draws viewers into a world that is not always what one expects. While many are happy to find depictions of a bucolic America, many also revel in the strangeness and subtle criticality that Wood presents.
After the stock market crash of 1929 and the onset of the Great Depression, American artists turned their efforts to creating a particular strain of American art that embodied patriotic values that hearkened back to an earlier time. Nostalgic and romantic,
Regionalism
pictured an American society devoted to productive labor and tightknit communities. Along with
John Steuart Curry
and
Thomas Hart Benton
, Grant Wood depicted stalwart Midwestern types that embodied this idealized America.
While most famously known for his paintings, which garnered immediate national attention, Wood also worked in decorative arts, jewelry design, and illustration. He did so in part to make much-needed money for his family, but he was also committed to creating a vibrant artistic culture in small-town Iowa that was not beholden to larger metropolises such as Chicago and New York.
Wood's reputation has never been steady. He endeared himself to Midwesterners, who saw themselves portrayed in a positive light, but Easterners tended to dismiss him because of his purported sentimental, old-fashioned style. More recent interpretations have detected a subtle critical edge to many of his paintings, suggesting that Wood was not necessarily the booster he was made out to be.
While there were rumors about Wood's homosexuality during his lifetime and after his death, Wood never publicly acknowledged this aspect of his identity, and in fact seemed to live in fear of being exposed. More contemporary scholarship has begun to reexamine Wood's painting in light of his sexuality, excavating, in curator David Ward's words, the "tension and difficulties faced by gay men who stayed behind in Middle America."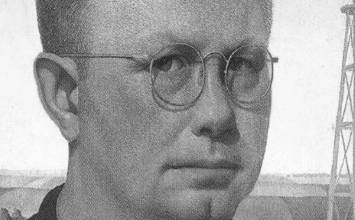 Grant Wood, born in 1891, was the second of Francis Mayville Wood and Hattie Weaver Wood's four children. He spent his early years on a farm in rural Anamosa, Iowa. When he was 10 years old, his father died unexpectedly, and Hattie moved with the four children to Cedar Rapids. Grant and his older brother immediately needed to take odd jobs to help support the family. His childhood on the farm remained an inspiration to him through his artistic career. This timing separated his perspective from other realists: Wood focused on the rosy, mythical memories of boyhood, and a life of simple pleasures in tune with the seasons, rather than the more adult drudgery and economic precariousness that often go hand-in-hand with farming.
Important Art by Grant Wood

The below artworks are the most important by Grant Wood - that both overview the major creative periods, and highlight the greatest achievements by the artist.

Chandelier for Iowa Corn Room, Hotel Montrose, Cedar Rapids, Iowa (1925)

Artwork description & Analysis: Using his skills in metal work, Wood created this chandelier as part of a themed interior design project for the Hotel Montrose in Cedar Rapids. The holders for lights are shaped like corn cobs, held up by corn stalk shaped arms, complete with leaves. The stem from which the fixture hangs is further adorned with corn cobs and lively, waving leaves.

The Iowa Corn Room commission came to Wood during his first years dedicated solely to his artistic career. Though he painted during this period, the cultivation of an active community and the support of local businesses led to a variety of work, including a number of interior design projects. This chandelier is part of a fully crafted environment, with panoramic murals, and this hand-crafted fixture. At the opening of a similar project at the Martin's Hotel in 1926, Wood spoke to the press of the burgeoning "feeling for the culture and art in this section of the country, which is rapidly making it a place which New York artists look to with longing."

Envy of New York or not, Wood and his colleagues were not wilting in a cultural backwater but enjoyed a thriving arts community with ample support. Wood's numerous patrons for projects such as the Iowa Corn Room hailed from the prosperous business class in Cedar Rapids and were eager to beautify the city and enhance its cultural life.

American Gothic (1930)

Artwork description & Analysis: American Gothic arguably remains one of the most recognized American artworks of the 20th century. A youngish woman in conservative dress, eyes averted, stands next to an older man, who wears a dark suit jacket atop overalls and a collarless shirt. The bald-headed, bespectacled man grips a three-pronged pitchfork - an old-fashioned tool at the time - and gazes flatly at the viewer. Behind them is a modest white home, with a decorative gothic window - a common feature of the "Carpenter Gothic" style of the period - positioned between the pair's heads. The curtains in the window echo the pattern of the woman's dress. A few potted plants are visible on the porch, just over the woman's shoulder. Tidy green trees, with a hint of perhaps a church steeple, along with a red barn, fill out the background.

Two days prior to the opening of the Art Institute of Chicago's exhibition, where the painting debuted, the Chicago Evening Post published an image. The stone-faced subjects - who many assumed to be husband and wife - generated a stunning amount of interest, and Wood became known nationwide, practically overnight. Wood said of the work - which he said showed a daughter and father, not a married couple as many assumed - that he "simply invented some 'American Gothic' people to stand in front of a house of this type," essentially doing nothing to dispel the work's ambiguity. The models for the couple, though, were his dentist and his younger sister Nan. It exemplifies the remarkable, inherent instability of Wood's mature work; interpretations of his depictions of Midwestern types, American folklore, and Iowa farming activities provoked contradictory reactions in 1931 as much as they do today. As Emily Braun states, "Even those who concur that satire may have been the operative mode for the artist debate whether his debunking was gentle or biting."

The reception of the work and its life since reflect the curious ambiguity of this seemingly straightforward image. It raises more questions than it answers. It's title declares itself American, but what, exactly, is emblematically American about it? If it is a paean to the simple folk of the mid-west, why has the artist posed the couple looking miserable? Is it meant to convey irony? Is it a commentary on American identity? Or does the title simply describe the revival-style architectural detail of the house? The debates of national identity that dominated the time of Wood's mature career play an important role in the interpretation of his work. The 1930s saw a retraction from growing cosmopolitanism into what Barbara Haskell describes as "a powerful strain in popular culture" with "a pronounced reverence for the values of community, hard work, and self-reliance that were seen as fundamental to the national character and embodied most fully in American's small towns and farms." Perhaps because of, rather than in spite of, the painting's ambiguity, Wood's enigmatic couple became iconic.

Oil on beaverboard - Art Institute of Chicago

Midnight Ride of Paul Revere (1931)

Artwork description & Analysis: Henry Wadsworth Longfellow's famous poem inspired Wood's 1931 depiction of Paul Revere's legendary ride through Massachusetts towns, warning of the arrival of British troops. A theatrical spotlight illuminates the center of the painting, showing the town from an aerial perspective, placing the tops of chimneys in the foreground. Towards the left, a doll-like Revere on his horse speeds past a white-washed church. A few citizens emerge from their homes in his wake. A darkened road, leading though rolling hills with decoratively spherical trees extends through the background on either side of the brightly lit town.

The patriotically inspiring poem, lauding Revere's journey "To every Middlesex village and farm, A cry of defiance not of fear," had long inspired Wood. As a child Wood reported that he had imagined "warning people of a dreaded cyclone," in similar fashion, perhaps influencing the playful fashion in which he depicted the legend. Stylistically, this work shows both the forward and backward-looking tendencies in Wood's mature style. The landscape is built upon a gleefully excessive decorative geometry, reducing every object to smoothly rounded or strictly linear shapes. The precision of the paint was a newer development for the artist, but the imposition of modern design on the landscape reflects his professional roots. Though Wood had no interest in working in a Cubist or truly abstract style, he wanted his work to have a modern look. Applying contemporary design principles to his landscapes was his solution - his trees and hills have the relentless repetitive geometry of an Art Deco skyscraper. The aerial perspective recalls a common device in Currier and Ives prints, which were enjoying a resurgence in popularity in the 1930s.

The choice of subject and the decorative treatment have been interpreted in opposing manners. One reading views this work - due to the lighthearted approach to the subject and the deadpan theatricality of the setting - as irreverent and reflective of what art historian Wanda Corn refers to as the "iconoclastic debunking mind-set of the 1920s," aligning Wood with H.L Mencken, known for his ridicule of mass American tastes. Others have grouped Wood's depiction with a parallel trend of a broader colonial-era preservationist movement in the United States, emblemized most clearly by John D. Rockefeller, Jr.'s restoration of Williamsburg, Virginia. Although Wood gives the subject a distinctively storybook treatment, with the bird's eye view and graphic scenery, the intent is a reinterpretation of a national legend, based on the artist's conviction that America had a rich literature, worthy of preservation and appreciation.

Oil on composition board - The Metropolitan Museum of Art, New York
More Grant Wood Artwork and Analysis:
Influences and Connections
Influences on Artist
Artists, Friends, Movements
Influenced by Artist
Artists, Friends, Movements

Interactive chart with Grant Wood's main influences, and the people and ideas that the artist influenced in turn.
View Influences Chart

| | | | | |
| --- | --- | --- | --- | --- |
| Artists | | Personal Contacts | | Movements |

Influences on Artist

Grant Wood
Years Worked: 1920 - 1942
Influenced by Artist

Artists

| | |
| --- | --- |
| | Elizabeth Catlett |
| | Dale Nichols |
| | Aaron Pyle |
| | John Rogers Cox |

Personal Contacts

Movements
If you see an error or typo, please:
tell us
Cite this page

Content compiled and written by Felicia Wivchar
Edited and published by The Art Story Contributors
" Artist Overview and Analysis". [Internet]. . TheArtStory.org
Content compiled and written by Felicia Wivchar
Edited and published by The Art Story Contributors
Available from:
First published on 11 Jul 2018. Updated and modified regularly.


[Accessed ]