Artists
Thomas Hart Benton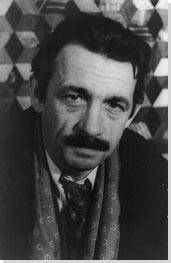 Born: April 15, 1889 - Neosho, Missouri
Died: January 19, 1975 - Kansas City, Missouri

"I have a sort of inner conviction that for all the possible limitations of my mind and the disturbing effects of my processes, for all the contradicting struggles and failures I have gone through, I have come to something that is in the image of America and the American people of my time."

Summary of Thomas Hart Benton
Thomas Hart Benton was one of America's most popular and heavily patronized modern artists during the decades leading up to World War II, and his murals were especially acclaimed. Along with Grant Wood and John Steuart Curry, Benton gained artistic fame as a Regionalist painter, depicting the people and culture of the American Midwest, in particular his native state of Missouri. While his subjects were primarily based in America's heartland, he lived in New York City for twenty years. Considered by many to be reactionary due to his outspoken and inflammatory diatribes against the art world, Benton, a populist, did in fact boldly use his art to protest the KKK, lynching, and fascism during the 1930s and 1940s. Benton was also an admired teacher at New York's Art Students League, offering students grounding in European art history, as well as an awareness of European modernism. The advent of Abstract Expressionism has all but eclipsed Benton's importance in the history of modern art.
Key Ideas
Benton's main contribution to 20th-century American art might be his thematic emphasis on images of ordinary people and common lore. His expressive realism stands out for its exaggerated curvilinear forms and shapes, and bold use of key colors. By shifting attention away from New York and towards the Midwest, Benton expanded both the scope of possible artistic subject matter, and the potential public for American art.
In his paintings and prints, Benton was devoted to the evocations of sound and music as a method of communication. His interest in sound, often vernacular songs and instruments, as well as stump-speeches and dialogue, can be seen as relating back to his family's history in Missouri politics, where one often spoke of the voice of the people; Benton sought to keep this popular voice alive in his artwork. The artist, a self-taught and often performing harmonica player, was also a collector, cataloguer, transcriber, and distributor of popular music.
By the mid-1940s, Benton became infamous for his outlandish claims against art critics and museums, at one point going on a homophobic rant. With his strong ego and stubbornness, Benton became a rather isolated persona-non-grata, even amongst his own field.
Jackson Pollock
was Benton's most ardent follower in the 1930s and his early work bears a strong similarity to that of his teacher in terms of style and subject matter. Rather than a complete break from Benton, Pollock's move towards pure abstraction is best seen as an aesthetic shift. The shift from Regionalism to Abstract Expressionism can also be read in relation to a broader cultural and political shift from New Deal reformist politics, to the Cold War post-atomic age.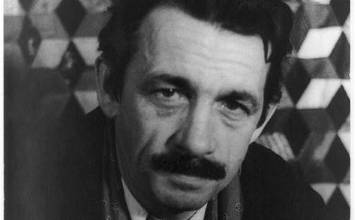 Thomas Hart Benton was born in Neosho, Missouri in 1889 into a family of prominent politicians committed to political republicanism and populism. His father was a congressman, and his great-uncle, for whom he was named, was an important US senator. Benton later recalled that, "Politics was the core of our family life." Through his art, in particular his murals, Benton sought to continue his family's support of 19th-century political republicanism, upholding the producers of society, and scornful of big business and big banks. Expected to follow his family's well-trodden path, instead, with his mother's encouragement he chose to study art. Starting at age seventeen he worked as a cartoonist for a local paper. Escaping the confines of small town life and rebelling against the stifling expectations of his family, Benton moved to Chicago where he enrolled in the Art Institute of Chicago in 1907, studying under Frederick Oswald.
| | | |
| --- | --- | --- |
| Thomas Hart Benton's childhood, life, career, and various anecdotes | | Read Thomas Hart Benton's Biography |
Important Art by Thomas Hart Benton

The below artworks are the most important by Thomas Hart Benton - that both overview the major creative periods, and highlight the greatest achievements by the artist.


Artwork Images

Self-Portrait with Rita (1922)

Artwork description & Analysis: Painted in Martha's Vineyard, in this work Benton renounces his earlier experimentation in cubist-inspired abstractions. Standing bare chest alongside his scantily clad wife, Rita, Benton's self-portrait is among the most startling figure subjects of the early 1920s. Here, Benton classicized his own musculature, stressed the highly physical modern male body. The image of Rita conveys Benton's solid knowledge of 16th-century Italian art.

Oil on canvas - National Portrait Gallery, Smithsonian Institution, Washington, DC


Artwork Images

City Building (Part of American Today Mural) (1930)

Artwork description & Analysis: Commissioned by New York City's innovative and progressive New School for Social Research, Benton's America Today murals joyfully celebrate an America before the full impact of the Great Depression had been realized. Here, a multi-racial labor force - this in itself is modern and utopian image because of heavily segregated labor in America - busily build the city. Emphasis is placed on the producer, rather than on material consumption. Benton pictures high skyscrapers, which were markers of the new modern city, urbanism, and industrialism. The presence of a ship recalls Benton's earlier work for the US Navy, and reminds us of New York's prominence as a port city. Benton applied wood molding to the canvas to separate one vignette from the other, which gives a modern, cinematic quality to the overall composition. (Benton had earlier worked in the film industry as well.) His rapid compositional shifts in depth between the foreground and deep background recall cinematic effects. In addition to Benton's murals, the New School also commissioned the great Mexican muralist José Clemente Orozco to paint a suite of frescoes which complement Benton's tribute to the national by focusing on the international. Standing in front of this monumental and brightly colored image, one senses the city humming and pulsating with new energy.

Distemper, egg tempera, and oil glaze on linen - Metropolitan Museum of Art, New York City, NY


Artwork Images

The Ballad of the Jealous Lover of Lone Green Valley (1934)

Artwork description & Analysis: The work illustrates an old Ozark folk song of the same name in which a man stabs his wife on account of her supposed infidelity, only to find out later that his suspicion was unfounded. This work is typical of Benton's devotion to sound and music-making in his painting career. Elements of Synchromism - the musical characteristics of color - are evident such as the radiant layered halo connecting the man and wife in the background, which suggests music resonating. Early works by Pollock echo the undulating forms and use of space evident here in his teacher's painting, and in fact, Pollock who was close to Benton and his family, modeled for the harmonica player in the foreground.

Egg tempera and oil on canvas - Spencer Museum of Art, University of Kansas
More Thomas Hart Benton Artwork and Analysis:
Influences and Connections
Influences on Artist
Artists, Friends, Movements
Influenced by Artist
Artists, Friends, Movements

Interactive chart with Thomas Hart Benton's main influences, and the people and ideas that the artist influenced in turn.
View Influences Chart

Artists

| | |
| --- | --- |
| | Michelangelo |
| | El Greco |
| | Diego Rivera |
| | Morgan Russell |
| | John Marin |

Personal Contacts

| | |
| --- | --- |
| | Thomas Craven |
| | John Steuart Curry |
| | Grant Wood |
| | Stanton Macdonald-Wright |
| | José Clemente Orozco |

Movements

| | |
| --- | --- |
| | Renaissance |
| | The Baroque |
| | American Modernist Painting |
| | Synchromism |

Influences on Artist

Thomas Hart Benton
Years Worked: 1889 - 1975
Influenced by Artist

| | | | | |
| --- | --- | --- | --- | --- |
| Artists | | Personal Contacts | | Movements |
If you see an error or typo, please:
tell us
Cite this page

Content compiled and written by The Art Story Contributors
Edited and published by The Art Story Contributors
" Artist Overview and Analysis". [Internet]. . TheArtStory.org
Content compiled and written by The Art Story Contributors
Edited and published by The Art Story Contributors
Available from:
First published on 05 Jun 2014. Updated and modified regularly.


[Accessed ]