Artists
Howard Hodgkin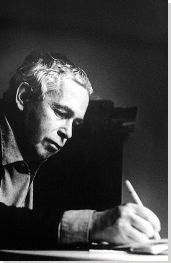 Born: August 6, 1932 - Hammersmith, London, UK
Died: March 9, 2017 - London, UK

"[P]ainters [...] have to build up a reservoir of feeling which is real but which can be tapped on demand."
Summary of Howard Hodgkin
Howard Hodgkin was amongst the last great luminaries of a tradition of twentieth-century British abstraction that included figures such as Barbara Hepworth and Ben Nicholson. Many older artists associated with this tradition could be loosely attached to particular styles or movements, such as the St. Ives School of the mid-twentieth century. But Hodgkin was a more singular presence in the British art world, not least because his own contemporaries and friends included the British Pop artists: Patrick Caulfield, David Hockney, Peter Blake, and others. Hodgkin was thus a curious liminal figure, celebrated for an emotionally invested abstraction at a time when such an approach had largely been consigned to recent art history. At their best, Hodgkin's bold canvases and panel-based paintings occupy a thrilling intersection between pure arrangement of color and texture and subtly evocative figuration.
Key Ideas
In certain respects, Hodgkin's oeuvre might be compared to that of a North-American
Abstract Expressionist
such as
Mark Rothko
, particularly in its use of bold, rectangular panels of near-luminous color. But whereas Rothko's work has been celebrated for a sort of transcendent non-specificity, in which color and form as such become objects of wonder, Hodgkin's abstract compositions were more likely to be tethered to a representational motif: suggesting, if only for a second, a sunset, an interior, or a city-scene.
Hodgkin was amongst the most consummate of painterly painters of the twentieth century. Particularly towards the end of his career, he was able to apply a stroke of paint in such a way that each of the individual colors mixed into it also seemed to be presented in isolation, in fine granular strands. This was an effect aided by his use of wooden panels rather than canvases as painting surfaces, allowing the paint to stand proud of its background in such a way that it almost became a sculptural material.
One of Hodgkin's most distinctive formal effects was the incorporation of a painted frame into the picture-space. In iconic works such as Rain (1984-89), big, expressive, fluid brush-strokes mark out the four sides of the canvas, a gesture exemplifying the self-reflexive spirit of twentieth-century painting. By such means, the painting offers a subtle commentary on its own presentation and placement, becoming a self-contained object in the world rather than - or as well as - a portal into an imaginative space.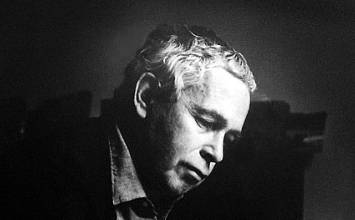 Howard Hodgkin was born into a middle-class family in London in 1932. His maternal grandfather, Gordon Hewart, was Lord Chief Justice between 1922 and 1940, and his cousins included the art critic Roger Fry, the artist Eliot Hodgkin, and the conductor John Eliot Gardiner. By the age of five he had already decided to become a painter, a fact he often publicly commented on later in life. His upbringing was disturbed by the Second World War, and between 1940 and 1943 he lived on Long Island in New York with his mother and older sister, avoiding the Blitz in Britain. This was a formative time for Hodgkin. He visited the Museum of Modern Art in New York, and took an interest in paintings by Picasso, Matisse, and Stuart Davis.
Important Art by Howard Hodgkin

The below artworks are the most important by Howard Hodgkin - that both overview the major creative periods, and highlight the greatest achievements by the artist.


Artwork Images

Indian Subject (Blue) (1965-69)

Artwork description & Analysis: This work is a typical example of the semi-abstract, loosely representational style that Hodgkin developed in the 1960s, in which the picture-surface is smooth and flat, constructed from areas of rectilinear, brilliantly colorful paint. A distinction between ground below and sky above is implied by a break between the various outlined shapes suggested in the lower half of the painting - a palm, a pink oval, a yellow circle, a blue triangle - and the flowing area at the top, consisting of reds, pinks and yellows. The work suggests Hodgkin's attempts to visually imbibe the dazzling colors of the Indian subcontinent, which contrasted so strongly with the muted palette he associated with England. It was an ambience he sought to capture frequently for the rest of his career.

This is the first painting that Hodgkin made using a wooden panel support, an important milestone in the development of his distinctive technique and style. The panel support was significant because it later permitted him to make more gestural applications of the paintbrush. Where a canvas is more responsive to the artist's touch, absorbing some of the paint applied to it, the rigidity of a panel allows the paint to remain pronounced from the support, and for it to retain a clearer impression of the brush that applied it. The title, Indian Subject (Blue), indicates that the picture was painted in India, which Hodgkin had first visited in 1964, just a year before starting this work. He noted that the painting represented a scene at Kishangarh in the state of Rajasthan, showing that despite his abstract manner, the inspiration for this painting and others sprang from an immediate and vivid sensory experience. His intention, as such, was that the picture should convey to the viewer something of a personal emotional world rather than a pure, inhuman abstraction.

Oil on wood - private collection


Artwork Images

Grantchester Road (1975)

Artwork description & Analysis: Like all of Hodgkin's mature work, this painting lies somewhere between representation and abstraction. The title, and certain details of the painting itself, suggest that we are looking into a domestic interior. In the middle of the picture are a chimney breast and perhaps a small fireplace, though both motifs are incorporated into a partly non-representational arrangement of colorful shapes. Hodgkin also used strong patterning to create surface-effects bearing no resemblance to any subject-matter. The spots which dominate this composition - black on orange at the edges, red on blue and orange on the chimney breast - are distinctive of his style of painting during the first mature stage of his career.

In an interview with Timothy Hyman, Hodgkin once described his working process as "a kind of desperate improvisation", and this is evident in the resounding mixture of color and pattern in Grantchester Road. Starting from a memory of a place or social interaction, Hodgkin added layer upon layer of paint to his work to try to generate a satisfactory visual expression of that memory. Art historian Frances Spalding has described Hodgkin as "[m]ore concerned with the emotional than the visual reality of the scene[.] Hodgkin deliberately avoids the illustrational and works with shapes that are impersonal [...] forging with these an immediately recognizable personal language".

The bold arcs of black and pink paint floating at the surface of this work were evidently late additions, not intended to obscure what lay beneath, but rather to enhance the whole picture. Indeed, this additive process - the layering of different patterns and shapes on top of each other - is a distinguishing feature of Hodgkin's practice. It gave his work a very personal appearance, and Grantchester Road is a marked and highly successful instance of Hodgkin's "desperate improvising".

Oil on wood - Pallant House Gallery, Chichester


Artwork Images

Rain (1984-89)

Artwork description & Analysis: This work, in the style that is perhaps most readily associated with Hodgkin, demonstrates the impressive fluency that he had achieved as a painter by the 1980s. The brushwork in Rain is broader, his use of color is more focused and cohesive, than in earlier works, and he seems less concerned with suggesting a representational setting, though he continues to generate a subtle sense of depth. As with many of his later works, the painted frame - created with loosely handled applications of a loaded brush - is a prominent feature. We seem to peer through this frame into a central space containing a receding landscape, or perhaps a more abstract space, consisting of a patchwork of single brushstrokes laid on top of one another. Having previously created pictures on a domestic scale, the size of Rain - nearly two meters wide - partly reflects the institutional recognition and creative freedom that Hodgkin was enjoying at the time. The curator Nicholas Serota wrote at the time of Hodgkin's death that "[a]s his confidence grew his paintings became bigger, and he painted with so much more confidence, almost with abandon."

Hodgkin had an abiding interest in the manner by which a painting was framed. The effect of the painted frame here is to engage the viewer with a particular and characteristically modernist kind of intimacy. Breaking down the Renaissance theory of the picture as a window into an imaginative space, the incorporation of the frame into the picture suggests the picture's object-like quality: as a thing which hangs on a wall, and can be directly and sensually engaged with. Indeed, because there was often no extraneous frame separating his pictures from the walls on which they hung, Hodgkin paid close attention to the color of gallery-walls when involved with retrospective exhibitions of his work. On various occasions, he hung work against walls of duck-egg blue, dove-grey, green, gold and ultramarine. This concern with wall-color reflects the importance of the new conceptual and technical paradigm that Hodgkin was expressing with self-framed works such as Rain.

Oil on composite panel - Tate Gallery, London
More Howard Hodgkin Artwork and Analysis:
Influences and Connections
Influences on Artist
Artists, Friends, Movements
Influenced by Artist
Artists, Friends, Movements

Interactive chart with Howard Hodgkin's main influences, and the people and ideas that the artist influenced in turn.
View Influences Chart


Influences on Artist

Howard Hodgkin
Years Worked: 1949 - 2016
Influenced by Artist

Artists

Personal Contacts

| | |
| --- | --- |
| | Patrick Caulfield |

Movements
If you see an error or typo, please:
tell us
Cite this page

Content compiled and written by Luke Farey
Edited and revised, with Synopsis and Key Ideas added by Greg Thomas
" Artist Overview and Analysis". [Internet]. . TheArtStory.org
Content compiled and written by Luke Farey
Edited and revised, with Synopsis and Key Ideas added by Greg Thomas
Available from:
First published on 02 Sep 2018. Updated and modified regularly.


[Accessed ]