Artists
Gary Hume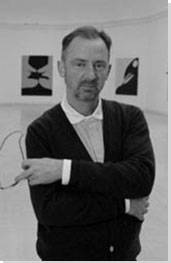 Born: 9 May 1962 - Tenterden, Kent, England

"A painting should be tough; it should have muscle, but I have to find some tenderness in it, too. There has to be that dynamic."
Summary of Gary Hume
Gary Hume is a British artist whose membership of the notorious Young British Artists (YBA) movement in the 1990s first brought his paintings to public attention. But unlike several of his YBA contemporaries, Hume avoided much of the extreme partying and tabloid notoriety that characterized the movement throughout the decade by preferring to focus on the development of his abstract, minimal, and often wryly narrative visual artworks. Using broad planes of color and household gloss paint to suggest familiar objects (such as hospital doors), his artwork came to be championed by international art dealers like Charles Saatchi as an innovative contemporary minimalism.

Hume later moved away from this established and commercially successful abstract formula in order to explore new modes of representation, foregrounding more recognizable objects and imagery within his paintings and branching out into sculpture and photography. No matter what the medium though, Hume's work uses abstraction to ask subtle questions about the world around his viewers, the cultures invisible to those embedded within them, and the nature of visual representation.
Key Ideas
Hume's work is inherently
postmodern
in its influence by, and combination of aspects of, several different art-historical precedents. It combines ideas of audience engagement and relation with the art object drawn from early 20
th
century
Minimalism
, images of recognisable and familiar objects that reflect
Pop Art
, and formal aesthetic experimentation and visual subversion with roots in the
Op-Art
and
Neo-Geo
artistic movements.
The choice of materials in Hume's work is both technical and conceptual. Through industrial and household gloss paint, the materials most often associated with his practice, he is able to reproduce a high depth of color field and shine, allowing the viewer to see themselves literally reflected within his abstract paintings. But these paints also suggest industrial activity and institutional conformity, as well as accessibility and familiarity. They therefore embody conceptually ideas that Hume represents abstractly, such as the ubiquity of institutional design (as in his images of hospital doors).
Hume produces art in easily discernible series of work, creating a number of pieces that adhere to a particular set of rules or formal principles before abandoning those in favour of his next project series. This process of focused experimentation and development has remained characteristic of his activity since his time as a student at Goldsmiths University in the 1990s.
Related to this process is Hume's remarkably driven and un-self-conscious character, producing artworks with little regard for fashion or commercial success. This is most apparent in his early commitment to abstract painting, but also to his later move away from it. Hume has throughout his career shifted gears, embarking on new projects outside of the strict limits he had previously placed on himself and often against the advice of gallerists or peers.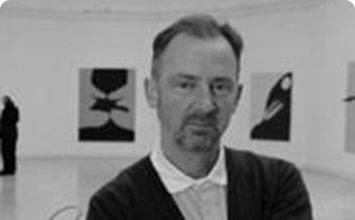 Gary Hume was born in 1962 in Tenterden, a leafy middle-class town near Ashford in the English county of Kent. He says that he often felt attuned to the natural rhythms of the countryside around him, recalling, "I love to see a wood full of bluebells. Growing up in the Kent countryside, I have special memories of this brief annual spectacle." He was the second youngest in a family of five siblings, raised by his mother alone, after his father left when Hume was 18 months old. His mother worked as a National Health Service (NHS) surgery manager but also had a love for art and poetry. As Hume recalls, "My mum always liked poetry, and she had pictures on the wall, so there was this visual stuff around."
Important Art by Gary Hume

The below artworks are the most important by Gary Hume - that both overview the major creative periods, and highlight the greatest achievements by the artist.


Artwork Images

Girl Boy, Boy Girl (1991)

Artwork description & Analysis: In this work two upright painted panels sit side by side. One is red, the other an off-white shade of magnolia. Each is painted with a high gloss finish, reflecting the room around them and the viewers looking at the work, and are decorated with geometric shapes and two dark circles resembling round windows into another space, or a pair of eyes looking back at the viewer.

These paintings were made early in Hume's career, as part of his 'door series'. The first set he painted were based on the geometric patterns and shapes of the double-hinged swing doors at St Bartholemew's Hospital in East London, with porthole windows and kick or push plates below them. As he developed the series the designs of the doors changed, but they were always intended to resemble industrial doors, painted with the same factory produced gloss paint in synthetic, clinical colors. The original idea for the door paintings came from an NHS poster Hume saw in a Bupa advertisement in the newspaper. He said, "There were these depressed people in a depressed NHS hospital, and in the background was this modernist door - clear, perfectly designed, functional, democratic. I saw it and thought ... 'there it is - I can paint that. It's perfect.'"

As a young artist Hume was influenced by the geometric language of Minimalism, and even more so by Color Field Painting, but he was searching for a way to bring conceptual meaning back to this abstraction. His paintings of hospital doors were the first of their kind to blend modernist simplicity with narrative content, inviting viewers to consider where the doors might lead, or what might be happening behind them. He chose hospital doors due to their class-less democracy, representing the place where many of us will enter, leave, and are otherwise connected to the world we live in.

Enamel paint on board - Saatchi Gallery


Artwork Images

Tony Blackburn (Tony Blackburn)

Artwork description & Analysis: Here a dark, three leafed clover is offset in dramatic contrast against a yellow and lilac backdrop. A black halo is carefully placed behind the leaf to resemble smooth hair or a helmet, suggesting the clover might represent a featureless face.

According to Hume this minimal painting depicts the well-known British radio DJ Tony Blackburn, whose distinctive black hairstyle from his 1960s heyday is captured here. The painting was made during a turning point in Hume's career, when he abandoned his signature geometric door paintings and was searching for a new style. One of the first new subjects he painted was a three leafed clover. He said, "That was my beginning really ... (I thought) I'll rename the three-leaf clover as a lucky talisman."

The motif was later translated into figurative imagery, as seen here, in a distinctive new abstract style. Hume has since made a number of uncanny and enigmatic portraits of figures from public life like this one, including Kate Moss, Michael Jackson and Angela Merkel. Like Andy Warhol, his Pop art predecessor, Hume has mingled in celebrity circles and is particularly interested in capturing the fragile essence of the person behind the public charade. Whitechapel Gallery director Iwona Blazwick describes how the barest minimum of information triggers recognition in his portraits, "these images have transcended the person, they have become universal, they are mass produced, in a way they are no longer quite human... but they are instantly and globally recognisable."

Gloss and matt paint on panel - Saatchi Gallery


Artwork Images

Love Loves Unlovable (1994)

Artwork description & Analysis: Two black, silhouetted figures face one another in separate panels, each surrounded by acid-bright floral patterns. The panels are mirror images, re-creating the strange symmetry of a Rorschach test. It is as if one figure is gazing across into his reflection, but it is unclear which panel reveals the real person and which is the mirage. The combination of black silhouette and flattened floral pattern recalls Asian prints and decorative paintings, as well as Henri Matisse's decorative collages. The diptych format here also resembles Hume's earlier door paintings.

This painting was one of the first Hume made after abandoning his well-known door paintings and was beginning to explore a range of imagery with greater narrative content. In 1991 the artist encountered the Marble Athletes in Mussolini's Olympic Stadium in Rome, which he later integrated into a series of new paintings. Hume said, "One half of the painting mirrors the other, as though this Narcissus (is) locked in contemplation of his own beauty."

The artist made this painting during a significant period of self-evaluation, when he was reconsidering the kind of artist he wanted to be. The figurative imagery in this work acts like a self-portrait, which he made in order to try and accept a new version of himself. Hume said, "Loving yourself ... is to love the most undesirable person around, because you know your fears and doubts more than anyone else's. I saw (this) as a passivist painting, loving the unlovable other." Echoing his earlier work, the high gloss surface of the painting reflects the person viewing the painting, inviting them to be a part of the work, and to consider their own reflection looking back at them.

Hume said, "The surface is all you get of me." With such high-shine surfaces he draws attention to his paintings as flat objects rather than illusionistic spaces, where the light is reflected on the surface rather than emanating from within, revealing an ongoing interest in Minimalist art, which has continued to influence Post-minimalist painters working today including Ian Davenport and Callum Innes.

Oil on panel - Saatchi Gallery
More Gary Hume Artwork and Analysis:
Influences and Connections
Influences on Artist
Artists, Friends, Movements
Influenced by Artist
Artists, Friends, Movements

Interactive chart with Gary Hume's main influences, and the people and ideas that the artist influenced in turn.
View Influences Chart

Artists

| | |
| --- | --- |
| | Andy Warhol |
| | Donald Judd |
| | Julian Schnabel |
| | Brice Marden |
| | Michael Craig-Martin |

Personal Contacts

| | |
| --- | --- |
| | Sarah Lucas |
| | Damien Hirst |
| | Fiona Rae |
| | Tracey Emin |
| | Rachel Whiteread |

Movements

Influences on Artist

Gary Hume
Years Worked: 1988 - Current
Influenced by Artist

| | | | | |
| --- | --- | --- | --- | --- |
| Artists | | Personal Contacts | | Movements |
If you see an error or typo, please:
tell us
Cite this page

Content compiled and written by Rosie Lesso
Edited and revised, with Synopsis and Key Ideas added by Lewis Church
" Artist Overview and Analysis". [Internet]. . TheArtStory.org
Content compiled and written by Rosie Lesso
Edited and revised, with Synopsis and Key Ideas added by Lewis Church
Available from:
First published on 15 Nov 2018. Updated and modified regularly.


[Accessed ]