Artists
Donald Judd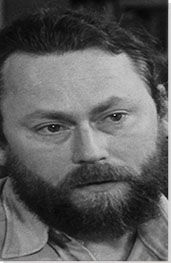 Born: June 3, 1928 - Excelsior Springs, Missouri
Died: February 12, 1994 - New York, New York

"Three dimensions are real space. That gets rid of the problem of illusionism and of literal space... which is riddance of one of the salient and most objectionable relics of European art."

Summary of Donald Judd
Donald Judd was an American artist, whose rejection of both traditional painting and sculpture led him to a conception of art built upon the idea of the object as it exists in the environment. Judd's works belong to the Minimalist movement, whose goal was to rid art of the Abstract Expressionists' reliance on the self-referential trace of the painter in order to form pieces that were free from emotion. To accomplish this task, artists such as Judd created works comprising of single or repeated geometric forms produced from industrialized, machine-made materials that eschewed the artist's touch. Judd's geometric and modular creations have often been criticized for a seeming lack of content; it is this simplicity, however, that calls into question the nature of art and that posits Minimalist sculpture as an object of contemplation, one whose literal and insistent presence informs the process of beholding.
Key Ideas
Judd's goal was to make objects that stood on their own as part of an expanded field of image making and that did not allude to anything beyond their own physical presence. As a result, his work, along with that of other Minimalist artists, is often called literalist.
Unlike traditional sculpture, which was placed upon a plinth, thus setting it apart as a work of art, Judd's works stand directly on the floor and as a result, force the viewer to confront them according to their own, material existence.
Judd combined the use of highly finished, industrialized materials, such as iron, steel, plastic, and Plexiglas - techniques and methods associated with the Bauhaus School - to give his works an impersonal, factory aesthetic. This served to separate his pieces from those of the Abstract Expressionists, whose emphasis on the artist's touch gave their images a confessional, personal context.
Judd often presented his work in a serialized manner, a strategy that related to the reality of postwar, consumer culture as well as to the standardization and de-subjectifying nature of identical, multiple forms or systems. The multiple was another way to reinforce their materiality. This method was also seen as a part of a more general tendency toward the democratization of art, that is, to make art more accessible to more people, because it was composed of fabricated parts.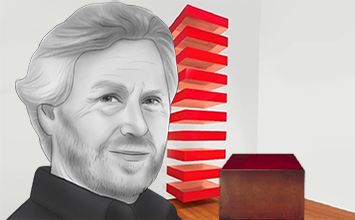 Donald Judd was born on June 3, 1928, in Excelsior Springs, Missouri. He spent much of his early childhood on his grandparents' farm and continued to live in the Midwest with his parents until they finally settled in New Jersey.
Important Art by Donald Judd

The below artworks are the most important by Donald Judd - that both overview the major creative periods, and highlight the greatest achievements by the artist.


Artwork Images

Untitled (1968)

Artwork description & Analysis: This work represents one of Judd's early experiments in Minimalism: a freestanding, aluminum rectangle colored with brown enamel. By the 1960s, Judd had abandoned painting, having recognized that, "actual space is intrinsically more powerful and specific than paint on a surface;" that is, he believed that a work that shares three-dimensional space with the beholder calls more attention to itself than an image that is hung on the wall. As an artist, Judd was beginning to recognize the importance of the environment to how a work is perceived. Here, he places a simple, rectangular form directly onto the floor of the gallery so that it demands recognition through its insistent materiality as well as through the fact that it impinges upon the viewer's passage through the space. The work, therefore, exists as an object rather than as something that belongs to the privileged and remote world of art. In this manner, Judd has begun to use a new visual language for three-dimensional form, one that emphasizes the simplicity and physical nature of the piece.

Enamel on aluminum, 55.9 x 127 x 95.3 cm - Guggenheim Museum, NY


Artwork Images

Untitled (1972)

Artwork description & Analysis: By the 1970s, Judd's "specific objects," as he liked to call these box-like forms that sat directly on the floor, had become, despite their sharp edges and flat color, more complex through his exploration of surface and color. The exterior surface is composed of copper, an industrial material, but one whose warm and reflective surface combines with the richness of the wooden floor as it mirrors its environment. The interior is colored with a highly saturated, red enamel that vibrates in its intensity and contrasts with the static nature of the form in its entirety. The red interior also contrasts with the copper, and yet deepens the viewers' experience by encouraging them to think about the relationship between inside and outside and by asking them to consider the effects of different surface values. Here, the sleekness of the red enamel adds to the seductive aspect of the piece, and may suggest some of the objects, like nail polish or cars, that we choose to purchase as consumers. Moreover, this piece is in some ways the polar opposite of the whole anthropomorphizing tendency that viewers have when they look at sculpture -- the tendency for humans to extend the vertical orientation of their own bodies and see human forms in sculpture, which traditionally was vertically oriented. Instead of seeing in the work a reflection of that usual vertical orientation of the human, organic form, here we have a piece that is more horizontal than vertical and contains inside it empty space rather than "insides" (internal organs).

Copper, enamel and aluminum, 916 x 1555 x 1782mm - Tate Modern, London


Artwork Images

Untitled (1973)

Artwork description & Analysis: This work is comprised of six identical, separate units with equal space in between each one. Although Untitled would seem to be part of a continuum, Judd believed that his works should be "seen as a whole" rather than as a composition of parts, and was convinced that color, shape, and surface created a unitary character; there is no hierarchy of forms or focal point as in more traditional works -- only repetition and rhythm created by the repetition. Here, Judd has begun working with Plexiglas and has combined it with a highly polished, reflective metal -- brass. This juxtaposition gives the viewer two very different experiences; on the one hand, the brass turns the observer's gaze outwards as it doubles both their own image and the space around them, while on the other, the transparent, yet richly colored Plexiglas draws the viewer's attention to the interior of the forms. The photograph of the work as reproduced here has been taken from an angle, but in actuality the viewer has a choice of point of view and distance from the piece. Changing either of these two variables changes the shapes and proportional relationships between the brass surfaces and those of the red Plexiglas. The viewer is also forced to confront the paradox of the unreal distortions reflected in the shiny brass surface versus the insistent reality of the units as things-in-themselves. Although the boxes are no longer placed on the floor, they still exist as objects in space, ones that impinge upon the viewer's own corporeal presence.

Brass and red flourescent Plexiglas, 6 units with 8 inch intervals, each unit 86.4 cm - Guggenheim, New York
More Donald Judd Artwork and Analysis:
Influences and Connections
Influences on Artist
Artists, Friends, Movements
Influenced by Artist
Artists, Friends, Movements

Interactive chart with Donald Judd's main influences, and the people and ideas that the artist influenced in turn.
View Influences Chart

| | | | | |
| --- | --- | --- | --- | --- |
| Artists | | Personal Contacts | | Movements |

Influences on Artist

Donald Judd
Years Worked: 1948 - 1994
Influenced by Artist

If you see an error or typo, please:
tell us
Cite this page

Content compiled and written by The Art Story Contributors
Edited and published by The Art Story Contributors
" Artist Overview and Analysis". [Internet]. . TheArtStory.org
Content compiled and written by The Art Story Contributors
Edited and published by The Art Story Contributors
Available from:
First published on 05 Jun 2014. Updated and modified regularly.


[Accessed ]