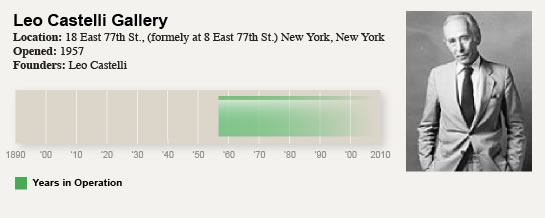 Summary of The Leo Castelli Gallery
Art dealer Leo Castelli was once referred to as "the acknowledged dean of contemporary art dealers." In the late 1950s and well into the 1960s, the ever-expanding Leo Castelli Gallery became a major destination for second-generation Abstract Expressionists as well as Neo-Dada, Pop, Minimalist and Conceptualist artists. As new styles emerged, the Castelli Gallery continued to remain on the cutting edge. Castelli himself was widely revered by his peers for having an uncanny eye for young and fresh artistic talent.
Background of Leo Castelli and his Paris Gallery
Leo Krauss was in the Italian port town of Trieste on the border of Slovenia in 1907. Castelli was enamored of literature at a young age. In 1919, Leo adopted his mother's maiden name of Castelli. In 1932 he met and married Ileana Schapira, the daughter of a wealthy Rumanian industrialist, and with his father-in-law's financial help, Castelli opened a Paris art gallery in the spring of 1939, which showcased Art Deco furniture,
objects d'art
and Surrealist paintings. The signature artwork at the gallery's opening was Pavel Tchelitchew's
Phenomena
(1936-38).
As conflicts heightened throughout Europe and the Nazis invaded one country after another, Leo and Ileana retreated to the south of France. The Paris gallery remained open under the leadership of Castelli's partner, the architect René Drouin. The Castellis narrowly escaped the country before the German invasion of Paris in 1940. After taking a complicated escape route through Algeria, Morocco and then Spain, they finally arrived in New York in 1941.
The Castellis in New York City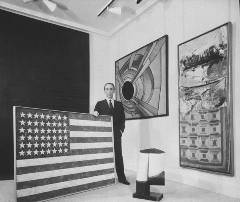 Leo Castelli was instantly attracted to the burgeoning art scene in New York. He began frequenting popular artist hang-outs on East 10th Street, The Museum of Modern Art in midtown, and the Hamptons on Long Island. He befriended the art dealer Sidney Janis and several of the Abstract Expressionists, including Jackson Pollock and Lee Krasner, Willem and Elaine de Kooning, and Hans Hofmann.
In 1949-50, Castelli officially ended his association with his former Paris gallery and decided to focus all his efforts on organizing art shows in New York. He helped Sidney Janis curate the
Young Painters in the U.S. and France
exhibit at Janis' midtown art gallery, and played an integral role in putting together the seminal
Ninth Street Show
.
The Ninth Street Show(May 21 - June 10, 1951) at 60 East 9th St.
Castelli called the
Ninth Street Show
"a celebration of Abstract Expressionism." The critic Irving Sandler recalled, "With the help of Leo Castelli, a group of charter members [John Ferren, Franz Kline and Conrad Marca-Relli] leased an empty store at 60 East Ninth Street for $70, and drew up an initial list of participants." Of the 60 or so works on display, included in the show were Pollock's
Number 1
(1950) and de Kooning's
Woman I
(1950-52).
Even though several major figures were absent from the exhibit (Still, Newman, Rothko, Gottlieb and Baziotes), one notable presence was Castelli's inclusion of a then unknown Robert Rauschenberg. Castelli once commented, "I decided to include Rauschenberg in that show, even though at the time the work seemed to have little to do with the Abstract Expressionist dogma. Perhaps it was an advance sign that I already saw beyond the Abstract Expressionists."
The Leo Castelli Gallery Opens
Castelli became frustrated after years of bartering deals with Sidney Janis, and set out to open his own gallery space. In February 1957 he opened his gallery in his fourth-floor apartment on the Upper East Side of Manhattan. Initially unsure of what he wanted the gallery to represent, Castelli exhibited European works by Léger, Picasso, Mondrian, Kandinsky and Dubuffet along with various Abstract Expressionist works by Pollock, Smith and de Kooning.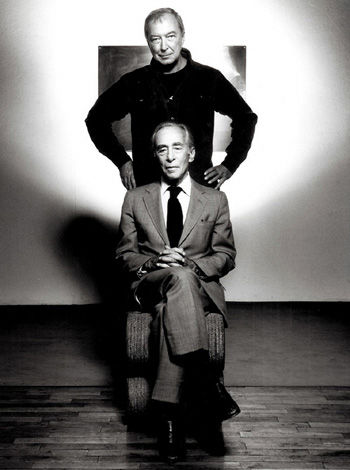 The first major exhibition for the gallery occurred in May of that year, entitled
New Works
, where Jasper Johns' early
Flag
(1955) painting was unveiled, along with Rauschenberg's
Gloria
(1956) and the works of other artists who marked a new phase in New York art. Of Johns and Rauschenberg in particular, Castelli recalled in 1970 that these two were his most loyal clients: "Although I knew already that Jasper Johns and Rauschenberg would be the stars of my gallery, I did not imagine that they would be the ones who appeared at the very beginning and would still be with me. There are no others except those two." In 1958, the gallery held solo exhibitions for each artist.
Pop Art and Beyond
The 1960s were boom years for the Castelli Gallery. Once Johns and Rauschenberg signed with Castelli, a new era had dawned for American art: Abstract Expressionism was fading while a crop of new styles took its place, from Pop and Op to Super-Realism and Neo-Expressionism. When Leo Castelli sold Andy Warhol's
Campbell's Soup Cans
(1962) it proved to be a critical moment for him as an American art dealer.
The Castelli Gallery welcomed artists of all veins in the immediate post-Abstract Expressionist years, including practitioners of Pop, Minimalism and Conceptualism. Artists such as Lichtenstein, Rosenquist, Judd, Stella, Serra, Morris and many others were all represented in Castelli's original gallery on 8 East 77th, as well as the other gallery spaces Castelli acquired over the ensuing decades (two galleries in SoHo, in addition to his new expanded space just down the block on 18 East 77th Street).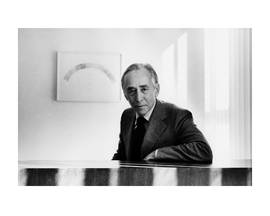 Legacy
The Whitney Museum's director David A. Ross once commented that, "Wherever the important work was in postwar American art, Leo has been at the center of it." Practically every big name in American art during the latter half of the 20th century, from Willem de Kooning to Julian Schnabel, had been represented by the Leo Castelli Gallery at one time or another. Like most art galleries of the era, it began as a small and modest enterprise, exhibiting a few European paintings by reliable greats. But soon thereafter, the Castelli Gallery rose to prominence by placing its stock in three major artists who collectively marked a new era in American art: Johns, Rauschenberg and Frank Stella. From that point forward, the Gallery was a premier destination for any rising or established artist, American or otherwise.
Most Important Exhibitions:
New Works Exhibition
Run time:
May 6 - 25, 1957


Artists Represented:
Jasper Johns, Robert Rauschenberg, Al Leslie, Morris Louis, Friedel Dzubas


Importance:
Opening just a few months after the gallery opened its doors, this groundbreaking exhibition unveiled two young artists to the world: Jasper Johns and Robert Rauschenberg. While other notable artists were on display, it was Johns and Rauschenberg who stole the show. Their new and refreshing explorations of flatness and plasticity marked a new era for Abstract art, thus making the Leo Castelli Gallery the starting point for the emergence of Neo-Dada and the ensuing Pop art movements.


Jasper Johns
Run time:
January 20 - February 8, 1958


Artists Represented:
Jasper Johns


Importance:
With the rapidly-growing popularity of Johns and Rauschenberg in motion, Castelli gave each artist his own solo exhibit at the gallery in 1958. Critic and Art News editor Thomas B. Hess paid a visit to the gallery before Johns' opening, and was so taken with the artist's Target with Four Faces (1955) that he asked Castelli if he could borrow it. Castelli agreed and not long after this, the artwork appeared on the cover of Hess' Art News, a full month before the exhibition opening.



Quotes

"... in my first show I wanted to stress this idea that American painting was just as good as the European, the great Europeans. So I had a show which included Léger, Mondrian, Giacometti, Dubuffet, to mention just a few Europeans, plus Pollock, David Smith, and de Kooning ... From then on I really didn't know exactly what to do ... Some of my Abstract Expressionist, young Abstract Expressionist friends wanted to show in the gallery, and I was game, but I wasn't convinced that that was the ultimate goal, that I had to show secondary Abstract Expressionists."

- Leo Castelli

"Two years after Johns, Frank Stella appeared in 1959. Right after Stella, we had the Pop artists, then the Minimalists, then the Conceptualists. It was astonishing. In 15 years I found them all."

- Leo Castelli

"Leo has all the right instincts. He has enough business sense to keep the gallery doors open, but he's less interested in money than he is in art. He's very much for the artists."

- Roy Lichtenstein
THIS PAGE IS OLD
The Art Story Foundation continues to improve the content on this website. This page was written over 4 years ago, when we didn't have the more stringent/detailed editorial process that we do now. Please stay tuned as we continue to update existing pages (and build new ones). Thank you for your patronage!
WORKS OF ART:
FEATURED BOOKS:
Biography of Leo Castelli

Leo and His Circle: The Life of Leo Castelli
Written By Leo Castelli

Jasper Johns

Leo Castelli: Ten Years

Leo Castelli: Twenty Years
Exhibition Catalogs from the Leo Castelli Gallery

Jasper Johns: The seasons ; January 31-March 7, 1987, Leo Castelli Gallery

Lichtenstein

Ellsworth Kelly

Richard Serra Sculpture, 1985-1987
RESOURCES:
Articles about the Leo Castelli Gallery

Leo Castelli Takes Stock of 30 Years of Selling Art
By Grace Glueck
The New York Times
February 5, 1987

Castelli Gives Major Works to the Modern
By Grace Glueck
The New York Times
May 10, 1989

Leo Castelli Meets Film Maker and Fan
By Carol Strickland
The New York Times
May 12, 1991

Vision of the 60's, From 2 Dealers Who Shaped It
By Roberta Smith
The New York Times
August 16, 1991

Leo Castelli, Influential Art Dealer, Dies at 91
By John Russell
The New York Times
August 23, 1999

Ileana Sonnebend, Art World Figure, Dies at 92
Wife of Leo Castelli
By Roberta Smith
The New York Times
October 24, 2007

Castelli Archives Going to Smithsonian
By Carol Vogel
The New York Times
October 19, 2007

Go See: 'Electricity' Group Show at Leo Castelli Gallery, New York, Through April 25, 2009
ArtObserved.com
April 4, 2009

Leo the Lion
How the Castelli gallery changed the art world.
by Peter Schjeldahl
June 7, 2010
The New Yorker
Interviews

Interview with Leo Castelli
Conducted by Barbara Rose
July 1969