Artists
Nicolas de Staël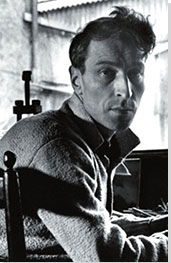 Nicolas de Staël
Russian-born, French Painter and Printmaker
Movement: Art Informel
Born: January 5, 1914 - St Petersburg, Russia
Died: March 16, 1955 - Antibes, France

"All my life I had a need to think painting, to paint in order to liberate myself from all the impressions, all the feelings, and all the anxieties of which the only solution I know is painting."
Summary of Nicolas de Staël
When Nicolas De Staël leapt to his death from an apartment balcony in 1955, aged just 41, he left behind a body of work suggesting a stunning and singular painterly vision just emerging into full clarity. Part of the second great generation of European abstract artists, he came of age in post-1945 Paris, in the company of the Tachiste painters, whose 'pure', improvisatory and non-geometric abstraction provided a similar set of contexts and constraints as Abstract Expressionism in post-war America. A more figuratively inclined artist than many of his peers, more studious in his attention to picture construction, de Staël opened up a mesmerizing space in between representational and non-representational art, inspiring figures from Jean-Luc Godard - whose early cinematography is said to have been influenced by de Staël's color-palette - to the St. Ives School painters. The vibrancy of de Staël's work, and the success he was already achieving by the mid-1950s, makes his early death all the more puzzling and poignant.
Key Ideas
For de Staël, figuration and abstraction were never mutually exclusive categories: a truism perhaps, but one borne out with such arresting effects in his work that it presents itself as an urgent and previously undiscovered truth. His aim was neither to represent things directly, nor to bow to the total abstraction of his French and North-American contemporaries. Instead, de Staël's was interested in the suggestion of volume, space, and distinct forms in the barest possible terms, alluding to external stimuli without ever giving in to a wholly figurative process.
A friend of the great
Cubist
painter
Georges Braque
, it is perhaps no surprise that de Staël became known for a thick impasto technique involving wide planes of color, loosely suggestive of the plane-fracturing exercises of Braques and his friend
Pablo Picasso
in the early twentieth century. Often applying his paint with a spatula, de Staël created sculpted and ridged canvases which retained something of the spirit of geometrical abstraction, in an era when the Tachistes and Abstract Expressionists alike were turning their ire against it.
De Staël's suicide presents a puzzling quandary, given that by the end of his life - with the exception of the last few months - he was moving broadly towards a bolder and brighter color-palette, and engaging more unabashedly with the external world through his work, producing a number of stunning abstract landscapes. These developments, responsive in particular to the light and atmosphere of his new Provencal home in the early 1950s, suggest some process of emotional liberation, and offer few clues as to the inner struggle from which they obviously emerged.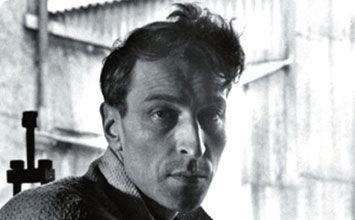 Nikolai Vladimirovich Staël von Holstein was born in St Petersburg in 1914. His father was a general of noble descent and governor of a garrison in the city, the Fortress of St Peter and St Paul. Nikolai enjoyed a comfortable existence for the first few years of his life, in spite of Russia's entry into the First World War, but following the revolution of 1917 the family was forced to flee to Poland, where they resettled in 1919. The family's two parents died within a year of each other, in 1921 and 1922, and Nicolai and his two sisters moved to Brussels to live with a Russian family, following a well-established pattern of Russian emigration to the Francophone world. It was around this time he began to be known as Nicolas de Staël.
Important Art by Nicolas de Staël

The below artworks are the most important by Nicolas de Staël - that both overview the major creative periods, and highlight the greatest achievements by the artist.


Artwork Images

Portrait of Jeannine (1941-42)

Artwork description & Analysis: This relatively early work, a portrait of the artist's first wife Jeannie Guillou, was painted in Nice while the two were living there after de Staël's demobilization from the French Foreign Legion. As in lots of de Staël's early portraiture, the sitter has a pensive, downcast expression, and the color palette is muted and melancholy. The blue and yellow color-scheme, and the veiled head, gives Jeannie an undeniably Marian quality, perhaps indicating the partial inspiration for the piece in post-Renaissance religious art.

De Staël's work from this period, that is, has been seen as reminiscent of the Mannerist portraiture of El Greco (1541-1614) in its expressive elongation of human limbs, and its atmospheric, brooding use of color and shading. At the same time, those qualities, as well as the dominance of shades of blue, are suggestive of Picasso's so-called "Blue Period" (1901-04), when severe depression led the artist to create expressionistic portraits of everyday human subject-matter. Putting aside these finer points of stylistic association - which have been seen to make de Staël's early-1940s work somewhat derivative - the most obvious point of contrast from the work that followed is the directly representational quality of the piece.

That representative function also roots the portrait in biography, in a way which grants it a certain poignant clarity. Jeannie would later die of malnutrition in Nazi-occupied Paris, and it seems clear from the mood of this piece - notwithstanding its similarity to much of de Staël's work from the period - that the sitter is already unhappy, perhaps unwell. De Staël's marriage to his second wife shortly after Jeannie's death belies his heartbreak at losing a creative as well as romantic companion, and it is tempting to infer that this episode - and the privations of war generally - compounded the depression that would trouble him for the remainder of his life.

Oil on canvas - Private collection


Artwork Images

Painting (1947)

Artwork description & Analysis: This work is one of the earliest in which de Staël demonstrated a coherent and wholly individual approach to painting. Standing at nearly two meters high, the sheer scale of Painting bespeaks a confidence and ambition that is remarkable given the early stage of the artist's career. The work is mainly composed from sweeps of muted brown, grey and black, the limited range of colors suggesting de Staël's acute sense of visual purpose at this time. He was evidently generating his work in compliance with strict, self-imposed formal parameters, somewhat like the strict tenets of Braque's Analytical Cubism, whose influence on the work seems clear. A further constraint apparent in Painting, and a significant trait in all of de Staël's mature work, is the use of untainted patches of color, each executed using a single, unmixed hue.

At the time this painting was composed, de Staël was part of the Second School of Paris, a loose-knit group of abstract artists working in Paris after the Second World War associated with but not limited to the output of Tachiste artists such as Jean Fautrier. But de Staël never rejected figuration out of hand in the way that Fautrier did, for example. In this work, painterly activity is the center of the canvas, leaving a dark grey ground around the edge of the picture. A contrast between the activity at the center of the painting and the dead space at its edges gives the impression that some distinct entity has been rendered at the middle of the work. This is not merely an exercise in abstract painting, then, and though there is no clear referent - as de Staël made clear with his nondescript title - the composition seems to hint at a figural presence. At the top, the silhouette of a face seems to emerge from the sweeping brushwork, while several broad arcs in the body of the painting suggest limbs in motion.

De Staël would use similarly vast canvases for the rest of his life. But it is the formal rigor of Painting, involving highly productive, self-imposed technical constraints, which indicates the most significant thread of continuity with his later work, and on which his critical reputation rests. De Staël's friend and critic, Denys Sutton, wrote that his output between 1945 and 1947 was "dramatic and violent, yet fundamentally disciplined", a description highly applicable here.

Oil on canvas - Museum of Modern Art, New York


Artwork Images

Composition (1951)

Artwork description & Analysis: Composition shows an intensification in de Staël's painting practice, involving fewer figural suggestions, and an overwhelming focus on the internal relationship between colors. It is telling, however, that de Staël retains a 'ground', a grey-green rectangle of color into which he inserted his distinctive panels of thickly applied grey paint. Through such minimal concessions to traditional representative technique, he was able to balance the demands of figuration and abstraction, demands hotly contested in the European and American art movements of the post-war.

By maintaining a relationship between the ground below and 'figures' on top, that is, de Staël was able to retain a sense of space, a gesture disallowed to artists practicing the various forms of 'total' abstraction then in vogue in France and America. As the critic Douglas Cooper wrote of de Staël's output in 1951-52, "in these paintings one feels that the artist is striving towards a figurative image, because the tesserae serve a structural purpose and suggest solid forms." Composition also shows a self-sufficient enjoyment of surface effects which defies the sullenness of de Staël's contemporaries. At the same time, he was not concerned about whether his paintings were representational or not: his artistic interest lay exclusively in the relationship between compositional forms and colors. These interests are clearly registered in Composition by the rich agglomeration of paint, and the subtle internal rhythm of its coloring, so finely modulated across the surface of the work that no two panels of color seem exactly the same.

Though it may seem like a typical 'period piece', then, it is important to grasp just how unusual a work like Composition was in the years after the Second World War. While many School of Paris painters were pursuing a messy, often violent-seeming variant of abstraction, and while the American Abstract Expressionists were developing an applied theory of Action Painting, de Staël was walking a fine line between these interests, on the one hand, and a more conventional, representational manner, on the other. He would often refer pejoratively to his abstract peers as the gang de l'abstraction-avant - a pun on traction-avant, meaning "front-wheel drive" in French. In retrospect, works like Composition seem to presage the more striking turn back towards representation in the works of de Staël's final years.

Oil on canvas - Metropolitan Museum of Art, New York
More Nicolas de Staël Artwork and Analysis:
Influences and Connections
Influences on Artist
Artists, Friends, Movements
Influenced by Artist
Artists, Friends, Movements

Interactive chart with Nicolas de Staël's main influences, and the people and ideas that the artist influenced in turn.
View Influences Chart

Artists

Personal Contacts

| | |
| --- | --- |
| | Jean Fautrier |
| | André Lanskoy |
| | Johnny Friedlaender |
| | René Char |
| | Jeannie Guillou |

Movements

Influences on Artist

Nicolas de Staël
Years Worked: 1936 - 1955
Influenced by Artist

Artists

| | |
| --- | --- |
| | William Scott |
| | Keith Vaughan |
| | Patrick Heron |
| | John Hoyland |
| | Jean-Luc Godard |

Personal Contacts

| | |
| --- | --- |
| | Jeannie Guillou |
| | René Char |
| | Johnny Friedlaender |
| | Jean Fautrier |
| | André Lanskoy |

Movements
If you see an error or typo, please:
tell us
Cite this page

Content compiled and written by Luke Farey
Edited and revised, with Synopsis and Key Ideas added by Greg Thomas
" Artist Overview and Analysis". [Internet]. . TheArtStory.org
Content compiled and written by Luke Farey
Edited and revised, with Synopsis and Key Ideas added by Greg Thomas
Available from:
First published on 24 Sep 2018. Updated and modified regularly.


[Accessed ]