"Imagination allows you to bend the rules of the temporal world. I just want them to see that a more beautiful world exists beyond the confines of your environment."
"I want people to be able to imagine life outside of the circumscribed stereotype, or identity that can be controlled by many circumstances such as your environment, your parents, your friends, your skin color, your class."
"My work began as an exploration to exclude the idea of color as race from my paintings by removing 'color,' but still portraying racialized bodies as objects to be viewed through portraiture."
"The tradition of portraiture has become a way to reclaim time and space within an art historical narrative that is mostly starkly European [...] Artists of color are using portraiture to author a narrative of people that art history was written without. It speaks to the human condition and holds up a mirror to life."
"My work doesn't commit Black life to grief. There's an assumption of a whole Black life being inextricably tied to struggle. I think it becomes all-consuming and really can codify our existence and our whole experience."
"I think Black artists are inspecting our own humanity, altering perspectives, producing some of the best work out there now, and creating space for ourselves in these institutions."
"I walk into my studio remembering that every day, what a privilege it is to be able to make these paintings to create something for my people, for this country, connecting myself to that kind of imagery, to self-satisfaction, and dignity and creating a narrative that is for the most part non-existent in the American art canon."
"I don't think my successes would've come to me as easily, had I not committed to making the work in such a way that made me uncomfortable."
Summary of Amy Sherald
Rising to fame after being hand-picked by former First Lady Michelle Obama to paint her official portrait, Amy Sherald is today one of the best-known Black American artists. She is part of a new generation of artists who have revived the Western art genre of portraiture by making it contemporary and relevant. Known for freeing her subjects from stereotypes and historical narratives of Black suffering, her artworks make a strong political statement about equality and the humanity of all subjects regardless of skin color.
Accomplishments
Sherald came up with a unique kind of "stylized realism" in her portraits, showing her subjects with a grayscale skin against a monochrome background, which, according to Sherald, shifts the viewer's focus away from the subject's skin color. Contrasting with the gray, her use of strategically placed vibrant colors for their clothing and accessories bring out her subject's personality and idiosyncrasies.
Whereas historically portraiture had belonged to white elites' self-presentation, Sherald makes images of contemporary Black people in a striking and relatable manner. Her artworks insert them proudly into contemporary visual culture and the institutional spaces of art museums.
Sherald was the first woman and the first African-American to win the Outwin Boochever Portrait competition organized by the National Portrait Gallery. She was also the first Black woman to have been selected for a Presidential portrait commission.
The Life of Amy Sherald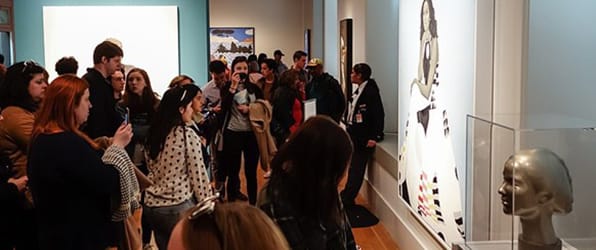 In school, Sherald became aware early on of the performative aspects of race: how manner of speech and clothing can, as much as skin color, affect how one is perceived. She draws on this understanding to portray Black subjects in a positive, contemporary light, including in her regal portrait of the former First Lady.
Important Art by Amy Sherald
Progression of Art
2009
They Call Me Redbone but I'd Rather Be Strawberry Shortcake
A Black woman stands with her hands in her pockets against a coral pink background. The subject wears a yellow pinafore with a strawberries and flowers pattern on her chest. Her hair is in pigtails, tied by red and white polka dot bows. Her head is cocked slightly to her right. Her expression is difficult to describe: warm and inviting, yet calm and cool--or as art historian Beverly Hall Smith puts it, "neither happy nor sad, neither positive nor negative," A single-subject, three-quarter length portrait of a (nearly expressionless) Black individual against a monochromatic background, the painting shares attributes with most of Sherald's later works. Critics have remarked on how the use of such a backdrop, combined with the limited delineation of shadows around the figure, gives her works a dreamlike quality.

Sherald has stated that her artistic purpose is "to create playful yet sober portraits of Black Americans within an imaginative history where I do Black my way, in the European tradition of painted portraiture." The titles of Sherald's works are like descriptive riddles. Smith writes that, "Visually [Sherald's] work sends a message, but her titles, which are narratives, add a significant message that sets up a dialogue between the figure and the viewer." Here, the title alludes to racial labeling, as the slang term "redbone" typically refers to a lighter-skinned Black woman. The title points to the painting's autobiographical significance since this was a term that Sherald's high school basketball coach used to call her. Says the artist, "He was the only Black teacher in the school, and I was one of 20 or so Black students out of 400 [...] so it was a term of endearment but also a secret way to recognize an unspoken cultural and racial camaraderie." On the other hand, the term can also be used to alienate. "I could be called 'Red,'" Sherald reflects, "by someone of my own ethnic group who was trying to marginalize me based on my fair complexion within the plantation mentality, which still exists. So basically, this painting is an image of a girl who wants to escape being 'othered' by two sides, Black and white."
Oil on canvas - National Museum of Women in the Arts, Washington D.C.
2012
Equilibrium
A woman wearing a white tank top and a multi-colored, patchwork-like, floor-length skirt stands on a horizontal black pole, while carrying a second identical pole on her shoulders. In her right hand and looped around the top pole, she holds a chain with a heart-shaped pendant watch. Vibrant red and orange stripes comprise the backdrop. According to Smith, they can be read as symbolic of "blood, heat, fire, or passions ranging from hate to love." Drawing on her training in grisaille, Sherald rendered her subject's skin in grayscale, which would become her signature style from 2012 onward. She first had the idea to do this after looking at American civil rights activist W.E.B. Du Bois's black-and-white photographs of Black people taken at the 1900 Paris Exposition. Says Sherald, "I realized that I was setting these people up and recreating that same kind of quietness and dignity that I saw in these photographs that Black families were having taken of them. I just recognized my work inside of these photographs and started to go further." For the artist, the technique allows for "the conversation and discourse around [...] identity [...] to exist in a world in a more universal way." She explains, "I'm not trying to take race out of the work. I was just trying to figure out a way to not make it the most salient thing about it."

With Equilibrium, Sherald sought to celebrate the strength and resilience of Black women. The subject's pose shows off her toned arms, likely a result of her physically demanding work. The pattern on her skirt was inspired by the quilts made by African-American women in Gee's Bend, Alabama. Smith explains, "Equilibrium is a study of opposing forces brought into balance. [...] The precarious position of the figure and the social, racial, personal and human forces with which she has to contend need to be kept in balance, and they are. The figure has triumphed and equilibrium has been achieved." Likewise, Sherald asserts that "Embracing an in-between state is an ideal situation in which we open our hearts and our minds and walk the line in search of equilibrium."

The original oil painting of Equilibrium is now housed in the US State Department's permanent collection in Dakar, Senegal. However, Americans can view the mural version of this work - Sherald's first public mural commission--on the exterior of the Stavros Niarchos Foundation Parkway Theatre, in Baltimore. Sherald said of the Baltimore mural, "To situate this piece along North Avenue, the electric nerve of our city, blocks away from my studio, is to return my artwork to the central muse of my creative practice for over a decade. My paintings celebrate the stories of light and love contained within the magical presences of the people who walk this stretch each day."
Oil on canvas - Embassy of the United States in Dakar, Senegal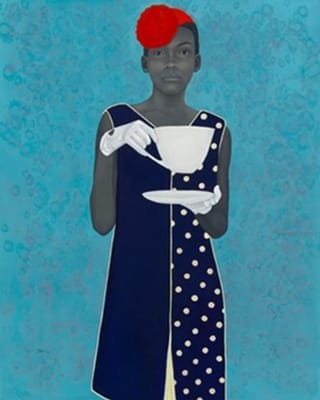 2016
Miss Everything (Unsuppressed Deliverance)
This painting brought Sherald the Boochever prize and launched a new phase of her career. In typical Sherald style, it presents a young Black woman in a three-quarter length pose. The subject wears an elegant navy dress of her own choosing and is silhouetted against a dappled sapphire background. Her carmine hat contrasts with the painting's blue palette and leads the viewer's eye downward to her hands, in wrist-length white gloves, holding an exaggeratedly large white teacup and saucer.

The prize committee wrote that "Sherald creates innovative, dynamic portraits that, through color and form, confront the psychological effects of stereotypical imagery on African-American subjects". One of the jurors, curator Helen Molesworth, remarked that "It's a very realistic painting in one way, yet the details are all quite surreal. And the figure is very self-possessed and confident." According to Sherald, the painting was inspired by Alice in Wonderland (particularly the dress and the inclusion of a teacup). Freeing her subjects from everyday reality, "these paintings," Sherald states, "originated as a creation of a fairytale." They illustrate "an alternative existence in response to a dominant narrative of Black history."
Oil on canvas - Collection of Frances and Burton Reifler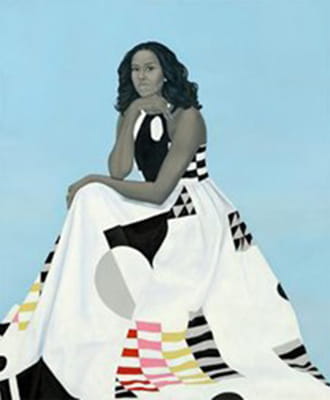 2017
First Lady Michelle Obama
This iconic painting was Sherald's first commission, as previously she had chosen her own subjects. Obama is placed against a clean, light blue background. She sits comfortably, with one knee raised under her long skirt, her left arm resting casually atop her legs, and her right arm bent with her right hand posed delicately under her chin. From the bottom of the painting, her flowy dress, with its minimal yet strikingly colorful geometric pattern, draws the viewer's eye in and up toward her face.

Out of a dossier of multiple candidates prepared by the National Portrait Gallery curators, the then-First Lady was especially drawn to Sherald. She was "blown away," she said, "by the boldness of her colors and the uniqueness of her subject matter." They arranged a meeting and, according to Obama, "Within the first few minutes of our conversation, I knew she was the one for me." For her part, Sherald was thrilled to receive the commission, stating that "[Obama is] an archetype that a lot of women can relate to - no matter shape, size, race, or color. We see our best selves in her." To paint the portrait, Sherald started by doing an online search for images of Obama, as she wanted to gather ideas for a "private and intimate" painting, rather than one that was similar to her "public entity." She then worked with Obama's stylist Meredith Koop and selected a "relatively casual" maxi dress from Michelle Smith's Spring 2017 collection for American fashion line Milly. As in Sherald's Equilibrium (2012), the patterning on the dress references the quilts made by African-American women in Gee's Bend, Alabama.

Responses to the portrait have been varied. Some criticized it for being too "informal," for being "too gray", and for "not looking like Michelle Obama." Sherald's response to such criticisms was that "Some people like their poetry to rhyme. Some people don't." Then there were viewers like The New Yorker art critic Peter Schjeldahl, who contended that, in this portrait, "artist and sitter had achieved a mind meld, to buoyant effect. [...] The work is a tour de force within the constraint imposed by a political commission." Indeed, both Sherald's painting of Michelle Obama and Kehinde Wiley's portrait of Barack Obama departed from the generally conservative tradition of Presidential portrait commissions. Art critic Roberta Smith explains: "Unlike most presidential portraits, the Obama paintings are also part of what is happening right now in contemporary art. Their makers belong to a varied group of youngish painters - most under 50 - who have broken with, absorbed or simply ignored modernist abstraction. Instead, they work with the figure as a way of reaching broader audiences; dealing with issues of identity, gender and sexuality." Then there was, of course, the opinion of former President Barack Obama, husband of the sitter, who told Sherald, "I want to thank you for so spectacularly capturing the grace and beauty and intelligence and charm and hotness of the woman that I love."
Oil on canvas - National Portrait Gallery, Washington D.C.
2019
A Single Man in Possession of a Good Fortune
A young Black man is shown in three-quarter length with his right arm down by his side, his left thumb tucked casually into his front pocket. He wears brown pants and a sweater with a boldly colored geometric print of houses behind a grid. Smith interprets this design as "wittily suggesting that his wealth lies in real estate while also insinuating something darker: the tactics that have kept many African-Americans from owning homes [through zoning laws, for example]." The title of this work comes from the opening sentence of Jane Austen's 1813 novel Pride and Prejudice, which reads: "It is a truth universally acknowledged, that a single man in possession of a good fortune, must be in want of a wife." This adds another cryptic layer of meaning to the work as we can only guess the identity of the subject, even as his pose, clothing, and facial expression present him as relatable and contemporary. For many viewers, he may look like a friend, a colleague, perhaps a neighbor.

These multiple potential readings represent the intentions behind all of Sherald's work: to present alternative narratives of Black identity in opposition to the reductive understanding of Black American experience as homogenous and centered upon suffering. Sherald explained that, thanks to the previous generations of Black artists who have done the "didactic" work of presenting the concept of "Blackness" to a (mostly non-Black) art audience, now she and her contemporaries can "come in and really explore ourselves versus educating people about who we are. It's like now we can deal with the nuances [and] escape that public Black identity."

Sherald always hangs her huge portraits rather low, so that the subject's eye level is equal to that of the visitor. As Smith notes, "This creates the impression of meeting face to face, in an experience of mutual evaluation. With the paintings given plenty of room, they invite close, exclusive looking, a kind of communion." Schjeldahl argues that Sherald "revitalizes a long-languishing genre in painting by giving portraits worldly work to do and distinctive pleasures to impart." Describing Sherald's subjects, Schjeldahl adds: "They can seem mildly interested in how they are beheld - they wouldn't have bothered dressing well if they weren't - but with dispassionate self-possession, attitude-free."
Oil on canvas - Hauser & Wirth Hong Kong
2020
Breonna Taylor Portrait
In 2020, Sherald received a commission to paint a portrait of Breonna Taylor to be featured on the cover of the September issue of Vanity Fair. The issue was guest-edited by Black American journalist Ta-Nehisi Coates and focused on the topic of activism. Taylor was a twenty-six year old medical worker who was fatally shot by Louisville police officers in her own home in March of that same year. Investigating drug dealing operations, police officers entered Taylor's apartment shortly after midnight while Taylor and her boyfriend were in bed. Suspecting a burglary, her boyfriend fired his handgun once. Police responded by firing more than 30 shots into her apartment, killing Taylor. Taylor's death took place around the same time as several other headline-making killings of Black Americans by whites, including George Floyd in Minneapolis and Armaud Arbery in Georgia. These tragic deaths prompted a series of nationwide (and even worldwide) "Black Lives Matter" protests against racism and the devaluation of Black lives.

In the portrait, Sherald depicts Taylor in her trademark style: Taylor's skin is rendered gray. Looking straight into the viewer's eyes, Taylor wears a vibrant turquoise dress that nearly blends into the background of the same color. Her full, glimmering lips draw the viewer's attention to her serenely proud face. From the sale of the artwork, Sherald donated $1 million to the University of Louisville (Taylor's hometown) so that they could set up two grant programs in Taylor's name.

Lonnie G. Bunch III, founding director of the National Museum of African American History and Culture and current Secretary of the Smithsonian, has stated that Breonna Taylor's story "is a story that needs to be told and needs to be retold." She has expressed that Sherald's portrait captures "both the joy and the pain of this moment." Sherald says she saw the commission as "an opportunity to codify the moment," and to "have a voice and to give Breonna Taylor a voice." She explains that in the portrait, "[Taylor] sees you seeing her. The hand on the hip is not passive, her gaze is not passive. She looks strong! I wanted this image to stand as a piece of inspiration to keep fighting for justice for her. [...] Producing this image keeps Breonna alive forever."

The commission presented a unique challenge to Sherald since she previously had been painting living subjects. She first engaged in a period of research during which she studied photos and videos of Taylor and spoke with her mother to "get a feel for who she was as a person, her sense of style, and how she felt beautiful." Said Sherald, "Her mom shared with me that she loved to get dressed up, so I thought it was fitting that she have on a beautiful dress." The dress that Sherald chose for Taylor was by Black designer Jasmine Elder of Atlanta-based JIBRI. Sherald said she felt that "a Black woman painting a portrait of a Black woman should be dressed by a Black woman." Sherald also depicted Taylor with an engagement ring because she'd learned that her boyfriend, Kenneth Walker, had been planning to propose. Sherald stated, "I realized this was a love story, too. I asked permission to paint that ring onto her finger. She didn't know he had the ring." Upon viewing the completed portrait, Taylor's mother said "I could not believe it. It definitely showed her character and who she was." She later added, "Never in a million years would I have thought she'd end up in a museum. I still can't even find the words. It's such a blessing, because people will come from everywhere to see her."
Oil on canvas - Smithsonian National Museum of African American History and Culture, Washington, D.C.
Biography of Amy Sherald
Childhood
Amy Sherald was born in Columbus, Georgia to father Amos P. Sherald III, a dentist, and mother Geraldine W. Sherald. Sherald says of her mother, "She was a Black woman born in 1930s Alabama where everything was really about surviving." Sherald was aware of race from a young age, as the other children at her school (St. Anne-Pacelli Catholic School) were predominantly white. On her first day of school, her mother told her "You're different from everybody else [...] You need to speak a certain way and act a certain way."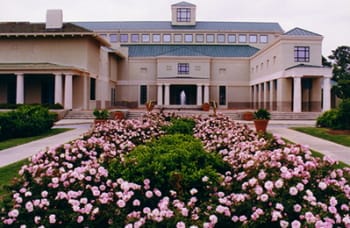 Sherald loved art from a young age, often staying inside at recess to draw instead of going out to play. However, it never dawned on her that art could be a profession until her sixth-grade class took a field trip to the Columbus Museum and she realized that "art wasn't something in a book, in an encyclopedia, that people did [art] a long time ago, that it was real life." She encountered the painting Object Permanence (1986) by Bo Bartlett, a family portrait with the figure of the father as a Black man. Says Sherald, "when I saw an image of a person of color, it all came together in that moment - that this was something real, that somebody created this who was alive at the same time that I was alive."
Sherald resolved to become an artist, even though her parents (particularly her mother) pushed her toward a career in medicine. She says that her mother "was the perfect mother for me, because what I needed was somebody to prove wrong. I'm a strong woman because I was raised by one, and I'm a better person for that." Sherald also felt a desire to create alternative narratives about being Black in America, as her upbringing in the South often presented Black experience as uniform.
Education and Early Training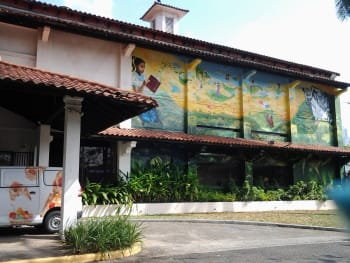 After graduating high school, Sherald enrolled in a pre-med program at Clark Atlanta University in order to appease her parents. But she also indulged her own love of art by registering for a painting class at Spelman College during her sophomore year. There she met Panama-born artist and art historian Arturo Lindsay, whose work explored the African influence on American cultures. This encounter pushed her to give up her medical pursuits and dive into art. In 1996, Sherald participated in a residency at Maine College of Art Portland and in the following year took part in Spelman College's International Artist-in-Residence program in Portobelo, Panama. That same year she graduated from Clark Atlanta with a degree in painting. She became involved with the art scene in Panama and took on a curatorial role, organizing shows for the Museo de Arte Contemporaneo in Panama City as well as the 1999 South American Biennale in Lima, Peru.
The early 2000s saw unexpected turns in Sherald's life. In 2000, Sherald's father died of Parkinson's disease. Around the same time, her aunt developed a brain infection. She went back to Georgia to help take care of her aging and ailing mother and two aunts. Busy with caregiving, she took a break from making art. After returning to Baltimore, she started painting again while teaching art at the Baltimore City Detention Center. She also picked up a job as a waitress to make ends meet. As she put it, "I did a job that I didn't want to do, so I could do a job that I wanted to do." Concurrently Sherald undertook a five-year apprenticeship with Lindsay, during which time she also enrolled at the Maryland Institute College of Art (MICA) in Baltimore. At MICA she studied under Abstract Expressionist painter Grace Hartigan, then in her 80s, who taught her the "drip method" of painting pioneered by Jackson Pollock in the late 1940s. Although Sherald's focus was and remains on figurative painting, the lessons of Abstract Expressionist "all-over" composition may have influenced her bold use of monochromatic, oftentimes subtly textured backgrounds in her portraits. In 2003, while training for a triathlon, Sherald went to her doctor for a checkup and learned that she had congestive heart failure. She was able to manage, earning an MFA in painting from MICA the following year, even though all of her activity, study and work put a strain on her heart.
During her time in Baltimore, Sherald developed what would become her method for painting portraits. She would often go up to strangers on the street and ask if she could photograph them. If they agreed, she would invite them for a photo session. Sherald notes that it can be difficult finding the right person to paint. When she does find someone, however, "it's the same feeling that you get when you first saw your husband or wife," she explains, "I look at them and I am like 'ta da,'" adding that "There's usually something a little awkward and quirky about them that really starts to get my mind thinking that I want to pursue them and make them into a painting." During a session, Sherald would choose clothing (and sometimes props) for her subjects, often selected from their wardrobes. She prefers to photograph them out-of-doors, since, according to her, natural light best highlights the texture of the skin. She would then create large-scale portraits based off of the photographs she took.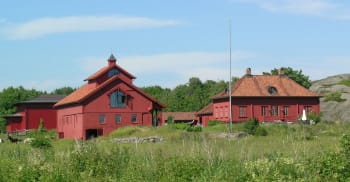 After receiving her Master's degree, Sherald went to Larvik, Norway for a year to study under figurative painter Odd Nerdrum, who taught her the classical technique of beginning a portrait by modeling the figure in grisaille (a method of painting in monochrome, usually gray, for a three-dimensional effect). Experimenting with the technique allowed Sherald to achieve her signature style. To this day, Sherald continues to use this method, sometimes then going over the grisaille with hues appropriate to the sitter's skin tone, and sometimes leaving the grisaille as is.
On October 12, 2012, Sherald fainted in front of a pharmacy and was taken to Johns Hopkins Hospital. Two months later she received a heart transplant, and spent most of 2013 in recovery.
Mature Period
Sherald had had modest success as a portrait painter, but everything changed for her when, in 2016, her painting Miss Everything (Unsuppressed Deliverance) beat out over 2,500 other entires to win the National Portrait Gallery's prestigious Outwin Boochever Portrait Competition, which came with a $25,000 prize. Following this breakthrough, she was selected to paint former First Lady Michelle Obama's portrait, which further cemented her reputation. These successes gave Sherald a financial cushion and allowed her to quit waitressing, pay off her student loans, take her mom to Barbados for her birthday, and comfortably afford the thirteen medications she needed to take daily. In 2018 she held her first solo exhibition at the Contemporary Art Museum St. Louis, received mural commissions in Philadelphia and Baltimore, and was awarded the High Museum of Art's David C. Driskell Prize. That same year, she moved to New Jersey, where she lives with her partner Kevin Pemberton. She works out of a studio at Mana Contemporary, a former tobacco factory converted into artist spaces. She produces around thirteen paintings per year.
The Legacy of Amy Sherald
Though still young, Amy Sherald has made great strides in carrying on the legacies of preceding generations of Black American artists who have taken control of the visual representation of their community and culture. Her portraits subverted how Black subjects had traditionally been portrayed in Western art (when they were portrayed at all) as inferior and uncivilized. Instead, Sherald's works contribute to the depiction of everyday Black people, while also bringing out her subjects' uniqueness. She makes them relatable to contemporary audiences without falling into popular culture's stereotypes of Black bodies. She uses the genre of portraiture to present multiple, nuanced images of what it means to be Black in America today, and her achievements as a Black portraitist has paved the way for future Black artists, such as Devan Shimoyama, to enter the fine art arena.
By painting only Black subjects and cultivating an audience in the art world, Sherald's artworks have in effect made more Black faces visible in some of the nation's most important art institutions. In this way, more Black youth can recognize themselves in the artworks on the museums' walls, and not feel excluded by these institutional spaces. Says Sherald, "I think the power is that there are kids who, after seeing Michelle Obama's portrait, are now interested in the arts. I went to an elementary school to surprise a group of kids, and you would've thought I was JAY-Z. And that's very symbolic. I don't play basketball, I'm not a rapper, and these kids were beside themselves."
Influences and Connections
Influences on Artist

Influenced by Artist
Artists
Bo Bartlett

Arturo Lindsay

Odd Nerdrum
Friends & Personal Connections
Calida Rawles

Ta-Nehisi Coates
Movements & Ideas
Portraiture

Black Art
Artists
Devan Shimoyama
Friends & Personal Connections
Calida Rawles

Ta-Nehisi Coates
Movements & Ideas
Portraiture

Black Art

Political Art
Useful Resources on Amy Sherald
Books
The books and articles below constitute a bibliography of the sources used in the writing of this page. These also suggest some accessible resources for further research, especially ones that can be found and purchased via the internet.
artworks