Artists
Grace Hartigan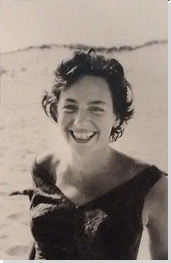 Born: March 28, 1922 - Newark, New Jersey
Died: November 15, 2008 - Baltimore, Maryland
"Somehow, in painting I try to make some logic out of the world that has been given to me in chaos."

Summary of Grace Hartigan
Grace Hartigan, a second-generation Abstract Expressionist linked historically to artists of the first, such as Jackson Pollock and Willem de Kooning, who forged a new form of painting based on bold gesture and experimental brushwork. Within the movement, she was respected for her commitment and thick skin, and her striking paintings reflect this attitude. Though she built her early career upon complete abstraction, in 1952 Hartigan began incorporating recognizable motifs and characters from various sources into her art, and moved fluidly between figuration and abstraction throughout her long career. For this reason, her work is often considered to be a precursor to Pop art.
Key Ideas
Hartigan's belief that painting must have "content and emotion" continued throughout her career. Even though her work is often associated with Pop art, Hartigan disliked the idea of mass manufacturing that Pop embraced, preferring the emotion generated by the evident hand of the artist.
Hartigan's best-known works combine the abstraction of her early work with recognizable images from everyday life or motifs from art history, particularly from the Renaissance and Baroque periods. The distinction between abstraction and figuration is often blurred by her experimental brushwork and lack of shading.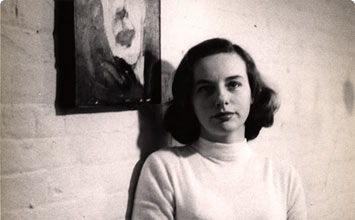 Hartigan was born in Newark, New Jersey, in 1922. As a child, she was close to her grandmother and her aunt, both of whom encouraged her creativity with stories and folktales. Hartigan was later involved with her high school drama program and wanted to be an actress. She married at 17 to Robert Jachens because, she claimed, he was the first boy to read poetry to her. Wanting to escape their narrow upbringing, the couple headed for Alaska to homestead. They got as far as Los Angeles before they ran out of money and Hartigan found out she was pregnant with her only child, Jeffrey. She took a few painting classes before they returned to New Jersey. When Robert was drafted to fight in World War II, Hartigan lived with his parents and got a job as a mechanical draughtsman to support herself and her son. She was sent to the Newark College of Engineering for on-the-job training. It was during this period, after she and her husband separated, that a friend introduced her to the works of Henri Matisse and she began taking art courses from a local artist named Isaac Lane Muse.
Important Art by Grace Hartigan

The below artworks are the most important by Grace Hartigan - that both overview the major creative periods, and highlight the greatest achievements by the artist.


Artwork Images

Months and Moons (1950)

Artwork description & Analysis: In this early painting, completed after she returned from Mexico, Hartigan works in a typical all-over Abstract Expressionist style with influences from Surrealism. The work showcases her quick, vibrant brushwork along with her interest in chance as shown by the dripping paint and the fact that she did not complete any preliminary drawings for this painting. The dominance of curved, biomorphic forms seems a foreshadowing of her later interest in figuration, while the addition in the lower left of a cutout from a Life magazine advertisement for pancakes underscores her interest in everyday life.

Oil on canvas - Private collection


Artwork Images

The Oranges, No. 1 (Black Crows) (1952)

Artwork description & Analysis: This work shows Hartigan coming into her own as an artist, combining both painterly brushwork and her burgeoning interest in figurative art. This painting was the first in a series, based on 12 prose poems by Hartigan's friend Frank O'Hara, entitled "Oranges: 12 Pastorals." O'Hara often wrote about his spontaneous creative process and it may have been this that intrigued Hartigan - how to translate the immediacy of his creativity into her own work. Hartigan had declared in her journal in October 1951 that for her "the 'all-over' picture is finished. It had become a formula." Hartigan's use of the word "formula" suggests that she was bored with abstraction and wanted to experiment with more traditional compositional structure. Her related experiments with figuration that began the next year are evident here. She includes the entirety of the poem on the canvas in a graffiti-like interplay of image and text that challenges the traditional relation between surface and representation. The figure with blonde hair placed horizontally along the bottom of the canvas seems to correspond with the Ophelia of O'Hara's poem but without traditional gender markers. Her inclusion of a figure that registers as human only because of the reference to "Ophelia" painted on the canvas likely points to her indebtedness to Willem de Kooning.

Oil on paper


Artwork Images

Grand Street Brides (1954)

Artwork description & Analysis: This is one of Hartigan's best-known pieces that again underscores her willingness to abandon total abstraction in favor of adding recognizable elements into her composition in order to incorporate the everyday world that enthralled her. Her experiments in this vein set her apart from other Abstract Expressionists with the exception of Willem de Kooning and made her work a bridge between the Abstract Expressionists, neo-Dada, and Pop artists. Here she is also showing the influence of her study of the Old Masters, which she began in 1952.

Mannequins from a bridal shop window in her Lower East Side neighborhood, where arranged brides were often brought from Europe, are on display much like the women posing in Francisco de Goya's Charles IV of Spain and his Family (1800). At this time in Europe, aristocratic women were seen as commodities to exchange among powerful families in order to forge financial or political unions between them. Though the geography and time period were different, the brides depicted by Hartigan are also shown as if for sale. Hartigan also appreciated how shop windows frame the scene and "provide a shallow space, and define the back plane." Complexity is achieved through the layering of shapes and rendered objects.

Oil on canvas - Whitney Museum of American Art
More Grace Hartigan Artwork and Analysis:
Influences and Connections
Influences on Artist
Artists, Friends, Movements
Influenced by Artist
Artists, Friends, Movements

Interactive chart with Grace Hartigan's main influences, and the people and ideas that the artist influenced in turn.
View Influences Chart

| | | | | |
| --- | --- | --- | --- | --- |
| Artists | | Personal Contacts | | Movements |

Influences on Artist

Grace Hartigan
Years Worked: 1940s - 2008
Influenced by Artist

| | | | | |
| --- | --- | --- | --- | --- |
| Artists | | Personal Contacts | | Movements |
If you see an error or typo, please:
tell us
Cite this page

Content compiled and written by The Art Story Contributors
Edited and published by The Art Story Contributors
" Artist Overview and Analysis". [Internet]. . TheArtStory.org
Content compiled and written by The Art Story Contributors
Edited and published by The Art Story Contributors
Available from:
First published on 05 Dec 2014. Updated and modified regularly.


[Accessed ]