Artists
Hedda Sterne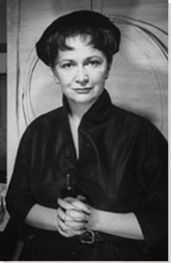 Born: August 4, 1910 - Bucharest, Romania
Died: April 8, 2011 - New York City, New York

"Sometimes I react to immediate visible reality and sometimes I am prompted by ideas, but at all times I have been moved, to paraphrase Seamus Heaney, by the music of the way things are...."
Summary of Hedda Sterne
Probably most famous for her inclusion in a 1951 photograph of notable Abstract Expressionists, Hedda Sterne's ceaseless artistic exploration and decades-long output defies the strictures of Abstract Expressionism's definition. A Romanian immigrant steeped in Parisian Surrealism, Sterne created collages inspired by automatic drawing, captured the dynamism and beauty of industrial New York, painted subtle landscape-abstractions, engaged portraiture, and even her version of conceptual art in the 1970s with monumental word paintings. While never conforming to stylistic mandates, Sterne's artistic path touched upon many of the postwar styles but in a way that was quieter, more thoughtful, even stranger than what was expected by critics and the public.

Though happy to remain out of the spotlight, Sterne's wide-ranging artistic practice, her role (for better or for worse) as a female artist, and her dismissal of the art market variously inspired artists like Elaine de Kooning and Grace Hartigan, but her experimentation and artistic legacy remain to be fully realized.
Key Ideas
While there are distinct stylistic groupings of her work, Sterne was always interested in the idea of flux - not just the flux of stylistic change, but the flux of nature, of relationships, of ideas. Within this philosophy, Sterne recognized herself as "one small speck (hardly an atom) in the uninterrupted flux." Much of her work is an attempt to capture this flux in all of its guises.
While she came of artistic age with the Abstract Expressionists such as
Jackson Pollock
and
Mark Rothko
and while she showed her work next to theirs, Sterne does not easily fit within the movement. While others homed in on signature styles, Sterne resisted such stylistic constraints, preferring instead to experiment with techniques and styles throughout her life.
With her outlook on life as being a small part of the world, of nature, Sterne shunned egoism of all sort (another reason she does not fit within the annals of Abstract Expressionism). She insisted that her paintings operated by way of reciprocity, that is, that the viewer was necessary for their completion, or rather the viewer entered into a relation with the painting. It is in that relation - not just in the painting or in the viewer - that Sterne felt beauty resided.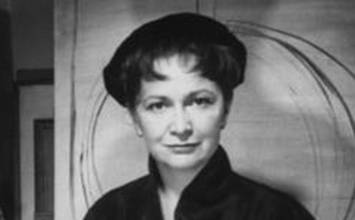 Hedda Sterne was born Hedwig Lindenberg on August 4, 1910, in Bucharest, Romania. Her father Simon taught languages and her mother Eugenie was a housewife. Money was tight, but Sterne was in love with reading and escaped into innumerable literary worlds. She read Dostoevsky by age eleven and stayed home for a month to read all of Proust. Though her family was Jewish, they were not religious. Her father was agnostic and her mother, in Sterne's words, "was totally uninterested and indifferent."
Important Art by Hedda Sterne

The below artworks are the most important by Hedda Sterne - that both overview the major creative periods, and highlight the greatest achievements by the artist.


Artwork Images

Untitled (1941)

Artwork description & Analysis: Sterne was first and foremost a Surrealist, and she experimented with collage, creating her own technique that she called papier déchiré et interpreter, loosely translated as paper torn and interpreted. The technique entailed ripping up paper and letting the scraps fall, forming uncanny images and associations in her mind that she then brought to life by gluing the pieces together and supplementing them with pencil. Untitled is similar to the work of fellow Surrealist Dora Maar in its elegant but unnerving juxtaposition of recognizable anthropomorphic elements and inscrutable shapes. In the center of a pale pink and white background a curious figure rests. It appears to be a woman's torso, with one languidly arching slim hand that, from the mid-forearm up, is swathed in gray fabric. That fabric seems to be part of a blouse or dress, but it never fully coalesces into such a garment; instead, it curves into the shape of a diminutive, birdlike head with one large human eye staring askance at the viewer. Out of the back of the "head" is a curved appendage, almost like the neck of a swan. Sterne creates a degree of unity and harmony in the work by picking up the thin but dense lines of the creature's garment/head/neck and extending them out around it in diaphanous veils.

Sterne believed that "art is essentially an act of freedom," a sentiment that is embodied in her Surrealist works. Surrealists sought to liberate themselves from the strictures society placed on the conscious mind, letting free association, chance, and dreams play central roles in artmaking. With that came a blurring of the real and the surreal, the individual and the universal, fact and mystery. Sterne's collage takes familiar elements - the woman's hand, an eye, a garment - and combines them to elide any possibility of a metanarrative or truth. The image is unsettling, evocative of Freud's concept of the uncanny, which he deemed "that class of the frightening which leads back to what is known of old and long familiar."

Collage - The Hedda Sterne Foundation


Artwork Images

Monument (1949-51)

Artwork description & Analysis: In the 1940s Sterne and her second husband Saul Steinberg took frequent drives through the city of New York and its more idyllic outskirts. There she saw agricultural machines and began to incorporate them into her work. In the bottom half of the canvas, on a background awash in blues, grays, and taupes, nebulous geometric structures resembling buildings, bridges, and a tower assert themselves vertically. One of the structures morphs into a disproportionately large mechanical shape, though not a decipherable one. Gears, bolts, and rotors limned in copper rusty hues combine together, and Sterne's almost whimsical, thinly painted lines arcing off of the bolts give the machine the appearance of whirring. A few random splashes of bright red and jungle green paint prevent the machine from appearing merely utilitarian.

Sterne's obvious influence here is Marcel Duchamp, whose most famous work The Bride Stripped Bare by her Bachelors, Even (The Large Glass) (1915-23) was, by mid-century, an iconic, much-analyzed work, probing the erotic interplay between the human and the machine. Sterne stated frankly that she saw machines as "unconscious self-portraits of people's psyches: the grasping, the wanting, the aggression that's in a machine." She deemed these works anthropographs, the word clearly designating that she understood the organic to manifest itself within the inorganic. Van Doren Wexler Gallery explains that Sterne "distills [her] fascination [with machines] into a series of almost futurist forms, rendering inanimate machinery with alternatingly humorous, aggressive, and menacing physical attributes, evoking America's subconscious preoccupation with post-war infrastructure." One viewer of Monument wrote in a letter that the work was "a lymphatic, neat affair[,] subject matter of which appears to be bridges and entrails." The hanging appendages, curved shapes, and dull ochre tones support that observation, but Sterne is content to leave the viewer with more questions than answers.

Oil on linen - The Hedda Sterne Foundation


Artwork Images

Third Avenue El (1952-53)

Artwork description & Analysis: Sterne told an interviewer that New York in the 1950s "seemed to me at the time like a giant carousel in continuous motion - on many levels - lines approaching swiftly and curving back again forming an intricate ballet of reflections and sounds." She delighted in painting scenes of bridges, glowing street scenes, skyscrapers, and, as seen in Third Avenue El, the famous elevated train track running along Manhattan's east side. The viewer's perspective is from the street level, looking up at soaring girders and tracks. It is a night scene, the background a deep blue. Shimmery white light illuminates part of the sky above the shadowy tracks, most likely a streetlight casting its glow. Coppery sparks tumble down one of the girders as if a train has just rushed by above.

Despite the concrete title, the work has an abstract quality. Because Sterne used spray enamel, the paint application is diffused, hazy, and moodily atmospheric. She was entranced by the "super-fine continuous ink line permitted by Rapidograph pens," critic Nancy Princenthal writes, and her New York series experimenting with the preferred brand of pens that architects and engineers used are "among her richest and most enigmatic compositions." Sterne also deliberately kept her shapes abstract; the strong verticals of the girders and tracks resemble Franz Kline's calligraphic markings. Third Avenue El is a classic New York city painting, much like Joseph Stella's Brooklyn Bridge series, Georgia O'Keefe's Radiator Building (1927), and Charles Demuth's I Saw the Figure 5 in Gold (1928), all of which celebrate the city's mercurial magic and indomitable impulse to modernize, expand, bemuse, and beguile.

Oil and spray enamel on canvas - Metropolitan Museum of Art, New York
More Hedda Sterne Artwork and Analysis:
Influences and Connections
Influences on Artist
Artists, Friends, Movements
Influenced by Artist
Artists, Friends, Movements

Interactive chart with Hedda Sterne's main influences, and the people and ideas that the artist influenced in turn.
View Influences Chart


Influences on Artist

Hedda Sterne
Years Worked: 1924 - 2004
Influenced by Artist

| | | | | |
| --- | --- | --- | --- | --- |
| Artists | | Personal Contacts | | Movements |
If you see an error or typo, please:
tell us
Cite this page

Content compiled and written by Kristen Osborne-Bartucca
Edited and published by The Art Story Contributors
" Artist Overview and Analysis". [Internet]. . TheArtStory.org
Content compiled and written by Kristen Osborne-Bartucca
Edited and published by The Art Story Contributors
Available from:
First published on 08 Apr 2019. Updated and modified regularly.


[Accessed ]