Artists
Marcel Janco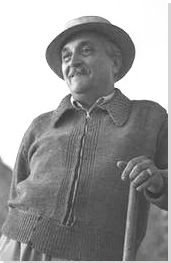 Born: May 24, 1895 - Bucharest, Romania
Died: April 21, 1984 - Ein Hod, Israel

"We had lost confidence in our 'culture.' Everything had to be demolished."

Summary of Marcel Janco
Romanian born artist Marcel Janco relocated to Zurich in his twenties and joined forces with his friend Tristan Tzara in developing the Dada movement. They eventually expanded their new aesthetic, based on a combination of Cubism and Expressionism, to three-dimensional works and then a kind of early performance art. Eventually Janco abandoned the militaristic anti-art of Dada and concentrated instead on a form of Constructivism. In the 1920s-30s he expanded his area of expertise to architecture and opened up a firm that would eventually be responsible for introducing modern architecture to Bucharest. Faced with the brutal persecution brought on by growing anti-Semitism in Europe, Janco left Romania and immigrated to what was then, the Palestinian Mandate. His immediate involvement with local artists had a formative influence on the development of modern Israeli Art.
Key Ideas
Janco and Tzara collaborated in establishing performances at the Cabaret Voltaire. Purposefully wild and primitive in nature, these performances were intended to join a canon of work challenging traditional society and art. One of Janco's primary contributions was the creation of unusual primitive masks, which transformed the performers into shamans that broke many conventions.
Janco eventually abandoned Dada, finding it somewhat negative in outlook, and instead, embraced Constructivism. His exploration of this style, eventually moving into the fields of urban planning and architecture, resulted in the introduction of a modernist aesthetic to central Bucharest.
Janco played a major role in the modernization of Israeli Art, importing the latest trends in Constructivism from Romania. Once established he joined local artists in developing a more abstract approach to depictions of the local landscape and also turned his attention to pertinent local themes. Janco's significance for avant-garde Israeli Art continues today, through the still-active artist's colony he established in Ein Hod.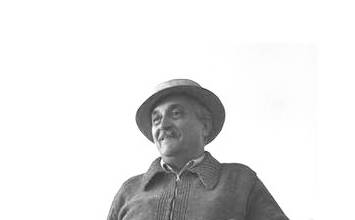 Born to a wealthy family in Bucharest, Marcel Iancu was an emotional, dreamy boy, who recalled his childhood as a time of "freedom and spiritual enlightenment." From a young age, he felt guilty about his wealthy lifestyle and developed a desire for social justice. In 1912, he began his artistic career by creating illustrations for the Symbolist magazine Simbolul, co-editing it with his friends Ion Vinea and Tristan Tzara. Other early influences on the artist were the work of Cézanne, Cubism, and Futurism.
Important Art by Marcel Janco

The below artworks are the most important by Marcel Janco - that both overview the major creative periods, and highlight the greatest achievements by the artist.


Artwork Images

Cabaret Voltaire (1916)

Artwork description & Analysis: This crowded canvas conveys the chaos, action, sound, and fury of a night at the Cabaret Voltaire. The jumble of performers, spectators, and inanimate objects fill the overcrowded space to bursting. One man on stage plays piano, one wrings his hands, one recites and a few dance. In the audience individuals are seen laughing, enraged, attentive, and also bored. The artist makes little distinction between the performers and the audience, instead emphasizing the morass of individuals as a whole. One of the masks for which Janco was known, is mounted on the wall above the stage, to the right of the image, as if overseeing the chaos. Janco's flat delineation of form, reflective of Cubist descriptions of space, is combined with a kinetic use to color similar to that noted in Futuristic works. His friend Arp called his style a kind of "zigzag naturalism."

This work provides a vital visual record of the sensory overload of sight and sound engendered by a night at the Cabaret Voltaire. The Dada artists who developed the idea for the Cabaret hoped to eliminate the distinction between art and life, and by extension, the performer and the audience. Accordingly, the Cabaret anarchy that would inflame the audience to the point where they lost control and became part of the performance. Hugo Ball later recalled how Tzara danced, Janco played an invisible violin, Hennings did the splits, Huelsenbeck drummed, and Ball played the piano as the audience booed, hissed, and screamed in fury.

Oil on Canvas - Lost


Artwork Images

Mask for Firdusi (1917-18)

Artwork description & Analysis: Janco's masks were to play a large role in the anarchic dances at the Cabaret Voltaire. They were created from scraps of cardboard, paint, glue, and sack-cloth, all crumpled and torn, with ragged edges and patchy paint. The finish was purposefully left rough and crude. The details of this face, with its beard, flattened planes and angular eyes and nose, indicate a variety of influences including Expressionism, the Cubist collage assemblages of Picasso and Braque, as well as both Japanese and Greek theater design. When worn, the dancer was meant to feel possessed by the spirit of the mask and transformed into a shaman of the sort found in primitive cultures. Hugo Ball described the result as "melodramatic and bordering almost on madness" while Arp called the masks "terrifying" and commented that they were usually painted "blood red."

It's conceivable that the notable raw finish of the mask, as well as the usage of red paint, were intended to evoke the blood, disfigurement and predominance of gas masks in war, which the Dada artists were staunchly against.

Janco's masks no doubt reflect his "faith in a direct art, a magical, organic, and creative art, like that of primitives." The shock and awe they evoked in the audience made them a germane part of the Dada creed and, in fact, they were part of their visual aesthetic from their first appearance at the Cabaret Voltaire to their eighth and final soiree in April 1919 at the Saal zur Kaufleuten. At this final occasion dancers wearing Janco's masks so incited the audience that the night ended in a mass brawl.

Paper, board, paint and twine - Museum of Modern Art, New York


Artwork Images

Flower Geometry (1917)

Artwork description & Analysis: Janco's abstract plaster reliefs answered Tzara's call for artists "to create directly, in stone, wood, and iron." In this example, he creates tension by juxtaposing Cubist elements, flattened organic shapes that adhere to the surface of the canvas, with Expressionist elements- colorful textured areas which actually protrude from the picture surface.

The irreconcilable contradictions of Dada, the meeting of nature and geometry, are noted within the title of the work. The execution of the work, creating and then destroying, fit in with the Dada interest in breaking down the hierarchy of fine art. Apparently the artist poured the plaster, then carved, painted and scratched it in order to create a deliberately coarse finish. Arp described the resultant effect as "the very opposite of the intellectual and mechanized art of the robots."

Works such as this plastic relief would become part of Janco's mature period, frequently embedded in the walls of the buildings he designed once back in Romania in the 1920s. They mark his transition from Dada, which he began to see as a "negative" art, to that of Constructivism, which he found more generative and therefore, positive. He felt that art should be incorporated into architecture the same way art should be incorporated into life, stating that abstract art "must be in architecture or disappear." The incorporation of relief as an integral decorative element is noted in the more than forty buildings he designed throughout Bucharest.

Painted Plaster Relief - Private Collection
More Marcel Janco Artwork and Analysis:
Influences and Connections
Influences on Artist
Artists, Friends, Movements
Influenced by Artist
Artists, Friends, Movements

Interactive chart with Marcel Janco's main influences, and the people and ideas that the artist influenced in turn.
View Influences Chart


Influences on Artist

Marcel Janco
Years Worked: 1912 - 1984
Influenced by Artist

Artists

| | |
| --- | --- |
| | Michail Grobman |
| | Avraham Ofek |

Personal Contacts

| | |
| --- | --- |
| | Joseph Zaritsky |

Movements
If you see an error or typo, please:
tell us
Cite this page

Content compiled and written by Jen Farren
Edited and revised, with Synopsis and Key Ideas added by Caroline Igra
" Artist Overview and Analysis". [Internet]. . TheArtStory.org
Content compiled and written by Jen Farren
Edited and revised, with Synopsis and Key Ideas added by Caroline Igra
Available from:
First published on 04 Jul 2016. Updated and modified regularly.


[Accessed ]