Critics
Harold Rosenberg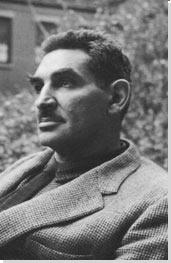 Harold Rosenberg
Art Historian and Critic
Born: February 2, 1906 - Brooklyn, NY
Died: July 11, 1978 - New York, NY

"Today, each artist must undertake to invent himself, a lifelong act of creation that constitutes the essential content of the artist's work. The meaning of art in our time flows from this function of self-creation."
Summary of Harold Rosenberg
Harold Rosenberg is remembered as one of the most incisive and supportive critics of Abstract Expressionism. His famous 1952 essay, "The American Action Painters," effectively likened artists such as Willem de Kooning and Franz Kline to heroic existentialists wrestling with self-expression. And his stress on the expressive and thematic content of their art ultimately made his writing more popular - at least in the 1950s - than the formalist criticism of his rival, Clement Greenberg. Originally a contributor to fringe, leftist magazines such as The Partisan Review, Rosenberg went on to the influential post of art critic for The New Yorker. His reading of gestural abstraction as Action Painting also proved important for early promoters of happenings and performance art, such as Allan Kaprow.
Key Ideas
Harold Rosenberg was the most influential critic and supporter of the Abstract Expressionists in the 1950s. His description of them as "action painters," and his stress on their dramatic and personal confrontation with the canvas, provided a compelling image of their creative process, and one that also proved popular with the artists themselves. He believed that the action painters worked almost without regard for conventional standards of beauty: their achievement was an authentic expression of individuality and humanity.
Rosenberg saw Abstract Expressionism as a major rupture within the history of modern art. As he put it, "At a certain moment the canvas began to appear to one American painter after another as an arena in which to act... What was to go on the canvas was not a picture but an event." Rather than strive to produce a perfect finished picture, Rosenberg believed the new American painters threw all their energies into the charged moment of creation - what was registered on the canvas was merely a record of that moment.
Even though Rosenberg proclaimed that with the advent of the New York School Paris had been eclipsed as the fount of new art, his writing was strongly marked by the Existentialist philosophy prominent in Paris at the time.
Although Rosenberg was the dominant New York critic in the 1950s, he lost out to Greenberg in the following decade, when the artists he championed, such as de Kooning, began to be sidelined in favor of Color Field Painting.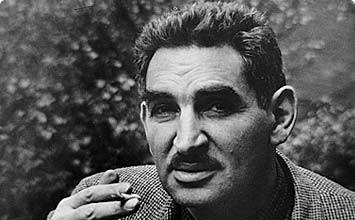 Born Abraham Benjamin Rosenberg, Rosenberg spent his childhood in Brooklyn. For a brief time, he attended classes at City College (1923-24) before enrolling in St. Lawrence University (Canton, New York) from where he would graduate in 1927 with a law degree. Shortly thereafter, he contracted osteomyelitis, a bone infection that would force him to walk with the assistance of a cane for the rest of his life, and which also kept him from military service during World War II.
Analysis

The below artworks are the most important and connected to Harold Rosenberg. Here we both overview Harold Rosenberg's approach and connections to this art, and highlight ideas on the greatest achievements by the artists and artworks below.


Artwork Images

Girl before a Mirror (1932)

Artist: Pablo Picasso

Artwork description & Analysis: This mid-life painting by Picasso, while made before "Abstract Expressionism" or "Action Painting" were ever part of our vocabulary, is an apt example of painting as an event. Rosenberg often writes about the artist getting inside an image and developing a relationship with his canvas, and in Girl before a Mirror, Picasso is not only jumping into the canvas, but depicting his woman (possibly his beloved Marie-Thérèse) doing likewise with her reflection.

Oil on canvas - The Museum of Modern Art, New York

Organisation (1933-36)

Artist: Arshile Gorky

Artwork description & Analysis: The artist Arshile Gorky is a complex figure; born in Turkish Armenia, he later adopted the surname of a Russian writer, and schooled himself in the works of Joan Miró, Paul Cézanne, and Pablo Picasso before immersing himself in Surrealism and later, Abstract Expressionism. Gorky's artistic evolution, as it were, provides a wonderful example for Rosenberg's discussion of "Redcoatism" and "Coonskinism" in the essay 'Parable of American Painting.' It suggests that Gorky has so fully digested the history of modern painting that he is no longer encumbered by the need to learn, and to follow its rules - he can begin anew.

Oil on canvas - National Gallery of Art, Washington, D.C.

Trafalgar Square (1939-43)

Artist: Piet Mondrian

Artwork description & Analysis: One topic that fascinated Rosenberg was radicalism and revolution in art; not an easy thing to grasp. He didn't believe that radical art had anything to do with political radicalism, but with the artist's ability to "express his entire personality" in the canvas. When he looked upon Mondrian's strange and minimalist cityscapes, like the one seen above, he saw Mondrian "conceiving 'healthy and beautiful cities by opposing buildings and empty spaces in an equilibrated way.'" This was, according to Rosenberg, a New Order of painting.

Oil on canvas - The Museum of Modern Art, New York
More Harold Rosenberg Artwork and Analysis:
Influences and Connections
Influences on Harold Rosenberg
Artists, Friends, Movements
Influenced by Harold Rosenberg
Artists, Friends, Movements

Interactive chart with Harold Rosenberg's main influences, and the people and ideas that the artist influenced in turn.
View Influences Chart


Influences on Harold Rosenberg

Harold Rosenberg
Years Worked: 1936 - 1978
Influenced by Harold Rosenberg

If you see an error or typo, please:
tell us
Cite this page

Content compiled and written by Justin Wolf
Edited and published by The Art Story Contributors
" Critic Overview and Analysis". [Internet]. . TheArtStory.org
Content compiled and written by Justin Wolf
Edited and published by The Art Story Contributors
Available from:
First published on 15 Oct 2012. Updated and modified regularly.


[Accessed ]