"The aesthetics of modernism, which we artists took as an absolute religion governing the present and indeed all of the future, now strikes me as I reassess it, as merely having been a style."
"When I look at a thing, it isn't love of reality, or feeling for objects or people, or love or death or anything like that that I'm trying to express. It's the looking itself that interests me. Working from that is my way of painting."
"I now go from this to that and why be ashamed of it? I am talking about the mundane, the everyday Chekhovian stuff of life. Which we pushed away in our early days because we were looking at this blank screen called progress."
"I grew up in an era when anything an artist did was supposed to be high art and surprising, a contribution to the field. If you didn't have that, you were supposed to stay in bed. I'm not that way. Sometimes I don't think I take myself seriously enough. Sometimes I hate myself for taking me too seriously."
"I believe that any art communicates what you're in the mood to receive."
"All my work is part of me, Larry Rivers. I'm not like the head of the Larry Rivers product line - maybe I am."
"You know what my worst fear is? That someone will refer to me as the Jewish John Singer Sargent."
Summary of Larry Rivers
Larry Rivers was one of the most brash and brilliant figures of the post-war American art-world, an enfant terrible of the New York School, who rebelled against his Abstract Expressionist masters without ever abandoning the bold, gestural painting style he had learned in the painting classes of Hans Hoffman. A brilliant figurative artist who was seduced by the pop culture of the sixties, Rivers was adopted by the Pop Art generation of Warhol et al, but his continuing investment in an idea of the artist's touch, and his unique, expressive compositional style, meant that he never sat comfortably in that category either. While there is no doubting Warhol's assertion that Rivers's personality was "very Pop", he ultimately occupies a tricky and liminal position in the modern art world, on the boundary of abstraction and figuration, the serious and the throwaway, the Modernist and the Pop: of what the critic Clement Greenberg famously distinguished as "Avant-Garde and Kitsch".
Accomplishments
Bringing the iconography of pop culture into his abstract/figurative paintings, Rivers pre-empted the Pop Art explosion of the 1960s, when artists like Andy Warhol and Roy Lichtenstein began to subvert the taboos of Abstract Expressionism with their garish, figurative paintings incorporating the images and messages of a booming consumer culture. Rivers's continued expressive debt to teachers such as Hans Hoffman meant that he was never able to make the full-throttle jump into the world of pop culture that his contemporary Warhol did. In the end, Rivers's struggle was not against the Modernist avant-garde per se, but against the evacuation of the figurative - of all that was particular, sensual, and human - from the modern canvas.
Rivers's work often incorporates text. With his Vocabulary Lesson portrait series he melded a post-Abstract-Expressionist figurative style with whimsical labels and messages, as if undermining the earnest credo that the abstract painting should exist in a space beyond language and rational interpretation. In fact, Rivers cut his teeth in a literary world as much as an artistic one: the friend and sometime lover of Frank O' Hara, he was also the portraitist of other noted poets such as Kenneth Koch, while his early work drew as much inspiration from novels and poetry as it did from painting.
Sex was a major part of Larry Rivers's life. In works such as O' Hara Nude with Boots and Double Portrait of Berdie, we find him smashing sexual taboos: whether that meant the prohibition on gay love in post-war America or on painting your ageing ex-mother-in-law naked. Clearly, some of Rivers's anti-moralizing crusades have aged better than others, and his work in some instances raises significant questions about the instances where culture and the state should interpose on the artist's right to freedom of expression. His unexhibited video-series Growing, documenting the development of his teenage daughters' bodies, has been called child pornography by one of its subjects, and is one example of when Rivers's taboo-busting seems to have overstepped the mark.
Important Art by Larry Rivers
Progression of Art
Biography of Larry Rivers
Childhood
Yitzroch Loiza Grossberg, the son of Ukrainian Jewish immigrants, was born in the Bronx, New York in 1923, speaking only Yiddish until he was six years old. At the age of 17 he was reborn as Larry Rivers, a name given to him in a jazz club where he performed as a professional saxophonist.
He spent a year in the United States Army Air Corps during World War II, before being medically retired and enrolling at the Juilliard School of Music in 1944. There, he formed friendships with the jazz musicians Miles Davis and Charlie Parker.
Early years and training
Rivers did not come from an artistic background. "The only things in our house resembling art", he once commented, "were a cheap tapestry and a five-and-ten-cent-store 8'' by 10'' reproduction of a Spanish senorita holding a flower." In a sense, he fell into painting by mistake: it wasn't until 1944 that he contemplated an artistic career, when he was shown a book containing the works of Cubist artist Georges Braque by musician Jack Freilicher, partner of the painter Jane Freilicher. "I wanted to say, 'What's Cubism?'", he later recalled, "[b]ut suddenly I knew what Cubism was. Cubism told a young man from the Bronx he didn't know very much. Cubism didn't know about him or his nights walking all over Greenwich Village with his big horn slung over his shoulder, looking for a joint where he could sit and blow with a lot of other desperados. Cubism certainly didn't smoke pot or get high, Cubism was history in which he played no part. Where could I catch up?''
He was given a paintbrush by Jane Freilicher, with whom he would remain close friends after the breakup of her marriage to Jack. Within two weeks, Rivers recalled, he had found an activity on a "higher level" than jazz. He would play saxophone at night and draw for eight hours a day, perfecting his draughtsmanship while absorbing theories of color and form.
In 1945 he married Augusta Burger, with whom he had two sons, Steven and Joseph. He separated from Augusta a year later, however, leaving the family home in Maine and moving to Manhattan, where he began to socialize with painters, poets and dancers, living a freewheeling lifestyle which brought him into contact with the poets of the beat generation and the New York School.
In 1946 he enrolled at the New York-based school of Abstract Expressionist painter Hans Hoffman, but he was never entirely comfortable with the orthodox abstract style which he encountered there. Four years later, Rivers's career took off when the revered art critic and academic voice of New York School painting Clement Greenberg praised the "superb plenitude and sensuousness" of this "amazing beginner." (Rivers fell out of favor two decades later, when Greenberg dismissed his work to a reporter, noting that "[y]ou can say now that I think he stinks".)
Rivers was a self-confessed hedonist, who said he wanted to "try everything". His sexuality played out in the portraits he produced: he was bisexual, married three times, had children by three different women, and was promiscuous in ways that bring many episodes in his biography into conflict with ethical norms. Rivers never self-identified as gay, or bisexual; though he was strikingly open about his relationships, he was reticent to be pigeonholed. Nonetheless, his portraits of his wives were less sensual than those of his lovers, such as O'Hara Nude with Boots (1954), depicting the great New York poet and Rivers's sometime sexual partner Frank O'Hara. Years of drinking and drug taking - "heroin, cocaine, opium, quaaludes, speed, mescaline, LSD, angel dust" were amongst the various substances he recalls- took their toll even by his early middle age. In 1952 Rivers attempted suicide, and was rescued by O'Hara. Rivers later told reporters it had been a mistake: "I don't think I'd planned on dying when I reached for the razor blade. The slashes were only about a half inch long." On another occasion he reportedly threatened to jump from a terrace high up at a friend's Park Avenue apartment as a stunt. News stories about Rivers were peppered with such anecdotes, depicting a strange, exhibitionist, and somewhat troubled man.
By the mid-1950s New York had replaced Paris as the epicenter of the modern art-world. Rivers took up his role within that world as a kind of enfant terrible, shooting to celebrity partly by associating with more famous artists such as Andy Warhol and Willem de Kooning. He was seen as one of the New York scene's 'bad boys', often spotted dancing on the bar at Max's Kansas City on Park Avenue South, clutching a bottle of Jack Daniels. O'Hara said: "[h]e came in like a demented telephone. Nobody knew whether they wanted it in the library, the kitchen or the toilet, but it was electric." Keeping up his habits of sexual promiscuity, Rivers would dress in cowboy boots, tight pants, inside-out shirts and extravagant ties, which he would often wear two at a time.
Rivers was not afraid to manipulate his acquaintances into posing naked for him, according to art writer and confidante Barbara Goldsmith. She said: "Larry wanted all of his friends to pose nude. These portraits were disturbing and wonderful in their precise draftsmanship and objectivity. He wanted me to pose in the nude, too, but I told him that wasn't on the cards. His ploys were quite ingenious, though: he'd say, 'Nude or not, kid, you look the same to me.' Or 'Someday you'll be happy you had the body you have today' That was one of his favorite expressions."
Rivers's more serious, intellectual assiduous side sometimes appeared in conflict with his flamboyant, showman-like traits. This battle would manifest itself in his work, which often seemed full of stylistic and thematic contradictions. In 1958, he won $32,000 as an art expert on the quiz show The $64,000 Challenge. It later emerged that someone tried to pass on an envelope containing the answers beforehand, but he was proud to say he declined it. Collecting his takings, he took them straight to a bar, where he bought a round of drinks for 300 people.
Mature Period
In 1961, Rivers interviewed Clarice Price, a Welsh school teacher, for the position of nanny. He fell in love with her, and they married that year. She became the subject of his groundbreaking work Parts of the Face: French Vocabulary Lesson (1961), in which we see his Abstract Expressionist style moving playfully towards the threshold of what would become known as Pop Art. Larry and Clarice separated six years later having had two daughters, Gwynn and Emma.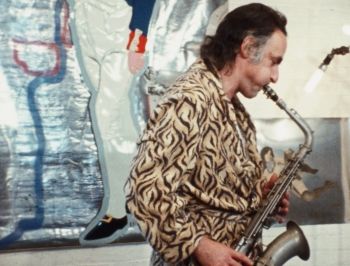 By the mid-1960s Rivers was at his professional peak. He seemed to flit between artistic movements, creating a body of work that was at once abstract and figurative, serious and superficial, backwards-looking and stylistically adventurous. John Canaday, chief art critic of The New York Times, described him as "the cleverest, even the foxiest, painter at work in the country, an artist who can do anything he wants with a brush". As his work swerved between Abstract Expressionism and the contemporary French style of Nouveau Réalisme - having spent various periods of his professional life in Paris, Rivers was close to many artists associated with that movement - he began to shift the impetus of American Modernist painting, making way for the emergence of Pop Art.
Andy Warhol, who openly admitted his debt to Rivers, stated: "Larry's painting style was unique - it wasn't Abstract Expressionism and it wasn't Pop, it fell into the period in between. But his personality was very Pop." Rivers's personality continued to grab attention as the sixties came and went. In 1979, New York Times art critic Peter Schjeldahl described Rivers as "one of the most fascinating personalities in the last 30 years of art".
Rivers began to experience heart problems at a relatively young age. By the 1970s he was experiencing symptoms of cardiac illness, but he failed to properly address them until he suffered a heart attack two decades later.
Late Years and Death
In 1981, Rivers began a romantic relationship with the young artist Daria Deshuk. Four years later they had a son, Sambo Deshuk Rivers. In 1992, Rivers's outrageous autobiography was published, revealing how just morally questionable his attitudes towards sex really were. He laid bare the darkest secrets of his romantic history, including a huge number of affairs and conquests, one involving a 15-year-old girl when the artist was in his forties. Rivers's younger daughter, Emma Tamburlini, also accused him of making a film that amounted to "child pornography" about her and her sister, detailing the development of their bodies across puberty. The making of the documentary, entitled Growing, involved filming them naked, zooming in on their breasts, and asking them questions about their sexuality. Rivers claimed at the time to be breaking taboos, but it has been difficult for most contemporary commentators to accept this defense.
Towards the end of his life Rivers suffered from a bad back, cardiac problems and a neurological issue that made his left hand shake uncontrollably. But he remained a socialite until the end. As he lay dying in 2002, according to journalist and close friend Barbara Probst Solomon, his friends trouped one by one into his living room in Southampton, Long Island, which had been converted into a hospital room complete with nurses and medical paraphernalia. The pair of them discussed art when Solomon saw him in his final days: "'Larry,' I said, 'about Duchamp...' He knew I was referring to Duchamp's secret, that the sole work of his last sixteen years was his obsessive involvement with the body of his great love, the realistic Brazilian sculptor Maria Martins which he had tried to reproduce, while concealing what he was working on from the public. He called the work Etant Donnés. In the end even Duchamp could not totally banish the body, the figurative. 'Larry,' I repeated. 'About Duchamp - you won.'"
Larry Rivers died at his home in 2002, at the age of 78. The cause of death was liver cancer. His friend Barbara Goldsmith recounted her last meeting with him: "[h]e told me: 'They say I'm terminal.' I answered, 'Listen, Larry, we're all terminal - it's just a question of time.' Soon he fell asleep. Two days later I was told Larry had asked to have the morphine patch stepped up - he didn't want to stick around. That was so like Larry, doing things his own way."
The Legacy of Larry Rivers
Larry Rivers is considered by many to be the 'Godfather' of Pop Art, because he was one of the first artists to merge the non-figurative style of Abstract Expressionism with figurative motifs and icons, many of them plucked from pop culture. Rivers's canvases included symbols and logos borrowed from sources such as Camel Cigarette packets, Confederate flags, and Dutch Masters cigars - which, in an ironic twist, included a version of Rembrandt's Board Of The Drapers Guild on their packets. But he playfully denied any interest in reflecting on mass culture through his work. In his obituary, he was quoted as saying: "I have a bad arm, and am not interested in the art of holding up mirrors."
Nonetheless, the types of motifs Rivers used throughout his career appear in the work of some of Pop's most famous names. Andy Warhol relied on mass-produced, commercial imagery, and spoke of his influence from Rivers. In some ways, however, there are closer affinities between Rivers's work and that of artists such as Jasper Johns and Robert Rauschenberg, whose work trod a similar path between Pop and Abstract Expressionist tendencies. Ed Ruscha's use of printed words and signage might also be traced back to works of Rivers's such as Parts of the Face (1961).
River's influence on Pop also extends beyond his art. His hedonistic, exhibitionist lifestyle became an integral part of the creative face which he presented to the world. It was his desire to shock, to raise questions about the values of art and culture and to provoke the artistic establishment, that partly ensured his reputation, and which made him a true 'pop' artist.
At the same time, many critics would argue that the subtlety and dexterity of Rivers's thematic and formal traits place him outside any narrow definition of Pop. In some ways, his work has more in common with that of New York School peers such as Grace Hartigan and Jane Freilicher, which moved beyond the high abstraction of first-generation Abstract Expressionism through its incorporation of figurative forms, and its frequent reliance on literary sources and inspiration.
For his friend Barbara Probst Solomon, Rivers was, above all else, a proselytizer for the figurative. "Larry often is described as proto-pop, or the bridge to pop, but Pop Art came up behind him; it clearly wasn't his obsession. Nor, as a matter of fact, was his target the bourgeoisie. His true arrows were entwined with our history and aimed at abstract art. His true fury was aimed at Marcel Duchamp, John Cage, at what he considered to be their phoniness, and the power abstraction had over everything else."
Influences and Connections
Influences on Artist

Influenced by Artist
Friends & Personal Connections
Friends & Personal Connections
Useful Resources on Larry Rivers
Books
The books and articles below constitute a bibliography of the sources used in the writing of this page. These also suggest some accessible resources for further research, especially ones that can be found and purchased via the internet.
biography
artworks