"Abstract is not a style. I simply want to make a surface work. This is just a use of space and form: it's an ambivalence of forms and space."
"My paintings are titled after they are finished. I paint from remembered landscapes that I carry with me - and remembered feelings of them, which of course become transformed. I could certainly never mirror nature. I would more like to paint what it leaves with me."
"The painting is just a surface to be covered. Paintings aren't about the person who makes them, either. My paintings have to do with feeling, yet it's pretentious to say they're about feelings, too, because if you don't get it across, it's nothing."
"Abstract is not a style. I simply want to make a surface work. This is just a use of space and form: it's an ambivalence of forms and space."
"People will never understand what we are doing if they can't feel. All art is abstract. All music is abstract. But it's all real... We were all trying to bring that spirit, that spontaneous energy, into our work."
"I want to paint the feeling of a space. It might be an enclosed space, it might be a vast space. It might be an object working with Hans Hofmann's phrase "push and pull," the structure, the light, the space, the color."
Summary of Joan Mitchell
Joan Mitchell is known for the compositional rhythms, bold coloration, and sweeping gestural brushstrokes of her large and often multi-paneled paintings. Inspired by landscape, nature, and poetry, her intent was not to create a recognizable image, but to convey emotions. Mitchell's early success in the 1950s was striking at a time when few women artists were recognized. She referred to herself as the "last Abstract Expressionist," and she continued to create abstract paintings until her death in 1992.
Accomplishments
Inspired by the gestural painting of Willem de Kooning and Franz Kline, Joan Mitchell's mature work comprised a highly abstract, richly colored, calligraphic manner, which balanced elements of structured composition with a mood of wild improvisation.
Mitchell rejected the emphasis on flatness and the "all-over" approach to composition that were prevalent among many of the leading Abstract Expressionists. Instead, she preferred to retain a more traditional sense of figure and ground in her pictures, and she often composed them in ways that evoked impressions of landscape.
Mitchell's abrasive personality has been a key factor in interpretations of her painting, which critics often read as expressions of rage and violence. Yet, almost as often, they have seen lyricism in her work.
Important Art by Joan Mitchell
Progression of Art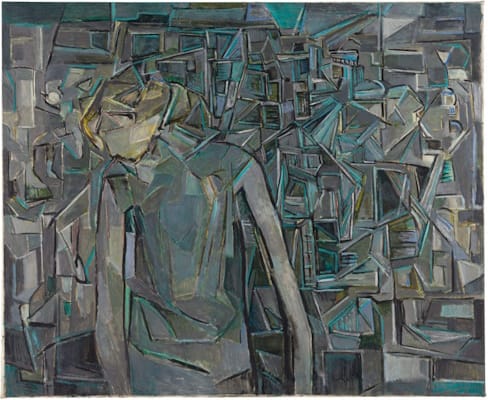 1951
Untitled
Untitled (1951) was one of the seminal works in Joan Mitchell's first solo exhibition at The New Gallery in New York City in 1952. Paul Brach's review announced, "The debut of this young painter marks the appearance of a new personality in abstract painting. Miss Mitchell's huge canvases are post-Cubist in their precise articulation of spatial intervals, yet they remain close in spirit to American Abstract Expressionism in their explosive impact."
Oil on canvas. Dimensions: 72 x 78 inches. © Estate of Joan Mitchell, Courtesy of the Joan Mitchell Foundation - Estate of Joan Mitchell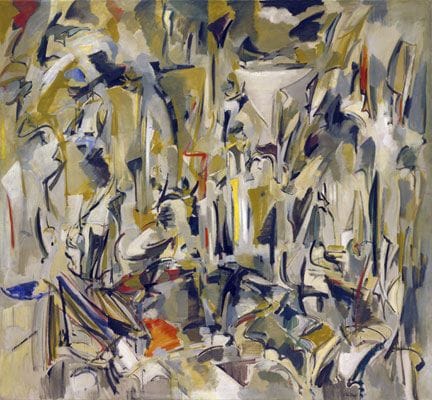 1955
City Landscape
Informed by an urban energy, City Landscape is an iconic example of Mitchell's early work. The tension between the horizontal brushstrokes of vibrant color in the center with the surrounding whites exemplifies her use of the figure-ground relationship. The work also demonstrates her debt to Philip Guston, whose Abstract Expressionist work was often likened to Impressionism.
Oil on canvas. Dimensions: 80 x 80 inches. © Estate of Joan Mitchell, Courtesy of the Joan Mitchell Foundation - The Art Institute of Chicago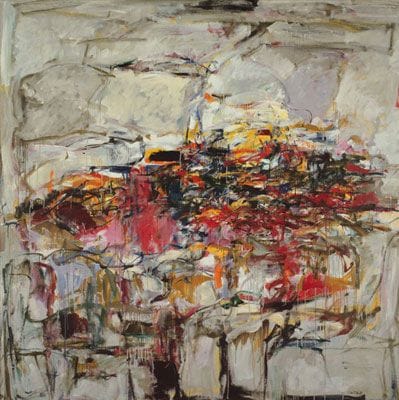 1956
Hemlock
Mitchell's paintings are striking in their sheer physicality. She used bold and active strokes of paint on large canvases. In Hemlock, her use of cool whites interplays with the horizontal lines of green and black and gives the sense of an evergreen in the winter.
Oil on canvas. Dimensions: 91 x 80 inches. © Estate of Joan Mitchell, Courtesy of the Joan Mitchell Foundation - Whitney Museum of American Art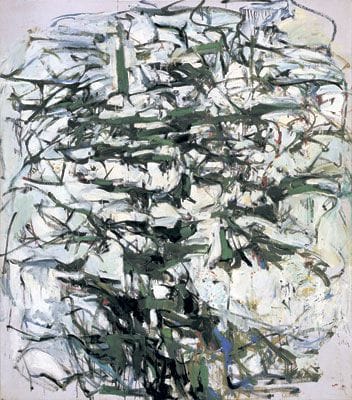 1978
Tilleul
Tilleul is one of Mitchell's most direct examples of landscape abstractions. In French, telleul is a linden tree, and Mitchell created a group of paintings inspired by the tree in front of her home in Vetheuil, France. Not a representation, the dense vertical strokes of paint evoke the essence of tree branches reaching upward.
Oil on canvas. Dimensions: 102 3/8 x 70 7/8 inches. © Estate of Joan Mitchell, Courtesy of the Joan Mitchell Foundation - Musée National d'Art Moderne/Centre George Pompidou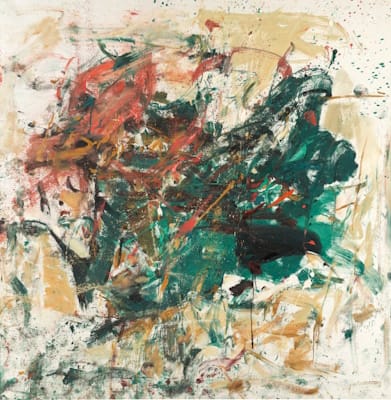 1983
La Grande Vallee XIV (For a Little While)
La Grande Vallee paintings are an outstanding group of 21 large-scale works created over the span of just one year. Uniquely conceived as a whole or unit, the paintings created a lush and poetic environment when exhibited together. The Grand Valley refers to a story of a secret place or private haven and relates to Mitchell's grief over the deaths of her sister and a good friend.
Oil on canvas. Dimensions: 110 x 236 1/4 inches. © Estate of Joan Mitchell, Courtesy of the Joan Mitchell Foundation - Musée National d'Art Modern/Centre Georges Pompidou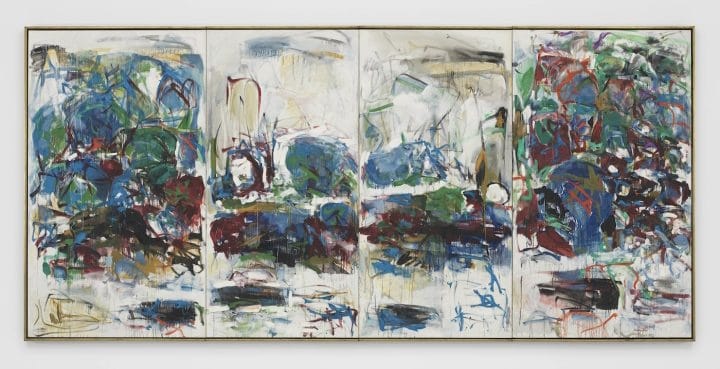 1989
Bracket
A striking 15 feet wide, Bracket is a magnificent example of Mitchell's late work. Known for creating large works, her use of two or more panels allowed her to create monumental works of art. She used the interplay between panels as a compositional tool, like paragraphs or stanzas in a poem.
Oil on canvas, triptych. Dimensions: 102 1/2 x 181 3/4 inches. © Estate of Joan Mitchell, Courtesy of the Joan Mitchell Foundation - San Francisco Museum of Modern Art
Biography of Joan Mitchell
Childhood
From an early age, Joan Mitchell showed an interest and love of painting, art, and poetry. She grew up comfortably in Chicago as the younger of two girls. Her mother, a poet, writer, and editor, sparked her lifelong interest in poetry. Her father, a successful doctor, would often take her to the Art Institute of Chicago and other museums.
Early Training
After studying both art and English for two years at Smith College, Mitchell transferred to the Art Institute of Chicago in 1944 to study painting. The traditional training included classes in anatomy, art history, and drawing from the figure. Using the Art Institute's stellar collection as a visual resource, her student work showed the influence of Wassily Kandinsky, Henri Matisse, and the late period works of Paul Cézanne. She was awarded the Edward L. Ryerson Traveling Fellowship upon her graduation from the Art Institute in 1947.
Deferring the fellowship, Mitchell moved to New York City with the intent of studying with Hans Hofmann. She was intimidated by his teaching style and only attended one of his classes. But it was during her time in New York City that she was first introduced to the ideas and artwork of the New York School, which was dominated by the Abstract Expressionists. Attending the many museums and galleries, she saw the works of Arshile Gorky and Jackson Pollock. A year later, Mitchell left for Paris on the traveling fellowship. As her artwork continued to evolve during her time abroad, the influence of Abstract Expressionism was evident. Her paintings, cubist cityscapes, interiors, and figures became progressively more abstract. She termed her new works "expressionist landscapes."
Mature Period
Moving back to New York City in the fall of 1949, Mitchell was quickly immersed in the local Abstract Expressionist art scene. She was part of the regular gatherings of artists and poets at the Cedar Street Tavern and became friends with painters such as de Kooning and Kline. She was one of the few women artists asked to join the exclusive Artists' Club. Located in Greenwich Village, "The Club" was a center for lectures and discussion and provided a supportive environment for the Abstract Expressionists. Mitchell was included in their seminal 9th Street: Exhibition of Painting and Sculpture, curated by Leo Castelli in the spring of 1951.
Marking the true beginning of her career as an artist, Mitchell had her first solo New York City exhibition at The New Gallery in 1952. The exhibition's critical success led to yearly exhibitions at the Stable Gallery. Through the 1950s, her work became more confident. Her artwork developed the qualities that would continue to define her paintings: her sense of color, composition, and tension between bold and subtle elements.
She divided her time between New York and Paris until 1959, when she moved to France permanently. This bold step moved her away from her success in New York and its burgeoning art world. Paris offered a different atmosphere and a different group of friends and artists including Jean-Paul Riopelle. She lived with Riopelle, a successful French Canadian artist. Their artistically supportive yet stormy relationship lasted until 1979.
The late 1960s marked a strengthening of Mitchell's ties to France. After her mother died in 1967, she purchased a home and studio outside Paris in the town of Vetheuil. The beautiful two-acre property overlooking the Seine was reflected in a renewed focus on nature and landscape in her artwork. Her style of painting changed in the larger studio. Less linear works using blocks of vivid color show the influence of Hans Hofmann. She began to create large multi-paneled paintings of two, three, or four panels. In 1967, she also began her professional relationship with the Galerie Jean Fournier in Paris, which would provide significant continued support of her work.
Late Period
In 1972, Joan Mitchell had her first solo museum exhibition at the Everson Museum of Art in Syracuse, New York. A major exhibition at the Whitney Museum of American Art followed in 1974. Her paintings became more linear with vibrant brushstrokes of color reaching the edges of the canvas. These late paintings sealed her reputation as an inventive artist and a master of painting technique.
The Legacy of Joan Mitchell
Joan Mitchell continues to inspire as an artist true to her inner vision, who created a large and impressive body of Abstract Expressionist work. Recognized by the age of 30, her paintings steadily matured and became ever more striking and profound. The Joan Mitchell Foundation, established in 1993, continues to celebrate her legacy by providing grants and other support for painters and sculptors working today.
Influences and Connections
Influences on Artist

Influenced by Artist
Friends & Personal Connections
Jean-Paul Riopelle
Artists
Joan Snyder

Philip Wofford
Friends & Personal Connections
Movements & Ideas
Lyrical Abstraction
Useful Resources on Joan Mitchell
Books
The books and articles below constitute a bibliography of the sources used in the writing of this page. These also suggest some accessible resources for further research, especially ones that can be found and purchased via the internet.
works
Similar Art