"Abstract is not a style. I simply want to make a surface work. This is just a use of space and form: it's an ambivalence of forms and space."
"My paintings are titled after they are finished. I paint from remembered landscapes that I carry with me - and remembered feelings of them, which of course become transformed. I could certainly never mirror nature. I would more like to paint what it leaves with me."
"The painting is just a surface to be covered. Paintings aren't about the person who makes them, either. My paintings have to do with feeling, yet it's pretentious to say they're about feelings, too, because if you don't get it across, it's nothing."
"Abstract is not a style. I simply want to make a surface work. This is just a use of space and form: it's an ambivalence of forms and space."
"People will never understand what we are doing if they can't feel. All art is abstract. All music is abstract. But it's all real... We were all trying to bring that spirit, that spontaneous energy, into our work."
"I want to paint the feeling of a space. It might be an enclosed space, it might be a vast space. It might be an object working with Hans Hofmann's phrase "push and pull," the structure, the light, the space, the color."
Summary of Joan Mitchell
Mitchell achieved success at a time when few female avant-gardists managed to break onto the international art scene. As a member of New York's Abstract Expressionist school, Mitchell expressed her singularity through fearless rhythms of bold coloration and sweeping gestural brushstrokes, typically rendered on unprimed, multi-paneled, canvases. Taking inspiration from the natural world and poetry, and the work of great modern masters such as Cézanne, Matisse, and Monet, her aim was not to paint recognizable landscapes but rather, in her words, to "catch a feeling". Like many of her early companions in the New York School, she was a hard-drinking free-spirit and even referred to herself as the "last Abstract Expressionist." Indeed, she continued to paint with the same gestural intensity when, mid-career, she swapped New York for the more meditative surroundings of semi-rural France.
Accomplishments
Although her style has seen her grouped with her colleagues and friends within the Abstract Expressionist movement, Mitchell's work is defined by a sense of contemplation over the unbridled spontaneity of Action Painting. She approached her canvases with a mental image begotten through her loving memories of nature and/or poetry. Mitchell's work comprised a highly abstract, richly colored, calligraphic manner, which balanced elements of structured composition with a strong mood of improvisation. As curator John Yau states, her art advanced "the idea that a painting can be made of separate but layered and entangled parts."
The history of Abstract Expressionism has tended to be viewed through the heroic deeds of a fraternity of "swashbuckling" male artists. However, Mitchell, with her female contemporaries, Lee Krasner, Elaine de Kooning, Grace Hartigan, and Helen Frankenthaler, are now widely recognized as vital players in the battering down of the cultural and social barriers that saw New York rise to its position as the epicenter of the international art scene.
Mitchell rejected the emphasis on the "all-over" approach to composition that was prevalent among many of the leading Abstract Expressionists. She retained a more traditional sense of figure, but only inasmuch as her abstract work was shaped by her affinity with the landscapes of the Impressionists and Post-Impressionists. Curator Suzanne Pagé sums up her style as embodying the "quintessence of abstraction in a manner that is entirely singular by its very paradox."
Mitchell's abrasive personality and her uncompromising single-mindedness (character traits exacerbated by her hard drinking habit) helped her thrive in the male-dominated milieu of the post-war international art scene. She was known to reduce some people who crossed her to tears. However, as Mitchell herself acknowledged, what she craved most was to retreat to the solitude of her studio and to "get rid of all this crap and create beautiful, magnificent works."
Important Art by Joan Mitchell
Progression of Art
1950
Figure and the City
Mitchell's training at the Art Institute of Chicago in the mid-1940s saw her attend classes in anatomy and figuration. Then, having moved to New York in 1947, she was exposed to the ideas of the New York School, and the burgeoning Abstract Expressionist style. She produced this painting on her return to New York following an excursion to Europe on a fellowship (awarded to her by the Institute). Figure and the City, which shows a semi-abstract figure hemmed-in by its cuboid environment, taps very much into the modern theme of urban alienation and the European avant-garde of the early 20th-century (most notably Cubism).

The art critic Alex Greenberger notes, the work comes from an early period during which Mitchell produced "still lifes and urban landscapes in which anything and everything could be reduced to geometric shapes." When seen in the chronology of her career, the painting might be viewed as a "swansong"; her farewell or homage to the past as she became fully immersed in the Abstract Expressionist art scene. Mitchell herself later stated that when she painted Figure and the City, "I knew that it would be my last figure."
Oil on canvas - Joan Mitchell Foundation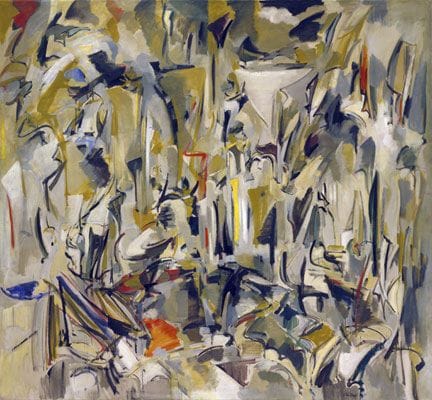 1951
Untitled
One of Mitchell's earliest abstract works, Untitled (1951) was painted soon after she had been welcomed into the group of hard-drinking artists and poets who gathered regularly at New York's now legendary Cedar Tavern. Drawing on the work of Willem de Kooning, Arshile Gorky and Franz Kline, the painting was the flagship work in Mitchell's first solo exhibition at The New Gallery in New York City in 1952. Painter Paul Brach's review announced, "The debut of this young painter marks the appearance of a new personality in abstract painting. Miss Mitchell's huge canvases are post-Cubist in their precise articulation of spatial intervals, yet they remain close in spirit to American Abstract Expressionism in their explosive impact."

While curator Klaus Kertess acknowledges Mitchell's debt to de Kooning, Gorky, and the late Russian abstract pioneer, Wassily Kandinsky, he argues that "The sum of the influences does not equal the painting." Kertess argues, rather, that, "The smooth spread of light; the brushstroke as a projectile in the precarious battle between order and chaos; and the centripetal compression of strokes, colors, and forms ... transpose the varied polyphonies, urban and organic, of Kandinsky, Gorky, and de Kooning into an orchestration that is specifically Mitchell's."
Oil on canvas - © Estate of Joan Mitchell, Courtesy of the Joan Mitchell Foundation - Estate of Joan Mitchell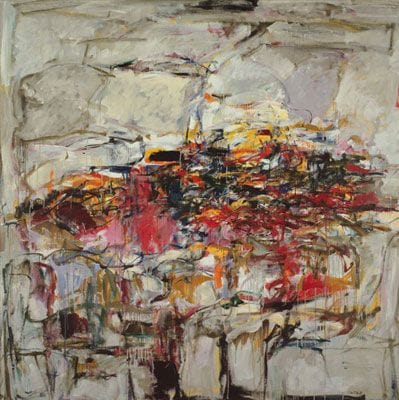 1955
City Landscape
Despite the apparent spontaneity of City Landscape, Mitchell worked in a much more deliberate way than most Abstract Expressionists (especially the Action Painters). She did not rank self-expression above contemplation, explaining: "I paint a little, then I sit and look at the painting, sometimes for hours. Eventually, the painting tells me what to do." Of this painting, Glennda Jensen of the Arts Institute of Chicago writes, "[All] the nerves of a vibrant city seem gathered in a tangled mass of pale pink, scarlet, mustard, sienna, and black pigments which are counterbalanced by vertical strokes and drips. White blocklike forms in both the foreground and background stabilize the throbbing center. The effect is not unlike that of city streets and surrounding architecture, where the activity of moving traffic and pedestrians surges between the solid structure of buildings." The American poet Eileen Miles expressed her admiration of the painting much more concisely: "I love this big horny red painting because it's bitch work. It's tooth and claw."

The subject of a city landscape would seem to rub against Mitchell's stated love of the natural world. She did not, however, draw any clear distinction between the urban and natural environment, stating "Man made a city; nature grows. I see it all as nature. I look at it all as what I see." This painting contributed significantly to her growing international reputation and she began travelling frequently between New York and Paris where she met with international artists and writers, including Canadian/French abstract painter Jean Paul Riopelle, with whom she shared a long and tumultuous relationship. As her experiences and new memories multiplied, so too did the scope and ambition of her paintings, leading to a period of great experimentation. Indeed, a year later she produced The Bridge, a diptych that would lead to her preference for monumental, multi-panel, works.
Oil on canvas - © Estate of Joan Mitchell, Courtesy of the Joan Mitchell Foundation - The Art Institute of Chicago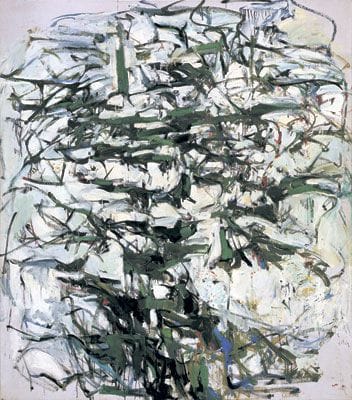 1956
Hemlock
Mitchell's paintings are imposing in their voluminous physicality, with bold, gestural, strokes daubed across her oversized canvases. In Hemlock, cool whites interplay with horizontal lines of green and black, evoking a sense of an evergreen winter landscape. The Whitney Museum writes, "The white paint appears both behind and on top of the other colors, which blurs the definition of foreground and background - a stylistic hallmark of Mitchell's work throughout her career." As was her habit, Mitchell only titled works upon completion, and explained that Hemlock was inspired by the "dark and blue feeling" she had experienced when reading Wallace Stevens's 1916 poem, "Domination of Black" (which makes mention to hemlocks):

"I heard them cry - the peacocks.
Was it a cry against the twilight
Or against the leaves themselves
Turning in the wind,
Turning as the flames
Turned in the fire,
Turning as the tails of the peacocks
Turned in the loud fire,
Loud as the hemlocks
Full of the cry of the peacocks?
Or was it a cry against the hemlocks?"

Painter and author Barry Nemett writes that when viewing Hemlock for the first time, around 1966 (when he was still just a boy), he enjoyed his "first deeply transformative art experience." He writes: "Moved by its calligraphic thrusts, I saw Hemlock's layered figure and ground weaves - roller coaster rhythms of wintry viridian. When I saw the verdant hue breathing harder in its workout as foliage, the image looked less vertiginous, but no less moving. How long was it before I noticed the painting's title, Hemlock? If I had read it first, I likely would have seen the painting less abstractly. I don't remember if I recognized the artist's name, but since then, 'Joan Mitchell' has been part of me, like letters carved into a tree."
Oil on canvas - © Estate of Joan Mitchell, Courtesy of the Joan Mitchell Foundation - Whitney Museum of American Art
1961-62
Noël
In the first half of the 1960s, and painted soon after her move from New York to Paris, Mitchell produced a series of works marked by their dark intensity. She referred to these pieces as "My black paintings - although there's no black in them." This shift in mood was due in large part to her personal travails: her mother's cancer diagnosis (in 1960); her father's continuing ill health; and her chaotic and explosive relationship with partner, Jean-Paul Riopelle. As London's Hauser and Wirth Gallery describes, "Mitchell rejected the all-over style and bright colours of her earlier compositions in favour of sombre hues and dense central masses of pigment expressive of something startling and primordial. Rhythm and vibrancy were displaced for inchoate matter. There is an astonishing physicality to these works. Paint has been flung and squeezed onto the canvases, smeared on by Mitchell's fingers, and spilt and spluttered across their surfaces to create sculptural and tempestuous terrains that attest a vital reckoning with the world."

This monumental canvas, created in her studio on rue Frémicourt, bridges the worlds of early French modernism and American abstraction in the way it interweaves elements of Monet and Pollock. Noël was likely named (after completion) for its juxtaposition of red and green (and possibly because it was finished during the Christmas period). New York Times art critic Michael Brenson said of Mitchell's Black series, "[they] seem to push and bristle. And sooner or later we have the sense that paint is flying from the canvas like fur from two raging cats." Yet while Mitchell herself referred to her paintings of the early 1960s as "very violent and angry paintings," curator Jill Weinberg Adams still sees hidden in them "a lightness and a lyricism" that underpinned all her work.
Oil on canvas - Private collection
1967
La Seine
In 1967 Mitchell set up a home and studio in the town of Vétheuil, 60km northwest of Paris, and a short journey from Giverny, location of Monet's famous garden and home. Mitchell lived at the beautiful two-acre property, which she called "La Tour", overlooking the Seine river (with her thirteen dogs). Her relocation to Vétheuil led to a renewed focus on nature and landscape, with her style tending towards blocks of vivid color presented in multi-paneled paintings of two, three, or four sections. This, the first (of six) in her panoramic La Seine series, consists of four panels of vibrant colors applied through heavy impasto.

The diptych is one of only a few Mitchell landscapes to offer any suggestion of a horizon. Curator John Yau observes that, "Along the bottom of each of the four panels, [Mitchell] paints a blotchy, black, horizontal form. Over this she lays down another series of brushstrokes in bright colors - blue, green, red, orange. Adjacent to this form is a series of wispy strokes, or a calligraphic bundle. [...] This layering creates an enmeshed space, evoking foliage and underbrush. [...] With the white ground dirty in places, the damp dreariness of winter is hinted at but never becomes the sole focus of the painting. With the roiling forms and tangled lines placed above the white unpainted spaces below, we are reminded of shrubs, trees, and vegetation growing up to the river's edge."

Unlike the landscapes of Monet (which she so revered) Mitchell's landscapes were not painted en plein air or from preparatory sketches, but rather from memory. Curator David Greenhalgh observes that, "When Monet lived there in 1878 he would carry his paints and easel into the surrounding fields to capture the view towards the town cathedral. Working in the light of day, he strove to put on canvas the vibrant hues of the natural world as he immediately saw it, building up quick marks of pastel colour to convey the evening light across the Seine. Almost a century later [Mitchell] became inspired by the same countryside. But instead of working in the light of day, she worked in the studio at night, under the hum of the electric lights, with all the windows blocked by a thick canvas."
Oil on canvas in four parts - © Estate of Joan Mitchell, Governor Nelson A. Rockefeller Empire State Plaza Art Collection, New York State, Office of General Services
1983
La Grande Vallée XIV (For a Little While)
La Grande Vallée XIV belongs to an outstanding group of twenty-one large-scale works (including five diptychs and this single triptych) created over the span of a single year. Christies auction house referred to the series as "a powerful and emotional body of work that is widely regarded to be a highpoint of her long and distinguished career." Uniquely conceived as a whole or unit, the paintings, which feature strokes of bright yellow, greens, and blues, evoke dense flowered bushes, and create a lush and poetic environment when exhibited together. In fact, the suite of paintings was only ever exhibited as a whole once, in 1995-96, in the Paris gallery of Mitchell's dealer, Jean Fournier.

Mitchell had met the distinguished musician and composer Gisèle Barreau in the summer of 1979. Barreau soon moved into Mitchell's Vétheuil home to help care for Mitchell's thirteen dogs, and to help with the upkeep of her house and studio. Barreau spoke to Mitchell about her childhood memories of a hidden valley (known as the "Grande Vallée") in Brittany where she had spent her childhood. In an interview, Mitchell explained that "the Grande Vallée was a (wild, vast) place where [Giséle] played with her cousin when they were children, and [where her] cousin, aged 28, died of cancer. And she told me he said to her [when he was dying in 1982], 'If we could only return to the Grande Vallée once again' [...] I mean, that was what that was all about ...You know, it was the [same] summer my sister died - the same week [...] I thought, Shit, I'll paint the Grande Vallée for her [Giséle]." Art historian Judith Bernstock remarked that "Each La Grande Vallée painting is like a living organism, a microcosm of the universe - a world of colors suggestive of sadness and loss [...] in which the life and death of humanity and nature are felt through the sensations of color."

The series is indicative of Mitchell's love of Monet and here search for, in her words, "what one color does to another and what they do to each other in terms of space and interaction." Curator Claude Schweisguth says of La Grande Vallee XIV, "A single large movement carries the canvas like a dance, letting the breakthroughs of yellow and the whole range of blues that the artist likes explode. Despite the large dimensions and the multiple brushstrokes that cover the canvas from end to end,there is no violence here but, on the contrary, an airy aspect, open to infinity. The chain structure of the perimeter, however, contains the large moving pictorial masses, preventing them from leaking out. This synthesis between the restraint of European painting and the powerful energy of American painting constitutes the originality of the work of Joan Mitchell."
Oil on canvas - © Estate of Joan Mitchell, Courtesy of the Joan Mitchell Foundation - Musée National d'Art Modern/Centre Georges Pompidou
1989
Bracket
Despite (or, perhaps, because of) having to come to terms with a terminal health prognosis, and the recent passing of loved ones, Mitchell produced some of her most emotionally powerful pieces in her final years. A striking fifteen-foot-wide, eight-foot-tall triptych, Bracket is a magnificent example of Mitchell's late work. Her use of two or more panels allowed Mitchell to create monumental works, with this triptych ranking as one of the largest and most imposing pieces in her entire oeuvre. Christie's said of the work, "Mitchell thrived, and prompted a very personal engagement with the lush landscape that surrounded her. The views of the countryside from her home were dazzling, extending from the winding river below to a reservoir that seemed to float in the distance. [Bracket] overflows with vigorous and sensual brushwork and lush coloration [and] represents a dramatic moment of climax near the end of the painter's distinguished career."

Bracket intwines bold daubs of vivid colored paint set against an incandescent white background. The interplay between the panels acts as a compositional tool (much like stanzas in a poem) and can be read collectively as a sweeping vista of the Seine Valley which was her home. Mitchell believed that there was little point to painting literal landscapes, once stating, "I would rather leave nature to itself. It is quite beautiful enough as it is, I do not want to improve it ... I certainly never mirror it." Painted then from memory ("I like to paint what it [the landscape] leaves me with") her use of cerulean blue is suggestive of sky and/or water, while the bright, summery, yellows, compete with the lush greens and earthy browns to offer the viewer a poetic evocation of the shifting movements and color tones of the seasons. The art historian Richard Marshall wrote, "Bracket is one of the most consummate paintings of Mitchell's late works and of her entire oeuvre. It is grand and confident in its physical size, forceful execution, and complicated composition."
Oil on canvas, triptych - © Estate of Joan Mitchell, Courtesy of the Joan Mitchell Foundation - San Francisco Museum of Modern Art
Biography of Joan Mitchell
Childhood
From an early age, Joan Mitchell showed a love of painting, and poetry. The youngest of two sisters, she grew up in the comfortable Streeterville neighborhood of Chicago. Her mother Marion Strobel was a poet who worked as an associate editor on the literary journal, Poetry. During her early chilhood, it was not unusual for writers of the stature of Robert Frost, Carl Sandburg, Edna St. Vincent Millay, and Thornton Wilder to visit the Mitchel household as dinner guests. When Mitchell was just ten years old, one of her poems was printed in Poetry. The poem revealed her early interest in nature: "The rusty leaves crunch and crackle, / Blue haze hangs from the dimmed sky, / The fields are matted with sun-tanned stalks - / Wind rushes by."
Her father, James Herbert Mitchell, was the President of the American Dermatological Association. He was also an enthusiastic "Sunday painter" and would often take his daughter to the Art Institute of Chicago (AIC) and other museums. However, according to arts writer Lannyl Stephens, Mitchell's father had been "Disappointed that Joan was a girl, [and] often and cruelly lambasted his daughter for both her appearance and her abilities. His treatment of Joan was the catalyst for her ambition, her dedication to her work, and her ultimate move to New York ...."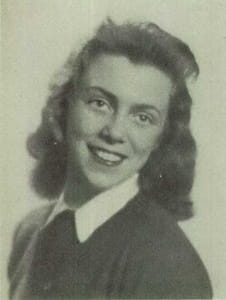 When she was eleven, Mitchell's father told her she had to choose between poetry and art, saying "You have to be great at something. You can only do that one thing." To please her father, she chose art. Mitchell began frequenting Saturday art classes at AIC, and later spent summers at the Ox-Bow art colony, which was run by artists attached to AIC. Mitchell was also keen on outdoor and athletic activities, especially tennis, diving, and skating, even competing in the U.S. Figure Skating Championships in 1942. Later a gallerist remarked that she "approached painting almost like a competitive sport."
Early Training
In 1944, having studied art and English for two years at Smith College, Mitchell enrolled as a student at AIC. The traditional painterly training included classes in anatomy, art history, and drawing from the figure. With access to the AIC's impressive art collection, her student work showed the influence of Wassily Kandinsky, Henri Matisse, and the late period works of Paul Cézanne. She was a successful student who was awarded the Edward L. Ryerson Traveling Fellowship upon her graduation in 1947.
Deferring the fellowship for a year, Mitchell moved to New York City with the intent of studying with German-American painter Hans Hofmann. She was intimidated by his teaching style, however, and only attended one of his classes. But it was during this time that she encountered the art of the burgeoning New York School, which was defined by the thrilling Abstract Expressionist style. Attending the many museums and galleries, Mitchell was particularly taken with the works of Arshile Gorky and Jackson Pollock. In 1948, Mitchell left for Paris on her deferred Fellowship (while in Europe, she also found time to visit Spain and Italy). In September 1949, Mitchell married the future American publisher and anti-censorship campaigner (and ex high school classmate) Barney Rosset in Le Lavandou, France. As her artwork continued to evolve, the influence of Abstract Expressionism became slowly more pronounced. Her Cubist cityscapes, interiors, and figures became progressively more abstract.
The newlyweds returned to the United States a few months later, setting up home in New York's East Village. The following year, Mitchell was awarded her Masters' Degree (MFA) from AIC. Later in 1950, she moved briefly into a studio space on Eleventh Street in Greenwich Village, before moving once more to nearby Ninth Street. Mitchell was by now fully immersed in the Abstract Expressionist art scene. She was part of the regular gatherings of artists and poets at the legendary Cedar Street Tavern and became friends with painters Jackson Pollock, Willem and Elaine de Kooning, Franz Kline, and Grace Hartigan, and poets Frank O'Hara and John Ashbery. Mitchell was also one of the few women artists asked to join the exclusive Artists' Club. Located in Greenwich Village, "The Club" was a center for lectures and discussion and provided a supportive environment for the Abstract Expressionists. Mitchell did not take kindly to her art being defined by her sex, however, and having once been addressed as "female artists," she turned to de Kooning and said, "Elaine, let's get the hell out of here."
Mature Period
Mitchell participated in the Abstract Expressionists' seminal 9th Street: Exhibition of Painting and Sculpture exhibition, curated by Leo Castelli in the spring of 1951. Stephens writes that the Ninth Street show "ended up literally overturning the hegemony of the uptown artists and art dealers over the art world in the mid-20th century New York art scene [and] was to become the catalyst that altered the landscape of art history, moving the western world's cultural center away from Paris to New York." Mitchell, who having fully supported Rosset in his launch of Grove Press, a hugely successful mid-century publisher, separated from her husband in 1951, before divorcing in 1952 (although they remained on good terms until her passing). Mitchell held her first solo New York City exhibition at The New Gallery in 1952. The exhibition's critical success led to yearly exhibitions at the Stable Gallery. Curator John Yau writes, "... she was defining her own territory as well as accumulating her own arsenal of painterly possibilities. Mitchell was never a follower. Her gestural paintings are not like de Kooning's or Kline's. She was inspired by the things that they and others, like Mark Rothko and Adolph Gottlieb, did in their work, but by the time brushstrokes and forms appeared on her canvases, they were all her own."
As the decade progressed, Mitchell's work became more confident as she developed the qualities that would come to define her oeuvre: an instinct to see the potential for creating poetic tension between bold and subtle color elements. As curator Katy Siegel states, it was during the early 1950s, "that she uses all colors, the full spectrum [she developed] a really amazing use of white that just lights up the painting," adding that Mitchell was "not afraid of beauty, unlike most people in her generation." Her first international break came in 1957 when the famous New York art critic, Irving Sandler, wrote an article, "Mitchell Paints a Picture," for ArtNews, one of the most widely respected and distributed visual arts reviews in the world. The following year she participated in the 29th Venice Biennale, and in 1959, the V Bienal do Museo de Arte Moderna, São Paulo, and the Documenta II, Kassel.
Since the mid-1950s, Mitchell had been dividing her time between New York and France. But in 1959, she took the decision to move to France permanently, initially settling in Paris with the Canadian abstract artist, Jean-Paul Riopelle, with who she would have a tempestuous "on-off" twenty-five year relationship. She worked out of a studio on the rue Fremicourt in the 15th arrondissement and exhibited regularly at Galerie Jean Fournier (Fournier would continue to represent her for the next three decades). The art critic Jackie Wullschlager observed that "No artist more closely parallels Mitchell in painterly interest, development, inspiration and biography than Cy Twombly. Born within three years of each other, both were shaped by the influence of Pollock and co, then fled to Europe as soon as they achieved recognition. Neither could have worked anywhere else: while pop art - Mitchell derided it as "pop, slop and plop" - and conceptualism ruled New York, Mitchell in France and Twombly in Italy alone held up the American abstract expressionist aesthetic in a sort of internal exile."
The late 1960s marked a strengthening of Mitchell's ties to France. After her mother died in 1967, she inherited a large sum of money with which she purchased a home and studio about 60km northwest of Paris in the town of Vétheuil, a few short kilometers from Monet's historic home and garden in Giverny. She lived at the beautiful two-acre property that overlooked the Seine river and she welcomed guests from New York who came to stay and to paint. Her new surroundings reinforced her interest in landscapes too. Mitchell's style of painting evolved, becoming less linear, and showing a preference for blocks of vivid color that pointed towards the style of Hofmann. Mitchell also began to create large multi-paneled paintings of two, three, or four panels. Including her panoramic La Seine series (of six). However, Mitchell's French landscapes were not painted en plein air, nor from preparatory sketches or photographs, but wholly from memory.
Late Period and Death
In 1968, Mitchell began her professional relationship with the Martha Jackson Gallery in New York. She held her first solo museum exhibition at the Everson Museum of Art in Syracuse, New York, in 1972. A major exhibition at the Whitney Museum of American Art followed in 1974. Around this time, Mitchell began working on a number of pieces focused solely on sunflowers, and her linden tree. Her Sunflowers series which varied considerably in style from one painting to the next. Some, like Sunflower III (1969), feature a flurry of color against a sparse, almost-white background, while others (like Two Sunflowers (1980)) are canvasses entirely filled and densely saturated with color. For her Tilleul series, meanwhile, Mitchell created over a dozen paintings inspired by the tilleul (linden) tree in front of her home in Vétheuil. In her abstracted representation of the tree, the dense vertical strokes of paint evoke the essence of branches reaching upward, while the prevalence of the color yellow in these pieces represents her growing mood of optimism. Commenting on Tilleul (1978), art critic Paul Schimmel said, "Her works epitomize a shift in abstract expressionism from chance, hazard and the uncontrolled freedom of the unconscious to a new direction with breath, freshness and light within a highly structured armature."
Around the turn of the decades (1970s-1980s), Mitchell created a collection of bold and innovative lithographic prints. Greenhalgh writes, "Mitchell was at first reluctant to work with master printer Kenneth Tyler in 1981. To accommodate the artist's methods of working and need for isolation, Tyler set up a private room for Mitchell's experiments when she visited his workshop in Bedford Village, on the outskirts of New York. It was only by accident one day that he caught a glimpse of Mitchell working, which is something that few people had ever seen. He remembers the confidence she possessed in her command of colour and the surety of her mark making as she moved between the printing plates, on which she drew with thick and greasy lithographic crayon, and the far side of the room where she would observe the work's progress, preparing her next approach. Layering marks, she began to build depth without the need to ever erase or revise."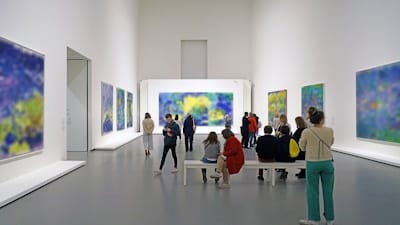 In 1982 Mitchell was the first woman to have a solo exhibition at the Musée d'Art Moderne de la Ville de Paris. However, her rising success was undercut in 1984 when Mitchell, who like so many of her friends in the New York School was a committed smoker and drinker, was diagnosed with oral cancer. She found an oncologist who treated the tumor successfully without performing a mandibulectomy (the removal of the part of the lower jaw). However she was left with osteonecrosis (dead tissue in the jawbone), which caused her great anxiety and depression. Though she was able to stop smoking, she continued to drink heavily. In 1985, Mitchell endured further health troubles as hip dysplasia developed into osteoarthritis. She underwent hip replacement surgery in December of that year, but it did not fully remedy the problem. In general, her work from 1985 onward shows evidence of her physical and psychological distress. But this did not diminish the quality of her work. As Christie's writes, "Like other great artists such as Willem de Kooning, she arrived at an unparalleled state of painterly confidence late in her career, and created epic works that in many ways represent a distillation of her decades of painting."
While recovering at a clinic in France, Mitchell began working in watercolor and on a scale that was more manageable given her fragile physical state. She received the title of Commandeur des Arts et Lettres by the French Ministry of Culture and was awarded Le Grand Prix des Arts de la Ville de Paris in painting in 1991. In early October 1992, upon arrival in New York to attend a Matisse exhibition (she had once stated, "If I could paint like Matisse, I'd be in heaven"), Mitchell was diagnosed with stage four lung cancer. She returned to France where she was hospitalized at the American Hospital of Paris. Mitchell was visited by her friends John Cheim and Joseph Strick before passing away on October 30.
In 1993, the Joan Mitchell Foundation was established as a not-for-profit organization with the aim of "cultivat[ing] the study and appreciation of artist Joan Mitchell's life and work, while fulfilling her wish to provide resources and opportunities for visual artist." Artists who have since been supported by the foundation's grants and residency programs include Alison Saar and Amy Sherald.
The Legacy of Joan Mitchell
Curator Jane Livingston asserts that Mitchell "produced some of the most breathtaking paintings of her time [and her] commitment to an explosive yet delicate, sometimes lyrically beautiful and sometimes aggressively stormy vocabulary of form, line, and color evolved over the decades, but she remained devoutly abstract. Her work resonates with a passion for color, light, and landscape." Similarly, curator Michael Auping notes that Mitchell "had an extraordinarily powerful presence because she encompassed so many dualities. She could be powerfully combative or touchingly gentle, one minute engaging in rough street talk and five minutes later exposing a remarkably erudite persona through her knowledge of art history and literature, particularly poetry. Her paintings reflect all of these dualities."
In a fitting acknowledgement of her achievements, and an event that would have no doubt thrilled Mitchell's soul had she lived to see it, The Foundation Louis Vuitton (previously the luxury fashion house had been in dispute with the Mitchell Foundation over the use of the artist's work without permissions), staged the exhibition, "Monet - Mitchell", during the autumn/winter of 2022-23. Artistic Director Suzanne Pagé said this of the affinity between the two painters: "Faced with the same landscape, namely the banks of the Seine, Monet and Mitchell developed a pictorial approach that they defined in similar terms, with Monet referring to 'sensation' and Mitchell to 'feelings'. Inspired by the natural surroundings of the Paris Region, both artists shared an acute sensitivity to light and colour, the interplay of which forms the basis of their art. Through her use of hedonistic colour and vibrant light, Mitchell shared evocations of feelings and memories; Monet's late work was marked by the abandoning of formal contours in favour of colour, which he defined by capturing fleeting light. Monet and Mitchell's gestural and energetic canvases, which depict foliage, water, and the atmosphere, reflect their mutual affinity with the landscape."
Influences and Connections
Influences on Artist

Influenced by Artist
Friends & Personal Connections
Jean-Paul Riopelle
Artists
Joan Snyder

Philip Wofford
Friends & Personal Connections
Movements & Ideas
Lyrical Abstraction
Useful Resources on Joan Mitchell
Books
The books and articles below constitute a bibliography of the sources used in the writing of this page. These also suggest some accessible resources for further research, especially ones that can be found and purchased via the internet.
works
Similar Art