Artists
Romare Bearden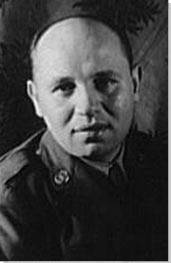 Born: September 2, 1911 - Charlotte, North Carolina, USA
Died: March 12, 1988 - New York, New York, USA

"Black art has always existed. It just hasn't been looked for in the right places."

Summary of Romare Bearden
A prominent American artist, Romare Bearden created dazzling work celebrating the black American experience, which he integrated into greater (predominantly white) American modernism. After working several decades as a painter, during the politically tumultuous 1960s Bearden found his own voice by creating collages made of cut and torn photographs found in popular magazines that he then reassembled into visually powerful statements on African-American life. The artist's subject matter encompassed the urban milieu of Harlem, traveling trains, migrants, spiritual "conjure" women, the rural South, jazz, and blues musicians, and African-American religion and spirituality. Late in his life, the artist established The Romare Bearden Foundation to aid in the education and training of talented art students. Bearden remains revered as a highly esteemed artist of the 20th century.
Key Ideas
Although influenced by high modernists such as
Henri Matisse
, Bearden's collages also derived from African-American slave crafts such as patchwork quilts and the necessity of making artwork from whatever materials were available. This turn to quotidian materials helped break the divide between the fine and popular arts, enabling a greater number of cultures and people to participate in the creation of arts.
Through his culling of images from mainstream pictorial magazines such as Look and Life, and black magazines such as Ebony and Jet, Bearden inserted the African-American experience, its rich visual and musical production, and its contemporary racial strife and triumphs into his collages, thus expressing his belief in the connections between art and social reality.
Georges Braque
and
Pablo Picasso
introduced collage into the modernist vocabulary. In it, Bearden located a methodology that allowed him to incorporate much of his life experience as an African American, from the rural South to the urban North and to Paris, into his work.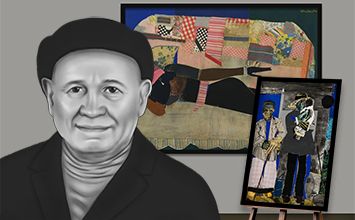 Romare Howard Bearden was born in Charlotte, North Carolina, into a college-educated and relatively financially successful middle-class African-American family, which was not ordinary for the time, especially in the Deep South. An only child, Bearden was born in the house of his great-grandfather. His father played the piano, and both his paternal grandfather and great-grandfather created paintings and drawings. Bearden's grandparents were property owners in Charlotte and in Pittsburgh. Despite the family's success, pervasive Southern racism set limits on their lives and livelihoods. With the installation of the Jim Crows Laws (1893, Plessey vs. Ferguson), which made racial segregation the law of the land, the Beardens and other African-American families were condemned to racial secondary social status. The Beardens relocated to the urban North along with hundreds of thousands of African Americans who likewise left the rural South behind for what they hoped would be racial equality and greater financial and educational opportunities. The Great Migration, as this mass movement of people was called, became an important subject for many African-American artists, most notably the painter Jacob Lawrence.
Important Art by Romare Bearden

The below artworks are the most important by Romare Bearden - that both overview the major creative periods, and highlight the greatest achievements by the artist.


Artwork Images

Folk Musicians (1941-42)

Artwork description & Analysis: Three musicians, one with a guitar in hand, dominate this scene painted in rich browns and blues; Bearden's lavish use of the color blue, in fact, suggests the blues, the singular African-American folk music. Bearden was influenced by the Social Realists of the Great Depression, along with the Mexican Muralists such as Diego Rivera, who was well-established in New York City. The Social Realists, influenced by the art and politics of Soviet Russia, took as their subjects the working class, the poor, the masses, and folk culture, rendered in legible forms and compositions, seeking to ignite progressive social change on behalf of the workers of the world and to rectify social ills. Comparable to artist Ben Shahn, who was one of the premiere Social Realists of the 1930s, and Rivera, who lavishly painted murals of his country's folk and indigenous cultures, Bearden has turned to the folk music and Southern folk culture that he knew from his youth. Bearden has flattened the pictorial space and rendered the figures with Cubist block-like forms that overlap and are compressed within the shallow space, enlarging the trio's hands to indicate their humble working origins. The brick wall behind the blues musicians serves to move them into our picture plane, so that we can more closely observe their faces and other details. Decades later, author Ralph Ellison, one of America's premier novelists would single out and praise these early works of Bearden's for their honesty and directness.

Gouache on paper - Curtis Galleries, Minneapolis, Minnesota


Artwork Images

Factory Workers (1942)

Artwork description & Analysis: From the early to mid-1940s, Bearden alternated between social realist imagery, which he painted in a straightforward, documentary manner, and his more experimental, somewhat abstract biblical and religious subject matter, thus echoing the two strains of realism and abstraction, which competed for dominance during the mid-century. Here, factory workers gather (the factory is in the upper-right background) however, there is no evidence of their labor, nor are they seen in work clothes. These anomalies suggest that perhaps these men have either left work, or are seeking work during lean times. Fortune Magazine selected this painting to illustrate an article entitled The Negro's War.

Gouache and casein on Kraft paper - Minneapolis Institute of the Arts, Minnesota


Artwork Images

Golgotha (1945)

Artwork description & Analysis: Soon after his honorable discharge from the U.S. Army, Bearden began a series entitled The Passion of Christ (1945), inspired by the gospels of Matthew and Mark. By selecting the passion of Christ as a topic, Bearden was taking on one of the great subjects in Western art and culture, isolating the highly dramatic moment of the actual slaying of Jesus. In this important piece within the series, Bearden portrays the Crucifixion with Jesus's violently twisted and tortured body in the central position, which dramatically bisects the composition. To either side of Christ, Bearden places figures of onlookers, which he painted in washes of bright blues and purples. Sharp black calligraphic lines of India ink outline the figures as well as divide the watercolor background into prismatic planes of color, calling to mind stained glass found in churches. The brilliant colors and black outline are reminiscent of the work by French artist Georges Rouault, the subject of a retrospective at MoMA in 1945. Essayist and member of the Harlem Renaissance, Carl Van Vechten dubbed Bearden "The Negro Rouault." Furthermore, the Christian faith and its church remains central to African-American spiritual, communal, and political life; by turning to the Scriptures, Bearden is both returning to his origins as well as reaching out towards the greater Christian community inclusive of black America.

Watercolor, pen, India ink, and pencil on paper - Metropolitan Museum of Art, New York
More Romare Bearden Artwork and Analysis:
Influences and Connections
Influences on Artist
Artists, Friends, Movements
Influenced by Artist
Artists, Friends, Movements

Interactive chart with Romare Bearden's main influences, and the people and ideas that the artist influenced in turn.
View Influences Chart

Artists

Personal Contacts

| | |
| --- | --- |
| | Stuart Davis |
| | Ad Reinhardt |
| | Duke Ellington |
| | Ralph Ellison |
| | Jacob Lawrence |

Movements

| | |
| --- | --- |
| | Folk Art |
| | Cubism |
| | Social Realism |
| | Abstract Expressionism |

Influences on Artist

Romare Bearden
Years Worked: 1935 - 1988
Influenced by Artist

| | | | | |
| --- | --- | --- | --- | --- |
| Artists | | Personal Contacts | | Movements |
If you see an error or typo, please:
tell us
Cite this page

Content compiled and written by The Art Story Contributors
Edited and published by The Art Story Contributors
" Artist Overview and Analysis". [Internet]. . TheArtStory.org
Content compiled and written by The Art Story Contributors
Edited and published by The Art Story Contributors
Available from:
First published on 25 Dec 2014. Updated and modified regularly.


[Accessed ]