"Life is the purpose of art."
"The relation between visual art and the narration of myth must be silent"
"We need a Ministry of Disturbance, a regulated source of annoyance, a destroyer of routine, an underminer of complacency, or, in other words, a ministry of aesthetic activity."
"[Success as a philosopher would be] the most embarrassing and ridiculous thing I could ever achieve. It would be like giving a man who loves women the most beautiful wax mannequin in the world, complete with real hair."
"Academics have made a false separation between what they call art and what they call advertisement. They simply refuse to admit the obvious that all art, even that of Beethoven and Rembrandt, is art because, amongst other things, it is an advertisement for something, and that to advertise is to give sensory experience an extraordinary significance. That a sensory experience is given an extraordinary significance is first and foremost to say that that one is conscious of it as something important and something present."
"Art is to be able, but to be able is also to know"
"I wager this clear idea that there will never be any progress without tragic consequences. The gamble with life is the origin and the price of all progress."
"Nature is a subject and has created and evolved itself from within. Nature has no hands and cannot put anything together. But the human being can."
"It is the task of science to extend our knowledge but it is the task of art to create sensory experiences which answer our needs to form and cultivate the material characteristics we like. It is the capacity to conduct this process ourselves which has made humanity superior to all other animals, which must exist simply in the acceptance of the conditions given them by an inexorable nature."
"Women are necessary for reproduction whereas men have a surplus energy left for creative production."
"l don't know what Nordic art is worth in other people's minds... but in today's cosmopolitan art world it doesn't figure at all... Nordic art is dangerous. It compresses all its power inside ourselves. It is not a hedonistic or sensuous art. It neither claims to be objectively intelligible, nor does it deal in clear and conscious symbols."
Summary of Asger Jorn
Asger Jorn was one of the most talented painters of the 1950s, and one of the most talented abstract artists of any era. Training under such luminaries as Wassily Kandinsky and Fernand Léger, he went on to fundamentally influence the development of Abstraction in the post-war period as a fellow traveler of European movements such as Art Informel. He was also a cofounder of both the CoBrA and Situationist International groups, both of which were central to the emergence of a new, politically radical artistic credo during the 1960s. As such, Jorn's work represents a vital bridge between the advances of the early twentieth century and the re-emergence of avant-garde sensibilities in the later decades of the twentieth century.
Accomplishments
Jorn's work is central to the emergence of a kind of Neo-Romantic, non-figurative Expressionism across a range of dispersed art movements during the post-1945 years. Somewhat like the Art Informel artists in France and the Abstract Expressionists in North America, Jorn placed enormous value on spontaneity, instinctive creation, and a kind of pantheistic attachment to a wider-than-human life-force. For Jorn, however, these impulses were uniquely tied to a spirit of satire, carnival, and the absurd.
Jorn was one of the founding members of the Situationist International, a political and creative grouping whose most famous member, Guy Debord, produced the seminal work of revolutionary sixties politics The Society of the Spectacle (1967). Like Debord, Jorn was an intellectual powerhouse of 1960s counter-cultural politics, who developed his own sophisticated political-philosophical system termed "triolectics". As much as any other artist, he was responsible for the yoking together of creative activity and political activism for which that decade is now remembered.
Jorn was one of several post-Second World War artists who found inspiration in so-called "outsider" sources, such as children's art, primitive art, and the art of the 'insane'; he also attempted to breach and break down the chasm between high and low culture. As such, he might be associated with the so-called

Art Brut

("raw art") movement spearheaded by Jean Dubuffet in the late 1940s. For Jorn, as the art historian Karen Kurczynski explains, a certain Rabelaisian irony was central to the "outsider" approach: "you can ... find passages of sheer physical humor in Jorn's paintings....You can also find references to carnivalesque themes and popular humor as seen in earlier painters like Bruegel and Bosch."
Important Art by Asger Jorn
Progression of Art
Biography of Asger Jorn
Childhood
Asger Oluf Jørgensen was born in Vejrum, in the western part of Jutland, to teacher parents. Jorn's father, Lars Peter, died suddenly in a car crash in 1926, and in 1929 his mother, Maren Jørgensen, moved with her six children to Silkeborg, to further her own education and to try to make a better living for her children. In Silkeborg, Jorn joined the boy scouts.
At the age of 15, Jorn was diagnosed with tuberculosis. He spent three months on the west coast of Jutland, where he made a full recovery.
Education and Early Training
Jorn had already begun to paint by the age of 16, after being introduced to the ideas of the nineteenth-century pastor and author N. F. S. Grundtvig, who would remain an intellectual influence throughout his life. Jorn enrolled in the Vinthers Seminarium, a teacher-training college in Silkeborg, where he took particular interest in the course on nineteenth-century Scandinavian thought. Around the same time, he sat as the subject for several oil paintings by the Post-Impressionist artist Martin Kaalund-Jørgensen, which inspired Jorn to try his hand at oils. In 1933, Jorn exhibited his first works, presenting three images in an exhibition held by the Frie Jyske Malere (Free Jutlandic Painters).
While at college, he joined the Silkeborg branch of the Communist Party of Denmark, where he met Christian Christensen, a member of the revolutionary Syndicalist movement, who became his close friend and mentor. Jorn later wrote that Christensen was like a second father to him. Jorn would remain a member of the Communist Party on and off throughout his life, but he always maintained a strongly personal political position.
Upon Jorn's graduation from college in 1935, his principal wrote him a reference letter describing his "extraordinary rich personal development and maturity": perhaps with reference to Jorn's extensive reading on topics beyond the scope of his formal studies. As this might suggest, his future did not lie in formal teaching.
Shortly after graduating, in 1936, Jorn purchased a BSA motorbike, which he used to travel to Paris. Once there, he took up studies under the seminal Russian Expressionist painter Wassily Kandinsky. However, on discovering that Kandinsky was in financial trouble, he switched to enroll in the Cubist painter Fernand Léger's Académie Contemporaine. It was at this time that he befriended the French artist Pierre Wemaëre. It was also at Léger's Academy that Jorn began to turn away from figurative painting, and to focus on abstract art; however, his love of textural abstraction and Romantic spontaneity set his work on a different course from Léger immaculate proto-Pop figurations. Recalling this period several years later, Jorn noted that the gallerist Pierre Loeb once "said to me that the ideal picture is one which is completely clear in the artist's mind before he puts a mark on the canvas, and this was, at any rate in this period ... Léger's opinion. It is the basis on which classical art is built. Therefore the setting-down of the picture on the canvas is in itself something quite unimportant. This is connected with Léger's hatred of textural effects in painting. But I love these effects. I remember that I was once told off because I had applied a thick layer of color instead of the thin and even layer that Léger wanted. To him that was not painting but mere color. If he could have got a machine instead of a brush to apply the color, he would have done so."
In early 1937, Jorn assisted the influential modernist architect Le Corbusier (whom he had met through Léger) in building the Pavillon des Temps Nouveaux for the 1937 Paris Exhibition. At the exhibition itself, Jorn had the opportunity to view important artworks such as Picasso's Guernica. He returned to Denmark in the summer of 1937, enrolling at the Royal Danish Academy of Fine Arts in Copenhagen, from which he graduated in 1942.
In 1939, Jorn married his sweetheart from the Seminarium, Kirsten Lyngborg. The couple would go on to have three children, Klaus, Susanne, and Troels. Shortly after marrying, they moved to Vanløse, a western district of Copenhagen.
Around this time, Jorn developed a friendship with the Danish art dealer Børge Birch, owner of the Galerie Birch. Birch was was one of the first gallerists to sell Jorn's work.
Mature Period
Jorn had always been a Pacifist and was deeply disturbed by the Nazi occupation of Denmark. He sank into a depression, before deciding to become active in the communist resistance movement. In 1941, he co-founded the underground art group Helhesten ("Hell-horse"), with the architect Robert Dahlmann Olsen and the painters Egill Jacobsen, Ejler Bille, and Carl-Henning Pedersen. The members of this group developed a spontaneous abstract painting style comparable to the emerging Abstract Expressionist and Art Informel styles in North America and France, and also produced a journal Helhesten, which covered wide-ranging topics such as African masks, Nordic folk art, jazz, Surrealism, and children's drawings. The contributors' main goal was to provoke the Nazis.
It was in Helhesten that Jorn published his pivotal theoretical essay "Intimate Banalities" in 1941. This important work of mid-century art criticism proposed that the future of art lay in embracing the idea of "kitsch", as a leveler of cultural and aesthetic hierarchies; Jorn famously praised amateur landscape paintings as "the best art today". Around this time, he also became the first person to translate Franz Kafka into Danish.
During the 1940s, Jorn collaborated with architects on a range of interior design projects, notably creating the black-out panels for the architect Marinus Andersen's apartment, and also decorating the walls of a summer house for the art collector Elna Fonnesbech-Sandberg. Along with the artists of the Helhesten group, Jorn also decorated a kindergarten in Hjortøgade, Copenhagen.
It was only on August 25, 1945 that Asger formally changed his surname to Jorn, a contraction of Jørgensen. It is generally assumed that he did so in order to appeal to an international market. The art historian Helle Brøns notes that around this time, Jorn had written to the Danish artist Robert Jacobsen, announcing: "we must have different names. It doesn't work at all to arrive in France and be called Jørgensen and Jacobsen. Nobody can pronounce it. Damn it, I'm going to find myself another name." Brøns, however, suggests that Asger might also have had other motives for taking the name Jorn, which "really isn't the easiest name to pronounce either, is it?...In his local Danish dialect 'Jorn' can sound like "Jorden" (the earth) which he might have thought of as a funny connotation."
Later in 1945, the newly christened artist travelled illegally to Norway, to view the large Edvard Munch retrospective at the National Gallery. In 1946, he travelled to Antibes in Southern France to visit Picasso.
Following the war, Jorn broke off his connection with the Communist Party of Denmark, as he believed that a "centralized bourgeois political control" within the Party was limiting opportunities for critical thinking. However he did not hand in his membership until the mid-1960s, and he remained committed to a broadly Marxist anti-capitalist position throughout his life.
It was also shortly after the war that Jorn returned to France where, in 1948, he, along with Christian Dotremont, Karel Appel, Corneille, and Constant Nieuwenhuys, founded the European avant-garde movement CoBrA. The new group, which also incorporated former members of Helhesten, took its name from a combination of Copenhagen, Brussels, and Amsterdam, the cities from which the founders originated. Jorn edited monographs for the Bibliothèque Cobra book series and wrote extensively about the relationship between art, architecture, and everyday life.
Art historian Karen Kurczynski notes that during the 1940s-50s Jorn's work was propelled by a complex inner dialogue between the ideas of honesty and irony in art. Initially, in the early CoBrA years, he became more interested in the idea of authenticity, associating irony "with the ruling class in his large c.1947 manuscript 'Blade af kunstens bog.' He then explored irony along with humorous strategies more and more over the course of the 1950s. In fact, he was always interested in humor in art and in writing, co-authoring a parodic article on a Functionalist artist named "Everclean" in 1948. Already in his 1952 text Held og hasard, a very Nietzschean text, he rejects the idea of authentic expression. Then by the mid-50s, he openly espouses irony and 'lying'." "Historiographically," Kurczynski notes, "this is precisely the moment his artwork begins to be celebrated on an international stage."
By 1949, Jorn had separated from his first wife and begun a relationship with Matie van Domselaer, the partner of CoBrA group-member Constant Nieuwenhuys. Matie separated from Nieuwenhuys in 1949 and married Jorn in 1950. The couple went on to have two children, Ole and Bodil, and based themselves in a small apartment in Paris.
CoBrA was dissolved in 1951 due to a dispute about the extent to which art and politics should remain separate or integrated concerns. As a communist - of sorts - Jorn believed art should play an active role in advancing the revolutionary socialist cause, but other group members rejected his view. The poor health of both Jorn and Christian Dotremont, both of whom had suffered from tuberculosis, also played a role in the group's dissolution.
In 1951, penniless and extremely ill with a recurrence of tuberculosis, Jorn returned to Silkeborg, where he worked as a ceramicist with the potter Knud Jensen until 1953. In 1952, he was admitted for fifteen months to a local sanatorium for treatment of his tuberculosis; when the condition stabilized somewhat, he was provided with a room to work in, inauspiciously located next door to the morgue.
Soon after leaving the sanatorium, Jorn wrote the aforementioned Held og hasard ("Fortune and the Game of Chance"), which he submitted to the University of Copenhagen in the hopes of having it approved as a thesis. The work was dismissed by the University as unscholarly, but its unconventional style is now seen as significant. Art historian Helle Brøns argues that "his purpose was to proclaim the existence and value of an artistic way of thinking as an equivalent alternative to the philosophical and scientific one. His theoretical work was both very sincere and at the same time it included a humorous, irrational aspect which was not compatible with academia. Jorn strikes me as an intellectual who does not want to be intellectual."
In 1954, after spending some months in Switzerland, Jorn traveled to Albissola Marina in Italy, where he became involved with a CoBrA offshoot, the International Movement for an Imaginist Bauhaus. In Albissola, he also founded an international festival of fire and clay. From then on, he spent his summers in Albissola and his winters in Paris. In 1955, Jorn bought a flat at 28 Rue du Tage, Paris, renting a studio in the same neighborhood soon afterwards. In Albissola, he became close with several of the international artists working there, including Enrico Baj, Corneille, Lucio Fontana, and Roberto Matta. These were some of Jorn's most productive and (both critically and financially) successful years, during which he produced some of his most important paintings, including Letter to my Son (1956-7), The Timid, Proud One (1957), Attention, Danger (1957), and They Never Came Back (1958).
In 1954, he befriended the Marxist theorist Guy Debord, with whom he collaborated on two artist's books, Fin de Copenhagen (1957) and Mémoires (1959). In 1957 Jorn, along with Debord, Pinot Gallizio, Michèle Bernstein, and Ralph Rumney, participated in the conference that led to the formation of the famous Situationist International, through the merging of the International Movement for an Imaginist Bauhaus, the Lettriste Internationale, and the London Psychogeographical Association. The group sought to critique capitalism through a kind of experimental life-practice, tied to critical expositions on ideas such as Debord's notion of the "society of the spectacle." Ironically, it was around this time that Jorn began to experience considerable success within the capitalist art market, a paradoxical situation that troubled him.
Late Period
In 1961, Jorn separated from the Situationist International, believing their recent strategies to be ineffective. However, he remained on good terms with the group, particularly Debord, and continued to support the Situationist mandate, occasionally sending money to the group to support their activities. He also continued to contribute to the Situationist Times.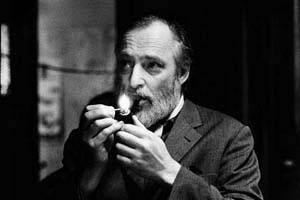 In 1962, Jorn published the text Value and Economy: Critique of Political Economy and the Exploitation of the Unique. As the curator Hilde de Bruijn explains, "[i]n 'Value and Economy' Jorn shows himself critical of the role of mass media in the dependence of politicians' popularity and he shows himself critical of the role of the advertisement industry in relation to commodity consumption, but perhaps most importantly in the framework of the artistic practice, he shows himself critical of academic thinking about the value of sensory experiences. He says that the consciousness, the focus of attention that artists can generate 'is what in the most elementary sense could be called intelligence' [...] Academics, according to Jorn, have refused to acknowledge the intellectual aspect in this process. To Jorn however, intelligence does occupy itself with experiences of reality, not only with concepts. He can't relate at all to the academic concept of reality as something that cannot be experienced but only comprehended."
In May and June of 1963, Jorn travelled around Norway with the French photographer Gérard Franceschi to collect materials documenting the millennia-old tradition of Nordic folk art. They amassed an archive of over 25,000 photos, which now form the main collection of the Skandinavisk Institut for Sammenlignende Vandalisme ("Scandinavian Institute for Comparative Vandalism"), cofounded by Jorn in Silkeborg in 1961. Although he abandoned the project in 1965, Jorn continued to travel around Norway and Sweden in search of potential contributions for a book series that he wished to publish on 10,000 years of Nordic folk art. He also continued to paint during this period.
1962 also saw Jorn's first solo exhibition in the United States, at the Lefebre Gallery in Manhattan. The organization of the show took Jorn to America for the first time. As he explained, he had previously had no desire to travel to a country that obligated visitors to sign a statement guaranteeing that they were not communists. From 1965 onward, Lefebre acted as Jorn's representative in the United States, and the gallery showed many of his works (paintings, graphic works, drawings, and sculptures) also publishing seven monograph catalogues. Many other works by Jorn were acquired by the public collections in Berkeley, Boston, Buffalo, Cincinnati, New York, Philadelphia, and Pittsburg during the 1960s.
In 1964, Jorn participated in several international exhibitions, and his first retrospective exhibition was held in Basel, travelling to Amsterdam and Louisiana (near Copenhagen). Jorn also had plans to construct a museum for his works in Silkeborg, and in 1964 received a proposal from Danish architect Jørn Utzon, his first choice for the design. Unfortunately, the project was never realized.
In 1964, Jorn was awarded a Guggenheim Award, which included a sizeable cash prize. The next day, Jorn sent a telegram to the president of the Guggenheim, Harry F. Guggenheim, which stated: "GO TO HELL WITH YOUR MONEY BASTARD - STOP - REFUSE PRICE (sic) - STOP - NEVER ASKED FOR IT - STOP - AGAINST ALL DECENSY (sic) MIX ARTIST AGAINST HIS WILL IN YOUR PUBLICITY - STOP - I WANT PUBLIC CONFIRMATION NOT TO HAVE PARTICIPATED IN YOUR RIDICULOUS GAME JORN". Shortly thereafter, he sent a longer letter explaining himself, in which he wrote that he had always refused any monetary reward because "pricegiving is the establishment of an hierarchic distinction between artists", and furthermore, he refused to be used as "an example to artistic and public education, as I hate every sort of education en bloc." Danish writer and critic Elsa Gress, however, argues that rather than being daring or risk-taking, Jorn's response to the Guggenheim award had more to do with him gaining more from the media attention than from the award itself.
In 1969, Jorn went to Oslo to research the legend of the Gothic King Didrik. He was particularly interested in the relationship between myth as narrative and image as myth, and was developing a hypothesis of image as prior to myth.
The following year he travelled to New York, Las Vegas, Hawaii, Kyoto, Tokyo, Hong Kong, New Delhi, Teheran, Beirut, and Baalbek. By this time, he was showing regularly at galleries in Munich, Copenhagen, London, New York, and Milan.
In January 1973, he was admitted to Aarhus District General Hospital. Soon after he was married for the third time, to Nanna Enzensberger, with whom he had a son named Ib.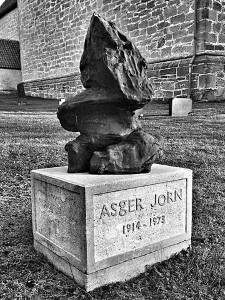 Jorn died in Aarhus, Denmark on May 1, 1973. He is buried in the cemetery at Grötlingbo Church, on the island of Gotland in Sweden. In his will, he left his property (and the works of art housed within) to the Municipality of Albissola Marina, leading to the creation of the Casa Museo Asger Jorn, where his works would be displayed. By the time of his death, he was also in possession of an enormous collection of books, of which around 1600 are now archived in a room of the Jorn Museum in Silkeborg.
The Legacy of Asger Jorn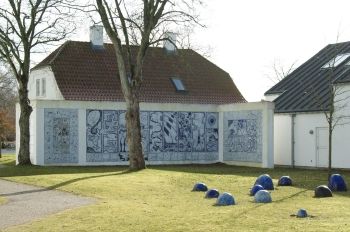 Jorn played a founding role in several of the most significant artistic groupings of the post-1945 period, including CoBrA and the Situationist International. Through these endeavors, he aimed to critique the capitalist social order, as well as the hierarchy generally imposed between 'high' and 'low' art. As such, although he has perhaps not earned the fame of other artists of his generation, he helped to define what that generation stood for in the most fundamental, creative and conceptual sense. In this regard, his influence on later artists and thinkers - especially those who have sought to integrate the creative and the political - is vast.
With reference to Jorn's talents as an artist, the art historian T. J. Clark has called him the "greatest painter of the 1950s.... An Asger Jorn can be garish, florid, tasteless, forced, cute, flatulent, overemphatic; it can never be vulgar. It just cannot prevent itself from tempering and framing of its desperate effects which pulls them back into the realm of painting, ironizes them, declares them done in full knowledge of their emptiness."
In addition to his artistic output (numbering some 2500 paintings, prints, drawings, ceramic works, sculptures, artist's books, collages, décollages, and collaborative tapestries) Jorn also wrote a vast number of theoretical texts (over 700 articles and books), through which he sought to undertake "the first revision of the existing philosophical system". He devised a critical framework that he termed "triolectics", merging Niels Bohr's theory of complementarity with Marxian dialectical materialism. As art historian Peter Shield explains, triolectics involved "three 'domains' exist[ing] in a dialectical relationship with each other, a tri-dialectic, which never resolved, in any Hegelian way, but which sparked a flux of endless creative ideas, which could then be combined in further triolectics. The most well-known triolectic in Jorn's system is 'liberty-equality-fraternity'." Not only through his organizational activities then, but also through his intellectual endeavors, Jorn was central to the intellectual and cultural milieu of his period.
Influences and Connections
Influences on Artist

Influenced by Artist
Friends & Personal Connections
PV Glob

Guy Debord

Pierre Wemaëre

Robert Dahlmann Olsen

Egill Jacobsen
Artists
Charline von Hayl

Charles Avery

JeeYoung Lee
Friends & Personal Connections
PV Glob

Guy Debord

Pierre Wemaëre

Robert Dahlmann Olsen

Egill Jacobsen
Movements & Ideas
The International Movement for an Imaginist Bauhaus
Useful Resources on Asger Jorn
Books
The books and articles below constitute a bibliography of the sources used in the writing of this page. These also suggest some accessible resources for further research, especially ones that can be found and purchased via the internet.
biography
written by artist
artworks