Artists
Gabriele Münter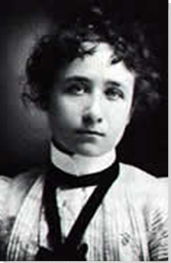 Born: February 19, 1877 - Berlin, Germany
Died: May 19, 1962 - Murnau, Germany

"...even as a child I practiced with the pencil and, specifically, that I always draw faces...I made no effort to depict events and actions. Only permanence in appearance fascinated me in a person - the form in which the essence was expressed."
Summary of Gabriele Münter
Münter's name is inextricably linked with her erstwhile colleague and lover Wassily Kandinsky, yet few would contest the view that her contribution to the canons of twentieth century modernism deserves to be recognized on its own terms. Best known as a painter and printmaker, she is usually discussed under the umbrella of German Expressionism and as a member of the famous Blaue Reiter group.

Inspired by folk art and non-western art, and known for her spontaneous approach to canvases, she produced vibrant figurative and abstract works characterized by dramatic color and loose brushstrokes. In the mid-1930s her political credentials were called into question when she submitted safe figurative works - possibly out of self-preservation - to the National Socialist project (though ultimately her art was rejected by the Nazi Party). In the post-war years her oeuvre was re-evaluated and art history has positioned her as an important link between the pre-war and post-war German avant-gardes.
Key Ideas
Together, Münter and Kandinsky explored new aesthetic possibilities through their travels throughout Europe and North Africa. For her part, Münter started to produce Post-Impressionistic landscapes characterized by the thick and vibrant smears of paint that would become her trademark. Münter was however unique amongst her peers because of the speed at which she worked, often able to complete one or more large canvas in a single day.
Once returned to Germany, Münter and Kandinsky founded the New Artists' Association Munich (NKVM) in 1909. Galvanized by her interactions with her newly widened peer group, Münter moved more and more towards abstraction, producing landscapes and still lifes formed of blocks of primary unmodulated colors and flattened perspective.
In keeping with the spirit of the German Expressionist tradition of woodcutting, Münter was invested in the practices of printmaking. Her linocuts were characterized by a blending of naturalism and abstraction: her portraits, for instance, were admired for their fine detail through which she rendered her sitter who was placed against a background of abstract forms.
Münter produced a series of still lifes - dismissed by many (male) avant-gardists as a "woman's genre" - that were unique in the context of German Expressionism. Through them, she incorporated folk objects mostly acquired on her overseas travels. Her still lifes were unique in the way "random" objects were selected because of their color and tonal relationships.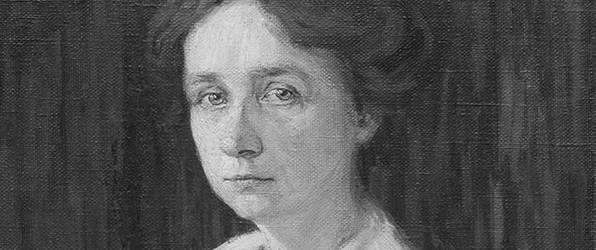 Kandinsky's portrait of Gabriele Münter (1905)
Gabriele Münter's relationship with art phenomenon Wassily Kandinsky both shaped and overshadowed her career. When it ended, Kandinsky shot to stardom, while Münter did not pick up a paint brush for nearly ten years. "In the eyes of many, I was only an unnecessary side-dish to Kandinsky", she said.
Important Art by Gabriele Münter

The below artworks are the most important by Gabriele Münter - that both overview the major creative periods, and highlight the greatest achievements by the artist.


Artwork Images

Kandinsky (1906)

Artwork description & Analysis: Printmaking was an integral part of Münter's practice, as it was for many of the German Expressionist artists. Like the later Die Brücke studies in printmaking (though Die Brücke artists worked predominantly in woodcut), Münter rendered Kandinsky's countenance in this portrait as a thick, black, graphic outline, punctuated by flat fields of color. Scholar Shulamith Behr notes that this work was Münter's first exploration of linocuts, executed while she was in Paris. The work nods to the influence of Paul Gauguin's woodcuts, which were on display in Paris in a 1906 retrospective, as well as to the inspiration of Henri Matisse's painted color blocking. Characteristic of Münter's practice, however, is her vacillation between naturalism and abstraction. She rendered Kandinsky's portrait as an accurate depiction of her subject, and included minute details such as the texture of Kandinsky's beard hair, and the lines of his eyes as seen from behind his glasses. Against such realistic detail, Münter composed the background as abstract color fields of naturalistic shapes, each color and curved form delineated with a thick, black outline. This play with the borders between naturalism and abstraction was one way Münter illustrated the life and attributes of her portrait subject. The organic shapes and verdant tones of the background forms, for example, connected Kandinsky to the brightly colored, color field landscape pieces he was creating at the time.

Color linocut - Städtische Galerie im Lenbachhaus, Munich


Artwork Images

Countryside Near Paris (Bei Paris II) (1907)

Artwork description & Analysis: An early landscape, this work demonstrates Münter's move away from more naturalistic scenes, under the influence of Kandinsky's tutelage, and her increasing knowledge of French Post-Impressionist artists. Composed during one of Münter and Kandinsky's sojourns in Paris (as he attempted to put distance between himself and his first, estranged wife) Münter's plein-air landscape represents the artist's experimentation with different, avant-garde techniques. Like the Post-Impressionist pieces of Vincent Van Gogh and Paul Cézanne, Münter used quick brushstrokes and paint applied in a thick, tangible impasto to convey the barest sketches of trees, sky, road and a house.

As evidenced here, and throughout her artistic career indeed, Münter painted quickly; in the course of a single day or afternoon, she could complete one or more large-scale paintings, and she often required only a single sitting with a portrait subject. The haste of this painting's execution conveys the illusion of motion, as if the foliage undulated in the wind, and she reduced the composition's subjects to near abstractions, with the trees barely distinguishable from the outlined suggestion of a house. Yet, and quite particular to Münter, she imbued this composition with what would become her signature exploration of blocked color tonalities and graphic outlines. Though her palette here is more muted than in her later work, Münter still infused the painting with the dynamism of vibrant color juxtapositions, as she placed red, blue, white, and green planes of color adjacent to one another.

Oil on board - Brooklyn Museum, New York


Artwork Images

Mountains in the Twilight (1908)

Artwork description & Analysis: This painting represents an evolution in Münter's practice, as she composed this landscape by foregrounding color studies, rather than relying on the highly textured or naturalistically contoured renderings of her earlier works. She depicted the Alps in vibrant blue tonalities, intermixed with shades of a light, reddish purple, which, in turn, incorporate lighter colors of lavender and yellow as the mountain range recedes to align with the distant blue and yellow sky.

In a nod to traditional aerial perspective, the brighter, red-orange of the natural formation on the painting's right, and the striking yellow, orange, and yellow-green of the front row of four trees, indicate the objects' proximity to the viewer's field of vision, while the deep green of the trees on the base of the nearer mountain ridge suggest visible foliage. Unlike traditional aerial perspective, however, Münter composed the foreground forms in warmer colors, leaving the dominant tones for receding objects. She maintains a color vibrancy throughout with the blues, violets, and purples coming to dominate the more temperate tones of the foreground.

This interest in depicting the landscape as an interplay of color constituted Münter's early experiments with what would become the definitive Blaue Reiter aesthetic, and were a direct consequence of the artist's stay in Murnau. According to scholar Annegret Hoberg, the "intense light in the foothills of the Alps" brought out the "colors and contours of the landscape and the village in clear planes with very little atmospheric refraction." As evidenced in this 1908 landscape, Münter's exposure to these views "contributed to an emancipation" of both Münter and Kandinsky's aesthetic perception, and, as a consequence, both artists "quickly changed over from the palette knife to using the brush" to create landscape views with a "previously unseen fluent, spontaneous touch."

Oil on board - Hirschhorn Museum and Sculpture Garden, Washington, D.C.
More Gabriele Münter Artwork and Analysis:
Influences and Connections
Influences on Artist
Artists, Friends, Movements
Influenced by Artist
Artists, Friends, Movements

Interactive chart with Gabriele Münter's main influences, and the people and ideas that the artist influenced in turn.
View Influences Chart

Artists

| | |
| --- | --- |
| | Wassily Kandinsky |
| | Paul Gauguin |
| | Henri Matisse |
| | Vincent van Gogh |
| | Alexej von Jawlensky |

Personal Contacts

Movements

| | |
| --- | --- |
| | Art Nouveau |
| | German Expressionism |
| | Jugendstil |
| | Synthetism |
| | Fauvism |

Influences on Artist

Gabriele Münter
Years Worked: 1897 - 1962
Influenced by Artist

| | | | | |
| --- | --- | --- | --- | --- |
| Artists | | Personal Contacts | | Movements |
If you see an error or typo, please:
tell us
Cite this page

Content compiled and written by Elizabeth Berkowitz
Edited and published by The Art Story Contributors
" Artist Overview and Analysis". [Internet]. . TheArtStory.org
Content compiled and written by Elizabeth Berkowitz
Edited and published by The Art Story Contributors
Available from:
First published on 27 May 2019. Updated and modified regularly.


[Accessed ]