Movements, Styles, and Tendencies
Jugendstil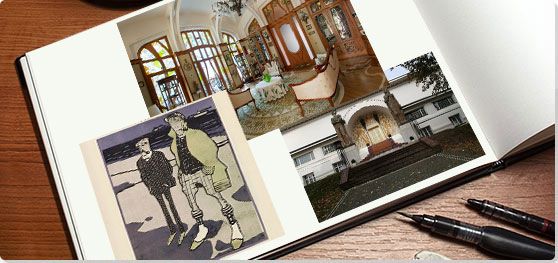 Jugendstil
Started: 1896
Ended: 1914

"We are on the threshold of not only the new style, but also the development of a completely new art. The art of applying forms of nothing insignificant, not representing anything, and not resembling anything."
Summary of Jugendstil
Partaking in the Art Nouveau trends elsewhere in Europe, Jugendstil in Germany revolutionized and popularized modern design and crafts at the turn of the 20th century. The term Jugendstil, meaning "Young Style," was derived from the magazine Die Jugend, and the style tended toward floral motifs, arabesques, and organically inspired lines and eventually moved toward abstraction and functionalism. Importantly, it emphasized workshops, where groups of designers worked with industrialists for mass production to disseminate products.

Jugendstil would become an important touchstone for Expressionists in Germany and Austria who were creating new visions of the modern subject and urban centers as well as later Bauhaus experiments in combining fine and applied arts.
Key Ideas
The dominant forms of Jugendstil furniture, architecture, and illustrations were organic shapes and lines that were at once simple and dynamic. It shared with the international
Art Nouveau
movement naturalistic floral motifs, but as the style evolved, the organic shapes contrasted with more abstract and geometric forms to create a more complex dynamism.
Many of the Jugendstil artists were well versed in multiple art forms, and they strove to create a
Gesamtkunstwerk
, or total work of art. The idea of the gesamtkunstwerk evolved over the 19
th
century, and Jugendstil took its core aim - a desire to synthesize all of the arts - to create carefully designed environments that would be harmonious with human use.
While Jugendstil emphasized the individual imagination, it also strove to bring art and design to a wide audience. Setting up workshops across Germany, Jugendstil artists worked with industrial designers to create objects that could easily be mass produced.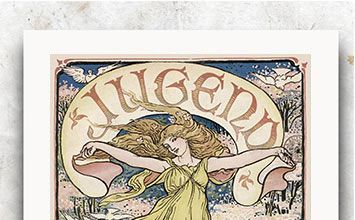 Beginnings:
Swiss-born artist Hermann Obrist launched Jugendstil in the mid-1890s in Munich, and the city soon became the early center of the movement that included August Endell, Bruno Paul, Bernhard Pankok, and Otto Eckmann. Growing up in Switzerland, Obrist first studied botany and history, but after several trips in 1886 through the countryside, he experienced a number of visions of "a strange, unknown city with towers and temple-like buildings...translucent and...perpetually in motion, disappearing and then reappearing." In his autobiography A Happy Life: A Biography of the Artist, Naturalist and Independent Spirit" (c. 1900), he wrote of his experiences in the third person, saying, "Nothing he saw was in any way reminiscent of the many styles he would later encounter on his travels. Making a clearer than ever mental note of what he had just seen, he hurriedly drew sketches which he still feasts on to this day; and a voice inside him called out to him for the first time and said: Leave your studies; go forth and picture this." As a result of his vision, he turned to sculpture and the applied arts in 1887. His early ceramics and furniture won awards at the 1889 Paris Exposition, and in the early 1890s following the sale of a model for a fountain, he moved to Florence, where he opened an embroidery and tapestry workshop with Berthe Ruchet, which he relocated to Munich in 1895.
Important Art and Artists of Jugendstil

The below artworks are the most important in Jugendstil - that both overview the major ideas of the movement, and highlight the greatest achievements by each artist in Jugendstil. Don't forget to visit the artist overview pages of the artists that interest you.

Leather Screen (1887)

Artist: Hans Christiansen and Georg Hulbe

Artwork description & Analysis: This folding screen depicts richly colored poppies and their green curvilinear foliage along a river that, beginning at the lower right, twists sinuously in a tightening whiplash in the upper left and middle panels. The flared petals of the orange blossoms on unrealistically thin and extended tendrils seem to float serenely in the golden space. The asymmetrical composition creates a sense of dynamic movement. Influenced by Japonisme, the screen echoes the gold leaf background of the late 16th-century byōbu of the Kanō School, but it innovatively uses the materials of German crafts. The screen uses leather for the panels, and small gold rivets surround each of the three panels.

Christansen had diverse training, working as a decorative painter and in an interior design shop, studying in Italy and at the Academie Julian in Paris. Influenced by the Nabis, he felt art was a synthesis of nature expressed in personal symbols. At the same time, the artist was increasingly interested in artisan crafts, particularly textiles and graphic design, all of which employed his hallmark bright color.

Painted Leather - Bröhan Museum, Berlin, Germany

Andromeda (1898)

Artist: Hans Christiansen

Artwork description & Analysis: With intense almost garish color, influenced by Alphonse Mucha and Henri Toulouse-Lautrec, this work depicts a nude Andromeda, entwined by the crimson and green coils of a gigantic sea serpent, against a flame-like background where gold whisps extend in sinuous curves. Depicted in profile, the nude leans almost casually with her left elbow on the creature's back, as her right arm elegantly extends to stroke the back of its neck. Its massive form rising out of the waves in the lower foreground, the serpent makes an s-curve through the pictorial plane, and its head, with green glowing eyes, faces away from the viewer. Reconfiguring the classical Greek myth of the princess rescued by the hero Perseus when she was left to be sacrificed to a sea monster that was terrorizing her city, the image's overall effect is erotic, suggesting feminine power to seduce and command. Out of the background flames, the title of Die Jugend forms at the top, showing the artist's innovative approach to typography.

Christiansen's use of color and his hand-letter fonts were distinctive additions to Jugendstil, and his images, frequently depicting beautiful women, often appeared in Die Jugend. An early member of the Darmstadt Art Colony, he was known for his versatility, as he worked in a wide variety of applied arts, saying, "I take my work as an artist as general as possible."

Pencil and overprint on paper - Museumsberg Flensburg, Flensburg, Germany

Der Kuss (The Kiss) (1898)

Artist: Peter Behrens

Artwork description & Analysis: This color print, showing a couple in profile kissing, accentuates the whiplash curves of their intertwining and voluptuous tresses, and as art historian Peter Raissis wrote, it "not only conveys the intensity of the lovers' abandonment in each other but also seems to suggest the ancient understanding of the kiss as an intermixing and exchanging of souls."

Behrens' image reflects the influence of Symbolism, as seen in Edvard Munch's painting The Kiss (1897), but rather than reflecting that work's emotional ambivalence, described by art historian Reinhold Heller as conveying a "loss of individuality, a loss of one's own existence and identity," this image creates feeling of oneness. The figures become androgynous, and the curving lines of their eyebrows, chins, and lips flow into one another. The image moves away from representation by depicting the lovers as disembodied heads and emphasizes the pure flat pattern. Behrens' work also reflected the continuing tradition of the woodcut, a distinctive element of German art dating back to the Renaissance, which raised graphic art to the level of fine art. Appearing in a 1898 issue of Pan, the image pioneered a central motif of Jugendstil that became influential outside of Germany, as seen in the Austrian Gustav Klimt's painting The Kiss (1907-08).

Color woodcut printed in dark brown, light brown, olive green, blue, red and black - National Museum in Warsaw, Warsaw, Poland
More Jugendstil Artwork and Analysis:
If you see an error or typo, please:
tell us
Cite this page

Content compiled and written by Rebecca Seiferle
Edited and published by The Art Story Contributors
" Movement Overview and Analysis". [Internet]. . TheArtStory.org
Content compiled and written by Rebecca Seiferle
Edited and published by The Art Story Contributors
Available from:
First published on 17 Nov 2018. Updated and modified regularly.


[Accessed ]