Artists
Marianne von Werefkin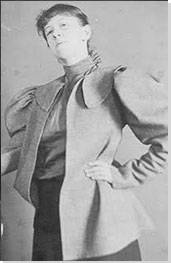 Born: September 10, 1860 - Tula, Russia
Died: February 6, 1938 - Ascona, Switzerland

"The artist is the only one who detaches himself from life, opposes his personality against it, he is the only one who orders things as he wishes them to be in place of things as they are. Thus for him life is not a fait accompli, it is something to remake, to do again."
Summary of Marianne von Werefkin
Writing about the diaries which Marianne von Werefkin composed during the 1900s, the writer Natalya Tolstaya noted that they reveal "a soul molded by much suffering and many a loss, the soul of a woman and an artist". This statement might be taken to apply to Werefkin's entire body of work, which was shaped not only by a century's worth of Russian and European artistic tradition, but also by an intense social and spiritual consciousness, and by the peculiar pressures brought to bear on her as a woman in a creative world dominated by men. Her work, still undervalued in relation to that of her peers, including Wassily Kandinsky and Paul Klee, can now be recognized as an important contribution to European Expressionism, her career as breaking down various barriers to women's acceptance as modern artists.
Key Ideas
Various members of the Expressionist movement, including Wassily Kandinksy and
Marc Chagall
, were of Russian heritage. But Marianne von Werefkin's work provides us with the most striking evidence of the thread that runs through modern painting from late-19th-century Russian Realism to the emotive abstraction of early-twentieth-century Northern-European art. Tutored by the great
Realist
painter
Ilya Repin
, Werefkin applied the principles of social and religious awareness she had learned in her youth to the Expressionist idiom of her maturity, finding in the principle of abstraction a new way of expressing the human spirit.
As one of the only women artists attached to the Expressionist movement, Werefkin staked out new ground for female painters. Abandoning her practice for a decade in the 1900s to support the career of her companion artist Alexej von Jawlensky, Werefkin's recognition was set back further when Wassily Kandinsky's influential book Concerning the Spiritual on Art (1911-12) appeared, making - so Werefkin claimed - uncredited use of her ideas. However, from the time of her Self-Portrait in a Sailor's Blouse (1893) onwards, the force of Werefkin's character had been clear, and by the time of her death she had found her own place and status in artistic culture.
Werefkin's works are often populated by cramped, hunched figures in black, generally women, generally implied to be impoverished city-dwellers or laborers. While the Expressionist movement had always been defined by a form of social awareness, Werefkin's work expresses the human concerns underlying the movement more clearly than most. She never followed Kandinksy down the path of pure, lyrical abstraction, always keeping her compositions tethered around recognizable human subjects placed in the rural or urban landscape.
Marianna Wladimirowna Werewkina was born in Tula, a small city 120 miles south of Moscow, into a wealthy family of the Russian nobility. Her father, Vladimir Nikolaevich Verevkin, was commander of the Ekaterinburg Regiment of the Russian Army, while her mother, Elizabeth Daraga, was a baroness and painter. Werefkin's childhood was spent travelling across Russia as her father was assigned to different locations, though family summers were always spent at the Blagodat Estate in modern-day Lithuania, assigned to her father for his services during the Crimean War by Alexander II. It was there, in her own private studio, that Marianna began to paint.
Important Art by Marianne von Werefkin

The below artworks are the most important by Marianne von Werefkin - that both overview the major creative periods, and highlight the greatest achievements by the artist.

Self-Portrait in a Sailor's Blouse (1893)

Artwork description & Analysis: This self-portrait, painted at the age of 33, is an example of Werefkin's early, Russian Realist-influenced work. She portrays herself in a sailor's blouse, holding her long brushes and engaging the viewer with easy assurance. Werefkin is probably at her family's Blagodat Estate, in modern-day Lithuania, where her studio was located until her emigration to Germany with Alexej von Jawlensky in 1896.

After a series of successful exhibitions, in 1893 Werefkin seemed to be at the start of a prestigious artistic career in her native Russia. Her body of work from this time mainly consists of portraiture, influenced by her tutor Ilya Repin's work in this genre, and by the emphasis which Repin and other Realist painters placed on depicting contemporary Russian life. But whereas Werefkin's earliest paintings, such as Portrait of A Girl in Russian Costume (1883-88) and Portrait of Vera Repin (1881), match the photographic precision of her teacher's work - see Repin's famous Barge Haulers on The Volga (1870-73), for example - this slightly later piece uses a more painterly, expressive style, perhaps reflecting Repin's engagement with French Impressionism during the 1870s. Werefkin was dubbed the 'Russian Rembrandt' for her mastery of oil, and for her capacity to capture both the outer appearance and inner essence of her subject.

Early works such as Self-Portrait in a Sailor's Blouse show the depth of the artistic heritage from which Werefkin's mature, Expressionist persona emerged. Like the great Russian Realist novelists of the nineteenth century - Leo Tolstoy, Fyodor Dostoevsky - Ilya Repin and his Realist comrades saw their work as serving not only a sociological function but also a deep spiritual purpose, a sense of purpose which Werefkin seems to have imbibed, and which emerges again in her statements on the spiritual value of abstract and Expressionist aesthetics.

Oil on canvas painting - Museum of Modern Art, Ascona, Switzerland

Portrait of Helene (c. 1909)

Artwork description & Analysis: This small painting, showing a half-naked woman in high heels, knee-length stockings and hat, is one of the earliest works created by Werefkin after her return to painting in 1906. Depicting an unknown sitter, the impressionistic quality of the piece reflects Werefkin 's search for a new expressive vocabulary, after the abandonment of her early, Realist style, and following her extensive interactions with painters on the Munich art scene, such as Wassily Kandinsky, Gabrielle Münter, and Franz Marc.

During her hiatus from painting, Werefkin had immersed herself in art history, and had filled countless notebooks with writings and drawings, creating over 400 sketches in a fluid, expressive style. When she began painting again she adapted this style to the canvas, becoming increasingly concerned with capturing the inner life of her subjects in a way that might rupture, or exaggerate, aspects of their outer appearance, combining the visible and invisible qualities of her sitters. At the same time, the sexual frisson of the subject-matter seems to owe something to the depiction of seamy Parisian night-life by Post-Impressionist painters such as Henri de Toulouse-Lautrec. A few years before creating the piece, during 1903-05, Werefkin had travelled to France with Jawlensky, taking in the stylistic advances of artists attached to the Nabi, synthetist and cloisonnist movements, who were attempting to use color and form to convey the emotional and spiritual content of their subjects.

Portrait of Helene can be seen as an important transitional work. It indicates Werefkin's departure from the Realist and Post-Impressionist styles of her early work, while not yet conveying the full scope of her Expressionist idiom.

Gouache, pen and Indian ink on wove paper - Private collection

Return Home (c. 1909)

Artwork description & Analysis: This painting shows a group of women walking down a street at night in an urban setting, carrying parcels and babies, in a slow-paced, heavily-loaded procession. Buildings line the road, while the dull glow of the lamplight creates a melancholy mood. The work depicts the city of Kovno in Russia - modern-day Lithuania - where Werefkin was staying with her brother in 1909 while recovering from a leg injury.

Werefkin found the city of Kovno visually captivating, writing in her journal of the gloomy violets and dimness of the light, calling it "a treasure-trove for artists". But it was also the suffering of the city's inhabitants that preoccupied her, as she emphasized in her diary: "All that is here is suffering and this horror of beauty and this horrible life". To better express the inner life of her subjects, she turned to techniques reminiscent of French Cloissonism or Synthetism, the use of heavily outlined, flat blocks of color, from which light seems to emanate as through panels of stained glass. The somber mood of the piece is typical of much European art at this time, owing much to the Post-Impressionist style of Vincent van Gogh, who had depicted peasant women at work - in the fields, by the hearth - in similarly melancholic fashion.

The marriage of a Post-Impressionist, expressive use of color with a somber, anxious mood is in a sense the basis of Expressionism, which was emerging simultaneously across various Northern-European cities around this time. This is also one of the first pieces in which we find the figure of the stooped or hunched woman in black, a recurring motif in Werefkin's work. In various respects, then, Return Home can be considered an important early painting of her mature period.

Tempera on paper - Museum of Modern Art, Ascona, Switzerland
More Marianne von Werefkin Artwork and Analysis:
Influences and Connections
Influences on Artist
Artists, Friends, Movements
Influenced by Artist
Artists, Friends, Movements

Interactive chart with Marianne von Werefkin's main influences, and the people and ideas that the artist influenced in turn.
View Influences Chart


Influences on Artist

Marianne von Werefkin
Years Worked: 1874 - 1938
Influenced by Artist

Artists

| | |
| --- | --- |
| | Franz Marc |
| | August Macke |
| | Albert Bloch |
| | Lyonel Feininger |

Personal Contacts

| | |
| --- | --- |
| | Alexej von Jawlensky |
| | Gabriele Münter |
| | Wassily Kandinsky |

Movements

| | |
| --- | --- |
| | Expressionism |
| | Der Blaue Reiter |
| | Abstract Expressionism |
| | Tachisme |
| | Neo-Expressionism |
If you see an error or typo, please:
tell us
Cite this page

Content compiled and written by Sarah Frances Dias
Edited and revised, with Synopsis and Key Ideas added by Greg Thomas
" Artist Overview and Analysis". [Internet]. . TheArtStory.org
Content compiled and written by Sarah Frances Dias
Edited and revised, with Synopsis and Key Ideas added by Greg Thomas
Available from:
First published on 20 Apr 2018. Updated and modified regularly.


[Accessed ]