"I feel that the need to look at the sky - at the moon and stars - is very basic, and it is inside all of us."
"My art seemed to have a life of its own, which kept me transfixed"
"My work involves me in the vast world that exists outside of the art world"
"In my Land art dealing with astronomical phenomena, I am putting "centers of the universe" wherever I go, making my work uniquely site-specific"
"I have a strong desire to make people conscious of the cyclical time of the universe"
"[I wanted to examine] the human perception of time and space, earth and sky"
"What I was doing over and over again was manifesting outwardly in physical form the universe as it is within. They interrelate - the outside world is a reflection of the inside world and vice versa"
"Words and photographs of the work are memory traces, not art. At best, they are inducements for people to go and see the actual work."
"Since each work sets up a perceptual structure, you're always perceiving your own sight and your own perception relative to the structure, so there is a perceptual relativity which is also very physical and related to the level of the eye."
Summary of Nancy Holt
Nancy Holt fell in love with the American West, and embraced its vast, wide-open spaces as a kind of museum without walls. Her concrete and steel constructions helped free sculpture from the gallery context. These contemplative, often elegiac monuments to time and to the land, emphasize close observation. Free thinkers and art enthusiasts still travel for miles to observe the summer and winter solstice from inside her Sun Tunnels (1979), four colossal tubes that frame the rising and setting sun. While overshadowed by her celebrated husband, Robert Smithson, Holt produced a body of work distinct from his, and more forward-looking in its implications. In a leave-no-trace approach, some of Holt's best work is barely there. Earlier and more immediately than the other Land Artists, Holt saw the connection between art and eco-activism. Like light from a faraway star, some of Holt's ideas were so far ahead of their time that the art world has yet to fully acknowledge them.
Accomplishments
Initially there was no alignment between Land art and environmentalism. Many early Land artworks actively damaged the land. Holt was one of the first artists to use outdoor art as a platform for environmental activism. She introduced ideas central to environmental protection, conservation, and stewardship that were not initially central to the art movement.
"I have a strong desire to make people conscious of the cyclical time of the universe," the artist once said. Time-based elements (human, geographic, or celestial) in her sculptures place us at the center of a participatory experience. The theme of recording time gives her work an effect that is immediate, and at the same time, eternal.
Her sculptural installations feature enclosures that frame our experience of nature. The act of framing, a recurring theme in Holt's work, functions as a metaphor for visual observation and is the genesis of many of her projects.
Holt's site-specific installations never seek to rival nature, but challenge us to look more closely at our environment. Hydra's Head, a configuration of small cylinders that might be mistaken for a drainage system, or Missoula Ranch Locators: Vision Encompassed, steel viewfinders distributed across an open field, are examples of her minimalist strategy that reinforces our connection with nature, attuning our senses to what is present around us.
While Smithson, Heizer, de Maria and others engaged in a contest to see who could make the largest mark on earth (almost as if it were a big canvas), Holt grasped the most radical implications of the Land Art movement. Integration - as opposed to competition - with the elements was her goal. While fully aware that this more subtle approach would not win her the immediate admiration of the art world, she explained, "I was emphasizing being over becoming. And in the art world it's a hard stance." In emphasizing Land over Art, Holt's remarkably visionary aim anticipated the future of the movement.
Although widely represented through photographs, which Holt described as "memory traces," the work was only complete, Holt insisted, through direct experience. This is especially evident in Sun Tunnels, her most famous work, where the changing conditions of weather and light transform the work from one moment to the next.
Important Art by Nancy Holt
Progression of Art
1967
Concrete Visions
Heavily informed by Minimalism and Conceptual art, Holt's early photographs laid the foundation for her sculptural efforts. In the late 1960s, Holt photographed some of the sites where Smithson would obtain the industrial materials to make his work. While at first glance these photographs may appear straightforwardly documentary, they are in fact explorations of perception.

Concrete Visions, intended to be displayed as it is shown here, features four sequential shots of a concrete yard filled with building blocks. Clockwise from the upper left, Holt approaches the motif. Aligning her shots with the edges of the blocks, Holt sees frames within frames. By arranging her photographs in sequences, and often as a grid, Holt offered multiple perspectives that comprise the whole work of art, rejecting the one-point perspective, customary to traditional art and art photography. In the bottom two shots, her camera tilts to the right, giving the composition an unsteady look and reminding us that the artist is moving. The framing of space, the passage of time, the remote location, and the industrial materials featured in this early series are ideas that would reach their full fruition in Holt's site-specific installations.
Composite of four photographs reproduced from original 126 format black-and-white negatives - Collection of the artist
1968
Western Graveyards
Here as in Concrete Visions (1967), frames within frames call attention to the act of selection. On her first trip out West in 1968 with Robert Smithson and Michael Heizer, the excitement of this new environment was so overpowering that Holt could not sleep for days. The small graves she photographed in Virginia City, Nevada, and Lone Pine, California were of particular interest to her. She later recalled that she was drawn to the graves because they captured "how people thought about space out West; their last desire was to delineate a little plot of their own because there was so much vastness." Delineating the grave and preserving it as a work of art, Holt's camera performs a similar action in her series, Western Graveyards, which includes the two works shown here. These earth-bound rectangles were part of the inspiration for Holt's approach to Land Art as a series of enclosures in the earth. Mimicking Minimalist sculpture (and perhaps specifically the work of Carl Andre), Western Graveyards turns graves into sculptures. Imagine these as gallery installation shots, with the sky standing in for the ceiling and the earth as the floor.
60 photographs reproduced from original 126 format color transparencies - Collection of the artist
1972
Missoula Ranch Locators: Vision Encompassed
Missoula Ranch Locators: Vision Encompassed was an interactive sculptural installation designed to restrict the viewer's experience of a vast, open space. Commissioned in 1971 and begun in Holt's New York studio, the work was comprised of eight viewfinders ranging from one and one-half to two inches in diameter and distributed across a wide field in Missoula, Montana. Each viewfinder (Holt referred to it as a "locator") was made of two steel pipes welded together in a t-formation, and positioned at eye level so the viewer could look through the upper pipe. Set in compass directions aligned with the North Star, the locators limited the view so that each individual stationed at the locator could only see what was inside a tiny circle of faraway land. In doing so, Holt forces the viewer to focus on specific objects, phenomena, or views, including those of other locators around them. Unable to gauge the distance between oneself and the distant view made viewers feel more connected to each other and the land.

Three years later, the work was dismantled by a subsequent owner of the land. In 2012, Holt recreated the project on the campus of the University of Avignon in France, where it is now a permanent installation.
Steel - Dismantled
1974
Hydra's Head
Hydra's Head is one of a number of important, large-scale commissions that enabled Holt to explore ideas that transcend the boundaries of sculpture, architecture, installation, and land art. Inspired by the history of the region, Hydra's Head is essentially a monument to the native inhabitants of the region and a connection with nature that has been lost. According to the original inhabitants of Lewiston, New York (the Seneca Indians) "pools of water are the eyes of the earth." Inspired by this saying, this site-specific work set along the Niagara River in Lewiston is comprised of six sunken cylinders holding water. Arranged in the same configuration as the constellation, Hydra, the mythical water serpent, each pool is a tiny mirror for a single star. At night, the pools reflect the stars above, as if the sky has fallen at one's feet.
Concrete, water, earth - Along the Niagara River, Lewiston, NY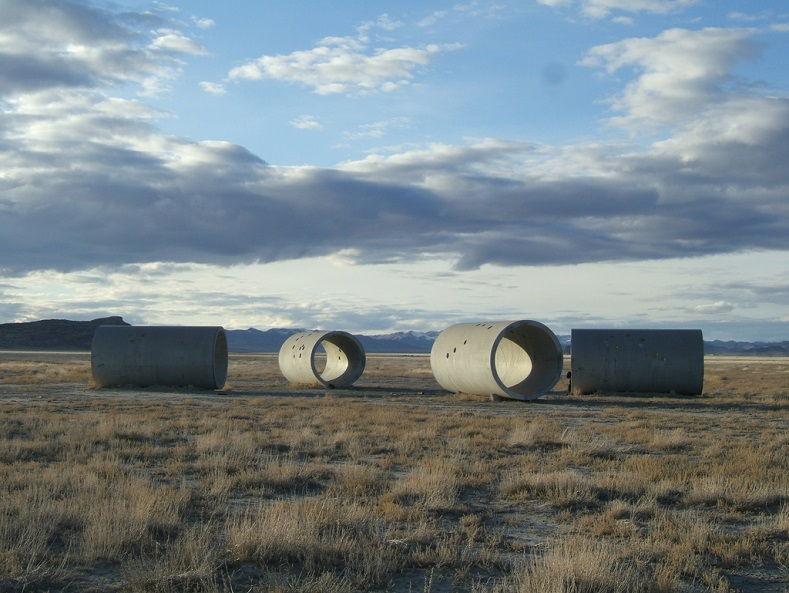 1976
Sun Tunnels
Holt collaborated with engineers, astronomers, pipe manufacturers, and many other professionals to complete her most ambitious and famous work, Sun Tunnels. Sometimes called the "American Stonehenge," this Minimalist-inspired suite of four concrete pipes forms a cross with an open center. Each pipe points in one of the four cardinal directions. Measuring 9 feet high by 18 feet long, each axis aligns perfectly with the sunrise and sunset of the winter and summer solstices, when the sun appears centered within the tunnels.

In addition, each tube is perforated with holes in the shape of a specific constellation: Draco, Perseus, Columba, and Capricorn. During the day, sunlight streams through the holes and projects the constellations inside the tunnels, connecting earth and sky.

Holt purchased the land in 1973 in a remote valley in the Great Basin Desert in northwest Utah: "I had the sense that I was perhaps walking on a piece of land that nobody had ever walked on before - the natives who lived there hundreds of years ago, I'm sure they didn't step on every piece of my 40 acres - and that was thrilling to me" she later remembered.

With nothing around for miles (not even service facilities), one approaches the work by car, and then on foot. The awe-inspiring pilgrimage is part of the work itself. Holt's aim for the work, as she put it, was to "bring the vast space of the desert back down to human scale," and indicate the "cyclical time" of the solar year. Although there is no substitute for the direct experience, visitors' descriptions convey a feeling of being at the center of the universe. The tunnels "emanate brute power" said one recent guest. "There, in the middle of nowhere, a person suddenly is placed in the middle of everywhere," said another.

Sun Tunnels made Holt one of few women artists to gain recognition amid the male-dominated Land Art scene of the 1970s.
Concrete, steel, earth - Great Basin Desert, Utah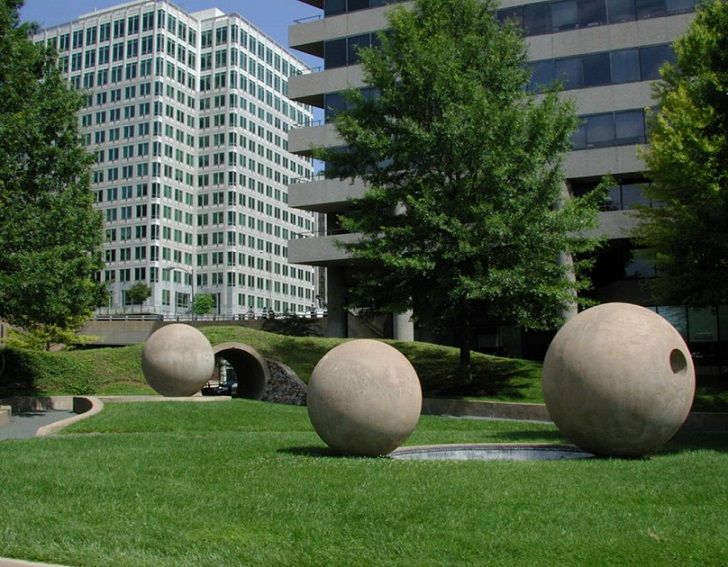 1984
Dark Star Park
The experience of Dark Star Park is one of contrast. Unlike the remote settings, in which most of Holt's works are situated, it is surrounded by straight roads and rectilinear buildings at the heart of the busy commercial center in Rosslyn, Virginia (just outside Washington, D.C.). Five large concrete spheres placed at intervals resemble fallen stars that no longer shine - hence the park's name. Four black metal poles, asphalt impressions on the ground, two reflecting pools, a stairway, and two concrete tunnels (one is large enough to pass through; the other is for viewing only) comprise the work.

Commissioned by Arlington County in 1979 and completed in 1984, Dark Star Park alters one's perception of the urban environment for those who experience it. Holt's switchback pathway snaking through spheres disobeys the conventional wisdom that the shortest (and, implicitly best) distance between two points is a straight line. This slow route through the park forces urban life to slow down. In the words of the art critic Lucy Lippard, the experience is one of "intimacy with vastness, a sense of one's individual place, at this very moment, in the universe."

While displaying none of the signs (figures on horseback, obelisks, etc.), or even a title that would identify it as such, Dark Star Park is a historical monument. It commemorates an important date in Arlington's history. On August 1, 1860, William Ross bought the land that today is Rosslyn. Every year on August 1, at 9:32 a.m., the shadows cast by the poles align, and two of the spheres cast shadows that fall precisely within the lines of the asphalt impressions beside them, commemorating that date (August 1, 1860), as Holt described it, "merging historical time with the cyclical time of the sun". Dark Star Park was not only a breakthrough in Holt's career, enabling her to work as a sculptor and landscape designer, but also advanced the then nascent field of public art and its impact on the transformation of cities. It was also a breakthrough for women, emboldening others, like Maya Lin, to enter the field of public art.
Gunited concrete, stone masonry, asphalt, steel, water, earth, gravel, grass, plants, willow oak - Rosslyn, Arlington County, Virginia
1986
Pipeline
In the 1980s, environmental concerns entered directly into Holt's work. Pipeline is one of the earliest examples of this. While completing a residency in Anchorage, the artist was struck by the abundance of pipelines running through Alaska, known to cause environmental harm when oil leaks out through small holes caused by corrosion. Pipeline, made from the same industrial stuff as the real Alaskan pipeline, originated outside the gallery and snaked along the inside wall (shown here), where it leaked oil onto the pristine floor. Making its point in stark visual terms, it also engages the theme of enclosure, a leitmotif in Holt's earlier work. In employing materials one might more readily find in a basement or control room, raising the question "is it or isn't it" (art), Pipeline reflects Holt's longstanding engagement with Conceptual art. As a hybrid indoor/outdoor sculpture, it aligns Holt with other Land Artists who wished to call attention to the gallery setting as an artificial and limiting environment for art.
Steel duct and oil - Visual Arts Center of Alaska, Anchorage
Biography of Nancy Holt
Childhood
Holt was born on April 5, 1938 in Worcester, Massachusetts. Her father was a chemical engineer and her mother a homemaker, both New Englanders. When Holt turned three the family relocated to New Jersey in what was supposed to be a temporary move. Her father believed he would be transferred back to Massachusetts, which never happened. Holt's early life was shaped by a series of moves that made her feel "oddly displaced" and alone. As an only child, Holt observed "many overlooked or unacknowledged things" that later give rise to artworks. Her family moved first to Bloomfield and then again to Clifton, New Jersey, where Holt attended high school. One of Holt's high school classmates was Robert Smithson, Holt's future husband and the leader of the Land Art movement. It wasn't until later that the two became friends.
Early Training and work
As an undergraduate at Tufts University in Medford, Massachusetts, Holt was interested in both science and art. Her passion for "unusual plants and animals and the systems that kept them alive" led her to choose biology as a major. She attended lectures at MIT that bridged the gap between art and science. During her third year in college, Holt began traveling to New York to see art and meet artists. During one of these visits, a friend reintroduced her to her former high school classmate Smithson. The two of them connected and began what would be a decade-long exchange of ideas on art and science.
Holt graduated in 1960 and traveled around Europe with friends. She then moved to Manhattan and commuted daily to work as a researcher at the Lederle Labs in Pearl River. In 1962 her mother died of cancer. A few months later her father died from a heart attack. Holt quit her job, moved with Smithson to a loft in the West Village, and married him in June of 1963.
During this transformative period, Holt remembered feeling a mixture of grief and liberation. To support herself, she served as assistant literary editor at Harper's Bazaar and taught at the Downtown Community School. In addition, she began an "interior investigation", relying extensively on literature, and "digging into metaphysics, poetry, and Jungian psychology" in order to understand her own psychology.
Mature Period
By the mid-1960s, Holt was well acquainted with Sol LeWitt, Carl Andre, Eva Hesse, Joan Jonas, Michael Heizer, and Robert Morris, and was immersed in the culture of two radical movements, Conceptual art and Minimalism. Her concrete poems and photographs of New Jersey sites during trips with Smithson and friends are vital additions to these movements.
In 1968, in the company of Smithson and Heizer, Holt visited the American West for the first time. She later recalled experiencing the desert and mountains, and on a vast scale unlike anything she had previously experienced, as a major turning point in her life and career. The next year, Holt and Smithson traveled to Europe to visit ancient archeological sites in England, including Stonehenge and Dartmoor. These too influenced her perception of landscape.
By the early 1970s Holt had begun to photograph and video Smithson's work, making a film of his now celebrated Spiral Jetty in Utah and photographing sites in California, Nevada, New Jersey, and beyond. Holt's first solo exhibitions featuring these photographs took place in 1972 at the University of Montana, Rhode Island University, and at the Institute for Art and Urban Resources in New York City.
Smithson died tragically in a plane crash on July 20, 1973. He had been headed to Texas to work on Amarillo Ramp, his latest project. Holt, who often accompanied him, had decided to remain at home to focus on Sun Tunnels, her own work in progress. After Smithson's death, Holt completed Amarillo Ramp with sculptor Richard Serra and art dealer Tony Shafrazi, and turned her attention to editing The Writings of Robert Smithson (1979), a seminal work that would help define the emerging field of Land Art.
After 1973, Holt dedicated a significant portion of energy in the coming years to the management of her late husband's legacy, while continuing to pursue her own work. In 1975 Holt moved to Utah for a year to complete Sun Tunnels, a project she had placed on hold after her husband's death. She then slept on top of a van for several nights, photographing and filming the work at different times during the day. Also during the mid-seventies and eighties, Holt contributed to the development of the emerging field of public art, completing several commissions.
In the 1980s she began to create "functional" works that reflected growing environmental consciousness. Holt's explorations of water, electrical, and ventilation systems from these years focus on the limitations of the earth's natural resources.
Late Period
In 1995 Holt left New York and settled in Galisteo, New Mexico, where she began exploring the high desert in Northern New Mexico. In 1999 Holt entered a period of introspection, meditation, and reading that removed her from the sphere of the art world, traveling to India and Nepal and returning to teach meditation in 2001.
While retreating from the public eye, Holt remained a writer and artist until the end of her life, creating public art works, installations, photographs, and films in the United States and abroad. She completed ambitious, multi-year projects, both her own and Smithson's, and in her late career she oversaw the restoration of a few of her earlier works - including Dark Star Park in Virginia.
In 2007 Holt reentered the public arena as an environmental activist, protesting against the auction oil and gas rights on land adjacent to Sun Tunnels. The next year she protested against drilling oil in the north arm of the Great Salt Lake, which would impact Smithson's Spiral Jetty only a few miles away.
Nancy Holt: Sightlines, Holt's first retrospective, opened at Columbia University and traveled to other cities in the U.S. and Europe from 2010-2012. The artist was in her early 70s. She died at age 75 in 2014 from Leukemia.
The Legacy of Nancy Holt
Holt's contribution to late-20th-century art remains underemphasized, but what Holt achieved is all the more remarkable given the barriers she faced. Land Art was one of the most male-dominated movements. Women, it was assumed, were less capable of conceiving of large-scale projects. They also were presumed to lack the physical stamina to operate forklifts, cranes, and industrial equipment necessary to complete the work. Both assumptions were ridiculous, especially the second, since virtually all Land Artists worked with teams of skilled laborers who operated the heavy machinery and completed the grunt work. These assumptions had real consequences, however. Six and seven-figure grants from foundations, galleries and private donors went to men. Before Holt's Sun Tunnels, all major Land Art projects (Spiral Jetty (1969), Double Negative (1969), Lightning Field (1977)) had been completed by male artists.
Like Lee Krasner, Elaine de Kooning, and Gabriel Munter, Holt devoted much of her career to preserving her husband's legacy, putting many of her own projects on hold. While never receiving the level of support or encouragement to complete a body of work that rivaled his, Holt broke the glass ceiling, paving the way for the ascension of one the most brilliant Land Artists, Maya Lin, whose work is visibly indebted to Holt's in its focus on ecology, history, and complex systems in nature. Holt's interest in astronomy set an important precedent for her slightly younger, but much more famous, contemporary James Turrell, who is still boring holes into the Roden Crater, an underground astrological observatory he began building, perhaps not coincidentally, the year after Holt completed Sun Tunnels. Carol Bove's unobtrusive installation entitled Caterpillar (2013) along the stretch of New York City's High Line Park is visibly indebted to Holt's subtle modifications, blending in with surroundings.
Influences and Connections
Influences on Artist

Influenced by Artist
Artists
Emily Dickinson

T.S. Eliot
Friends & Personal Connections
Artists
Virginia Dwan
Friends & Personal Connections
Movements & Ideas
Public Sculpture
Useful Resources on Nancy Holt
Books
The books and articles below constitute a bibliography of the sources used in the writing of this page. These also suggest some accessible resources for further research, especially ones that can be found and purchased via the internet.
biography
artworks
Similar Art