Artists
Michael Heizer
Born: November 4, 1944 - Berkeley, California

"As long as you're going to make a sculpture, why not make one that competes with a 747, or the Empire State Building, or the Golden Gate Bridge."

Summary of Michael Heizer
Michael Heizer brought the childhood fascination of 'playing in the sand' to entirely new levels! His large-scale sculptures, set in specific environments so as to create dialogue with the land, helped pioneer Earth or Land art, a distinctly American art movement of the late 1960s and early 1970s. Shunning the commercial art market and its product, Heizer took the art experience out of the austere gallery setting and placed it synergistically in the landscape, using the earth as his medium and canvas. A location-scouter par excellence, Heizer is an early proponent of the concept of site-specificity, which becomes key to later postmodern artists involved in installation and public art. Along with Walter de Maria, Robert Smithson, and others, Heizer's pioneering work coincided with and perhaps gave momentum to the larger social and political environmental movement in the United States, with its ethic of environmental restoration, preservation, and consciousness. Like Earth Day, Earth art is very much a product of its time.
Key Ideas
Heizer's innovation comes with his rejection of traditional understandings of sculpture, where volume or mass is manipulated at the hands of a virtuoso carver or welder. In Heizer's work, volume is an absence rather than a presence, a void usually left as a result of displacement. Thus, he invites us to contemplate space, land, and our relationship to it.
While Heizer's projects are ambitious and grand in scale, the results are often subtle and poetic. He re-introduces 19
th
century
Romantic art's
interest in the sublime, where contemplation of the infinite leads to feelings of transcendence. These metaphysical aspects, coupled with the artist's secluded, modest life, also echo Eastern philosophies - of interest to many in his generation.
While viewers are familiar with geometric forms and the play of volume and interpenetrating space from earlier modernist sculpture, Heizer is first to magnify and superimpose those concerns on the land. Likewise, while artists had been idealizing geometry for millennia, none had previously imposed geometry at such a scale into the organic landscape.
In offering a measure of perceptual disorientation, disequilibrium, and optical illusion through his sculptural environments, Heizer spoke metaphorically about our relationship to the land, raising environmental consciousness.
By surrendering control to the elements, letting his work decay and disappear, Heizer helped to usher in the idea of impermanence as an aesthetic choice. His short-lived projects emphasized time and duration, very much in common with the concurrent ideas in
Happenings
and
Performance Art
.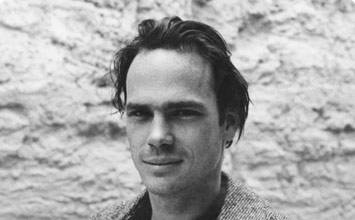 Michael Madden Heizer was born on November 4, 1944 in Berkeley, California, where he lived for most of his childhood. His parents were Robert Heizer and Nancy Elizabeth Jenkins. Making structures always came naturally to Heizer, and he began creating small-scale cities at the age of six. Out on the school yard, he used found objects, cans, glass, and rocks and built a small city on a nearby hill. The school's janitor destroyed Heizer's structure, but the principal recognized the young sculptor's potential and allowed him to rebuild.
Important Art by Michael Heizer

The below artworks are the most important by Michael Heizer - that both overview the major creative periods, and highlight the greatest achievements by the artist.


Artwork Images

North, East, South, West (1967/2002)

Artwork description & Analysis: The original 1967 version of this sculpture marks Heizer's first experiment with Earth art. Adapting the geometric paintings he had been working on in New York into three dimensions, Heizer effectively began using the land as his canvas. He excavated a cube and a cone shape out of the Sierra Nevada Mountains, each four feet across and four feet deep. He was interested in the potential impact of the negative space created by the displaced gravel. In essence, Heizer was experimenting with a new kind of sculpture made of air, where the artist is merely a facilitator or 'framer' of what is already there in nature. Modest and somewhat metaphysical, this experiment represented a pivotal turn in his early career, though this particular work remained unfinished.

Thirty-five years later, Heizer was commissioned to re-create North, East, South, West as a permanent, indoor installation. The new version features four geometric recesses or depressions in the gallery floor: again a cube to represent the North, a cone to represent the South, a triangular trough representing West, and an inverted, truncated cone for East. When measured together, their total length is now an impressive 125 feet. Furthermore, each depression now falls 20 feet below the gallery floor, which is where the shape may be fully observed.

This artwork contrasts traditional understandings of sculpture, where volume or mass are the focus. In Heizer's work, the volume is an absence rather than a presence. By 'framing the emptiness,' the artist invites us to contemplate, or even meditate on very earth we walk upon. Viewers are encouraged to gaze upon and consider the void left by the displaced earth, but only with their eyes. The switch in perception might be understood as a metaphor for human humility and greater environmental sensitivity, in keeping with his sympathies for both Eastern philosophy and the environmental movement.


Artwork Images

Munich Depression (1969)

Artwork description & Analysis: This large-scale, temporary work was created and experienced over the course of a few weeks in a plot on the outskirts of Munich in Germany. It was the first work Heizer created in an urban setting. Using large bulldozers, he dug a pit, 100 feet wide and 16 feet deep. He removed approximately 1,000 tons of earth, leaving a shallow conical depression, marked by traces of the heavy machinery utilized. Then, visitors were invited to descend into the ditch to experience it first-hand. When looking up and out, a viewer would see a kind of floating, limitless horizon, with no defined edge. The perspective afforded created an optical illusion, where space, scale, orientation and equilibrium were disturbed.

Beyond the perceptual aspects, participants who experienced Munich Depression were invited to think about their personal relationship to the land and sky. While we generally rely on a horizon line for orientation and stability, viewers of this work likely realized how much it is taken for granted. This might be understood as a metaphor for life - its challenges, and our capacity to adapt. Additionally, one cannot fully ignore the specific location chosen, and the double-entendre of the title. A shallow pit in the German landscape conjured certain associations a mere 25 years after World War II, and the Holocaust (Munich's Dachau concentration camp was one of the most horrific).

The fact that the pit was refilled in a matter of weeks demonstrates the artist's reverence for the land. It also underscores the nature of the work as a kind of temporary event or performance. An ephemeral, participatory experience - or Happening as it was often called - was very prevalent in the art world at the time. It reflected less an interest in art as valuable market product and more as a communal experience. The photographic aspect of both Land art and its related, participatory events grew out of the obvious necessity to document these fleeting works. Heizer indeed documented Munich Depression in a 360-degree photographic panorama, taken from inside the pit. It later became its own work titled Munich Rotary (1970).


Artwork Images

Double Negative (1969-1970)

Artwork description & Analysis: One of his most important works, Double Negative is a pioneering work of Earth or Land art, marking the beginning of this distinctly American movement. It is one of the earliest examples of large-scale, ambitious, site-specific art projects, created outside of the established art world.

Heizer created this sculpture purely through the act of subtraction. With the use of blasting and heavy equipment, he excavated two enormous trenches in the Mormon Mesa of a remote location in southeast Nevada. Removing over 240,000 tons of rhyolite and sandstone, he created two perfectly geometric trenches, each 1,500 feet long, 50 feet deep, and 30 feet wide. The two incisions in the earth line up perfectly, mirroring each other from opposite sides of the canyon. The shape implied by the two negative spaces becomes visually united as a corridor across the divide - hence a double negative.

Visitors can walk around and inside both trenches. Indeed, Earth or Land art meant for audiences to experience the landscape with and through the art. The enormous sense of scale and infinite views echoes the 19th-century Romantic concept of the sublime, where viewers' contemplation of their relationship to the land may result in feelings of transcendence. Ironically, however, the scale of the work is so expansive, that the enormity of the gesture can only be fully viewed from the air.

Earth art went out into the landscape in an "anti-establishment" gesture and forced the audience to reconsider their notions of what art is or could be. With this piece, Heizer asks the viewer to consider how the earth relates to art, and vise versa, so as to blur their distinctions. In so doing, he extends the ideas and possibilities of modern art. At the same time, while the work took an enormous human effort, its modest, remote existence functions as a counterpoint to its own monumentality. Heizer had no illusions about the permanence of the work, conceding that it would change and perhaps disappear over time. In that regard, the artist underscores the triviality of man's attempt to impose his will on the environment.
More Michael Heizer Artwork and Analysis:
Influences and Connections
Influences on Artist
Artists, Friends, Movements
Influenced by Artist
Artists, Friends, Movements

Interactive chart with Michael Heizer's main influences, and the people and ideas that the artist influenced in turn.
View Influences Chart

Artists

Personal Contacts

| | |
| --- | --- |
| | Heiner Friedrich |
| | Virginia Dwan |

Movements

Influences on Artist

Michael Heizer
Years Worked: 1960s - Present
Influenced by Artist

Artists

Personal Contacts

| | |
| --- | --- |
| | Richard Bellamy |
| | Sam Wagstaff |

Movements
If you see an error or typo, please:
tell us
Cite this page

Content compiled and written by The Art Story Contributors
Edited and published by The Art Story Contributors
" Artist Overview and Analysis". [Internet]. . TheArtStory.org
Content compiled and written by The Art Story Contributors
Edited and published by The Art Story Contributors
Available from:
First published on 15 Jul 2016. Updated and modified regularly.


[Accessed ]