Artists
Richard Serra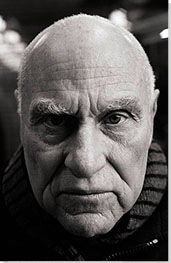 Born: November 2, 1938 - San Francisco, California

"I consider space to be a material. The articulation of space has come to take precedence over other concerns. I attempt to use sculptural form to make space distinct."

Summary of Richard Serra
Richard Serra is one of the preeminent American artists and sculptors of the post-Abstract Expressionist period. Beginning in the late 1960s to the present, his work has played a major role in advancing the tradition of modern abstract sculpture in the aftermath of Minimalism. His work draws new, widespread attention to sculpture's potential for experience by viewers in both physical and visual terms, no less often within a site-specific, if not highly public setting.
Key Ideas
Coming of age in the shadow of greats such as
Constantin Brancusi
,
Pablo Picasso
, and
Julio González
, Serra both inherited and advanced the tradition of abstract sculpture, adapting the medium of welded steel (originally a concern of early-20
th
-century
Cubism
) to new, holistic values of the 1960s and 1970s. More recent
Minimalist
sculptors, among them
Donald Judd
and
Carl Andre
, had demonstrated how sculpture and its materials could stand for themselves, or not be forced to serve as vehicles for articulating an artist's emotional and intellectual life. Serra took up that contemporary heritage, one suggesting that the human body itself no longer had a place in painting or sculpture, and returned to it something of the human body's stature. He explored how an art work might relate intimately to a specific setting; how it might take up a physical as well as a visual relationship to a viewer; and how it might create spaces (or environments) in which a viewer can experience universal qualities of weight, gravity, agility, and even a kind of meditative repose.
Serra's adaptive sensibility in working collaboratively with, or learning from, contemporary musicians, dancers, and videographers, was part of an era in American art in which artists increasingly explored various disciplines for their overlapping and shared concerns with a new kind of art that might push the viewer's experience beyond the purely visual or optical act towards a fully physical, or "somatic" participation. Serra's work is at once a painting, a sculpture, a piece of architecture, and an epic fragment of modern industry.
Serra's concern with the implicit relationship between his sculpture's conception and its intended site has led directly to a new international discourse (often a heated one) regarding the role and governance of art in public spaces such as municipal parks, corporate plazas, and memorial sites - where the work of art might virtually interrupt viewers' daily routines in ways that are not necessarily universally welcomed among a given community. Serra's sculpture indeed suggests that art should be something "participatory" in modern society, that is, a gesture, or physical insertion into everyday life, not something confined to a cloistered museum space.
Serra's materials and methods, i.e. large-scale steel panels and welding, has been interpreted by some feminist historians as a "last gasp" of Abstract Expressionism's so-called masculine themes and artistic processes. His work has thus unwittingly inspired a host of counter-responses by subsequent generations, who, decidedly in rejection of his histrionic example, turned in the late 1970s and 1980s toward more ephemeral, everyday materials to suggest that art could be monumental without relying on massive, "in your face" substances and formats.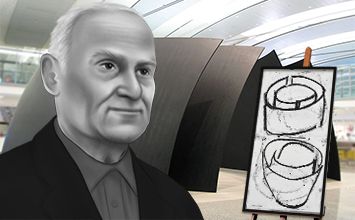 Richard Serra was the second of three sons born to a Russian Jewish mother and a Spanish father. As a young boy, he lived with his family amidst the sand dunes of San Francisco. Staying mostly within the boundaries of his home life, he knew little of the outside world, let alone the fine arts. His earliest sparks of creativity came from spending time at the shipyards, where his father worked as a pipefitter.
Important Art by Richard Serra

The below artworks are the most important by Richard Serra - that both overview the major creative periods, and highlight the greatest achievements by the artist.


Artwork Images

Gutter Corner Splash: Late Shift (1969/1995)

Artwork description & Analysis: Gutter Corner Splash marks the debut of Serra's work in metal sculpture and demonstrates his experimenting with the various properties of the medium. Partly inspired by the example of Jackson Pollock and Action Painting, Serra has explained that the Splash series grew out of his interest in an implied, reciprocal relationship between the artist, the work of art, and the subsequent viewer: "I was interested in my ability to move in relation to material and have that material move me." As though Serra were pouring liquid pigments or sketching, Gutter suggests multiple traditions of sculpture, from ancient bronze casting methods to some of the most recent (at that time) reductive concepts of 20th-century Minimalism. The series also demonstrates Serra's evolving interest in site-specificity, as well as his preoccupation with the natural force of gravity, both of which have retained their importance in most of Serra's subsequent work.

Lead - San Francisco Museum of Modern Art


Artwork Images

Verb List (1968-69)

Artwork description & Analysis: Although usually regarded as an artist's statement (akin to a private, reflective diary entry), Verb List might also be regarded as the artist's chronological, aesthetic agenda, setting out his subsequent development in sculpture. If the "to" verbs are thought of as denoting acts already accomplished, and the "of" verbs as connoting those he has yet to undertake, Verb List may also be viewed as a shorthand, visual retrospective of Serra's entire career, compressing past, present, and future into a single material object. Like a map, or a theoretical diagram, Verb List finally "stands in," as a visual and conceptual proxy for something more physically tangible, or virtually touchable: sculpture itself. Serra's later, monumental walls in steel would ultimately come to embody, in more abstract and open-ended terms, what the artist has chosen to conjure here in the "mind's eye" of the beholder, indeed by way of strictly linguistic medium.


Artwork Images

One Ton Prop (House of Cards) (1969)

Artwork description & Analysis: Considered in retrospect, One Ton Prop suggests the outcome of Serra's mature works, where various properties of gravity, weight, counterforce, sinuous movement, and other physical and visual properties are embodied by steel, a material commonly assumed the stuff of architectural skeletons rather than objects, in their own right, of visual attention. Arising out of the recent, rather deadpan history of Minimalism, One Ton Prop reintroduces to sculpture a comparatively witty and even whimsical sense of bodily pleasure, each plate of lead leaning gently against the other (who, here, is doing the "hard work" of supporting?) as though in a continuous round-robin of "passing the buck" along to the next guy. One even thinks of a long tradition of visual riddles, such as an endless staircase by the contemporary Dutch graphic artist, M. C. Escher (1898-1972), where it is impossible to ascertain beginning or ending, origin or destination, or (to be cosmic about it) genesis or death. One Ton Prop has also assumed a place in history as a centerpiece in a larger discussion of gender representation in art, ever since one viewer (presumably female) scribbled "DICK ART" on one of its sides, which drew attention to the work's imposing, even "machismo" bravado (this element recalls the recent, largely male-dominated legacy of Abstract Expressionism). The work's reliance on "dangerous" processes of iron welding, along with its large, or monumental scale has often been associated with masculine bravado (as was the former era's obsession with the mural-sized canvas, as though "size always matters"). Other observers, however, find the sinuous, arabesque curves of much of Serra's sculpture notably reminiscent of the female figure.

Lead - Museum of Modern Art, New York
More Richard Serra Artwork and Analysis:
Influences and Connections
Influences on Artist
Artists, Friends, Movements
Influenced by Artist
Artists, Friends, Movements

Interactive chart with Richard Serra's main influences, and the people and ideas that the artist influenced in turn.
View Influences Chart

| | | | | |
| --- | --- | --- | --- | --- |
| Artists | | Personal Contacts | | Movements |

Influences on Artist

Richard Serra
Years Worked: 1961 - Ongoing
Influenced by Artist

| | | | | |
| --- | --- | --- | --- | --- |
| Artists | | Personal Contacts | | Movements |
If you see an error or typo, please:
tell us
Cite this page

Content compiled and written by The Art Story Contributors
Edited and published by The Art Story Contributors
" Artist Overview and Analysis". [Internet]. . TheArtStory.org
Content compiled and written by The Art Story Contributors
Edited and published by The Art Story Contributors
Available from:
First published on 01 Jun 2011. Updated and modified regularly.


[Accessed ]