Artists
Frank Gehry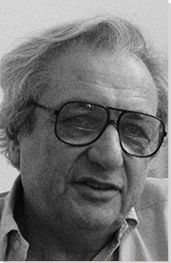 Born: February 28, 1929 - Toronto, Canada

"[Gehry's] buildings are shocking. They don't please the eye the way the Taj Mahal does, but they give you a mysterious feeling of delight."
Summary of Frank Gehry
Arguably the most important architect of the contemporary era and certainly the most famous living architect, Frank Gehry's unique style is hard to categorize. Although his earlier work is rooted in modernism, his later designs have consciously rejected modernist tropes. Experimenting with a range of materials from cheap mass-produced items to space-age titanium, his buildings are entertaining and surprising, but also functional. Gehry has designed a number of iconic buildings including the Bilbao Guggenheim, the Walt Disney Concert Hall, and the Biomuseo in Panama City and these have become world-renowned attractions in their own right, often bringing tourists and money into an area. His style continues to evolve to the present day and he is still active in architectural design, creating bold testaments to his own innovative vision.
Key Ideas
Gehry draws much of his inspiration from art, both contemporary and classical. He treats each new commission as "a sculptural object" and he is particularly well-known for his asymmetrical designs which resemble the forms of
Constantin Brancusi
or
Henry Moore
, only on a grand scale. The impact of
Cubism
, and the work of
Pablo Picasso
and
Giorgio Morandi
, is also apparent in many of his geometric and deconstructed works.
All of Gehry's designs are united by their sense of movement, he embeds motion directly into his architecture so that his projects, flow, curve, bend, and crumple in novel and unexpected ways, subverting traditional building norms.
Gehry is a pioneer of 3D computer modelling as an architectural tool, utilizing it to transform sketched concepts into actual buildings and this has allowed him to create increasingly experimental forms, particularly in his later 'crumpled paper' buildings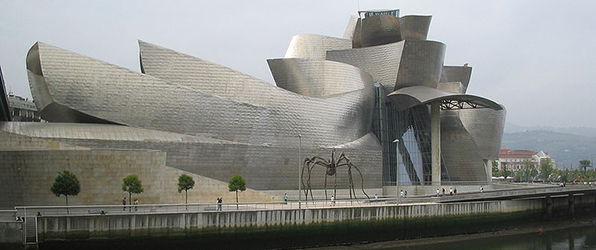 The majestic and iconic Guggenheim Museum located in Bilbao, Spain
Architect Frank Gehry is well known for his quirky designs, so much so that he has even appeared in the The Simpsons. In 2005 he made a cameo in the hit TV show in which he created a concert hall's form by crumpling a piece of paper.
Important Art by Frank Gehry

The below artworks are the most important by Frank Gehry - that both overview the major creative periods, and highlight the greatest achievements by the artist.

Gehry Residence (1978)

Artwork description & Analysis: During the late 1970s and 80s, Gehry designed a number of residences and small public buildings in California. Of these, the Gehry Residence in Santa Monica was the most influential owing to its unique concept and daring style. The house was home to the architect and his second wife Berta and it evolved from a 1920s Dutch colonial style building which they had purchased. Strikingly, Gehry chose to leave the original building entirely intact and to build around it, linking his design directly into the colonial façade and remodeling the interiors to create a sense of unity and movement between old and new. His contemporary design surrounds the property like a shell and the insertions serve to make it look as if the modern outer layer has been pulled apart, revealing the 1920s building within. Describing this interplay between the structures, Gehry spoke of his intention to "build a new house around the old and try to maintain a tension between the two".

The design makes use of fencing, corrugated metal, plywood - humble materials that some believe give the building an unfinished look. A retrospective at the Whitney Museum in New York (1988) concluded, however, that far from being unfinished, Gehry's work takes into account the shapes and materials of contemporary painting and sculpture and embeds these into his work. His incorporation of large panels of angled glass allowed him to play with light and reflection within the house. The geometry of the building, which recalls Cubist painting, can be seen as a precursor to later "exploded geometric" buildings by Gehry and the house is often cited as Gehry's earliest building in the Deconstructivist style (especially popular in California), which challenges traditional architectural design, particularly the modernist notion that form follows function.

Although the Gehry Residence appalled the architect's neighbours, who threatened legal action, it also attracted positive critical attention and this encouraged Gehry to pursue a similar approach in his commercial work. In 1991, Gehry re-modelled the residence to better accommodate his and Berta's two teenage sons. Despite building further family residences, he is still the owner of the house today.

- Santa Monica, California

Vitra Design Museum (1989)

Artwork description & Analysis: The Vitra Design Museum, founded by Rolf Fehlbaum in 1989, holds one of the world's largest collections of furniture and is one of a group of buildings designed by notable architects including Tadao Ando, Alvaro Siza, and Zaha Hadid, which make up the Vitra Campus. These buildings were commissioned in response to a fire on the original site in 1981, which destroyed factory buildings owned by the furniture design firm Vitra. Today, the Vitra Campus is not just a production site but a celebration of design and architecture.

The museum was Gehry's first European commission, designed in collaboration with German architect Günter Pfeifer. It owes its innovation, not only to the architects, but to the client's brief that sought an expressive and ambitious design. Built with white plaster and zinc, the museum has both angular and curved elements and appear to reference Le Corbusier's nearby Notre Dame du Haut. Gehry's building also responds to others in the complex, echoing the height of the adjacent factory building by Nicholas Grimshaw. The result combines industrial architecture with modern art - reflecting the ethos of the campus, which celebrates a range of design practices.

The use of zinc can be seen as introducing Gehry's later extensive use of polished metal cladding. In fact, the building as a whole has been cited as exemplifying Gehry's transition from small-scale Deconstructivist projects like the Gehry Residence to later, grander works such as the Walt Disney Concert Hall. Made up of towers, ramps and cubes, the shape of the building responds to the museum's lighting and programming needs. Sections containing production areas, a showroom, test laboratory, cafeteria and offices are joined together to form, as architectural critic Paul Heyer notes, a "continuous changing swirl of white forms...each seemingly without apparent relationship to the other...[which] resolves itself into an entwined coherent display". Gehry himself wrote of its shape: "I love the shaping I can do when I'm sketching and it never occurred to me that I would do it in a building. The first thing I built of anything like that is Vitra in Germany". Thus, the building combines a functional interior with an extravagant and sculptural exterior, the latter concealing the former.

- Weil am Rhein, Germany

Dancing House (1996)

Artwork description & Analysis: The Dancing House, more formally called the Nationale Nederlanden Building (after the Dutch insurance company who financed its construction), is a collaboration between Gehry and Croatian-Czech architect Vlado Milunić. The two architects developed Milunić's concept of a building in two parts - one static and one dynamic. This was intended to symbolise the transition of Czechoslovakia from a communist regime to a parliamentary democracy. It is now most commonly associated, however, with two dancing figures. Consequently, the building is sometimes nicknamed Fred and Ginger, after Hollywood dancers Fred Astaire and Ginger Rogers. Although Gehry is keen to discourage the association with Hollywood, which he has come to consider too kitsch, the comparison has stuck.

The two sections of The Dancing House are supported by pillars, which help to anthropomorphize the swaying forms. The glass tower (Ginger) narrows at the "waist" and appears to lean against its concrete counterpart (Fred). The latter is topped with a twisted metal structure, which some have nicknamed Medusa. The building consciously mirrors the vernacular styles on either side of it, appearing as a distorted version of the neighbouring buildings, an effect that is emphasised by the misaligned and protruding windows. The interior spaces, like the exterior form, are asymmetrical. British architect Eva Jiřičná, who designed the interiors, used techniques from the design of ships in order to maximise these limited and potentially awkward spaces.

The site of The Dancing House is extremely small, to the extent that French architect Jean Nouvel turned down the project for this reason. It is, however, one of historic significance, since the house that previously occupied the space was destroyed in the USA's bombing of Prague during the Second World War and the ruin remained on the site for a considerable time afterwards becoming a symbol of the conflict. The area is next to the Vlatava river, in a square of Baroque, Gothic and Art Nouveau buildings, for which Prague is well known. Despite some controversy surrounding the disruption to the area's historic character, it has become one of Prague's most famous and popular modern buildings.

- Prague, Czech Republic
More Frank Gehry Artwork and Analysis:
Influences and Connections
Influences on Artist
Artists, Friends, Movements
Influenced by Artist
Artists, Friends, Movements

Interactive chart with Frank Gehry's main influences, and the people and ideas that the artist influenced in turn.
View Influences Chart


Influences on Artist

Frank Gehry
Years Worked: c.1954 - present
Influenced by Artist

Artists

| | |
| --- | --- |
| | Daniel Libeskind |
| | Philip Johnson |

Personal Contacts

Movements
If you see an error or typo, please:
tell us
Cite this page

Content compiled and written by Dawn Kanter
Edited and published by The Art Story Contributors
" Artist Overview and Analysis". [Internet]. . TheArtStory.org
Content compiled and written by Dawn Kanter
Edited and published by The Art Story Contributors
Available from:
First published on 08 Apr 2019. Updated and modified regularly.


[Accessed ]