Artists
Frank Lloyd Wright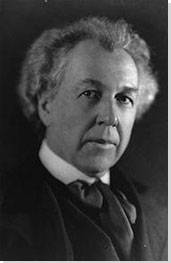 Born: 8 June 8, 1867 - Richland Center, Wisconsin, USA
Died: April 9, 1959 - Phoenix, Arizona, USA

"Every great architect is - necessarily - a great poet. He must be a great original interpreter of his time, his day, his age."

Summary of Frank Lloyd Wright
One of the most fitting stories about Frank Lloyd Wright comes from a 1957 article in Look magazine, which recalls a time that Wright was called to testify in court and on the witness stand referred to himself as "the world's greatest living architect." Later, his wife Olgivanna protested that he should have been more modest. "You forget, Olgivanna," Wright quipped, "I was under oath." The anecdote tells us much about Wright the designer - now almost universally acknowledged for some time as the greatest American architect - but also much about his personality - he was so self-assured of his own vaunted place in history that his gigantic ego seemingly knew no bounds. But Wright had reason to feel this way. Over a 70-year career, he designed over 1,000 structures of virtually every possible type - including a doghouse - of which some 532 were built. Wright is often considered the foremost practitioner of the Prairie Style of architecture in the United States, and his philosophy of "organic architecture" has attracted numerous followers; many of them arrived through Wright's own Taliesin Fellowship, which has evolved into its own formal school of architecture that still exists today.
Key Ideas
Wright called his design philosophy "organic architecture," which, at its core, promoted the construction of buildings that exuded harmony with their respective environments, enhancing their surroundings rather than extruding from them. It promoted simplicity and necessity in layout and decoration and the frank exposure of the true properties of materials, befitting their use. Wright, unlike the architects of the
International Style
, did not shun decoration, but used nature as inspiration for ornament.
Wright was in large part responsible for creating the first indigenous American architecture, the Prairie Style, derived in part from the
Arts & Crafts Movement
, which reflected the flat landscape of the Midwestern United States and advocated for buildings with a strong emphasis on horizontality and natural materials, with broad, flat roofs with wide overhanging eaves.
Wright's huge ego meant that he was highly individualistic, and regarded himself as the foremost, if not the only, practitioner of modern architecture. At nearly every possible chance, he polemically positioned himself against the European originators of the International Style, in particular
Le Corbusier
and
Walter Gropius
, whose work he believed was merely derivative of his and not innovative.
Wright was highly unorthodox in both his architecture and his personal life. Nonetheless, in the latter half of his career, he attracted numerous disciples, mainly through the establishment of the Taliesin Fellowship, a kind of work/study apprenticeship on his property in Wisconsin and Arizona where his students assisted him in both design and farm labor. After his death, some, such as William Wesley Peters and Edgar Tafel, became important architects in their own right.
Wright used the concept "Usonia" (standing for the United States of North America) to describe his vision for American society that he eventually developed, beginning with the low-cost Usonian Houses for average citizens. These formed the core of the decentralized communities represented by his prototype called Broadacre City.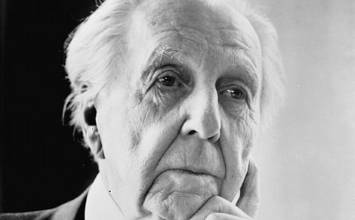 He was born Frank Lincoln Wright June 8, 1867 in Richland Center, Wisconsin, USA, which - as many scholars have rightfully noted - was a mere two years after the end of the American Civil War. Thus his lifespan of more than ninety-one years extends between then and the dawn of the Space Age in 1959. And yet, Wright was not even the longest-lived notable American architect born that year: Henry Hornbostel, who left an indelible mark on Pittsburgh and other places, would survive until 1961. 1867, incidentally, proved to be a robust year for architects: in addition to Wright and Hornbostel, the world welcomed Dwight Perkins; and in Europe, two pioneers of Art Nouveau, Joseph Maria Olbrich and Hector Guimard, were also born.
Important Art by Frank Lloyd Wright

The below artworks are the most important by Frank Lloyd Wright - that both overview the major creative periods, and highlight the greatest achievements by the artist.

Larkin Company Administration Building (1902-06)

Artwork description & Analysis: The Larkin Company's headquarters was Wright's first large-scale commission, awarded to him through the influence of the company's accountant, Darwin D. Martin, who personally commissioned two houses from Wright and would remain a tireless lifelong supporter of the architect. Constructed in the midst of the soap company's industrial complex in the expanding city of Buffalo, Wright's structure of reinforced concrete appeared like a monolith sheathed in brick. It was organized around a large rectangular skylit atrium with gallery spaces that encircled it on four levels, not unlike the space of a Gothic cathedral's nave. Although Wright abhorred historical revival styles, one might well describe the building as a temple to work, whose rectilinear grid-like organization and open floor plan provided a sense of clarity and reassuring order, a quality matched by its advanced technology, such as the first large-scale use of air-conditioning in an office building. The filtering of light from above gave the interior an ethereal, uplifting quality - the principal moment where Nature entered the structure - despite the adjacent dirty urban environment. The balconies around the central space were adorned with encouraging mottos and slogans, comparable to the allegorical Biblical imagery seen in churches' stained-glass windows or relief sculpture. Much like medieval cathedrals functioned as communal shelter in times of inclement weather, the Larkin Building also could easily be read as a bulwark against the harsh climactic conditions of industrial America at the turn of the century.

The Larkin Building was unlike any purpose-designed office building of its time, so much so that contemporary critics and architects had difficulty understanding it using conventional standards of beauty, and many showered it with negative reviews. Nonetheless, the Larkin executives of the time loved the structure; its demolition in 1950 helped spark a larger movement towards the preservation of Wright's buildings that continues to the present day.

- Buffalo, New York

Unity Temple (1905-08)

Artwork description & Analysis: Unity Temple is Wright's other major non-residential commission from his early career. It received much less critical attention than the Larkin Building, and those who did comment on it pejoratively remarked that it looked much like a "Mayan handball court." It is also the first of Wright's numerous churches, in this case designed for his own Universalist congregation in Oak Park after the previous structure was destroyed by fire, and it remains the most significant religious structure he would build. The church reopened in 2017 after a massive stabilization and restoration effort.

Like many of Wright's Prairie Style buildings, the church's entrance is indirect, from the side, and to reach the sanctuary, one must make three right turns, arguably emphasizing the link with a long spiritual journey to enlightenment. Once inside, the visitor enters a hallway sunken beneath the main sanctuary floor and then climbs a few steps up to emerge into its square central floor space, as if climbing up to a raised platform or mesa. The seating is arranged in balconies on three sides and in the central square, with the altar occupying the remaining side, thereby reinforcing a sense of community as the congregation is assembled to face each other in an intimate setting. The green, brown, and golden tones of the interior, typical of Wright's early period, evoke the connection with Nature, which is underscored by the natural light filtering in through the skylit ceilings and clerestory windows, as if one was sitting in a shady glade of trees. The placement of the windows in the monolithic concrete structure - also chosen by Wright due to its low cost - helps to reduce noise from the street. As a result, the atmosphere of the interior comprises a sense of extreme serenity, calm, and comfort. Likewise, the gridded rectilinearity as seen in the building's plan subtly mirrors the rectilinear street grid of the suburb; taken together, all of these aspects of Unity Temple point to its organic qualities, the way that Wright's architecture strives to integrate itself within its surroundings.

- Oak Park, Illinois


Artwork Images

Perspective of the K.C. DeRhodes House, South Bend, Indiana (1908)

Artwork description & Analysis: Wright's architectural drawings form an integral part of our understanding of him in many ways. In more recent years, they have become crucial links to Wright's debt to Japanese artists and designers. Throughout his life Wright was a serious collector and dealer of Japanese prints, publishing a book on them in 1912 and making more money in the 1920s from his activities with them than from practicing architecture. He revered certain Japanese xylographers, especially the 19th-century master Hiroshige, and loved to be photographed or depicted with a Japanese print nearby. Nonetheless, Wright ardently denied during his career that the Japanese ever influenced him in his architecture. Undoubtedly, Wright's fascination with Japanese art was not unique to him: the artists of the Aesthetic Movement and the Arts & Crafts also contemporaneously cultivated an admiration for Japanese art.

Many of Wright's presentation drawings exhibit rendering techniques that mirror effects seen in Japanese woodblock prints, including this one, done in 1908 by Marion Mahoney, one of Wright's most trusted designers and drafters. In fact, the signature on this drawing is revealing, reading "Delineator Mahoney after FLLW and Hiroshige," which discloses how Wright directly encouraged his staff to follow his lead in adopting strategies from Japanese artists.

Several of these visual strategies are visible in this presentation drawing. The framing of the main subject matter - the house - in the center, with trees on each side and foliage in the extreme foreground, for example, was a favorite convention chosen by Hiroshige and Hokusai, among other printmakers. Likewise, the shading of the sky towards the top of the frame but not farther down towards the horizon, a device called notan, is also a favorite of Eastern artists. Finally, the loading of the foreground to block the view as space recedes in perspective and the spilling of certain objects out of the frame that otherwise encircles the elements of the scene also are favorite techniques of Japanese artists adopted here by Mahoney, through Wright's tutelage.

Pencil and ink on paper
More Frank Lloyd Wright Artwork and Analysis:
Influences and Connections
Influences on Artist
Artists, Friends, Movements
Influenced by Artist
Artists, Friends, Movements

Interactive chart with Frank Lloyd Wright's main influences, and the people and ideas that the artist influenced in turn.
View Influences Chart

Artists

Personal Contacts

| | |
| --- | --- |
| | George Grant Elmslie |
| | George Washington Maher |

Movements

Influences on Artist

Frank Lloyd Wright
Years Worked: 1887 - 1959
Influenced by Artist

Artists

| | |
| --- | --- |
| | Walter Burley Griffin |
| | Marion Mahony Griffin |
| | Antonin Raymond |
| | Richard Neutra |
| | R.M. Schindler |

Personal Contacts

| | |
| --- | --- |
| | Bruce Goff |
| | Charles R. Ashbee |
| | E. Fay Jones |
| | Lloyd Wright |
| | Eric Lloyd Wright |

Movements
If you see an error or typo, please:
tell us
Cite this page

Content compiled and written by Peter Clericuzio
Edited and published by The Art Story Contributors
" Artist Overview and Analysis". [Internet]. . TheArtStory.org
Content compiled and written by Peter Clericuzio
Edited and published by The Art Story Contributors
Available from:
First published on 14 Jul 2017. Updated and modified regularly.


[Accessed ]