"Every great architect is - necessarily - a great poet. He must be a great original interpreter of his time, his day, his age."
"Architecture is the triumph of human imagination over materials, methods, and men, to put man into possession of his own Earth. It is at least the geometric pattern of things, of life, of the human and social world. It is at best that magic framework of reality that we sometimes touch upon when we use the word order."
"You can use an eraser on the drafting table or a sledgehammer on the construction site."
"A doctor can bury his mistakes but an architect can only advise his clients to plant vines."
"Early in life I had to choose between honest arrogance and hypocritical humility. I chose honest arrogance and have seen no occasion to change."
"I believe in God, only I spell it Nature."
"Beautiful buildings are more than scientific. They are true organisms, spiritually conceived; works of art, using the best technology by inspiration rather than the idiosyncrasies of mere taste or any averaging by the committee mind."
"The mother art is architecture. Without an architecture of our own we have no soul of our own civilization."
Summary of Frank Lloyd Wright
One of the most fitting stories about Frank Lloyd Wright comes from a 1957 article in Look magazine, which recalls a time that Wright was called to testify in court and on the witness stand referred to himself as "the world's greatest living architect." Later, his wife Olgivanna protested that he should have been more modest. "You forget, Olgivanna," Wright quipped, "I was under oath." The anecdote tells us much about Wright the designer - now almost universally acknowledged for some time as the greatest American architect - but also much about his personality - he was so self-assured of his own vaunted place in history that his gigantic ego seemingly knew no bounds. But Wright had reason to feel this way. Over a 70-year career, he designed over 1,000 structures of virtually every possible type - including a doghouse - of which some 532 were built. Wright is often considered the foremost practitioner of the Prairie Style of architecture in the United States, and his philosophy of "organic architecture" has attracted numerous followers; many of them arrived through Wright's own Taliesin Fellowship, which has evolved into its own formal school of architecture that still exists today.
Accomplishments
Wright called his design philosophy "organic architecture," which, at its core, promoted the construction of buildings that exuded harmony with their respective environments, enhancing their surroundings rather than extruding from them. It promoted simplicity and necessity in layout and decoration and the frank exposure of the true properties of materials, befitting their use. Wright, unlike the architects of the International Style, did not shun decoration, but used nature as inspiration for ornament.
Wright was in large part responsible for creating the first indigenous American architecture, the Prairie Style, derived in part from the Arts & Crafts Movement, which reflected the flat landscape of the Midwestern United States and advocated for buildings with a strong emphasis on horizontality and natural materials, with broad, flat roofs with wide overhanging eaves.
Wright's huge ego meant that he was highly individualistic, and regarded himself as the foremost, if not the only, practitioner of modern architecture. At nearly every possible chance, he polemically positioned himself against the European originators of the International Style, in particular Le Corbusier and Walter Gropius, whose work he believed was merely derivative of his and not innovative.
Wright was highly unorthodox in both his architecture and his personal life. Nonetheless, in the latter half of his career, he attracted numerous disciples, mainly through the establishment of the Taliesin Fellowship, a kind of work/study apprenticeship on his property in Wisconsin and Arizona where his students assisted him in both design and farm labor. After his death, some, such as William Wesley Peters and Edgar Tafel, became important architects in their own right.
Wright used the concept "Usonia" (standing for the United States of North America) to describe his vision for American society that he eventually developed, beginning with the low-cost Usonian Houses for average citizens. These formed the core of the decentralized communities represented by his prototype called Broadacre City.
The Life of Frank Lloyd Wright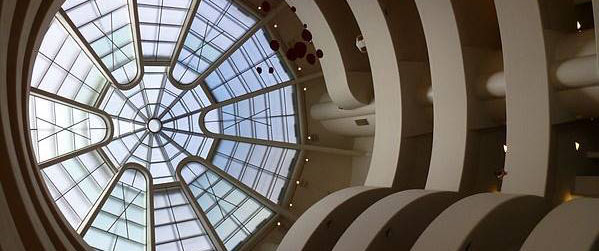 Brilliance in combination with long and hard work were how Wright achieved legendary architectural feats such as the Guggenheim Museum building in New York City.
Important Art by Frank Lloyd Wright
Progression of Art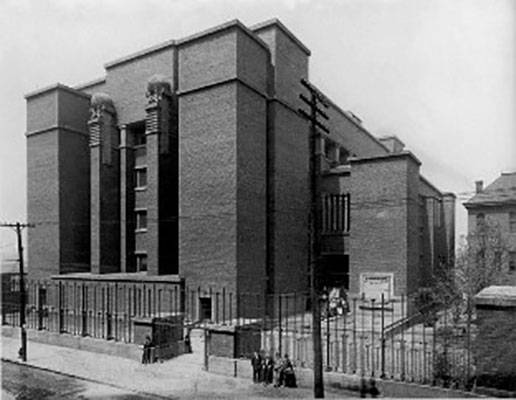 1902-06
Larkin Company Administration Building
The Larkin Company's headquarters was Wright's first large-scale commission, awarded to him through the influence of the company's accountant, Darwin D. Martin, who personally commissioned two houses from Wright and would remain a tireless lifelong supporter of the architect. Constructed in the midst of the soap company's industrial complex in the expanding city of Buffalo, Wright's structure of reinforced concrete appeared like a monolith sheathed in brick. It was organized around a large rectangular skylit atrium with gallery spaces that encircled it on four levels, not unlike the space of a Gothic cathedral's nave. Although Wright abhorred historical revival styles, one might well describe the building as a temple to work, whose rectilinear grid-like organization and open floor plan provided a sense of clarity and reassuring order, a quality matched by its advanced technology, such as the first large-scale use of air-conditioning in an office building. The filtering of light from above gave the interior an ethereal, uplifting quality - the principal moment where Nature entered the structure - despite the adjacent dirty urban environment. The balconies around the central space were adorned with encouraging mottos and slogans, comparable to the allegorical Biblical imagery seen in churches' stained-glass windows or relief sculpture. Much like medieval cathedrals functioned as communal shelter in times of inclement weather, the Larkin Building also could easily be read as a bulwark against the harsh climactic conditions of industrial America at the turn of the century.

The Larkin Building was unlike any purpose-designed office building of its time, so much so that contemporary critics and architects had difficulty understanding it using conventional standards of beauty, and many showered it with negative reviews. Nonetheless, the Larkin executives of the time loved the structure; its demolition in 1950 helped spark a larger movement towards the preservation of Wright's buildings that continues to the present day.
Buffalo, New York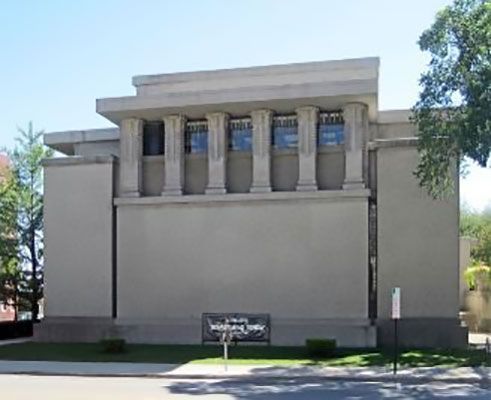 1905-08
Unity Temple
Unity Temple is Wright's other major non-residential commission from his early career. It received much less critical attention than the Larkin Building, and those who did comment on it pejoratively remarked that it looked much like a "Mayan handball court." It is also the first of Wright's numerous churches, in this case designed for his own Universalist congregation in Oak Park after the previous structure was destroyed by fire, and it remains the most significant religious structure he would build. The church reopened in 2017 after a massive stabilization and restoration effort.

Like many of Wright's Prairie Style buildings, the church's entrance is indirect, from the side, and to reach the sanctuary, one must make three right turns, arguably emphasizing the link with a long spiritual journey to enlightenment. Once inside, the visitor enters a hallway sunken beneath the main sanctuary floor and then climbs a few steps up to emerge into its square central floor space, as if climbing up to a raised platform or mesa. The seating is arranged in balconies on three sides and in the central square, with the altar occupying the remaining side, thereby reinforcing a sense of community as the congregation is assembled to face each other in an intimate setting. The green, brown, and golden tones of the interior, typical of Wright's early period, evoke the connection with Nature, which is underscored by the natural light filtering in through the skylit ceilings and clerestory windows, as if one was sitting in a shady glade of trees. The placement of the windows in the monolithic concrete structure - also chosen by Wright due to its low cost - helps to reduce noise from the street. As a result, the atmosphere of the interior comprises a sense of extreme serenity, calm, and comfort. Likewise, the gridded rectilinearity as seen in the building's plan subtly mirrors the rectilinear street grid of the suburb; taken together, all of these aspects of Unity Temple point to its organic qualities, the way that Wright's architecture strives to integrate itself within its surroundings.
Oak Park, Illinois
1908
Perspective of the K.C. DeRhodes House, South Bend, Indiana
Wright's architectural drawings form an integral part of our understanding of him in many ways. In more recent years, they have become crucial links to Wright's debt to Japanese artists and designers. Throughout his life Wright was a serious collector and dealer of Japanese prints, publishing a book on them in 1912 and making more money in the 1920s from his activities with them than from practicing architecture. He revered certain Japanese xylographers, especially the 19th-century master Hiroshige, and loved to be photographed or depicted with a Japanese print nearby. Nonetheless, Wright ardently denied during his career that the Japanese ever influenced him in his architecture. Undoubtedly, Wright's fascination with Japanese art was not unique to him: the artists of the Aesthetic Movement and the Arts & Crafts also contemporaneously cultivated an admiration for Japanese art.

Many of Wright's presentation drawings exhibit rendering techniques that mirror effects seen in Japanese woodblock prints, including this one, done in 1908 by the pioneering architect Marion Mahoney Griffin, one of Wright's most trusted designers and drafters. In fact, the signature on this drawing is revealing, reading "Delineator Mahoney after FLLW and Hiroshige" which discloses how Wright directly encouraged his staff to follow his lead in adopting strategies from Japanese artists.

Several of these visual strategies are visible in this presentation drawing. The framing of the main subject matter - the house - in the center, with trees on each side and foliage in the extreme foreground, for example, was a favorite convention chosen by Hiroshige and Hokusai, among other printmakers. Likewise, the shading of the sky towards the top of the frame but not farther down towards the horizon, a device called notan, is also a favorite of Eastern artists. Finally, the loading of the foreground to block the view as space recedes in perspective and the spilling of certain objects out of the frame that otherwise encircles the elements of the scene also are favorite techniques of Japanese artists adopted here by Mahoney, through Wright's tutelage.
Pencil and ink on paper
1908
Dining Room ensemble, Burton J. Westcott House
Wright's interiors and furniture remain some of the most famous among American designers. Because Wright tended to design literally everything when he was given a commission, the furnishings also often become works of art in themselves, being seamlessly integrated within the rest of the building's aesthetic - reflecting the principles of organic architecture. It also means that Wright's furniture usually was custom-designed for individual houses, and that each building's furnishings are unique to it.

Wright's dining room ensembles, especially from his Prairie Style years, are exemplary of several aspects of his furniture design. The most important of these is the encouragement of gathering and social interaction, which Wright accomplishes several ways. The high-backed chairs help to screen out the view beyond each person at the table, focusing attention on everyone seating around it. The chairs, with their upright backs, encourage proper posture, though this kind of vertical-back seating has notoriously proved to be uncomfortable. (Other Wright furniture designs, however, are remarkably ergonomic and accommodating, so this is not a defining characteristic of Wright's chairs.)

The sense of gathering is underscored by the lamps attached at each corner, which illuminate the table space and invite diners to sit down, while also blocking corner views beyond the table. The lamps further reflect the function of the table as an anchor for the space due to their permanent attachment to the floor for the electrical wiring, and in a larger sense, this notion of anchoring mirrors Wright's conception of the entire house to function as a bastion of domestic security in the midst of an increasingly changing, unstable, industrialized society.

Like many Arts & Crafts designers, Wright often built in the furniture in his houses, no matter whether the structure was for a wealthy client or one of modest means, and insisted that the placement of the moveable pieces be just so. Once, when a client dared change the positioning of items before Wright came to visit, he dragged them all back to where he intended them to be as soon as he arrived.
Springfield, Ohio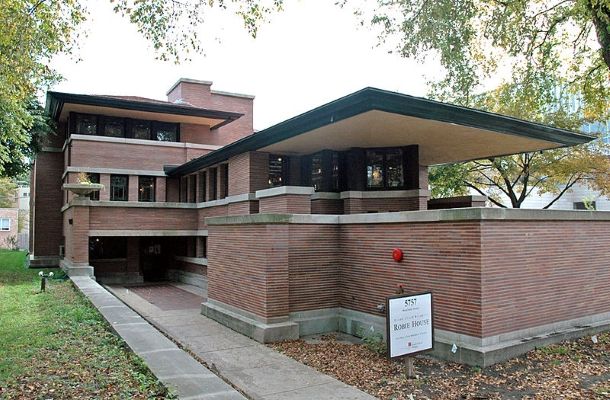 1908-09
Frederick C. Robie House
The last major residence that Wright designed before he absconded off to Europe in 1909, the Robie House is often considered the epitome of Wright's work in the Prairie Style, though it is not the largest example. It was built for a wealthy bicycle and auto manufacturer who actually only lived in the house for about eleven months before being forced to sell it, and ironically it has functioned as a true residence for very little of its existence. Nonetheless, it is the consummate essay in Wright's pre-World War I vision of domestic space, and one of the few buildings that he actually fought to preserve when it was once threatened with demolition.

Like the Larkin Building and Unity Temple, the Robie House and the Prairie Style residences exemplify the way Wright represents Nature as a life-giving force to human existence, which in turn provides a modicum of stability in an increasingly complex, unstable, industrialized world - values that harmonize with the Arts and Crafts movement, with which Wright is sometimes associated. The Robie House exhibits a dichotomy between openness to the landscape and an emphasis on domestic privacy. The long, low, horizontals of the walls, emphasized by the Roman brick, overhanging eaves of the roofs, and projecting terraces, instantly locate it within the flatness of the Midwest. From the exterior, the house almost looks like a fortress with horizontal slits between the roof and walls to accommodate the windows, with the private aspect of the residence underscored by the nearly hidden placement of the main entrance at the rear, away from the sidewalk.

Once inside, though, the main floor opens up, flowing around the centralized hearth that anchors it and provides the division between the dining room and living space. Typical of Wright's Prairie residences, the hearth, with its permanent seating, symbolizes the locus of the family unit and the generation of life-sustaining warmth during the frigid Chicago winters. Wright underscores the residence's organic connection with the exterior world through ribbons of windows encircling the spaces (many of which use abstracted wheat motifs), the natural materials of wood, and brick, and the gold, brown, tan, and green tones of the interior surfaces.
Chicago, Illinois
1916-22
Imperial Hotel
The Imperial Hotel was arguably Wright's first significant commission where his prowess as an engineer was prominently and dramatically revealed. He fought vigorously to get the job, for which he was asked by the Japanese government to design a Western-style lodging complex that would appeal to foreigners. His response consisted of a brick structure that would become one of the last great hand-constructed buildings of the 20th century, done in a kind of Mayan Revival style that, ironically, must have seemed about as exotic to Europeans and Americans as it did to the Japanese. The hotel represented a Wright-ian Gesamtkunstwerk, or total work of art, as Wright designed virtually everything associated with it, down to the dining room china and tableware. These qualities, combined with Wright's use of new technology such as reinforced concrete, reflect how his architecture of the middle of his career reflected both the traditions of the Arts & Crafts movement and the advances of the modern age.

Wary of the ever-present threat of earthquakes on the Pacific Rim, Wright designed the Imperial as a series of separate, linked pavilions with floating foundations set on concrete piles driven deep into the ground below, thereby allowing the structures to move independently in case of ground movement. The H-shaped plan placed the reception and common areas, including an auditorium, in the central wing that connected twin long, two-story wings containing the guest rooms set perpendicular to it. Wright's genius was confirmed when a little over a year after the hotel's completion in 1922, the Great Kanto earthquake devastated Tokyo. When the report arrived that the Imperial had not only survived with only very minor damage, but also stood like a beacon of hope among the fire and rubble of much of the rest of the city, Wright was momentarily hailed as a structural wizard. Though many other Tokyo buildings survived the disaster, Wright did nothing to dispel the false rumor that the Imperial had been the only one to emerge intact.

A victim of changing tastes, damage during World War II, uneven natural settling of the foundations, and the need to accommodate an increasingly larger number of guests in a city where land was scarce, Wright's Imperial was demolished in 1968 and replaced by a new high-rise design. Its central section, however, was salvaged and relocated to Nagoya and, after being painstakingly reconstructed over a period of 17 years, can still be seen today as part of the Meiji-Mura Museum.
Tokyo, Japan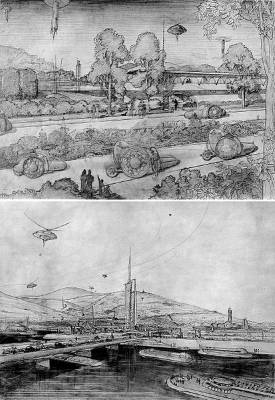 1932-35
Broadacre City
Never realized, and never exactly finished, Broadacre City nonetheless remains the most complete statement of Wright's vision for what American urbanism should be. Wright introduced the ideas for Broadacre City in his 1932 book The Disappearing City, whose titular phrase succinctly sums up Wright's conception of urbanism. Over the next three years, Wright kept his apprentices at Taliesin busy during a shortage of actual clients by constructing the model for Broadacre City. The project was financed by Edgar Kaufmann, the Pittsburgh department store magnate who commissioned Fallingwater as his vacation house. Wright exhibited the model at Rockefeller Center in 1935 and then at Kaufmann's Department Store in downtown Pittsburgh as part of a show called New Homes For Old sponsored by the Federal Housing Administration. He would continue to tinker with it until his death.

Broadacre City consists of a decentralized metropolis, spread out over several acres of countryside, such that by default the automobile has become the primary means of circulation. The acreage is broken up roughly along a gridded road plan into various zones for different purposes, segregating residential, commercial, industrial, and governmental or institutional buildings, and interspersing them with farmland. Nearly all structures are low-rise, with the exceptions of a few apartment buildings, some of which resemble Wright's designs for the apartments at St. Mark's-in-the-Bouwerie for lower Manhattan, which would morph into Wright's Price Tower in Oklahoma in the 1950s. As the project continued to evolve, frequently Wright's new building designs would show up in the renderings illustrating it in his publications.

Broadacre City was produced during the Great Depression at roughly the same time as various other large-scale theoretical urban planning projects, like Le Corbusier's Radiant City, which also sought to establish a strict zoning method and circulation based on the automobile. As ways that many architects like Wright kept busy when commissions were few and far between, these schemes represent the faith in the car to fully reshape Western society once the economy improved again; in the United States in the postwar era, with the rise of suburbia and urban renewal programs, a version of Wright's vision would come to fruition, but with highly controversial and often devastating results - such as displacing urban-dwelling minority populations to isolating, dangerous housing projects and destroying communities in the process.
The Museum of Modern Art, New York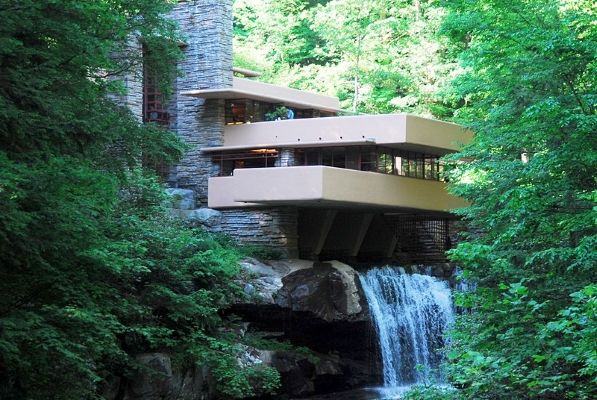 1934-37
Fallingwater
Wright's most famous building, and likely the most famous modern house in the world, Fallingwater is often seen as the commission that revived Wright's career. It was built as the vacation home for Pittsburgh department store magnate Edgar Kaufmann, Sr., and his family. To a large extent, Fallingwater is Wright's response to the International Style architects in Europe such as Le Corbusier, Walter Gropius, and Ludwig Mies van der Rohe, among many others, whose work was seen as cutting edge at the 1932 Modern Architecture - International Exhibition at the Museum of Modern Art. In that show, Wright had been portrayed as merely a precursor to architectural modernism, and famously feuded bitterly with curators Philip Johnson and Henry-Russell Hitchcock during the planning stages about not being more prominently featured.

Wright's philosophy of organic architecture sought to integrate buildings within the landscape, and indeed Fallingwater accomplishes this masterfully, with a central vertical core of local stone that anchors the house on the outcropping above Bear Run, whose waterfall cascades below. Wright built the house around the Kaufmanns' favorite sitting spot above the falls, allowing its rock to poke through the living room floor to preserve it. From a distance, the house appears as a series of abstract rectilinear trays of terraces floating in the trees above Bear Run (the name of the stream that runs under the house), such that one can nearly always hear, but never see, the stream from within the house. In this sense, Wright seems to be taking the rigid planes of the International Style and beating the Europeans at their own game. It re-established Wright's preeminence and in the wake of its completion (and that of the Johnson Wax Administration Building) Wright was honored with a feature on the cover of Time magazine, along with a sketch of Fallingwater, and his own one-man show at MoMA in 1940.

The lore of Fallingwater's creation (recounted in Wright's biography above), combined with its subsequent history, has only added to its significance. It is also the most notorious example of Wright's engineering failures, as its lower cantilevers began to fail due to inadequate amounts of steel reinforcement almost from the moment they were constructed, despite numerous warnings at the time. Eventually the house famously required, in 2002, a complete post-tensioning repair that stabilized the terraces. As a result, it now also comprises one of the most significant moments in the histories of both historic preservation and structural engineering.
Mill Run, Pennsylvania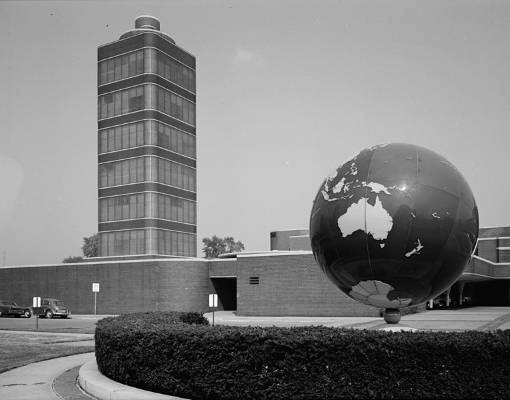 1936-45
Johnson Wax Administration Building and Research Tower
Together with Fallingwater, Wright's headquarters and research facilities for S.C. Johnson & Son, makers of popular household products, marked the resurgence of his career in the last half of the 1930s and early '40s. He was forced by company chairman Herbert Johnson to design it for the center of Racine, which was an eyesore of an industrial city, so, to cope, Wright decreed that there would be no exterior windows. The Johnson Wax buildings are Wright's consummate statement in the Art Moderne style, a more austere, streamlined offshoot of Art Deco. The headquarters and research tower are constructed of Roman brick with raked mortar and rounded corners to emphasize the structure's horizontality (the rounded corners particularly connect to Art Moderne).

Even though the enclosed space is walled off from the exterior, the interior contains numerous references to nature. The main interior space, or "Great Workroom" as Wright named it, is organized by a grid of dendriform columns. Wright filled the ceiling spaces in between the columns with skylights of Pyrex glass tubing - which proved difficult to seal, but is nonetheless used extensively elsewhere as one of the building's signature features. The glowing quality of the Workroom when flooded with natural or artificial light and buzzing with activity has prompted comparisons with a beehive. Meanwhile, the design of the columns, whose forms have also been likened to lily pads, produced another triumphal moment for Wright's reputation as an engineer. The state of Wisconsin insisted on a proof that they could support 12 tons of weight as required by law. In the demonstration that followed, captured on film, the columns successfully held 60 tons of material before buckling.

The research tower, one of two skyscrapers Wright completed in his life, represents his major structural innovation to the type. Called a "taproot system" by Wright in reference to a tree trunk, it uses a central column with a base of piles sunk deep into the ground; all of the floors are cantilevered off of the vertical structure like tree branches, leaving the exterior walls of tinted glass to simply hang off of the floors. Its form could be said to resemble that of an upright battery, arguably symbolizing the way that scientific research is the generator of the household products put out by the company. In this light, the organization of the columns in the administration building and its radiant glow could be read as an electric grid illuminated by the power of science.
Racine, Wisconsin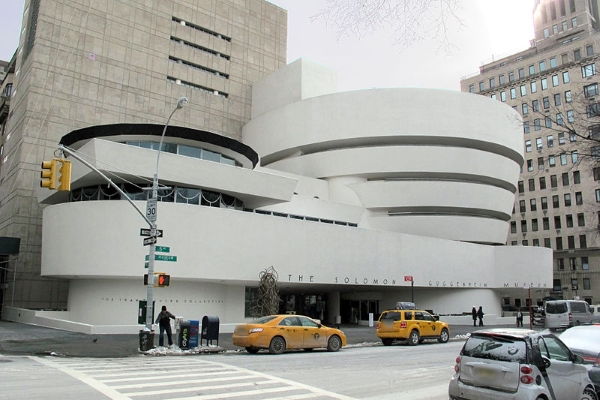 1943-59
Solomon R. Guggenheim Museum
Testament to Wright's genius is the fact that he designed several significant buildings so late in life that he did not live to see them completed. The Guggenheim Museum, for which Wright received the commission in 1943, ranks at the top of this list. It is one of only two Wright buildings in New York City (the other is a small house on Staten Island), and to his credit, he displayed considerable tenacity in the long struggle to get the Guggenheim built, knowing that it was essentially his one chance to leave his mark on the country's largest city. In so doing, Wright essentially shifted the entire discourse on what museum design should be.

While Wright was commissioned to house and highlight Solomon Guggenheim's significant collection of modern art, he decided instead to create a museum that would itself compete with the art as the actual showcase. Its design of a main gallery that consists of a spiral ramp encircling a skylit atrium was a radical departure from all previous museums, and allowed Wright to finally explore a form - the spiral - which he been musing about for years but never realized. The spiral shape of the main display space tapers outward as one ascends through it, meaning the interior walls are slanted and making them difficult to use for hanging artworks. When revealed to the general public, Wright's plans provoked a storm of protest from several major modern artists who insisted on the impossibility of properly exhibiting their work there. They lost the fight. But other obstacles stood in his way. Luckily Wright had Robert Moses, the city's "building czar," on his side; when legal technicalities stalled progress on construction, Moses famously intoned to his underlings, "I don't care how many building codes you have to break; I want the Guggenheim built."

Though located on the Museum Mile, the Guggenheim's gleaming white exterior and form easily holds its own against every other building in the city, making it a landmark that is virtually impossible to miss. Since the Guggenheim's construction, the question of designing most notable museums has always included a debate on the building as an architectural gem in itself and whether it will overshadow the art housed within it. The museum continues to function as a measuring stick for every architect whose work is exhibited there, as the comparison with Wright is all but inevitable.
New York, New York
Biography of Frank Lloyd Wright
Childhood and Education
He was born Frank Lincoln Wright June 8, 1867 in Richland Center, Wisconsin, USA, which - as many scholars have rightfully noted - was a mere two years after the end of the American Civil War. Thus his lifespan of more than ninety-one years extends between then and the dawn of the Space Age in 1959. And yet, Wright was not even the longest-lived notable American architect born that year: Henry Hornbostel, who left an indelible mark on Pittsburgh and other places, would survive until 1961. 1867, incidentally, proved to be a robust year for architects: in addition to Wright and Hornbostel, the world welcomed Dwight Perkins; and in Europe, two pioneers of Art Nouveau, Joseph Maria Olbrich and Hector Guimard, were also born.
On his mother's side, Wright was descended from a long line of prominent Unitarian Welsh farmers, the Lloyd Joneses, who owned a considerable amount of land in southern Wisconsin. Wright's predilection for architecture was understood from an early age: according to his own autobiography, while Wright's mother, Anna, was expecting, she declared that she would bear a son who would grow up to build beautiful structures. She decorated his nursery with prints of English cathedrals from a periodical. Wright grew up playing with geometrically shaped Frobel blocks that his mother had bought at the Philadelphia Centennial Exposition in 1876, which no doubt long afterwards influenced the geometric clarity of his buildings. As Wright later wrote "For several years I sat at the little Kindergarten table-top ... and played ... with the cube, the sphere and the triangle... These primary forms and figures were the secret of all effects ... which were ever got into the architecture of the world ... these smooth wooden maple blocks... All are in my fingers to this day."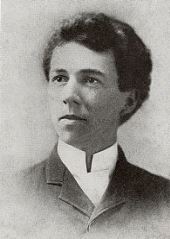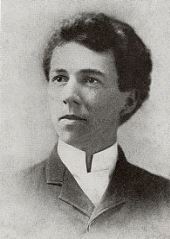 Though the Wrights eventually settled in Madison, Wright's father William had difficulty providing for his family, and in 1884 he and Anna divorced, with William effectively abandoning his family. Wright claimed he never saw his father again, and changed his middle name to Lloyd in honor of his mother's family. Having attended Madison High School (apparently without graduating), he was admitted to the University of Wisconsin in 1886 as a special student, where he joined the Phi Delta Theta fraternity and took classes part-time in civil engineering for two semesters. His classmates remembered that even then he dressed foppishly, wearing a top hat and cape and carrying a walking stick. Bored with college work, and already instilled by his mother with a boundless faith in his own abilities, he boarded a train for Chicago in 1887 to begin his career.
Early Career in Chicago
In Chicago, Wright found a job as a draftsman with Joseph Lyman Silsbee, who was actually engaged in several projects for Wright's extended family, the Lloyd Joneses, in Wisconsin and in Chicago. He made fast friends with a co-worker, Cecil Corwin, moving in with him until he found his own space. Feeling underpaid, however, Wright soon quit for a job as a designer with another firm, Beers, Clay, and Dutton, but soon found he was out of his league, and returned to Silsbee - though with an increased salary.
Wright joined Adler & Sullivan, one of the city's leading commercial architecture firms, when he learned they needed a draftsman for the drawings of the Auditorium Building, on the 17th floor of which the firm would soon establish its new offices. Wright soon became Louis Sullivan's top draftsman, despite the fact that he made very few friends among his colleagues, with whom he occasionally fought physically (Sullivan was also known for chewing out his employees). But Sullivan took Wright under his wing; later on, Sullivan would become virtually the only architect Wright acknowledged as an influence on him, frequently referring to him as Lieber Meister (German for "Dear Master") in his writings.
Wright also secured a $5,000 loan from Sullivan and a five-year contract in 1889, which permitted him to build a new house for his new family, as he married Catherine ("Kitty") Tobin on 1 June of that year. Wright constructed the house, which he expanded three times over the next twelve years, in the Chicago suburb of Oak Park, nicknamed "Saint's Rest" because it was probably one of the most sedate locations in America. The Wrights lived lavishly, far beyond their means: Wright later wrote that as long as the family had the luxuries, the necessities could pretty much take care of themselves. Always in need of money, Wright turned his hand to designing houses on the side for many of Adler and Sullivan's clients, since the firm did not generally take on residential work. In 1893, Sullivan discovered Wright's moonlighting and fired him, after which the two men did not speak to each other for a dozen years.
Over the next fifteen years, Wright's work coalesced into what has generally been called ever since as the Prairie Style, which, however, was not unique to him: several of his colleagues around Chicago and the Midwest also gravitated towards this new, low-lying aesthetic and spatial vocabulary. Though his overwhelming charm meant that his practice flourished and his reputation grew, he was rarely an easy architect for his clients to deal with: frequently Wright's designs came in over budget, and Wright let it be known that he was in charge of the whole of any project, regularly expecting clients to decorate their houses as he saw fit, not necessarily with their own possessions.
Kitty and Frank had six children - including Lloyd (Frank Lloyd Wright, Jr.), and John, who would also become architects, sometimes practicing under their father - and Kitty thoroughly occupied herself with running the household. But Wright, whose personal confidence knew no bounds such that he did not believe that the conventions of propriety applied to him, was growing restless. Dissatisfied in his marriage, he began to seek companionship elsewhere amongst his clients, and found one in Mamah Cheney, the well-educated wife of Edwin Cheney, for whom Wright had designed a house in Oak Park in 1904. Wright and Mamah soon began an affair, which Wright did little to keep discreet, and local gossips in the otherwise serene atmosphere soon caught on to what was happening.
Wright also tired of his work in the Prairie Style, an idiom mostly suited for one-family houses, and yearned for bigger commissions, which had been few and far between since he left Sullivan's employ. Frank asked Kitty for a divorce in August 1908, which she refused, as she did again the following year. Feeling trapped, at the age of 42 in October 1909, Wright suddenly closed his office and abandoned his family, taking off for Europe with Mamah Cheney.
Europe and Taliesin, 1909-14
In Europe, Frank and Mamah traveled to Berlin, where Wright was in negotiations with the publishing house of Ernst Wasmuth to produce folios of his work up to that time, but settled ultimately in Fiesole, a small hamlet near Florence, Italy. Florence was still the nexus of the European expatriate community of English speakers, though Wright and Mamah did not ingratiate themselves within that community, preferring to keep to themselves. They did, however, make extensive visits to museums and explore the architecture of Tuscany with fervor.
In the meantime, Wright, sometimes joined in Italy by his son Lloyd (who was 19 by then) and Taylor Wooley, one of his former employees in Oak Park, worked on some commissions he had received before closing his practice in the United States and prepared the drawings of his previous buildings for Wasmuth. These, the first extensive published work of Wright's designs and formally titled Ausgefurte Bauten und Entwurfe von Frank Lloyd Wright (Executed Buildings and Projects of Frank Lloyd Wright), would be published in two volumes in 1911 after Wright had returned to the USA. Commonly known today as simply the Wasmuth Portfolio, they would cause a sensation among architects in Europe: reputedly, on the day that the Wasmuth volumes arrived in Peter Behrens' Berlin office, where Walter Gropius, Mies van der Rohe, and Le Corbusier were employed, all work came to a standstill so that the staff could peruse the folios.
After Frank returned to the USA in the fall of 1910, Kitty had hoped for a reconciliation, but he made it clear that this was impossible. Wright moved to southern Wisconsin, where he convinced his mother to purchase land adjacent to the farms of her relatives, the Lloyd Joneses, near Spring Green. Wright stated that he intended to build a house there for her, but he really meant to build a new home for him and Mamah, who had obtained a divorce from Edwin Cheney and had reverted to her maiden name, Borthwick. He called the residence Taliesin, the name of a Welsh bard whose name roughly translates as "shining brow," and reflects the fact that Wright built the structure just below the crown of a hill. He struggled to rebuild his practice, which had nearly been destroyed by the scandal, which continued to dog him publicly upon his return. On Christmas Day 1911, Wright even called a press conference at Taliesin and declared that while conventional mores might govern the general population, he, Frank Lloyd Wright, was no ordinary man, and such customs therefore did not apply to him.
The culmination of this period of Wright's life came in 1914, while Wright was working in Chicago on the Midway Gardens beer garden and commuting between there and Spring Green. Wright had hired several servants at Taliesin, where Mamah and her children were staying. On August 15, 1914, their chef, Julian Carleton, served them lunch, then went outside ostensibly to clean some carpets. Instead, he locked all the windows and poured gasoline around the perimeter of the house and lit a match, engulfing Taliesin in flames within seconds. When Mamah and her children tried to escape through the front door, Carleton was waiting for them and hacked them to death with an axe. Wright was devastated when he got the news in Chicago. He buried Mamah in a simple pine box at Taliesin and set about rebuilding the charred wreck of his home.
Turmoil and Travels, 1915-28
In late 1914 Wright received a letter of sympathy from Maude Miriam Noel, a sculptress who had also experienced great personal tragedy, including the death of her husband. By the end of the year she had moved into Taliesin, and when Wright received the commission for the new Imperial Hotel in Tokyo in 1916, he took her with him to Japan. The two would shuttle back and forth across the Pacific several times over the next six years as the complicated process of designing and building the hotel dragged on. But their relationship was a rocky one, to say the least. Soon Wright discovered that Miriam was unstable, violent, and addicted to morphine. They fought frequently. Jealous, she accused Wright of stepping out on her, and given his history, she had reason for her suspicions.
In Japan, Wright befriended a number of Japanese architects, and some of his American staff designers, including Antonin Raymond, used the opportunity to launch their own careers. Although he loved Japan, Wright's health also frequently suffered whenever he visited the country, and probably for that reason, once the Imperial commission was completed he himself never returned to the Far East. Throughout his life Wright nonetheless remained a serious dealer of Japanese xylographs, an activity he had launched during his first trip to Japan in 1905.
In September 1923, soon after the Imperial Hotel was finished, the Great Kanto Earthquake struck Tokyo, leveling 80% of the city. Wright, who had moved his practice to southern California, hoping a change of venue would change his career fortunes, waited nervously for several days afterwards for news of the fate of his structure. Finally he received a telegram from one of his close Japanese colleagues, Arata Endo, which reported that the Imperial was one of the few structures that had survived, nearly unscathed. It served as a key relief center for the extensive subsequent rescue efforts. Basking in this triumph, which he gleefully leaked to the press, Wright was sure that he would be celebrated as both a great architect and engineer and that a flood of commissions would soon follow.
But he was wrong. Although in the early 1920s he managed to garner the difficult job of building a new house for oil heiress Aline Barnsdall in Hollywood (which she donated to the city soon after its completion) and a few other residences for clients in Los Angeles, in general his practice in California stalled. In 1924 Wright left the west coast to return to Wisconsin. Kitty Wright had granted Frank a divorce in 1922, and, after a required one-year waiting period, he married Miriam in 1923, hoping that the union would improve their relationship; instead, it grew worse. Within a year they had separated, though it would take another three years until Miriam granted him a divorce in 1927.
Even after he returned to Wisconsin, in an era when most American architects flourished in the midst of the first skyscraper boom, Wright's career continued to flounder, as nobody with the cash to build wanted to take a chance on the infamous Frank Lloyd Wright. Without work, Wright, who had never been smart with money, began to experience severe financial troubles. The Bank of Wisconsin foreclosed on the mortgage of Taliesin as Wright was rebuilding it following a second fire in 1925. Friends, including some of his former clients, bailed him out. Project after project fell through, including one job for apartment towers in lower Manhattan called St. Marks-in-the-Bouwerie. At age 62, Wright's career looked definitively over when the stock market crash of 1929 wiped out his one remaining commission, a resort in the Arizona Mountains.
Rejuvenation and Stability
In 1924 Wright had met Olga ("Olgivanna") Lazarovich Hinzenburg, a Montenegro-born estranged wife of a Russian architect, at an opera performance in Chicago. She was a follower of Georgi Gurdjieff, an Armenian philosopher whose understanding of humanity argued that most people were not nearly as aware of themselves or the world around them as they could be; in effect they were wandering through life asleep. Wright made a comment to Olgivanna that the performers seemed to be dancing as if they were asleep, which immediately caught her attention.
Frank and Olgivanna soon moved in together, though neither of them had obtained divorces from their spouses. Despite their estrangement, when Miriam found out she began to make Wright's life hell for him, frequently barging in on the two lovers. To escape Miriam's harassment, Wright and Olgivanna fled to the Minnesota woods under assumed names (which they could never quite remember correctly). The local sheriff, alerted to their presence, arrested Wright under the federal Mann Act, which made it a crime to transport women across state lines for immoral purposes, though the charges were later dropped. The two eked out a spartan existence at Taliesin, even cutting up curtains to make handkerchiefs. In the depths of the Depression reputedly neither of them had bought clothes in four years - which must have been torture for Wright, whose tastes in fashion unequivocally ran towards the high end. Olgivanna rejoiced when one winter, Wright's sister in New York sent her a secondhand winter coat to wear. During these years, in fact, Wright made significantly more money dealing in Japanese woodcuts than as an architect.
Through it all, Olgivanna turned out to be the one person in Wright's life who could tame him. They married in 1928 exactly one year after Wright's divorce from Miriam Noel became final. Olgivanna encouraged Frank to write, both on architecture (in 1928 Wright published in an obscure journal one of the first English-language reviews of Le Corbusier's Vers une architecture) and then a full-scale autobiography, published in 1932, a brilliant move that allowed Wright a modicum of control over the public narrative of his life, which he updated in subsequent editions before his death. She also was the brainchild of a new venture wherein Wright brought in apprentices to Taliesin to teach them the principles of his architecture, for $650 a year (about $10,500 in today's money).
The Fellowship
Launched in 1932, the Taliesin Fellowship immediately attracted a core group of students, including some of Wright's most well-known followers today, such as Edgar Tafel and William Wesley Peters (who became Wright's son-in-law after he married Olgivanna's daughter Iovanna). The Fellowship was a true oddity, as Wright himself disdained formal architectural education and institutional associations. He had never joined the American Institute of Architects and posted signs at the entrance to his property saying "KEEP OUT" and "NO TRESPASSING," which he did not take down even after launching the school.
The structure of the Fellowship's curriculum was equally unorthodox. Befitting his personality, what Wright ultimately established was a tribal compound, wherein he was a chieftain directing a group of presumably adoring laborers. Large portions of the apprentices' time was spent doing agricultural work around Taliesin, helping to plant and harvest the fields and repairing or constructing anew farm buildings, especially in the first couple of years when Wright had virtually no clients. Architectural instruction picked up after 1934, when Wright received the first of his commissions for the low-cost Usonian Houses from Malcolm Willey, a professor at the University of Minnesota. There was also no expected timeframe for students to graduate and establish their own practices; instead, choosing to leave the Fellowship was considered anathema, and frequently Wright shunned those who struck out on their own.
The Fellowship took on both men and women as apprentices, but Olgivanna was in charge of running virtually everything in the domestic sphere and women apprentices were expected to take on many of the traditional female household responsibilities. Olgivanna arranged marriages (and divorces) between apprentices and was particularly strict on Wright's female students, being particularly watchful if any got too close to Wright.
Wright's reputation was the magnet that kept the apprentices at Taliesin and continued to attract more over the last quarter-century of his career. Regardless of how they felt about Wright as a person, many possessed a reverence for his dicta, being able to recount moments of his brilliance with ease decades later. When E.J. Kaufmann commissioned Wright to build Fallingwater in 1935, Wright visited the site, then did nothing for three months. One day, Kaufmann phoned Wright from Milwaukee and mentioned that he was going to drive to Taliesin in order to see how the plans were coming along. Apprentices recount how Wright then sat down at the drafting table and proceeded to draw, from scratch, the complete set of plans and elevations for the weekend house over Bear Run in less than three hours. Upon Kaufmann's arrival, Wright stood up, walked over and stuck out his hand and boldly pronounced, "Welcome, E.J., we've been waiting for you!"
Taliesin West and Wright's Late Career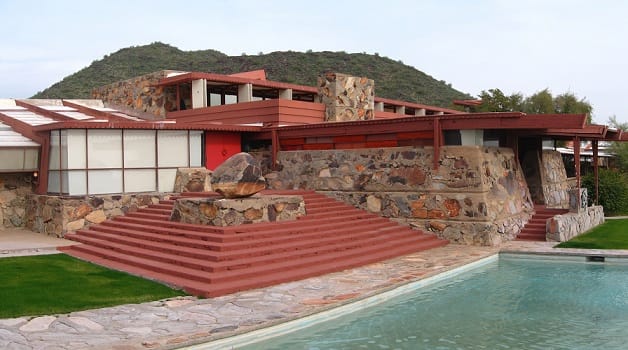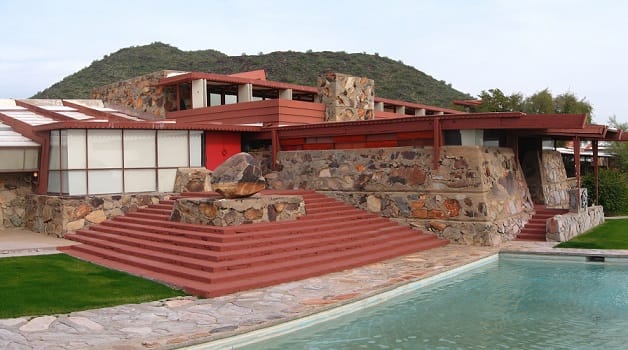 In the mid-1930s, Wright's doctors advised him to spend winters in a warmer, drier climate. Having visited Arizona during the 1920s for commissions that ultimately evaporated, starting in 1933 he and the Fellowship now began to trek to Arizona every November and stay until the following May. In 1937 Wright acquired land in Scottsdale, then far outside Phoenix, where he began to build a permanent winter home at the foot of the McDowell Mountains, soon called Taliesin West. The apprentices constructed the complex mostly out of local materials over the next five years, though Wright continued to modify aspects of it until his death.
While today the landscape around Taliesin West is situated on the edge of the sprawling suburbia of Phoenix, in Wright's day it remained quite isolated, akin to Wright's existence at Taliesin. When news of Pearl Harbor reached the Fellowship in December 1941, life continued on as if nothing had happened. Although Wright was a pacifist, during World War II many of his apprentices were drafted into the armed forces, and several went to jail for resisting impressment into service.
In the last two decades of Wright's life, he was kept busier than ever before. He also became increasingly in tune with modern technology, despite the fact that he was rapidly approaching 90 years of age. Wright's media appearances on radio, records, and especially on television are well-documented, and some can be found online. He appeared on news specials and game shows, never failing to hide his enormous ego or his infectious charm. When interviewed on television by Mike Wallace in 1957, Wright reflected on his career by declaring, "If I did say that I was the greatest architect who ever lived, I don't think it would have been very arrogant." In the same session, he claimed that if he was given another fifteen years to work, he could "redesign the whole country" because he "could just shake [buildings] out of [his] sleeve."
Wright also famously claimed that he hated cities, but nobody could deny that he had an infatuation with New York City, which he visited numerous times while working on the Guggenheim Museum. For the last five years of his life, Wright rented an $8,000-a-year apartment at the Plaza Hotel, which he redecorated soon after his arrival and was eventually nicknamed "Taliesin East." (He became famous with the Plaza's accounting department for constantly being in arrears for rent and room service.) He also exhibited equal fondness for both cars and horse-drawn carriages. Film clips exist of Wright riding around midtown Manhattan in a horse-drawn cab with a reporter, pointing out every skyscraper along Park Avenue and the minutiae of what he believed was wrong with modern architecture. Not to be outdone by the architects of the International Style, in 1956 Wright conceived of a mile-high skyscraper, called The Illinois, which he planned for Chicago, to be serviced by atomic-powered elevators (not surprisingly, he found no takers).
In early 1959, Kitty Wright passed. Wright's son David withheld the news from his father for several days, and Wright wept when he heard it. Then he asked, "Why didn't you tell me as soon as you got the news?" "Why should I have bothered? You didn't give a damn about her while she was alive," David replied. Working right up to the end, Wright himself died several months later, just two months short of his 92nd birthday at Taliesin West. His body was returned to Wisconsin, and was borne to the gravesite at Taliesin on a horse-drawn hearse.
The Legacy of Frank Lloyd Wright
After Wright's death, his apprentices worked to finish the remaining commissions with which he was charged, some of which, such as the Marin County Civic Center in California, have been ranked among Wright's most important works. Wright's own practice became known as Taliesin Associated Architects, which continued to function as a cooperative architecture firm, with at times as many as 14 principals, all of whom had been Taliesin Fellows. TAA received numerous significant commissions, including the Rocky Mountain National Park Administration Building in Colorado; the Kaden Tower in Louisville, Kentucky; and the San Jose Center for the Performing Arts. The Fellowship itself evolved into the Frank Lloyd Wright School of Architecture, with seasonal campuses at both Taliesin and Taliesin West. The school recently has been renamed the School of Architecture at Taliesin, and it offers a three-year program leading to an accredited Master of Architecture degree. Threatened recently with losing its accreditation due to its ties to the Frank Lloyd Wright Foundation, its formal separation from other institutions has enabled its programs to retain approval from the Higher Learning Commission and the National Architecture Accrediting Board.
Meanwhile, organizations such as the Frank Lloyd Wright Foundation and the Frank Lloyd Trust are involved with worldwide preservation efforts for Wright's extant buildings. Wright's voluminous archive is now divided between the drawings (now in the care of the Museum of Modern Art and the Avery Architectural Library at Columbia University in New York City) and his correspondence and documents, still stored at Taliesin West.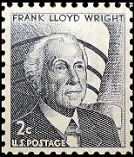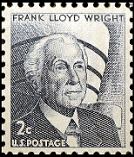 Wright's status as the greatest American architect has been secured. He designed buildings of nearly every possible type: along with his hundreds of houses, he prepared plans for no fewer than 10 apartments, 7 churches, 3 hotels, 5 apartment complexes, 4 schools, 3 corporate headquarters, 2 gas stations, 2 banks, 2 medical clinics, a college campus, a warehouse, and an art museum. His work has produced myriad disciples and inspired a huge volume of writing and scholarship, including its own journal, the Frank Lloyd Wright Quarterly. Wright's legacy can be highlighted by the fact that the Museum of Modern Art has devoted more one-person shows to his work than any other architect, including a monumental exhibition that opened in 2017 on the sesquicentennial of his birth.
Writers, entertainers, and composers have depicted Wright in several of their works. Ayn Rand's title character in The Fountainhead is based loosely on Wright, and was itself made into a movie starring Gary Cooper. Supposedly, film rights are being negotiated for Franklin Toker's monograph Fallingwater Rising, which recounts the history of the construction of Wright's most famous building. Other works include the novels Loving Frank, The Women, and The Wright 3 along with the opera Shining Brow. In 1969, Paul Simon composed, upon request from his partner Art Garfunkel, the song "So Long, Frank Lloyd Wright," despite the fact that Simon himself admitted that he knew nothing about Wright. The song is included on Simon & Garfunkel's last studio album, Bridge Over Troubled Water.
Beyond that, however, Wright's personal legacy remains far from certain. Wright espoused a philosophy of architecture that was supposedly democratic, but increasingly he adopted an elitist attitude and regarded the general public as vulgar and stupid, famously referring to popular culture as "the mobocracy." His enormous ego often got in the way of relationships, including ones with those particularly close to him, and there were few people that Wright regarded as his equal. Wright had trouble setting limits on his desires, and many of his biographers regard him as essentially a child who never grew up.
Influences and Connections
Influences on Artist

Influenced by Artist
Friends & Personal Connections
George Grant Elmslie

George Washington Maher
Artists
Richard Neutra

Walter Burley Griffin

Marion Mahony Griffin

Antonin Raymond

R.M. Schindler
Friends & Personal Connections
Bruce Goff

Charles R. Ashbee

E. Fay Jones

Lloyd Wright

Eric Lloyd Wright
Movements & Ideas
Modern Architecture
Useful Resources on Frank Lloyd Wright
Similar Art