Artworks and Artists of The Aesthetic Movement
Progression of Art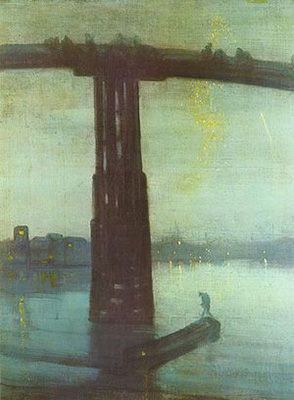 1872-75
Nocturne: Blue and Gold - Old Battersea Bridge
This work depicts a night view of Battersea Bridge on the Thames River in London. The bridge was made of wood, and has since been replaced with a modern one. The view is painted at twilight, with mist on the river, vague lights of buildings in the distance and fireworks in the sky beyond. The effect is serene and romantic, concealing the river's pollution and the noisy reality of urban life. Unconcerned with creating a true-to-life depiction, Whistler focused instead on provoking an emotive response in the viewer through a soothing color palette, soft brushwork, and harmony of forms.

A longtime admirer of Ukiyo-e painter Katsushika Hokusai, Whistler composed the bridge in a manner that shared compositional similarities with Hokusai's Under the Mannen Bridge at Fukagawa (c. 1830-34). It was through images such as this that Whistler introduced characteristics of the Japanese aesthetic, including silhouetted forms, breathy brushwork, and flattened compositions, to British adherents to the Aesthetic movement.

The title "nocturne" refers to a musical composition inspired by the night. Whistler conceived of a deep connection between painting in the Aesthetic style and music, titling his paintings after musical forms in order to highlight their "tonal" similarities (comparing musical notes to paint colors) and to place the emphasis on their visual nature rather than on their narrative content. Indeed, Whistler produced this painting during his libel suit against Ruskin and asked the jury to consider his work not as a traditional painting, but rather as an artistic arrangement. He argued that "Art should be independent of all claptrap - should stand alone and appeal to the artistic sense of eye or ear without confounding this with emotions entirely foreign to it ..." Whistler's argument for sensorial similarities between painting and music proved to be particularly influential to German Expressionist painter Wassily Kandinsky, who expanded on Whistler's ideas by creating images as abstract as music itself, drawing upon a correlation between colors and musical notes.
Oil on canvas - Collection of the Tate, United Kingdom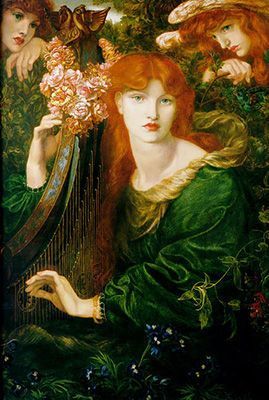 1873
La Ghirlandata
La Ghirlandata (meaning "the garlanded lady") is generally understood to be the "embodiment of love and beauty." Different from Rossetti's earlier Pre-Raphaelite paintings, this image features a softening of line indicative of what has been described as the artist's sensual phase, a style that has more in common with painters of the Aesthetic movement. The painting displays a balanced and nearly symmetrical composition. At centre, a woman delicately strums a harp, her figure obscured beneath flowing drapery and layers of floral vegetation. The woman's delicate features are echoed in the faces of two angelic faces overhead. The color palette is vibrant and harmonious, with the green of her dress melding into the foliage, so that the complementary warm flesh tones and flaming locks of hair pop.

The model for the central figure is Alexa Wilding, whom Rossetti painted multiple times. Wilding was one of three models (the others being Jane Morris and Lizzie Siddal) who inspired the artist's vision for of new standard of beauty. Wilding's large, well-defined eyes and lips, and lush red hair point to an inherent sensuality in the work. Her appearance marks a distinct contrast to the petite facial features traditionally considered to be a marker of beauty by the Victorians. Rossetti also exalted his model's luxurious auburn hair, a trait associated with sexual licentiousness in Victorian England, as beautiful and alluring. Rossetti's red-haired beauties became an important motif of Aestheticism, with variations appearing in Aesthetic paintings as well as in the streets of London, as dying one's hair with henna became increasingly fashionable.
Oil on canvas - Guildhall Art Gallery, London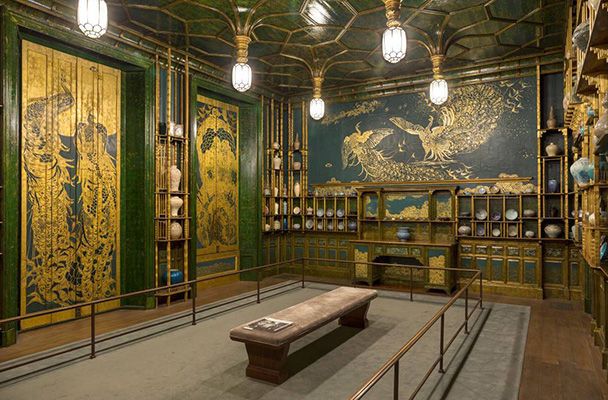 1876-77
Harmony in Blue and Gold: The Peacock Room
Shipping magnate Frederick Leyland invited interior architect Thomas Jekyll to design a dining room for his London home that would both compliment a painting in situ by Whistler entitled The Princess from the Land of Porcelain (1863-65) and display the patron's collection of blue and white porcelain. Unable to finish the commission due to illness, Jekyll was soon replaced with Whistler, who was asked to put finishing touches on the room. Whistler, however, interpreted this as carte blanche and completely redesigned the space as he saw fit. He covered the walls with turquoise blue and golden murals, painted the ceiling gold, and adorned it with a design of blue peacock feathers (a typical Aesthetic motif). Whistler later explained, "I just painted on. I went on - without design or sketch - it grew as I painted. And toward the end I reached [...] a point of perfection." Whistler's finished room, as he described it, embodied "harmony in blue and gold."

Leyland, however, was not impressed when he discovered the liberty Whistler had taken. The two argued extensively over the artist's compensation. Infuriated, Whistler apparently returned to the room and painted a mural of two male peacocks fighting - an allusion to the artist's and patron's falling out. Whistler dubbed the panel "Art and Money; or, the Story of the Room."

The Peacock Room is recognized as the most important example of Aestheticism applied to interior design in order to create an inspirational environment. Such Aesthetic rooms elevated interior design to the realm of fine art. Its simplified, silhouetted forms, rich glazes, and reference to distinctly Japanese motifs, such as the peacock and bamboo, also make it an important example of the Anglo-Japanese style.
Oil paint and gold leaf on canvas, leather and wood - Freer Gallery, Washington DC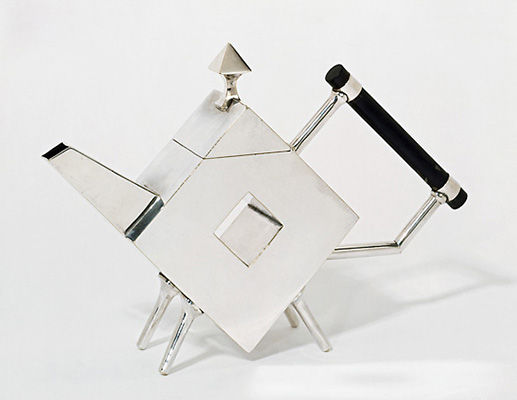 1879
Teapot
This is one of many teapots designed by Christopher Dresser in the Aesthetic style between 1878 and 1879. Its clean lines and angularity contrast with traditional Victorian design, which was condemned by Aesthetes as fussy and complicated. Dresser was one of the first to realize that industrial design for household items was important, and that it could be achieved in a fashionable and artistic manner. The artist's metalwork in particular is recognized as an important precursor to the modern designs of the Bauhaus. The Victoria and Albert Museum describes Dresser as "an industrial designer before the profession had been invented, a man who found new ways of designing for production that few of his contemporaries could have imagined. He grasped both the properties of materials and the processes of production and adapted his designs and aesthetics to them brilliantly."

Dresser was particularly interested in Japanese art and design, traveling extensively in the East. The simplicity of the teapot's design, the geometric shapes and diagonals, and its ebony handle are evidentiary of Dresser's fascination with the Japanese aesthetic. Ultimately, Dresser, like William Morris and other Aesthetic designers, sought to bring beauty and good practical design into every area of life. He best articulated this shared goal when he said: "let us have objects which are useful, but let them be beautiful also." He became one of the most influential of a group of designers who helped to bring Aestheticism into the homes of the middle classes.
Silver and ebony - Victoria and Albert Museum, London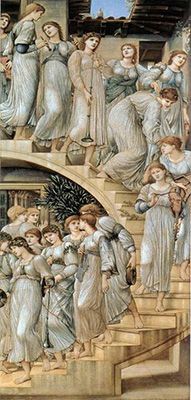 1880
The Golden Stairs
Created for the Grosvenor Gallery's exhibition in 1880, The Golden Stairs is the Burne-Jones painting that most closely fits the ideals of the Aesthetic movement. Although many of the artist's paintings do include narrative content and moral messages, in The Golden Stairs he eschews this to create a composition entirely based on aesthetics. Each of the women walking down the elegant sweep of the golden stairs is wearing a similarly classicized gown, and each is proportioned to be tall and slim, echoing the shape of the painting itself. The figures' dresses are subtly different, providing decorative details that keep the viewer's eye interested but not overwhelmed. Each also carries a different musical instrument as they rhythmically descend stairs that have been described as a visual reference to musical scales. Undoubtedly a nod to Walter Pater's famous assertion that "all the arts aspire to the condition of music," the original title of the painting was Music on the Stairs.

Burne-Jones was a key figure who helped to bridge the gap between Pre-Raphaelitism and Aestheticism, creating works that fall under the rubrics of both movements. In this painting, although the faces and clothes of his figures are very similar to some of his earlier works and bear a resemblance to many of the Pre-Raphaelite women painted by Dante Gabriel Rossetti, the composition points more to the values of the Aesthetic movement. Unlike Pre-Raphaelite paintings, The Golden Stairs has no literary source. The subtle and harmonious color palette, as well as the absence of complex narrative or moral content, are also indicative of Aestheticism. Furthermore, the long, thin painting, measuring 9 x 4 feet, recalls the shape of a decorative wall panel rather than a traditional narrative canvas.
Oil on canvas - Collection of the Tate, United Kingdom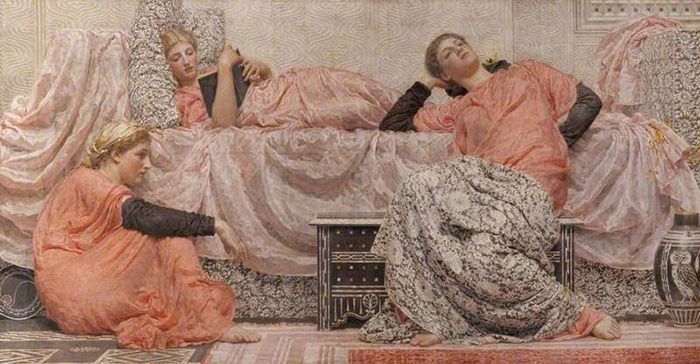 1884
Reading Aloud
Albert Moore's paintings frequently depict women in moments of leisure, wearing elaborately draped classical-style dresses. In this example, two women lean against an extravagantly upholstered sofa as they listen intently to another reclining woman reading a book. The atmosphere is one of languor and relaxation, with the women situated in a semi-exotic environment that nonetheless lives up to Victorian standards of safety and decency. The scene lacks any narrative momentum so that the effect of the flattened, linear composition is purely decorative. Indeed, Moore frequently named his paintings after the work was finished, pointing to his determination to paint scenes that were primarily decorative rather than narrative.

Inspired by classical art, particularly the Elgin Marbles at the British Museum, Moore's painting is nonetheless not a replication of any specific ancient source. The artist borrowed only those aspects he needed to make a pleasing image. In this sense, his classicism becomes overwhelmed by Aestheticism. Unconcerned with historical accuracy or dramatic narrative, the artist, like his friend Whistler, focused on tonal harmony and aesthetic effect. Moore was particularly interested in the depiction of drapery. The profusion of fabric in this scene attests to his mastery of creating subtle color, movement, and textural variations. Moore developed a reputation for such classical imagery, helping to establish this theme within Aesthetic art and shed light on the movement's tendency to find inspiration wherever an artist discovered something he or she deemed visually appealing.
Oil on canvas - Kelingrove Art Gallery, Glasgow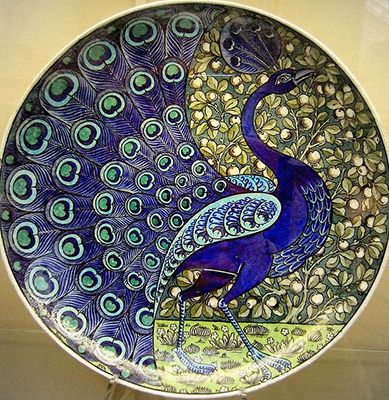 c. 1888
Charger
This large plate features an elaborate peacock in full plume. The arcing spread of the peacock's feathers echoes the curvature of the plate. The peacock's colorful display against a more subdued but no less intricate vegetal design presents a harmonious and carefully balanced composition. The male peacock was a key motif within the Aesthetic movement. In their more festive guises, male Aesthetes wore clothes as elaborate as their female counterparts, calling to mind the showy male peacock whose tail feathers consequently became a symbol for Aesthetes' expressive appearances.

Through ceramic work, such as Charger, William de Morgan revived the medieval luster technique. He experimented extensively with glazes and firing methods, eventually arriving at the artisanal techniques needed to translate Aestheticism into the medium of ceramics. In so doing, he helped elevate the decorative arts to the realm of fine art. Before establishing his own company, de Morgan worked with fellow designer and friend William Morris, creating aesthetic tiles and plates for Morris's firm. But, while Morris objected to Aestheticism's divorce moral obligations and gradually distanced himself from the movement, de Morgan maintained his interest in Aestheticism's pursuit of ideal beauty.
Glazed ceramic - Birmingham Museum, Birmingham, UK

1889-90
The Bath of Psyche
An admirer of classical art, Frederic Leighton depicts Psyche from the popular legend of Cupid and Psyche, adopting a pose that echoes that of the ancient Greek sculpture Venus Callipyge (made as early as 300 BCE). The figure appears to be undressing before her bath, captivated by her own reflection in the water below. Psyche's association with mirrored reflections speaks to Aestheticism's emphasis on the visual and, in particular, its appreciation of ideal beauty.

Leighton revived the genre of the nude in Victorian England through paintings such as The Bath of Psyche. Victorian prudishness and preoccupation with sexual morality meant that by 1850 the ideal nude had largely disappeared from British art. Its reappearance in the paintings by Leighton and his Aesthetic comrades sparked moral outrage and heated public debate in the 1880s. Beyond the threat to ethical decency, Leighton's nude figures were further criticized for their resemblance to the real (rather than ideal) female form as well as their waxen, bloodless appearance.

This painting was originally intended to be one of several commissioned by classical painter Sir Lawrence Alma-Tadema for his North London home. Alma-Tadema asked various artists to paint a panel 32 inches high and 6.5 inches wide. However, Leighton, President of the Royal Academy at the time, insisted that this was impossible; one story suggests that he picked up a knife, pointed to the slim blade, and asked, "my dear Tadema, what sort of subject do you expect me to paint on this?" The final width was closer to 24 inches, but the panel is still tall and thin, an unusual shape for a fine art canvas. Its dimensions point to the Aesthetic taste for using fine art as a decorative element, in this case a wall panel, for a room, attempting to find a harmony between architecture and ornamentation.
Oil on canvas - Collection of the Tate, United Kingdom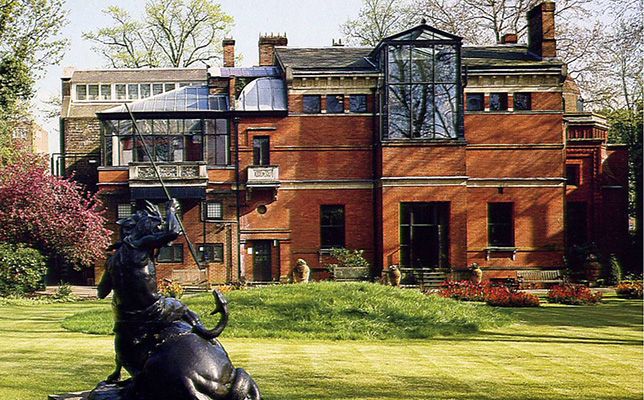 1864-95
Leighton House
In 1864, Frederic Leighton commissioned architect George Aitchison to build a studio and house for him on a plot of land in London's Chelsea District. The original building was relatively modest in size, with an elegant classical facade. However, over the next 30 years Leighton asked Aitchison to extend and revise the house, resulting in a unique building that represents the zenith of Aesthetic architecture and interior design. Intended to be a "private palace of art," Leighton House featured art, textiles, and furnishings arranged with attention to their aesthetic effect and with little consideration for objects' historical or cultural significance.

The house famously features the two-story "Arab Hall" inspired by the palace of La Zisa in Palermo, Sicily. Designed to contain Leighton's collection of tiles, ceramics, and carpets acquired on his travels to Turkey, Syria, and Egypt, the room boasts a gold leaf dome framed by a mosaic frieze designed by Walter Crane, beautiful wooden lattice windows, and large ottoman seats upholstered in William Morris's fabrics. In 1895, the final addition of a picture gallery, known as the Silk Room, appeared. Recalling Italian Renaissance structures, this light-filled room features a classical frieze and a minstrels' gallery. It would have been filled with Leighton's own paintings as well as work by friends, including John Everett Millais and John Singer Sargent.

In an interesting contrast to the luxurious furnishings elsewhere, the only bedroom in the house contains Leighton's small iron-framed bed. This perhaps points to the fact that, for many people, the sensual delights of the Aesthetic movement were purely to be experienced in a visual way, and did not necessarily translate into real life. Nonetheless, The Leighton House exemplifies the prosperity and social status some successful Victorian artists enjoyed.
12 Holland Park Road, London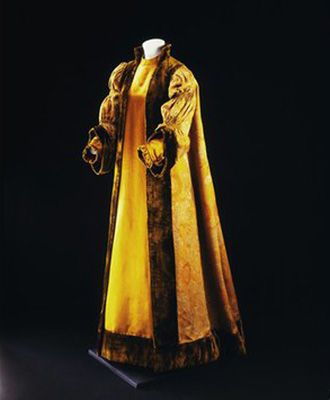 1897
Robe
This long and flowing robe with full, puffy sleeves recalls medieval dress, which was an important source of inspiration for the Pre-Raphaelites. Similarly loose apparel featured prominently in Pre-Raphaelite paintings by artists such as Rossetti. This type of free-flowing fashion and the Pre-Raphaelite concept of ideal female beauty was embraced by women in succeeding decades.

The garment was designed and produced by Liberty of London, one of the first department stores that catered to contemporary taste for the fashionable Aesthetes. The subtle brown and gold tones were deemed "artistic" at the time, while the loose, flowing silhouette was celebrated as healthier than the tight, restrictive corsets which had been in fashion during the Victorian era. The popularity of such attire is evidence of the extent to which the Aesthetic movement affected design in the consumer sphere.
Silk and cotton brocade, lined with taffeta, with a silk-satin front panel - Victoria and Albert Museum, London
Similar Art