"We often forget that we are nature. Nature is not something separate from us. So, when we say that we have lost our connection to nature, we've lost our connection to ourselves."
"A good work is a moment of clarity. Then it all becomes unclear."
"Learning and understanding through touch and making is a simple but deeply important reason for doing my work"
"I couldn't possibly try to improve on Nature. I'm only trying to understand it by an involvement in some of its processes."
"The reason why the stone is red is its iron content, which is also why our blood is red."
"As with all my work, whether it's a leaf on a rock or ice on a rock, I'm trying to get beneath the surface appearance of things. Working the surface of a stone is an attempt to understand the internal energy of the stone."
"People also leave presence in a place even when they are no longer there."
"Not being able to touch is sometimes as interesting as being able to touch."
"Each work is a discovery."
Summary of Andy Goldsworthy
A sculptor and photographer, Andy Goldsworthy not only works with nature, but in nature. Rather than building monumental constructions on or out of the land, Goldsworthy works almost telepathically with nature, rearranging its natural forms in such a way as to enhance rather than detract from their beauty. Often quite small in scale, his poetic site-specific pieces are made from ephemeral or organic materials - dandelion flowers lain in a ring or icicles perched on a rock - and then documented through gorgeous color photographs. Goldsworthy views the inevitable death and decay in his work as part of the life cycle - he takes an environmentalist's approach, lending an utmost respect toward the natural world as most of his pieces gradually fade away into the land from which they've come.
Accomplishments
The natural world (and all its myriad forms) is the artist's primary material. As a sculptor working with nature, Goldsworthy harnesses its limitations to gain a deeper understanding of it. His approach not only makes nature the co-author of his work, but emphasizes that human beings are not separate from nature, but are rather an inexorable part of it.
Goldsworthy's work draws upon a Minimalist aesthetic that derives from seeing the poetic in the everyday. Stones, rocks, branches, twigs, leaves and ice are arranged carefully and patiently, making use of various repeated motifs such as snaking lines, spirals, circles and holes.
Goldsworthy is a very hands-on sculptor for whom a large point of the work resides in the process of making it. "Learning and understanding through touch and making is a simple but deeply important reason for doing my work." His enthusiasm and wonder express themselves through the making, as he remarked, "each work is a discovery."
The passage of time and its eventual dissolution of materiality is central to Goldsworthy's work. In focusing on ephemerality, Goldsworthy rejects the idea of art as a commodity to be exhibited and sold. Furthermore, he sees the fact that he uses temporal objects as a reflection of the ever-changing world we live in and the need to understand that nothing is eternal.
Goldsworthy is interested in the social history of the land on which he is working and that includes its human population. He feels it is important to acknowledge a site's rich history and the various connections that people have in relationship with the land. As he has said, "People also leave presence in a place even when they are no longer there."
The Life of Andy Goldsworthy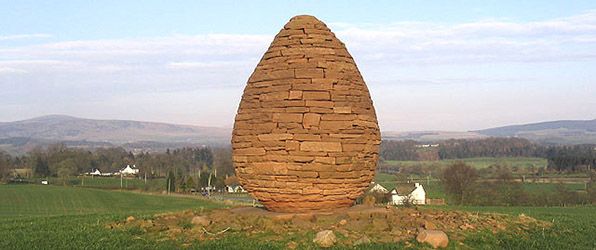 "My home... is the origin of many of my ideas and feelings towards the land," Andy Goldsworthy said. He built Millenium Cairn (2000) on a little hill outside his village because, because he said, it had "a sense of guarding the road."
Important Art by Andy Goldsworthy
Progression of Art
Biography of Andy Goldsworthy
Childhood
Andy Goldsworthy was born in the town of Sale in Cheshire in the north of England. While still a young child, he moved with his family to a suburb on the outskirts of Leeds. His parents, F. Allin and Muriel Goldsworthy, were strict Methodists, instilling a hard work ethic into the artist from an early age. At age 13, he began spending his weekends and summers working in nearby farms. Instead of being interested in heavy machinery like the majority of the farm workers, he preferred the meditative quality of repetitive manual tasks. Clearly some important ideas about the possibilities inherent in nature began to take shape at this time. As he remarked later: "Farming is a very sculptural profession. Building haystacks or ploughing fields, burning stubble." Additionally, Goldsworthy's father was a mathematics professor at the local university and although Andy did not share his particular talent, it is tempting to make a connection between this and the patterns and formations that he would come to find in nature.
Early Training and Work
Goldsworthy was certain that he would be a farmer or gardener, and that art would be a hobby. This lack of confidence was probably a result of the initial hurdles he came up against when applying to art schools. He applied to several before, in 1974, he was finally accepted as a foundation student at Bradford College of Art. Once he finished his foundation year, he again struggled to find a place on a degree course. His resilience ultimately paid off, and from 1975 to 1978 he studied art at Preston Polytechnic in Lancaster.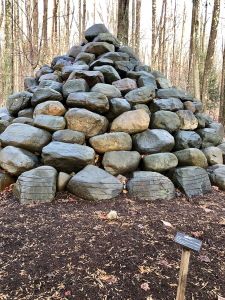 While in art school, Goldsworthy could not stand working in a minuscule partitioned studio. This led him to explore the great outdoors, a move that was pivotal for his work and ultimately shaped his entire career. In nature, he found inspiration and ample materials. In his own words: "One day in first year (of college) I went out to the beach and dug things, made lines, and the tide came in and washed it away. I learned more about the tide, the sand, the texture, I learnt so much in that couple of hours. And I shifted to working outside. I didn't really go back in again." Through his professors, he was introduced to and inspired by the works of Joseph Beuys and Robert Smithson. Although Goldsworthy's recognition grew steadily from this point on, the ephemeral nature of his work meant that he was an artist that was not easily categorized, remaining largely outside the gallery system and outside of the market. It also meant that of necessity he had to find ways of documenting his work so that there would be some tangible, physical evidence of his many fleeting natural creations. It took Goldsworthy almost a decade to start making enough money to file tax returns.
Mature Period
In 1982, Goldsworthy married the sculptor Judith Gregson. Not long after, she obtained a job in Carlisle and they moved north. A few years later, mainly for financial reasons, they crossed the border to the village of Penpont in the Scottish low lands, where he still lives today. Together, they had four children: James, Holly, Anna, and Thomas.
By the mid-1990s, Goldsworthy was a renowned artist. He had public and private commissions all over the world, yet art critics and historians sometimes criticized his work for solely beautifying nature. At a time when conceptual artists were dominating the landscape, some saw his work as not being conceptual enough and that his pastoral approach to art making could be deemed as overly pretty. Goldsworthy himself remained resolute, reflecting on the transient side of his creations and how "each work grows, stays, decays." In the early 2000s, he was appointed as a visiting professor at Cornell University in upstate New York; a position that he held for almost a decade. He also got the Order of the British Empire (OBE) - a reward given by the commonwealth for his contribution in the arts. Around the same time, and only a couple of years after the documentary River and Tides showed them as a happy and harmonious family, Gregson and Goldsworthy divorced.
Late Period
Soon after his divorce, Goldsworthy met the art historian Tina Fiske while she was participating in a project about his work. They became romantically involved and had a son named Joel. They are still together, although they have never married.
The following years were marked by great professional success and personal tragedy. In 2008, Goldsworthy's former wife died in a car accident. A few years later, his mother Muriel died unexpectedly (his father had already passed away). These losses influenced his later works, in which he built on ideas of transience, the void, and even straightforwardly, death. As he got older, his works became more somber and also more physical. Photographs depicting figures leaning into strong winds are amongst his most recent pieces. He currently works with his daughter Holly, who is helping to preserve his artistic legacy by extensively cataloguing his work.
The Legacy of Andy Goldsworthy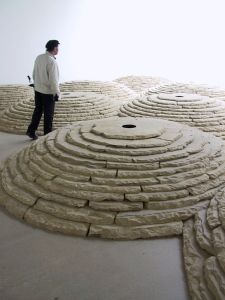 Goldsworthy reshaped Earth Art. Though other Land artists such as Robert Smithson (creator of the large-scale Spiral Jetty), Michael Heizer (creator of Double Negative), and the British artist Richard Long have all worked on large-scale landscape projects, Goldsworthy has developed a more intimate, sociological, and humanistic approach. His interest in specific geographical points of land, its history, and the relationship between organic material and the human presence has set him apart from those working with land as mere canvas or material.
In a piece for artnet, the critic Amah-Rose Abrams stated "unlike the monumental nature of some land art, Goldsworthy's art is about a subtle, often modestly scaled interaction with the outdoors. The elusiveness of beauty is key to his work, His art also bears a similarity to the work of Japanese architect Tadao Ando in its seamless relationship to the landscape." American artists Maya Lin and Michael Grab's work shares similarities with Goldsworthy's. Lin's The Wave Field and Goldsworthy's Storm King Wall are closely located inside Storm King Art Center - highlighting the dialogue between the two works. Grab's work balances pebbles in the same way Goldsworthy balances pieces of ice, twigs, and rocks.
Although it is difficult to pinpoint the extent of the artistic contribution of someone still very engaged in his career, Goldsworthy has made a very direct contribution to the environmental debate. His love and appreciation of nature has inspired many artists whose practice focuses directly on ecology. Artists such as Mel Chin, Ellie Irons, Mary Mattingly, and even the celebrated Gabriel Orozco and Vik Muniz, are amongst those that have used their art to stress the negative effects of modern society in the environment, and to propose a change. With the continuous pollution of the planet and global warming, such voices carry an important message.
Influences and Connections
Influences on Artist

Influenced by Artist
Friends & Personal Connections
Chris Drury
Artists
Michal Grab

Patrick Dougherty

Dietmar Voorwold
Useful Resources on Andy Goldsworthy
Books
The books and articles below constitute a bibliography of the sources used in the writing of this page. These also suggest some accessible resources for further research, especially ones that can be found and purchased via the internet.
artworks
Similar Art