Artists
Niko Pirosmani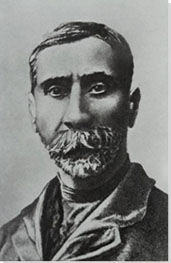 Born: May 5, 1862 - Mirzaani, Georgia
Died: April 9, 1918 - Tbilisi, Georgia

"When you have the exhibition, if you give me a room where I might work, and canvas, within a month I could paint ten to fifteen paintings, better than those that are here"
Summary of Niko Pirosmani
Posthumously celebrated Georgian painter Niko Pirosmani was a true artist's artist and a prime example of the starving artist archetype. Self-taught, he used his life in the progressive country of Georgia as fodder to create works illustrating the customs, traditions, environments, and culture of his native land. Using cheap materials and a neutral palette, he documented his world using folk art traditions to inform a unique visual aesthetic. Though his lifetime never saw monetary success or widespread fame, he managed to make enough to consistently supply him with materials from which to create a prolific body of work. He is now seen as an important contributor to the Russian avant-garde, particularly the Neo-Primitivist and Rayonist movements.
Key Ideas
The artist began his career painting signs for local businesses as advertisements for their wares, where he learned to work fast on commission. Deeply committed to remaining creative at all costs, these signs allowed Pirosmani to buy art supplies to create his fine art paintings and kept his work positioned in the public eye, leading to his status as a hometown hero.
Pirosmani's oeuvre is a remarkably precious glimpse of the Georgian lifestyle, heritage, and experience of the late 1800s and early 1900s. His paintings provide a solid, historical time capsule of the country's union of traditional rural life and its evolution into a more cosmopolitan locale. Because of this, the artist found champions in many members of the entitled classes of the time, who recognized his talent and ability to capture the period's cultural cross section of the old with the new.
Pirosmani is often coined a Naïve artist, or one who lacks a formal artistic education or training. This allowed him to birth his own signature style, which was dynamic, organic, and truly original, setting him apart from other painters of his time. Like
Henri Rousseau
before him, his brand of vagabond creativity would set the stage for later artists, working in the same primal fashion, eventually leading to the formation of art movements such as
Art Brut and Outsider Art
.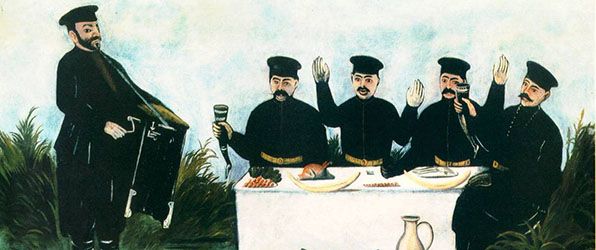 Niko Pirosmani was born in the village of Mirzaani in the Kakheti region of eastern Georgia in 1862. At the time, Georgia was on a large trade route between East and West: an interesting junction which produced a myriad culture combining elements from Christianity and mainland Europe, as well as the Mediterranean, Byzantium, and the Orient. It was also a place of folkloric tales and deeply engrained traditions and rituals.
Important Art by Niko Pirosmani

The below artworks are the most important by Niko Pirosmani - that both overview the major creative periods, and highlight the greatest achievements by the artist.

Feast in the Grape Pergola or Feast of Three Noblemen (1905)

Artwork description & Analysis: This painting depicts three Georgian noblemen at a feast table, toasting goblets of wine and eating traditional dishes. In the foreground sits a dog, while in the background plentiful vines hang above the feast-goers. Painted in Pirosmani's usual neutral palette, the style features a flatness and lack of depth typical of the Naïve artist. The brushstrokes, particularly in the background, demonstrate how Pirosmani painted in a rapid and dynamic way in order to capture the simplicity of the everyday lives and traditions of the Georgian people.

Pirosmani's unique visual vocabulary and traditional subject matter, unconnected to the artistic trends taking place in Moscow and Paris, as well as his impoverished living conditions and local status, set him apart from other artists of this time. Paintings such as Feast in the Grape Pergola, caught the eye of the Russian avant-garde artist Mikhail Larionov, who became a steadfast champion of Pirosmani's, and both the subject matter and style can be seen as having informed Larionov's later works. The artist painted street scenes, such as A Stroll in a Provincial Town (c.1909), in a similar flat, non-perspectival manner to Pirosmani.

Oil on cloth - Art Museum of Georgia, Tbilisi, Georgia

Signboard 'Cold, Cold Beer' (c.1910)

Artwork description & Analysis: This work is characteristic of the signboards Pirosmani was commissioned to make for the local taverns in Tbilisi. It was painted on tin due to the metal's cheapness, but also because it could be hung outside in any weather. The sign's text translates to "Cold, Cold Beer;" a message illustrated by the two typically and identically dressed Georgian men at the table enjoying a jug. The tree in the background suggests that they are drinking outside.

The simplicity of signboards such as Cold, Cold Beer captured the imagination of Le Dantu and the Zdanevich brothers when they traveled to Tbilisi. The simple color palette was chosen as dark paints were easily obtainable and inexpensive, but the effect they created - the pictorial flatness, the simple outlines, and the boldness - found resonance with the vision and ideas of the developing avant-garde in Moscow. Art historians Alla Povelikhina and Yevgeny Kovtun have argued that the artist's signboards differed from those of contemporary Russian painters, writing, that "by comparison, Pirosmani is closest to Henri Rousseau, except that Pirosmani relied on the heritage of Georgian and Persian art."

Pirosmani was a main influence in using simple art scenes of everyday life to illustrate advertising concepts. The style would become widely seen in Russia shortly after the revolution of 1917.

Oil on tin - Art Museum of Georgia, Tbilisi, Georgia

Georgian Woman Wearing a Lechaki ()

Artwork description & Analysis: The composition is simple, featuring a woman who takes up the whole canvas from top to bottom, and is set against an unknown landscape background. The materials are signature to those that Pirosmani used throughout his life: readily available paint colors and anything easily on hand as an improvised canvas, such as tablecloths from the taverns at which he was working.

This painting is another prime example of Pirosmani's depiction of everyday scenes in Georgian life.

It is one in a series of paintings illustrating women in traditional Georgian dress; it is set apart from the series by the inclusion of the bird on the dress lapel and the intricacy of the floral lace on Lechaki, with matching cuffs and neckline on the dress. The equation of women with nature was a common theme in both Georgian folklore and Pirosmani's paintings. This painting was previously in the collection of the Austrian author Stefan Zweig, who became familiar with the work of Pirosmani during a 1928 visit to Moscow. Zweig's late discovery of Pirosmani is a clear example of how the artist only really achieved widespread recognition posthumously. The writer was an enthusiast and keen collector of Primitivist art, and following his discovery of Pirosmani's work at an exhibition in the State Tretyakov Gallery described the artist as "the great Piro" and predicted his work would be a "true discovery for Europe."

Oil on cloth - Private Collection
More Niko Pirosmani Artwork and Analysis:
Influences and Connections
Influences on Artist
Artists, Friends, Movements
Influenced by Artist
Artists, Friends, Movements

Interactive chart with Niko Pirosmani's main influences, and the people and ideas that the artist influenced in turn.
View Influences Chart

Artists

| | |
| --- | --- |
| | George Zaziashvili |
| | Dito Shevardnadze |

Personal Contacts

| | |
| --- | --- |
| | Ilya Zdanevich |
| | Mikhail Le Dantu |

Movements

| | |
| --- | --- |
| | Naïve Art |
| | Georgian folk art |

Influences on Artist

Niko Pirosmani
Years Worked: 1882 - 1918
Influenced by Artist

If you see an error or typo, please:
tell us
Cite this page

Content compiled and written by Alexandra Banister
Edited and revised, with Synopsis and Key Ideas added by Kimberly Nichols
" Artist Overview and Analysis". [Internet]. . TheArtStory.org
Content compiled and written by Alexandra Banister
Edited and revised, with Synopsis and Key Ideas added by Kimberly Nichols
Available from:
First published on 13 Aug 2019. Updated and modified regularly.


[Accessed ]