Artists
Yayoi Kusama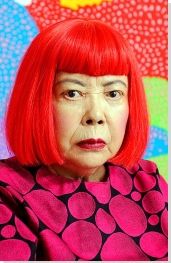 Born: 1929

"My artwork is an expression of my life, particularly of my mental disease."

Summary of Yayoi Kusama
Yayoi Kusama's life is a poignant testament to the healing power of art as well as a study in human resilience. Plagued by mental illness as a child, and thoroughly abused by a callous mother, the young artist persevered by using her hallucinations and personal obsessions as fodder for prolific artistic output in various disciplines. This has informed a lifelong commitment to creativity at all costs despite the artist's birth into a traditional, female-effacing Japanese culture and her career's coming of age in the male dominated New York art scene. Today, Kusama reigns as one of the most unique and famous contemporary female artists, operating from her self-imposed home in a mental hospital.
Key Ideas
When Kusama began to see hallucinations as a child, her way of coping with the bizarre phenomena was to paint what she saw. She says that art became her way to express her mental disease. This most notably is seen in her Infinity Net paintings based on repetitive patterns and her installations in which she creates elaborate environments overrun with polka dots or tiny points of light.
In much the same fashion as Kusama uses art to process hallucinations, she also uses her work to confront personal phobias, especially a fear of sex stemming from a witnessing of her father's womanizing. This reveals itself through her "compulsion" soft sculptures and furniture pieces covered in myriad phallic forms.
Her familiarity with fighting for her life, and her compassion for others involved in causes against injustice, led Kusama to briefly associate with many subcultural movements of her time such as the hippie culture of the 1960s and the feminist movement.
For Kusama, artmaking became an essential survival mechanism. It was her sole tool for making sense of a world in which she dwelt on the periphery of normative experience, and as a result became the very thing that allowed her to assimilate successfully into society.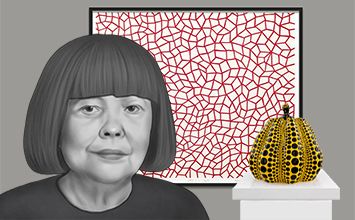 Born in 1929 in Matsumoto, Japan, Kusama grew up as the youngest of four children in an affluent family. However, her childhood was less than idyllic. Her parents were the product of a loveless, arranged marriage. Her absent father, emasculated by the fact that he had to take his wife's surname as a condition of marrying into the wealthy family, spent most of his time away from home womanizing, leaving his angry wife to physically abuse and emotionally torment her youngest child. She would often send her daughter to spy on her father's sexual exploits, the mental trauma of which caused Kusama to have a permanent aversion to sex and the male body.
Important Art by Yayoi Kusama

The below artworks are the most important by Yayoi Kusama - that both overview the major creative periods, and highlight the greatest achievements by the artist.


Artwork Images

The Woman (1953)

Artwork description & Analysis: When Kusama moved to the United States, the first works she exhibited were her watercolors. These first works on paper showed the artist breaking free from the traditional Japanese artistic practices she was taught as a child and embracing Western artistic influences, especially in regards to abstraction. The Woman is one of these earlier abstract works. The watercolor depicts a singular biomorphic form with subtle dots in the center floating in a seemingly black abyss. The form is reminiscent of female genitalia with red spikes surrounding it. The overall effect of the work is aggressive and bizarre, showing signs of Kusama's struggles with mental illness and anxiety towards sex.

From a very young age, Kusama experienced hallucinations in which a single pattern would engulf everything in her field of vision. As Kusama explains, "one day I was looking at the red flower patterns of the tablecloth on a table, and when I looked up I saw the same pattern covering the ceiling, the windows and the walls, and finally all over the room, my body, and the universe. I felt as if I had begun to self-obliterate, to revolve in the infinity of endless time and the absoluteness of space, and be reduced to nothingness." These themes of self-obliteration and representation of the infinite would become an obsession for Kusama as she attempted to represent what she believed to be her alternate reality. Her use of dots became the manifestation of this effort and has become the defining motif in her work.

Tempera and acrylic on paper - The Blanton Museum (Texas)


Artwork Images

No. F (1959)

Artwork description & Analysis: Kusama's Infinity Net series marks the beginning of a radical shift in her work from the singular abstract, biomorphic forms she painted during her youth to the more obsessive, repetitive works that would define her career. They also showcase the way she used art to process her mental illness. We can see through her own words, a sense of what these paintings accomplished for the artist: "With just one polka dot, nothing can be achieved. In the universe, there is the sun, the moon, the earth, and hundreds of millions of stars. All of us live in the unfathomable mystery and infinitude of the universe. Pursuing philosophy of the universe through art under such circumstances has led me to what I call stereotypical repetition."

No. F is one of Kusama's first works from the celebrated series. From a distance the subtle painting looks delicate and monochromatic, but when viewed up close, the complexities of the canvas's surface become apparent. The bluish-grey underlay is almost completely obscured by small, white semi-circles, which consume the entire canvas and only allow the gray underlay to be visible in the form of tiny dots. The organic arched shapes all curve in the same direction, creating an undulating net that would continue on indefinitely if not for the edge of the canvas. As Kusama explains, "without beginning, end, or center. The entire canvas would be occupied by [a] monochromatic net. This endless repetition caused a kind of dizzy, empty, hypnotic feeling." This hypnotic feeling is furthermore translated to the viewer, as they are invited into the artist's mind. The thick build-up of the top layer of white paint also adds texture to the work, while the repetitive crescent shapes create an optically mesmerizing pattern that is neither random nor systematic, but instead reminiscent of things found in the natural world, such as atoms and cells. Although the obsessive and time-consuming Nets were painstaking to create, they proved therapeutic for the artist.

Begun in the late 1950s, the series coincided with Kusama's move from her oppressive homeland to New York, where she found the artistic freedom she needed to expand her art practice. Created when Abstract Expressionism was still the popular contemporary art form and Minimalism was still in its infancy, the Infinity Nets were avant-garde for their time. As a result, the Nets are both expressive and minimal, bridging the two opposing movements. For Kusama personally, her Infinity Nets have become central to her practice, and continue to influence her work.

Oil on canvas - Museum of Modern Art, New York


Artwork Images

Accumulation No.1 (1962)

Artwork description & Analysis: Accumulation No.1 is the first in Kusama's iconic Accumulations series, in which she transforms found furniture into sexualized objects. The work consists of a single abandoned armchair painted white and completely covered with soft, stuffed phallic protrusions, while fringe encircles the base of the sculpture. No longer limited by the pictorial plane of the two-dimensional canvas as with Infinity Nets, the stuffed sculpture continues Kusama's repetition compulsion in three-dimensional form.

The menacing piece is both aggressive and humorous, and also works to confront Kusama's sexual phobias. As Asia scholar, Alexandra Munroe explains, "her ambition for supremacy over men and over sexuality is relentlessly expressed in her repetitive and aggregate use of the phallus form, which can be interpreted as an aggressive will and fantasy to defy oppressive male power by possessing it symbolically herself." In doing so Kusama also abandons the typically passive role of the female.

More than just making a statement against patriarchal authority, these "compulsion furniture" pieces, as she called them, were deeply personal for Kusama as they were her way of coping with her own innate sexual anxieties. "The armchair thickly covered in phalluses was my psychosomatic work done when I had a fear of sexual vision." These anxiety-ridden pieces would become included in a new form of art which art critic and historian, Lucy R. Lippard, called 'Eccentric Abstraction'. "The makers of what I am calling...eccentric abstraction, refuse to eschew imagination and the extension of sensuous experience while they also refuse to sacrifice the solid formal basis demanded of the best in current non-objective art." As a result, Kusama's psychosexual works became a significant precursor to post-Minimalist art.

Sewn stuffed fabric, paint, and chair fringe - Museum of Modern Art, New York
More Yayoi Kusama Artwork and Analysis:
Influences and Connections
Influences on Artist
Artists, Friends, Movements
Influenced by Artist
Artists, Friends, Movements
Interactive chart with Yayoi Kusama's main influences, and the people and ideas that the artist influenced in turn.
View Influences Chart


Influences on Artist
Yayoi Kusama
Years Worked: 1950s - present
Influenced by Artist

| | | | | |
| --- | --- | --- | --- | --- |
| Artists | | Personal Contacts | | Movements |
If you see an error or typo, please:
tell us
Cite this page

Content compiled and written by Katelyn Davis
Edited and published by The Art Story Contributors
" Artist Overview and Analysis". [Internet]. . TheArtStory.org
Content compiled and written by Katelyn Davis
Edited and published by The Art Story Contributors
Available from:
First published on 18 Apr 2017. Updated and modified regularly.


[Accessed ]