Artists
Hilma af Klint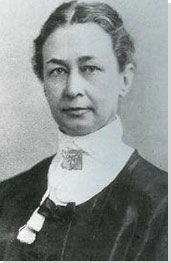 Born: October 26, 1862 - Solna, Sweden
Died: October 21, 1944 - Sjursholm, Sweden

"The pictures were painted directly through me, without any preliminary drawings, and with great force. I had no idea what the paintings were supposed to depict; nevertheless I worked swiftly and surely, without changing a single brush stroke."

Summary of Hilma af Klint
Paradoxically delicate and powerful, the art of Hilma af Klint quietly and privately delivers a loud and essential message. Creating abstract canvases five years prior to the first by Wassily Kandinsky, and experimenting with writing and drawing guided by the unconscious decades before the Surrealists, the woman was a pioneer. Described as a mystic and a medium, af Klint conducted séances and communicated with spirits, even receiving a message from higher forces to create her most notable, devotional body of work, Paintings for the Temple. Yet, af Klint's sensitivity surrounding the ethereal was married to an analytical and scientific way of navigating the world. She was an eager botanist, well read in natural sciences and in world religions. With unsurpassed wisdom and in anticipation of human foolishness, not only did af Klint state that her work was not to be shown for 20 years following her death, but she also stipulated that no work could be sold separately, ensuring that her artworks could not become misunderstood commodities.
Key Ideas
In stark contrast to other pioneers of 20th century abstraction, af Klint worked away from the art world, without publishing manifestoes or participating in exhibitions. Despite her relative isolation she arrived at similar conclusions therefore questioning the need for audience and outward influences in the development of an artistic style. It is a great achievement to become a 'big name' having followed an inward path.
Af Klint's combination of geometry, figuration, symbolism, language, scientific research, and religion not only establishes her as a forerunner in abstract art, but also exposes her work as significant in the broadest of artistic terms. Her route to abstraction drew not only from an interest in mathematics but also from her studies of organic growth, including shells and flowers, all culminating to portray life through a spiritual lens.
The title for the artist's most important body of work, Paintings for the Temple is significant. It suggests that the canvases require a specific architectural 'home' and that they are designed to help viewers transcend beyond mortal and earthy realms. Af Klint does not make reference to any particular religion, (hence she does not use the word church, synagogue, or mosque) but instead aspires to build a 'temple', a universal place of worship dedicated to seeking balance through the union of opposites.
As a researcher, she worked in series, and as a linguist, she had her own language. This is perhaps true of many artists, but af Klint made this obvious, and therefore de-mystifed the process and role of 'being an artist' and in turn making the language of art more accessible. She explains in detail what her individual symbols mean in notebooks that accompany her paintings.
Aside from the Primordial Chaos series, af Klint's paintings are typically very large. This is unusual for a female artist and recalls the heroism and masculinity of the later Abstract Expressionists. Grand scale better conveys the vast and epic powers of nature and the tone of connectivity found in the endless pattern dots by aboriginal artists.
The delay in this artist's emergence raises questions surrounding the authority of 'art history'. We start to wonder if artists interested in self-promotion and audience response are likely to be woven into a trajectory more quickly than figures who, like af Klint, remain private, have no need for public acknowledgement, and yet remain hugely important to the same history of art.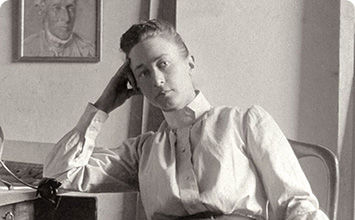 Hilma af Klint was born in 1862, in Solna, Sweden, as the fourth of five children of a Protestant couple, Mathilda af Klint and Victor af Klint who was an admiral and a mathematician. Most of her childhood was spent in Karlberg castle, the naval academy where her father was based. During the summer, the family would move to Hanmora, in Adelso, an island in Lake Malaren, where Hilma's fascination with nature and organic life began.
Important Art by Hilma af Klint

The below artworks are the most important by Hilma af Klint - that both overview the major creative periods, and highlight the greatest achievements by the artist.

Primordial Chaos No.7 (1906-7)

Artwork description & Analysis: Chaos No.7 is one of 26 works that make up the first series of the larger Paintings for the Temple cycle, entitled Primordial Chaos. This primary sequence appropriately investigates origin and the primordial essence of the universe in all of its manifestations. Here for example we are confronted with a circular object that could at once be flying or floating. We could be witnessing a space ship from another galaxy, but equally an emerging moth or soaring kite. Indeed, the artist's drive towards union is further emphasized by the fact that this series is also referred to as the 'WU' series, where W represents man and matter, and U stands for woman and the spiritual. Following this line of interpretation, Af Klint developed her own language whereby the color blue represented the male and yellow, the female. When the two colors combine they create a harmonious green, implying that marriage of polarity is spiritually important.

This work and others in the series recall images of fertilization, snapshots of the moment of creation when the sperm meets the egg. Af Klint records in one of her notebooks that both the snail and the spiral represent for her development or evolution. An earlier work in the same series, Chaos Nº2 portrays a series of constellations and stars immersed in a vast atmosphere that grows from day to night. For the art critic Mark Hudson the artist's use of symbolism makes the work "feel closer in spirit to much later Surrealism than to abstract art per se". A similar approach is defined by art critic Jonas Magnusson when he claims that "Af Klint's abstraction does not abandon reality but instead emphasizes it, releasing it "in the form of messages or transmissions on new frequencies, data that is visualized through different signs, words, symbols, forms, colors, diagrams".

Oil on canvas - Hilma af Klint Foundation

No. 7, Adulthood (1907)

Artwork description & Analysis: No. 7 painting, of the The Ten Largest series of the Paintings for the Temple, is at once meditative like an ancient mandala (a geometric pattern of Buddhist and Hindu origin said to represent a microcosm of the whole universe), and dynamic like a changing piece of music. The large painting, over three meters in height and two meters wide, is composed of free-flowing organic forms of different sizes and colors (bright yellow, red, green, light blue, and white) set against a lilac background, punctuated by lines at once diagrammatic and scripted. Likely inspired by af Klint's botanical studies, the large yellow form is reminiscent of a bloom emerging from a bulb. Along these lines, art critic Adrian Searle claims that "af Klint was also influenced by Darwin, by the ways nature's forms and plant growth are dictated by mathematical progression". These forms, enriched by circling words and stylized letters (for example the white 'h' located on the bottom left corner), establish further levels of symbolism and metaphorical understandings. For Mark Hudson, these "curving shapes and cryptic inscriptions - 'sox, sax, sex' or 'eros wu' - hint at suppressed eroticism".

Painted on paper, on the floor of the studio and then pasted onto a canvas, af Klint's technique looks forward to a preference for large scale shared by the Abstract Expressionists, and in general, by more men than women. This said however, pattern based repetitive art making is something long since practiced by aboriginal painters, and also brings to mind the colossal floral based canvases by French painter, Séraphine Louis. Each painting in af Klint's series, ten in total completed in four months, illustrate the different phases of human life including childhood, youth, maturity, and old age. All of the canvases are abundant with great generative quality. There are many references to birth and to growth with all of the different symbols moving together, at once separate, and connected parts of a whole.

The audience standing before the works becomes privy to the dance of life. The tone shifts slightly as we move through the cycle of works. The 'childhood' works appear cellular, making reference to the moment when the sperm meets the egg and biological division occurs. In 'youth' the colors are brighter and additional swirls create strong feelings of flux and dynamism. The symbols in 'adulthood' are weightier with great intent of purpose, whilst the 'old age' canvases are the most poetic. Those last two paintings in the series reveal tiny simple seeds that grow into complex 'spriograph' discs. All of the flurry and noise of the previous phases of life has gone quiet, with introspection revealed at its most assured and most beautiful.

Oil and tempera on paper and canvas - Hilma af Klint Foundation

Evolution, No. 12 (1908)

Artwork description & Analysis: The Evolution series is also known as the 'Seven-Pointed Star' series, which in the Christian tradition exists as a symbol of protection; the seven points of the star refers to the perfection of God and at the same time to the seven days of the creation story. In this canvas the creation story is referenced further through the presence of Adam and Eve. The woman is dressed in af Klint's signature female yellow, whilst the man has appropriately blue robes. The couple are taunted by two large black serpents making reference to the snake in the Garden of Eden that tempted humans to eat the forbidden fruit from the tree of knowledge. Swimming sperms and balancing eggs show the viewer that the man and woman are in the process of physical reproduction as well as spiritual union.

Throughout this series, abstraction and figuration co-exist and are presented without hierarchy. There appears to be a shared goal to protect the egg, and the egg becomes representative not only of the beginning of new life but also as the object sought after by an alchemist in search of enlightenment. In other works, there is further repetition of shells and spirals and also a lot of almond shapes. Af Klint wrote of in her notebook that the almond shape arises when two circles overlap and is called the 'vesica piscis', an ancient symbol for the development towards unity and completion. There are traces of 'The Swan' series from the wing-like base that supports the colorful petal central disc in this work, and also the introduction of the religious iconography further explored in 'The Dove' paintings.

In other ways, the series also echoes the scientific quest of the time for a deeper understanding of man's evolution and place in the world, particularly as developed by the naturalist scientist Charles Darwin. In another painting from the same series, a figure with outstretched arms and beautiful proportionality bears striking resemblance to the figure of the Vitruvian Man (1490) by Leonardo da Vinci. The Evolution works acknowledge beyond doubt that af Klint focused on art, science, and religion simultaneously.

Oil on canvas - Hilma af Klint Foundation
More Hilma af Klint Artwork and Analysis:
Influences and Connections
Influences on Artist
Artists, Friends, Movements
Influenced by Artist
Artists, Friends, Movements

Interactive chart with Hilma af Klint's main influences, and the people and ideas that the artist influenced in turn.
View Influences Chart

Artists

Personal Contacts

| | |
| --- | --- |
| | Rudolf Steiner |
| | Anna Cassel |
| | Cornelia Cederberg |
| | Sigrid Hedman |

Movements

Influences on Artist

Hilma af Klint
Years Worked: 1882 - 1944
Influenced by Artist

Artists

| | |
| --- | --- |
| | Cecilia Edefalk |
| | Dominique Gonzalez-Foerster |
| | RH Quaytman |
| | Kerstin Brätsch |
| | Adele Röder |

Personal Contacts

| | |
| --- | --- |
| | Anna Cassel |
| | Cornelia Cederberg |
| | Sigrid Hedman |
| | Rudolf Steiner |

Movements
If you see an error or typo, please:
tell us
Cite this page

Content compiled and written by Sarah Frances Dias
Edited and revised, with Synopsis and Key Ideas added by Rebecca Baillie
" Artist Overview and Analysis". [Internet]. . TheArtStory.org
Content compiled and written by Sarah Frances Dias
Edited and revised, with Synopsis and Key Ideas added by Rebecca Baillie
Available from:
First published on 05 Dec 2017. Updated and modified regularly.


[Accessed ]