Artists
Alexander Archipenko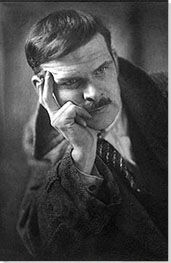 Alexander Archipenko
Ukrainian-American Sculptor and Painter
Movement: Cubism
Born: May 30, 1887 - Kiev, Ukraine
Died: February 25, 1964 - New York, New York

"What Plato said about ideas is true, they are in the air. One can get them everywhere. That is why one finds the same things, similar religions, similar works of art in very distant places. In short, everything exists in the universe. Come, take it if you can."

Summary of Alexander Archipenko
Alexander Archipenko was a seminal influence in 20th century avant-garde sculpture. He announced himself to the modern art world through a series of small-scale works that were the first to apply Cubist techniques to three-dimensional forms. As his career developed, Archipenko became well known for his experiments in so-called "sculpto-paintings" which, as the name suggests, saw a blending of sculpture and painting. His fascination with the contours of the female form meanwhile reflected not only the influence of Cubism but ancient Egyptian, Assyrian, Grecian, and African sculpture too.
Archipenko challenged the homochromatic conventions of marble, bronze and plaster modeling by painting many of his pieces, sculptured from metal, wire wood and glass, in bright colors. He would also eschew carving and moulding in favor of nailing, pasting and string binding (which he made no attempt to conceal). Archipenko also invented his first kinetic work (and forerunner to Kinetic Art) which he called "Archipentura" while later in his career he produced sculptures that were illuminated from within. Archipenko also founded art schools in Paris and Berlin and even joined the New Bauhaus for a period. Indeed, having become a US citizen in the early-to-mid part of the 20th century, he taught in art schools and universities across the country before publishing his book Archipenko: Fifty Creative Years 1908-1958, in 1960.
Key Ideas
Archipenko can be credited with several innovations in modern sculpture chief amongst which was his reassessment of the relationship between dense mass and empty void. The conventions of sculpture had demanded that figures be represented in mass but Archipenko would replace solid volume - such as heads and torsos - with voids.
A close friend and associate of
Fernand Léger
, Archipenko's early work revealed a direct reference to Cubist painting whose effect he tried to recreate in literal three-dimensions. The mass of his figures were thus represented through faceted geometric planes, and concave and convex shapes, to create abstract forms that offered an affront to the traditional understanding of what sculpture should, and indeed, could, be.
Archipenko's "sculpto-painting" were meant to be hung on walls and the artist would use a wood support in order to create a relief for his figures. His sculpto-paintings gave the immediate impression of a two-dimensional artwork, but when scrutinized more closely, the spectator quickly becomes aware of the sculpture's lifted planes and contours with the relief becoming a key feature of the artwork's effect.
For a medium that was historically monotone, Archipenko would often paint sculptures in vibrant colors. He used color, less for aesthetic harmony but rather to extenuate the abstract structure and to further draw the spectator's attention to his sculptures' non-traditional materials and unconventional presentation.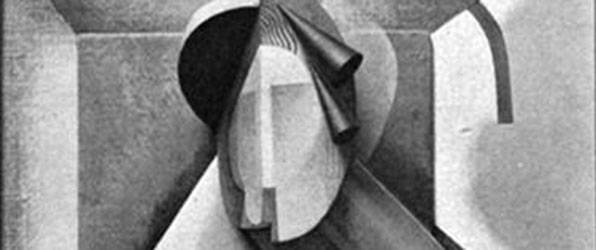 Olexandr Porfyrovych Arkhypenko was born in Kiev, Ukraine to Porfiry Antonowitsch and Poroskowia Wassiliewna Machowa. His father was an inventor and professor of engineering at the University of Kiev. His father's invention, a furnace that purified noxious factory fumes, provided financial security for the family and instilled in Archipenko the idea that the "artist's most precious faculty is invention." As a child in Kiev, he grew up looking at the images of Byzantine culture, including the painted icons and murals produced by his grandfather.
| | | |
| --- | --- | --- |
| Alexander Archipenko's childhood, life, career, and various anecdotes | | Read Alexander Archipenko's Biography |
Important Art by Alexander Archipenko

The below artworks are the most important by Alexander Archipenko - that both overview the major creative periods, and highlight the greatest achievements by the artist.


Artwork Images

Le Repos (1911)

Artwork description & Analysis: An early sculpture by Archipenko, Le Repos depicts a voluptuous reclining female nude twisting languidly with one arm positioned over her head. Its pose is reminiscent of Matisse's Blue Nude (1907) or Picasso's Demoiselles d'Avignon (1907), thus drawing on contemporary interest in the female nude among avant-garde artists.

The smooth flowing lines and delicate contours produce a simplification of forms that reflects the influence of Cubism and the sculptural traditions of ancient Egypt, Assyria, Greece, and Africa. Rather than fragmenting the body, as was more typical of Cubism, Archipenko chose to exaggerate the anatomy of his figures. And, with Le Repos, he initiated a lifelong preoccupation with depicting the female body. As Marek Bartelik has noted: "The search for a timeless representation of women brought the artist close to abstraction, not in terms of producing non-representational forms, but in the way he treated his subject abstractly, as an enduring motif. A devotional object of some sort, shared by many cultures and civilizations."

Le Repos was one of four sculptures lent by Archipenko to the Armory Show in New York in 1913 and travelled also to the exhibition's venues in Chicago and Boston. Although today the response to this small-scale sculpture seems surprising, it was considered both the ugliest work at the Armory Show by the critic James Pattison, and simultaneously as "lewd" by some female visitors (who by seeing the incision of two interlocking lovers by Archipenko on the back of the sculpture threatened to report the work to the police). According to Pattison the sculpture was "much overfleshed, her pose makes a tortured twist, her too-small head tucked under her arm...". Le Repos was nevertheless reproduced and sold as a postcard.

Painted plaster - Frances Archipenko Gray Collection

Walking Woman (1912)

Artwork description & Analysis: Taking its cues from Cubism, Walking Woman is a highly stylized abstract sculpture that deconstructs the figure by piercing holes in the head and body and reversing the roles between convex and concave forms. Archipenko's introduction of the void as a sculptural element is one of his most important innovations. Instead of a unified whole, Walking Woman replaces solid volumes with voids, using space to model the figure's head. In so doing, Archipenko breaks with conventional sculpture in his reassessment of the relationship between mass and void. According to art historian Jánszky Michaelsen, "The hole is not only one of the principal features of Cubist sculpture but a significant step in the development of sculpture in general; it signals the opening-up of the traditional monolithic concept of sculpture." Indeed, in giving sculptural form to Cubist painting, Archipenko noted, "I did not take from Cubism, but added to it."

French-German writer Ivan Goll spoke of his innovation in 1921: "Archipenko is the first to dare what appears to be sculptural suicide. A deep philosophy emanates from his creations. Every object is also present in its reverse. Being and non-being. Fullness is expressed through emptiness. A concave form is inevitably also a convex form [...] Archipenko's discovery - to stress the presence of something through its absence - makes even the unimaginable possible." As Katherine Kuh states in the catalogue of Archipenko's work for his exhibition at New York's MoMA in 1970: "[...] his greatest contribution was metaphysical. He made what is, seem what it is not. It was the duality of vision that interested him, less the image itself than our reaction to the image. Turning total voids into solid form, he also discovered that surrounding space could become as potent as dense mass".

Bronze - Denver Art Museum

Médrano II (1913-14)

Artwork description & Analysis: Médrano II showed the direct influence of Cubism on Archipenko's work. The volumes of the body are articulated through intersecting planes, cone and wedge elements, and abstract forms. This is set off by color and a back panel that frames and supports the figure.

Juan Gris noted that this work paralleled "the visual experience of Cubist painting" by challenging "the traditional understanding of sculpture. It was generally monochromatic at the time. His pieces were painted in bright colors. Instead of accepted materials such as marble, bronze or plaster, he used mundane materials such as wood, glass, metal, and wire. His creative process did not involve carving or modeling in the accepted tradition but nailing, pasting and tying together, with no attempt to hide nails, junctures or seams."

Positioned within its own frame, which is also a support, the performer's stylized body is painted in vibrant colors that allude to the famous circus that inspired it. The use of color, particularly red, also serves to further highlight the structure and the sculpture's non-traditional materials.

The work's title, Médrano, refers to the Cirque Médrano, a popular destination for artists in Paris at the time. It also seemed to draw on the contemporary interest in puppetry and the colorful harlequins and jesters seen in Picasso's paintings (for example, Family of Saltimbanques, 1905). The subject allowed Archipenko to experiment with pose and polychrome. The work relates to his "sculpto-paintings" from the same period, which provocatively combine the two mediums. In this instance, the figure appears to have broken free from the picture frame, while his other "sculpto-paintings," featuring painted reliefs, remain confined within the frame to more directly reference painting. In Archipenko's work, it is the only extant example of a figure in motion, thus being reminiscent of Marcel Duchamp's Nude Descending a Staircase (1912). The connection to Duchamp is less surprising than it seems given that both artists were affiliated with the Section d'Or group and expressed strong admiration for one another's work.

Cornelia Lauf suggests, Médrano II shows Archipenko's awareness of Synthetic Cubism by incorporating reflective glass, wood and metal in his sculpture. Lauf further interprets the sculpture as gazing at a mirror and connects this to an influence of early poems by Apollinaire, who was another supporter of Archipenko's work.

Painted tin, wood, glass, and painted oilcloth - Solomon R. Guggenheim Museum
More Alexander Archipenko Artwork and Analysis:
Influences and Connections
Influences on Artist
Artists, Friends, Movements
Influenced by Artist
Artists, Friends, Movements

Interactive chart with Alexander Archipenko's main influences, and the people and ideas that the artist influenced in turn.
View Influences Chart


Influences on Artist

Alexander Archipenko
Years Worked: 1905 - 1964
Influenced by Artist

| | | | | |
| --- | --- | --- | --- | --- |
| Artists | | Personal Contacts | | Movements |
If you see an error or typo, please:
tell us
Cite this page

Content compiled and written by Karen Barber
Edited and published by The Art Story Contributors
" Artist Overview and Analysis". [Internet]. . TheArtStory.org
Content compiled and written by Karen Barber
Edited and published by The Art Story Contributors
Available from:
First published on 26 Aug 2019. Updated and modified regularly.


[Accessed ]