Artists
Jacques Lipchitz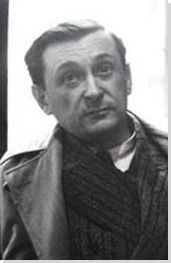 Born: August 22, 1891 - Druskininkai, Lithuania
Died: May 16, 1973 - Capri, Italy

"Copy nature and you infringe on the work of our Lord. Interpret nature and you are an artist."

Summary of Jacques Lipchitz
Lithuanian and Jewish, the refugee artist Jacques Lipchitz arrived in Paris at precisely the right time: when the early-20th-century European avant-garde was shaking up the art world and Cubism was born. When we think of Cubist sculpture, the works of Lipchitz emerge as exemplars of the style translated into three dimensions. Later, the second time Lipchitz fled for his life at the beginning of WWII, he left behind a less abstract style and, in a major career-changing transformation, began producing larger-scale sculptures in bronze. Later still, the work of the ever-dynamic Lipchitz had become increasingly emotionally expressive, often incorporating themes from Judaism. At the end of his long lifetime and multinational trek, Lipchitz may be regarded as one of the foremost contributors to the Cubist style and to modern sculpture.
Key Ideas
Lipchitz and fellow sculptor,
Alexander Archipenko
, succeeded where Cubist painters had achieved only moderate success - he transformed Cubist themes into sculptural works that display a sense of refinement and cohesion. Of the two artists, the works of Lipchitz were less abstract and rarely incorporated bright colors.
The works that Lipchitz referred to as "transparents" were given that name because they were pierced by abundant negative space. Basically, you could see right through them, or through parts of them. He used this strategy to promote the sculptures' interaction with their surroundings. They were frequently displayed outdoors, so the landscape became an important component of a work.
Lipchitz early, classical training and adept draftsmanship are evident in the emotionally charged, large bronze pieces he began producing later in his career. Themes deriving from Biblical tales and Greek mythology called for a more curvilinear and naturalistic style. Sweeping lines and variations in depth belie the influence of Cubism but the large, dramatic pieces that are made even more powerful by nature of their size as if to evoke the magnitude of the horrors of World War II.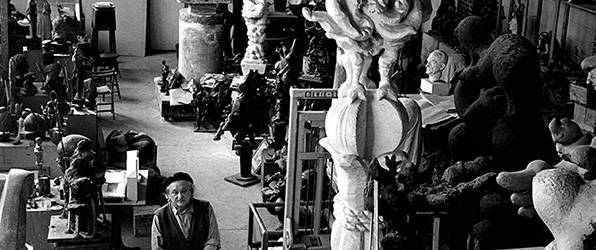 Lipchitz at his studio (1967)
The ever-driven creator, Lipchitz said: "All my life as an artist I have asked myself: What pushes me continually to make sculpture? I have found the answer. Art is an action against death. It is a denial of death."
Important Art by Jacques Lipchitz

The below artworks are the most important by Jacques Lipchitz - that both overview the major creative periods, and highlight the greatest achievements by the artist.


Artwork Images

Pregnant Woman (1912)

Artwork description & Analysis: This early work by Lipchitz demonstrates both his traditional artistic training and the incipient signs of his transition away from art school orthodoxy. Lipchitz received a thorough education in traditional sculptural processes, from drawing classical works to mocking up compositions in clay, to creating full plaster models. Most classically trained artists would give their models to a craftsman to carve in stone or cast in bronze. However, Lipchitz' Pregnant Woman remains in its plaster stage and has been treated as a finished work.

Although it is technically skilled, this work is very unlike the classical sculptures Lipchitz would have studied. Instead, it shows the influence of alternative types of sculpture such as medieval pieces or works from the African continent that, at the time, were being brought to Europe and characterized as "primitive". The figure's flat facial features and the unusual position of her arms, along with her designation as a pregnant woman, all point to an anti-classicizing tendency. This is indicative of Lipchitz' increasing regard for the work of contemporaneous, avant-garde artists in Paris who were predominantly interested in works of art from outside the classical canon.

Plaster - Tate Modern, London


Artwork Images

Sculpture (1915-16)

Artwork description & Analysis: One of Lipchitz' earliest abstract sculptures, the composition is based on the form of a human figure seated at a table. He claimed that at the time the sculpture was produced that he was engaged in "building up and composing the idea of a human figure from abstract sculptural elements of line, plane and volume."

Lipchitz presents the human figure as comprised of a variety of planes and surfaces, making use of the space surrounding the sculpture and encouraging the viewer to look at the work from multiple angles. In this way, the artist is rejecting the concept of the ideal viewpoint which is fundamental to classical sculpture.

Lipchitz originally modelled this work in clay before having the final piece executed by a stone carver he employed to assist him. When working on these "abstract architectural" sculptural pieces, Lipchitz insisted that they required the "architectural mass of stone" in order to be fully realized.

Limestone - Tate Modern, London

Seated Man with a Guitar (1918)

Artwork description & Analysis: Seated Man with a Guitar is one of Lipchitz' most mature Cubist works. While it is less abstract than earlier works such as Sculpture (1915-16), Lipchitz manages to reduce the human figure into a few distinct shapes while maintaining a degree of naturalism. The simple forms that make up the guitar are integrated with the figure's body, fusing the two as though they are one and the same object. In this way, Lipchitz succinctly conveys the notion of a performance in which the musician and instrument are of equal importance.

Guitars were frequent features of Cubist paintings and sculptures. There are various theories pertaining to exactly why the instrument was so widely depicted by Cubist artists, but it is perhaps partly because the guitar is held so close to the body, integrated and enlivened by it, when it is played. This necessary intimacy between the musical instrument and the musician inspired artists such as Lipchitz to collapse the space between the figure and the object and unify them, which was a key aim of the Cubist movement.

Critic Christopher Green describes how, in order to compose this work, Lipchitz constructed and projected volumes "outwards from an imagined core" in order to achieve an "expansive, outward-oriented occupation of space." This creative use of the space surrounding the sculpture is a key feature of Lipchitz' sculptural work.

Plaster, paint, varnish - Kröller-Muller Museum, The Netherlands
More Jacques Lipchitz Artwork and Analysis:
Influences and Connections
Influences on Artist
Artists, Friends, Movements
Influenced by Artist
Artists, Friends, Movements

Interactive chart with Jacques Lipchitz's main influences, and the people and ideas that the artist influenced in turn.
View Influences Chart

| | | | | |
| --- | --- | --- | --- | --- |
| Artists | | Personal Contacts | | Movements |

Influences on Artist

Jacques Lipchitz
Years Worked: 1910s - 1960s
Influenced by Artist

| | | | | |
| --- | --- | --- | --- | --- |
| Artists | | Personal Contacts | | Movements |
If you see an error or typo, please:
tell us
Cite this page

Content compiled and written by The Art Story Contributors
Edited and published by The Art Story Contributors
" Artist Overview and Analysis". [Internet]. . TheArtStory.org
Content compiled and written by The Art Story Contributors
Edited and published by The Art Story Contributors
Available from:
First published on 16 Jun 2016. Updated and modified regularly.


[Accessed ]