Artists
László Moholy-Nagy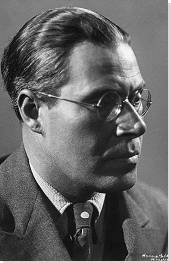 Born: July 20, 1895 - Borsod, Austria-Hungary
Died: November 24, 1946 - Chicago, Illinois

"The enemy of photography is the convention, the fixed rules of 'how to do'. The salvation of photography comes from the experiment."

Summary of László Moholy-Nagy
László Moholy-Nagy is arguably one of the greatest influences on post-war art education in the United States. A modernist and a restless experimentalist from the outset, the Hungarian-born artist was shaped by Dadaism, Suprematism, Constructivism, and debates about photography. When Walter Gropius invited him to teach at the Bauhaus, in Dessau, Germany, he took over the school's crucial preliminary course, and gave it a more practical, experimental, and technological bent. He later delved into various fields, from commercial design to theater set design, and also made films and worked as a magazine art director. But his greatest legacy was the version of Bauhaus teaching he brought to the United States, where he established the highly influential Institute of Design in Chicago.
Key Ideas
Moholy-Nagy believed that humanity could only defeat the fracturing experience of modernity - only feel whole again - if it harnessed the potential of new technologies. Artists should transform into designers, and through specialization and experimentation find the means to answer humanity's needs.
His interest in photography encouraged his belief that artists' understanding of vision had to specialize and modernize. Artists used to be dependent on the tools of perspective drawing, but with the advent of the camera they had to learn to see again. They had to renounce the classical training of previous centuries, which encouraged them to think about the history of art and to reproduce old formulas and experiment with vision, thus stretching human capacity to new tasks.
Moholy-Nagy's interest in qualities of space, time, and light endured throughout his career and transcended the very different media he employed. Whether he was painting or creating "photograms" (photographs made without the use of a camera or negative) or crafting sculptures made of transparent Plexiglass, he was ultimately interested in studying how all these basic elements interact.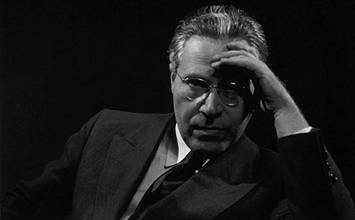 László Moholy-Nagy was born in a small farming town in southern Hungary. His father abandoned the family when he was young, and his mother took László and his brothers to live with their grandmother. "I lived my childhood years in a terrible great quietness," he later wrote. Along with his mother and brothers, he left for Budapest in 1913 to study law, but his studies were interrupted when he enlisted into the Austro-Hungarian Army as an artillery officer in 1915. He experienced the horror of war on the Russian and Italian fronts, which remained with him for the rest of his life. During this time as a soldier as he sketched field life, his fellow officers, and the civilians he encountered, he discovered a passion for drawing.
| | | |
| --- | --- | --- |
| László Moholy-Nagy's childhood, life, career, and various anecdotes | | Read László Moholy-Nagy's Biography |
Important Art by László Moholy-Nagy

The below artworks are the most important by László Moholy-Nagy - that both overview the major creative periods, and highlight the greatest achievements by the artist.

Konstruktion in Emaille 1 (Construction in Enamel 1, also known as Telephone Painting) (1922-23)

Artwork description & Analysis: in this abstract geometric composition, a thick black vertical bar intersects against a bare white background, while in front of it in the lower center, a small yellow horizontal rectangle, outlined in red, sits behind a further, thin red vertical. In the upper right third of the painting, a second cross shape, formed from intersecting black and yellow stripes, seems to levitate in the space behind the central black girder, creating a subtle sense of depth. Due to the quality of movement which the painting generates, the distant shape almost seems to approach the viewer, while at the same time, the painting conveys a sense of minimalistic, architectonic order apposite to contemporaneous architectural styles.

In 1923, Moholy-Nagy identified this painting with Constructivism, which had emerged in Russia in the 1910s but was at that time sweeping westwards, partly through the activities of the Bauhaus, seen as Constructivism's most significant outpost in Norther Europe, and where Moholy-Nagy had been appointed as preliminary course director in the year of the work's completion.

The piece also bears an obvious affinity to the contemporaneous Dutch movement of De Stijl particularly in the use of minimal geometrical arrangements and primary colors. As art historian Leah Dickerman puts it, Moholy-Nagy's painting during this period served as "both manifesto and testing ground for a Constructivist and de Stijl vocabulary." The work is radically innovative both in terms of choice of materials - porcelain enamel on sheet metal - and in terms of its process of construction. Using a color-chart produced for advertising and sales by a commercial sign factory, Moholy-Nagy phoned in the instructions for the painting's composition to the factory foreman, working from a diagrammatic grid to determine where shapes would appear on the "canvas". Moholy-Nagy described the process as akin to "playing chess by correspondence." As the curator Oliver A. I. Botar states, "to reject this belief in the sign or trace of the hand, Handarbeit, as a signifier of authenticity was a truly radical move." The artist made five such Telephone Paintings, and this one was produced in three different sizes, a process which reflected Moholy-Nagy's interest in "seriality"; he envisioned people ordering the works directly, in whatever size they wanted.

Rejecting the "aura of the art object" in favor of a process of industrial design, undertaken by an anonymous third party, Moholy-Nagy predicted Walter Benjamin musings on art's loss of spiritual resonance in The Work of Art in the Age of Mechanical Reproduction (1936). The telephone paintings also prefigure a whole range of later developments in modern art, including Andy Warhol's factory-produced screen-prints, the serial works of Minimalists, and the outsourced composition processes of the Conceptual Artists. In visual terms, Moholy-Nagy's influence can be sensed in Peter Halley's Neo-Geo paintings, such as Red Cell with Conduit (1962), which depict geometric forms in primary colors intersecting at right angles.

Porcelain enamel on steel - Guggenheim Museum, New York

Pneumatik (Tire) (1923-24)

Artwork description & Analysis: In this playful collage-work from 1923-24, a motor-car races along a curved road constructed from the word "pneumatik," a reference to a new type of air-pressurized tire. Due to the use of vanishing-point perspective, the letters grow larger as if the car were racing towards the viewer, the front P intersecting with a white curve which surges upwards through the pictorial plane, creating a dynamic sense of movement.

This work is an example of what Moholy-Nagy called his "Typophotos", which combine typography and photo collage: type is transformed into a component of visual communication, rather than being used solely for its semantic content. Forms of visual poetry and letter-based collage had been pioneered by artists such as the Futurists since the early 1910s, and graphically adventurous use of type was also abounding in the new advertising culture of the twenties, but never had lettering and photography been combined in this way. Nonetheless, we can sense Moholy-Nagy's creative antecedents in this work: in the Marinetti-esque speeding motor-car on the one hand, and in the Typophoto's explicit commercial function on the other. The artist himself described the Typophoto as "communication composed in type", adding that while "[p]hotography is the visual presentation of what can be optically apprehended", "[t]ypophoto is the visually most exact rendering of communication." He saw Pneumatik as a key example of the genre, which expressed "the new tempo of the new visual literature".

In hindsight, we can see that Moholy-Nagy's Typophotos preempt the visually adventurous uses of language made both by subsequent commercial designers and by later avant-garde art and poetry movements. As well as predicting later developments like the Concrete Poetry movement of the 1950s-60s, we can sense the influence of Moholy-Nagy's 1920s graphics on modern designers such as Neville Brody, Peter Saville and David Carson.

Collage - Louisiana Museum of Modern Art, Humblebaek, Denmark

Malerei Photographie Film (Painting Photography and Film) (1925)

Artwork description & Analysis: Moholy-Nagy was responsible for the typography and graphic design of all but three instalments of the Bauhaus Bücher ("Bauhaus Books") series, issued through the publishing arm of the Bauhaus. This image shows the cover of his own book Malerei Photographie Film ("Painting Photography and Film") (1925), the eighth volume in the series. It is considered a landmark work, showcasing Moholy-Nagy's pioneering achievements across all three media; the front cover is a photographic study featuring various geometric shapes outlined in white, with boldly ruled sans-serif letters in red and white. To the left and right, diagonal planes of light materialize, suggesting the photographic trace of an object, in the style of Moholy-Nagy's "photograms". The design continues onto the back of the book, as the left diagonal reveals itself to be a strip of film. For the artist, the book-cover represented a unique design opportunity, a kind of double-sided picture plane, on which the spirit of the book's themes and contents could be materialized, thus making the cover a crucial creative element of the work in the spirit of the Gesamtkunstwerk, or total work of art.

Moholy-Nagy played a leading role in launching the Bauhaus Bücher series in 1924; it would go on to publish an iconic and canonical range of artists' books. His pioneering designs for the series radically transformed thinking around book publishing, which he had previously criticized for its "monotonous grey" linearity. By contrast, Moholy-Nagy pioneered stylistically unified branding, with element of the book, from typography to layout to cover designs and binding, contributing to the overall creative effect. Key to this approach was Moholy-Nagy's emphasis upon the "typographical process", which he described in 1925 as "based on the effectiveness of visual relationships. Every age has its own visual forms and, accordingly, its own typography; and the latter, being a visual form, has to take account of the complex psycho-physical effects upon our organ of vision; the eye."

Such ideas, and the typographic designs that they spawned, were a fundamental influence on Jan Tschichold's Die Neue Typographie ("The New Typography") (1928), a book that became a bible for practicing graphic designers during the modernist era. Moholy-Nagy's book and lettering designs also influenced Gyorgy Kepes, his assistant during the late 1920s, who later founded the Center for Advanced Visual Studies, promoting collaboration between the arts and sciences, at the Massachusetts Institute of Technology. Moholy-Nagy's ideas have also played a notable role in guiding the course digital design, influencing contemporary software designers such as Ben Fry, Casey Reas, and John Maeda.

Letterpress printed book - Museum of Modern Art, New York
More László Moholy-Nagy Artwork and Analysis:
Influences and Connections
Influences on Artist
Artists, Friends, Movements
Influenced by Artist
Artists, Friends, Movements

Interactive chart with László Moholy-Nagy's main influences, and the people and ideas that the artist influenced in turn.
View Influences Chart

| | | | | |
| --- | --- | --- | --- | --- |
| Artists | | Personal Contacts | | Movements |

Influences on Artist

László Moholy-Nagy
Years Worked: 1917 - 1946
Influenced by Artist

Artists

| | |
| --- | --- |
| | Robert Brownjohn |
| | Marianne Brandt |
| | Charles Eames |
| | Herbert Bayer |
| | Gyorgy Kepes |

Personal Contacts

Movements

| | |
| --- | --- |
| | Geometric Abstraction |
If you see an error or typo, please:
tell us
Cite this page

Content compiled and written by Rebecca Seiferle
Edited and revised, with Synopsis and Key Ideas added by Greg Thomas
" Artist Overview and Analysis". [Internet]. . TheArtStory.org
Content compiled and written by Rebecca Seiferle
Edited and revised, with Synopsis and Key Ideas added by Greg Thomas
Available from:
First published on 01 Aug 2012. Updated and modified regularly.


[Accessed ]