Artists
Alexander Rodchenko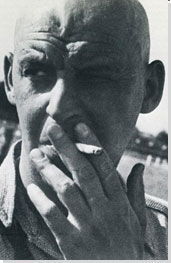 Born: December 5, 1891 - St. Petersburg, Russia
Died: December 3, 1956 - Moscow, Russia

"We had visions of a new world, industry, technology and science. We simultaneously invented and changed the world around us. We authored new notions of beauty and redefined art itself."

Summary of Alexander Rodchenko
Alexander Rodchenko is perhaps the most important avant-garde artist to have put his art in the service of political revolution. In this regard, his career is a model of the clash between modern art and radical politics. He emerged as a fairly conventional painter, but his encounters with Russian Futurists propelled him to become an influential founder of the Constructivist movement. And his commitment to the Russian Revolution subsequently encouraged him to abandon first painting and then fine art in its entirety, and to instead put his skills in the service of industry and the state, designing everything from advertisements to book covers. His life's work was a ceaseless experiment with an extraordinary array of media, from painting and sculpture to graphic design and photography. Later in his career, however, the increasingly repressive policies targeted against modern artists in Russia led him to return to painting.
Key Ideas
Rodchenko's art and thought moved extremely rapidly in the 1910s. He began as an aesthete, inspired by
Art Nouveau
artists such as
Aubrey Beardsley
. He later became a Futurist. He digested the work of
Vladimir Tatlin
, and the
Suprematism
of
Kazimir Malevich
. By the decade's end he was pioneering Constructivism. This experimental inquiry into the elements of pictorial and sculptural art produced purely abstract artworks that separate out the components of each image - line, form, space, color, surface, texture, and the work's physical support. Constructivism encouraged a new focus on the tangible and material aspects of art, and its experimental spirit was encouraged by a belief that art had to match the revolutionary transformations then taking place in Russian politics and society.
Rodchenko's commitment to the values of the Revolution encouraged him to abandon painting in 1921. He embraced a more functional view of art and of the artist, and he began collaborating with the poet
Vladimir Mayakovsky
on a series of advertising campaigns. Their work not only introduced modern design into Russian advertising, but it attempted to sell the values of the Revolution along with the products being promoted. This particular union of modern design, politics, and commerce has occasionally inspired advertisers in the West since the fall of the Berlin Wall.
Photography was important to Rodchenko in the 1920s in his attempt to find new media more appropriate to his goal of serving the revolution. He first viewed it as a source of preexisting imagery, using it in montages of pictures and text, but later he began to take pictures himself and evolved an aesthetic of unconventional angles, abruptly cropped compositions, and stark contrasts of light and shadow. His work in both photomontage and photography ultimately made an important contribution to European photography in the 1920s.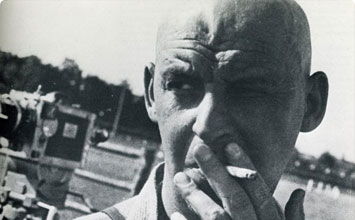 Alexander Rodchenko was born in Saint Petersburg, Russia, to a working class family. His father, Mikhail Rodchenko, was a theater props manager and his mother, Olga, a washerwoman. The family's social status did not provide much opportunity for the artistic education of talented Alexander. It is still unclear what training (if any) Rodchenko might have acquired as a child. The family moved to the city of Kazan in 1905. Two years later, Mikhail passed away, but they were able to allocate some of the family's scarce funds for Alexander's education.
Important Art by Alexander Rodchenko

The below artworks are the most important by Alexander Rodchenko - that both overview the major creative periods, and highlight the greatest achievements by the artist.


Artwork Images

Dance. An Objectless Composition (1915)

Artwork description & Analysis: Rodchenko attended a lecture by Russian Futurists Wassily Kamensky, David Burliuk, and Vladimir Mayakovsky, in Kazan in 1912, and was immediately converted. He abandoned the Art Nouveau styling of some of his earlier work and began to fragment his forms to create dynamic compositions. Dance is perhaps his most Futurist painting, and it clearly resembles works by Italian Futurists such as Umberto Boccioni and Gino Severini. However, Rodchenko soon grew disinterested in the style and, following this, he began to create even more abstract pictures, putting aside entirely the last suggestions of illusion that Dance creates.

Oil on canvas - The Pushkin Museum of Fine Arts, Moscow


Artwork Images

Non-Objective Painting No 80 (Black on Black) (1918)

Artwork description & Analysis: Rodchenko was powerfully influenced by Kazimir Malevich's Suprematism, and particularly by works such as Black Square (1915), which reduced the components of the painting to a single black square that echoed the shape of the canvas. However, Rodchenko rejected the older man's spiritualism and strove instead to emphasize the material qualities of painting, in particular surface and texture (or "faktura" as the Russians called it). Non-Objective Painting No 80 is typical of this phase in his career and is part of a series of similar "Black on Black" paintings, which were exhibited alongside five white paintings by Malevich in Moscow in 1919. The exhibition was important in catapulting Rodchenko into the forefront of Russia's avant-garde.

Oil on canvas - The Museum of Modern Art, New York


Artwork Images

Construction No. 127 (Two Circles) (1920)

Artwork description & Analysis: By 1920, Rodchenko no longer felt obliged to imbue his basic geometric figures with distinguishable layers of color. In this composition, two perfectly drawn circles intersect. The white circles on black canvas form a powerful juxtaposition liberating the line from any recognizable connotations. This balanced and precise geometric composition underlines Rodchenko's preoccupation with engineering and design that he maintained throughout his career. Rodchenko arrived at compositions such as these by progressively stripping away all that he considered unnecessary in the field of painting; after reducing color to black and emphasizing surface texture, he seized on line as the most important and elemental component of the medium. This development may have been influenced by Wassily Kandinsky's ideas, since the two artists were closely associated, though while Kandinsky stressed the expressive possibilities of line, Rodchenko emphasized its possibilities as a tool of construction.

Oil on canvas - The Pushkin Museum, Moscow
More Alexander Rodchenko Artwork and Analysis:
Influences and Connections
Influences on Artist
Artists, Friends, Movements
Influenced by Artist
Artists, Friends, Movements

Interactive chart with Alexander Rodchenko's main influences, and the people and ideas that the artist influenced in turn.
View Influences Chart


Influences on Artist

Alexander Rodchenko
Years Worked: 1915 - 1956
Influenced by Artist

Artists

Personal Contacts

| | |
| --- | --- |
| | El Lissitzky |
| | Varvara Stepanova |
| | Natalia Goncharova |

Movements

| | |
| --- | --- |
| | Constructivism |
| | Abstract Expressionism |
| | Minimalism |
| | Conceptual Art |
| | Monochrome Painting |
If you see an error or typo, please:
tell us
Cite this page

Content compiled and written by Ivan Savvine
Edited and published by The Art Story Contributors
" Artist Overview and Analysis". [Internet]. . TheArtStory.org
Content compiled and written by Ivan Savvine
Edited and published by The Art Story Contributors
Available from:
First published on 01 Aug 2012. Updated and modified regularly.


[Accessed ]