Artists
Lyubov Popova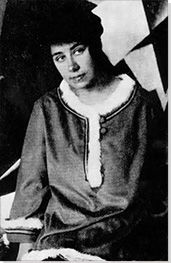 Born: April 24, 1889 - Ivanovskoe, Russia
Died: May 25, 1924 - Moscow, The Soviet Union

"Most important of all was the spirit of creative progress, of renewal and inquiry"
Summary of Lyubov Popova
Lyubov Popova was a radical multimedia artist and designer, who was an active Communist in the 1917 Russian Revolution and the years that followed. She also worked at a time when there were extremely few women artists respected by art institutions or schools, or even in the revolution. Popova travelled Europe and brought a myriad of modern influences to Russian art, in particular Cubism and Futurism - movements focused on multiplicity in the service of showing several angles of an object simultaneously, and demonstrating movement.

Later in her career, she moved to complete abstraction and simplified geometric forms alongside her Suprematist comrades, who wanted to make art in keeping with the industrial zeal of the revolution, and to move away from illusionism and elitism. At this time she also started to make textiles, theatre sets and design work, expanding the meaning and uses of art into broader society. Popova died young, but in her short life had a prolific and varied career and demonstrated that art could have an important part in revolutionary politics and post-capitalist ideas.
Key Ideas
Lyubov Popova was extremely interested in dynamism, or, representing movement in art, a problem at the center of many artistic movements, and the focus of many individual artists' lives. At the start of her career, this took the form of Futurist-style paintings showing movement through visual repetitions. Later, she would design theatre sets that moved on huge cogs; paintings with warring colors that fought to escape the picture plane, and repetitive textiles suggesting optical illusions.
Like her Suprematist comrades in the revolution, she believed that art should reflect the industrial, egalitarian future, and this meant making work that echoed the geometry and efficiency of machines, as well as moving into a pure abstraction unfettered by elitist ideas of skill, or "natural talent", common to ideas of artistic genius.
She moved away from painting to follow her belief that a revolutionary art should be practical, accessible, and reproducible. She designed stage sets, publication covers, and textiles, and her work is instantly recognizable as emblematic of the (albeit brief) revolutionary hope and fervor of Russian art at the time.
Lyubov Popova was born in Ivanovskoe, a district on the outskirts of Moscow, to an affluent family in 1889. Her father, Sergei Maximovich Popov, a successful textile merchant, and her mother, Lyubov Vasilievna Zubova, were both keen patrons of the arts and encouraged Popova's interest in art.
Important Art by Lyubov Popova

The below artworks are the most important by Lyubov Popova - that both overview the major creative periods, and highlight the greatest achievements by the artist.

Composition with Figures (1913)

Artwork description & Analysis: Popova's early works can be seen as a conjunction of Cubism and Futurism; movements and ideas she collected on her travels. Here the two figures of the title are constructed in sharp lines, with curving circles at their joints. The bright colors of the figures make them stand out from the grey of the background, with the dark blue of the woman's fan taking center stage. Familiar still life objects are scattered throughout the painting, as common in the work of Cubist artists Pablo Picasso and Georges Braque: the guitar, the fruit bowl, and the jug.

This work was painted shortly after Popova returned from studying in Paris under Henri Le Fauconnier and Jean Metzinger at the Académie de la Palette. Her frequent travel outside of Russia also introduced her to Italian Futurism, and together these styles heavily influence her work pre-Russian Revolution. Once back in Russia, Popova's own reinterpretation of these styles focused on the geometry of Cubism and the dynamic energy of Futurism. She was concerned with a new way of constructing a painting, rather than strict interpretation of a subject. The result is this fractured scene depicted through multiple angles, typical of Cubist and Futurist works of the period.

Unlike many of her contemporaries who wanted to free Russian painting from Western influences, Popova was an intentional internationalist, and this painting demonstrates a rigorous engagement with Cubism - the fragmentation, and multiplication of objects and figures; and Futurism - a dynamic expression of movement, energy, and technology with strong colors and lines. In Composition with Figures, Popova depicts feminine, but androgynous subjects brazenly inhabiting, and using the objects in the traditional Cubist still life; a figure leans on the guitar we recognize from her famous male contemporaries, and a fan moves in a hand of a figure crouched over the ubiquitous apple bowl. The painting is important in the way it brings Cubist painting to life, and resituates possibilities for the meeting of figurative, still life, and abstract painting all within one picture plane.

Oil on canvas - State Tretiakov Gallery, Moscow

Painterly Architectonic (1916)

Artwork description & Analysis: This is one of a series of paintings Popova made in 1916. The crowded canvas is taken up with a series of overlapping squares and rectangles and a white background. Using the bright colors of Russian icon art, Popova adds a painterly dimension with the visible brushstrokes and white edges in the foremost shapes. The canvas feels busy and crowded, as though the shapes are intersecting and jostling to be at the front of the painting.

Painted in the year she joined Kazimir Malevich's Suprematist group, this work demonstrates how geometry and abstraction were becoming more significant in Popova's work. What differentiates her work from Malevich, however, is her preoccupation with energetic movement. This work demonstrates the artist's move into purely nonrepresentational art, but is a precursor to the eventual uniform, repetitive, and machine-like style her work would take after the Russian Revolution of 1917. The painterly edges and use of shading verify that the work was created by a human rather than a machine.

In titling this series of paintings 'Painterly Architectonic Popova points to the most important and unique elements of this work - the painterly style, where thick paint is used and brushstrokes are visible, and the way she treats her painted lines, planes, and shapes as almost solid material objects. In this painting, she again combines influences to create an original and striking composition, here of vibrant objects crowding and pushing against the picture plane.

Oil on board - Scottish National Gallery of Modern Art, Edinburgh

Untitled, from Six Prints (c. 1917 - 1919)

Artwork description & Analysis: Using pure shapes and geometry, Popova illustrates physical and spatial dynamism. The angular forms of the triangle, rectangle, and semi-circle appear to continually rotate in space, giving the impression of energy and infinite movement. The colors in this work are derived from Popova's rediscovery of Russian folk art and icon painting, setting it apart from the abstract experiments happening concurrently in Western Europe at this time.

The Suprematist group, now including Popova, exhibited in regular shows in St Petersburg and Moscow, published a journal, and taught in art schools. In the advent and aftermath of the Russian Revolution in 1917, artists were reconsidering the role of culture and how art could contribute to the building of a new post capitalist society. This work, from the Six Prints series, illustrates the anti-materialist philosophy advocated by the Suprematists, in which a relationship was made between the unimportance of material goods and objects and the uselessness of figurative or representational art. Developing on Popova's Cubo-Futurist style of the early 1910s mixed with Malevich's influence, the print demonstrates her distinctive artistic evolution, both in theory and practice. It marks a further movement towards completely non-representational art. While evidence of the artist's hand remains, there is a lessening of paint on the surface, and a more balanced and ordered composition, which mirrored the desire for an efficient, egalitarian, and equal industrial workforce post Revolution.

Linoleum cut with watercolor and gouache additions - Museum of Modern Art, New York
More Lyubov Popova Artwork and Analysis:
Influences and Connections
Influences on Artist
Artists, Friends, Movements
Influenced by Artist
Artists, Friends, Movements

Interactive chart with Lyubov Popova's main influences, and the people and ideas that the artist influenced in turn.
View Influences Chart


Influences on Artist

Lyubov Popova
Years Worked: 1909 - 1924
Influenced by Artist

If you see an error or typo, please:
tell us
Cite this page

Content compiled and written by Alexandra Banister-Fletcher
Edited and published by The Art Story Contributors
" Artist Overview and Analysis". [Internet]. . TheArtStory.org
Content compiled and written by Alexandra Banister-Fletcher
Edited and published by The Art Story Contributors
Available from:
First published on 14 Aug 2018. Updated and modified regularly.


[Accessed ]