"I want to reduce everything to the absolute."
"Painting is my second existence. My first one was graphics. As a matter of fact, one should have four existences."
"I have always been, fundamentally, a figurative painter. I follow nature, taking certain liberties, I will admit, but it has always been reality that I seek to express."
"We paint to discover ourselves, to explain our deepest nature."
"If I am to complete all the pictures I've been thinking about, I must hurry on with it, you know."
Summary of Jacques Villon
Villon had established himself as a leading printmaker working within the Belle Époque style long before devoting his considerable talents to painting. He was, with brother Raymond, co-founder of the influential Puteaux Group and he named, and helped stage, the 1912 Salon de la Section d'Or, a seminal exhibition in the history of the Cubism and Orphism movements. His own style of painting was driven by mathematical theory through which he married the flat geometric forms of Cubism with a luminous color palette that saw him referred to by some as the "Cubist-Impressionist". Indeed, his preference for a more expressive palette is credited with helping widen the appeal of Cubism amongst a somewhat sceptical public. As his career developed, he experimented extensively with color theory, and dabbled with pure abstraction, before devoting himself to landscapes and prestigious limited-edition print projects.
Accomplishments
Not satisfied with the limited "brown" color palettes of the earliest forms of Cubism, Villon experimented with truncated forms and planar shifts which incorporated comparatively saturated colors and thick chromatic contrasts. Associated with the so-called Salon Cubists, his more expansive, more animated, take on Cubism helped make the movement accessible to a wider audience; especially so in America where he featured prominently in the famous Armory Show.
Early in his career, Villon stated that he saw painting both as "a method of prospecting, a manner of expression. With color as bait." His pre-Cubist paintings sat thus somewhere between Impressionism and Neo-Impressionism in a way they married Villon's youthful inclination towards loose brushwork with a more considered engagement with scientific theories in color and optics.
Before dedicating his life to painting, Villon made his name as an illustrator and multi-color intaglio printmaker working in the Belle Époque style that had been made famous by Henri de Toulouse-Lautrec a decade earlier. These works, which captured the ambience and gaiety of life in Montmartre, brought an added element of refinement and sophistication to printmaking making him hugely popular with the Parisian public.
As his career progressed, Villon became more-and-more absorbed with the idea of "a science of colors". In his abstract works, he applied blocks of pure colors - predominantly red, blue, and yellow - to flat surfaces as a means of redefining pictorial depth. His abstractions were the product of a method he devised whereby figurative works (such as horses and riders) were systematically distilled until they were transformed into pure geometric compositions.
The Life of Jacques Villon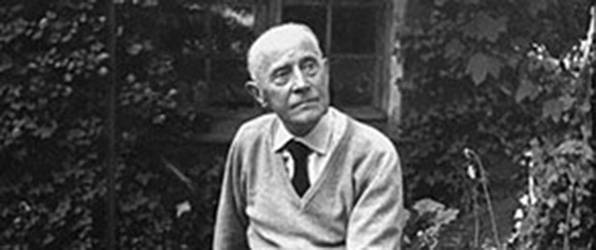 Despite his various generic detours, Villon never renounced the principles of Cubism: "I begin from studies of nature", he stated shortly before his death, "But from them I make emerge a construction, a play of arabesques and rhythms".
Important Art by Jacques Villon
Progression of Art
1903
The Game of Solitaire (Les cartes)
Having arrived in Paris for a second time (following a break for military service) in 1895 Villon studied at the Montmartre atelier of Fernand Cormon. Here he created his first lithographs and earned his living selling illustrations to Parisian newspapers and satirical journals such as Le Chat Noir, Gil Blas, Lassiette au Beurre and Le Courrier Franqais. He also produced numerous posters and prints in the Belle Époque style popularized by Henri de Toulouse-Lautrec in the 1890s. With the backing of the printer Eugène Delâtre, and the publisher Edmond Sagot, he had produced a little short of 250 multi-color and single-color intaglio prints by 1910.

Capturing the street-life of the "bohemian village" of Montmartre, Villon chose to depict a woman playing the game of Solitaire (as the title confirms). Against a red background, the woman is laying on a red bed and, although she is supposed to be playing on her own, the subject (possibly a prostitute or courtesan) invitingly gazes out at the viewer, with a hand placed defiantly on her hip. She is semi-naked and is (a little incredulously perhaps) sporting an oversized yellow hat. A Jack Russell terrier provides her with loyal companionship.

The precision and lightness of Villon's draftsmanship confers a great sense of vivacity on this print. The bold use of color creates a warm and gay atmosphere with Villon employing nuances of red - ranging from light pink to bright red - in a single plate. Villon uses here the aquatint and etching technique with an element of watercolor. In 1904 he became a founder member of the Salon d'Automne, at which he regularly exhibited his own prints. Historian Bill Lieberman suggested that Villon's Belle Époque prints had "the boldness and brilliance of Toulouse-Lautrec touched with the elegance and charm of [the French pastel artist] Paul-César Helleu".
Aquatint and etching, ed. 25 - The Museum of Modern Art, New York
1909
Self-portrait
Although he claimed that he never properly appreciated its theoretical principles, this painting sits closest to the sphere of Neo-Impressionism and shows Villon's natural inclination towards intellectual enquiry and artistic self-expression. Moving away from the free spontaneity of the Impressionist landscape, the Neo-Impressionists were concerned with modern urban life and scientific developments in optics and how colors are perceived by viewers. Neo-Impressionism was in fact considered the beginnings of modernism's gradual move towards abstraction. But although Villon would become absorbed by color theory, and would go on to produce abstract pieces of his own, by his own admission he could never fully abandon his commitment to the figurative. It is significant too that he chose to represent himself in a bad mood. The young Villon seems unsatisfied, the image of an artist in search of a solution to his creative impasse.

In his self-portrait, Villon uses stripes of colors to create space and volume; the different directions and sizes of the brushstrokes conferring a sense of motion across the composition. "Til about 1910", he once declared, "I painted as the birds sing, following my instinct, without thinking too much". Yet this painting, while retaining some of the freedom and gaiety of Impressionism, shows Villon already contemplating a new language through which to express himself. The Pointillist influence of Seurat (that is an art based on mathematical rules) is visible here, and it is significant, when looking at how his career developed from this point forward, that Villon would be more impressed by Seurat than by, say, (the Impressionist) Monet. Indeed, like Seurat, Villon is starting to deconstruct his image, drawing attention to each unnatural color applied with a thick brushstroke. It was a style that the art historian Miguel Orozco called "a new vitality [that] came from the mind".
Oil on canvas - The Museum of Modern Art, New York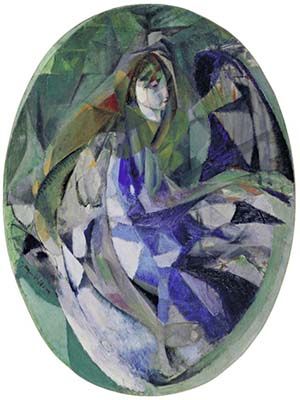 c. 1912-14
Little Girl at Piano (Fillette au piano)
This painting was included in the first exhibition of the Section d'Or group in 1912 and, the following year, it was shown at the Amory Show in America. It is formed of concentric lines around the figure of the girl playing the piano in the center of the frame. The bent lines create an effect of curvature and fluidity. The forms are broken into pyramidal planes and triangular shapes of different sizes and colors according to the details of the figure. The triangles are smaller in the face but larger for the dress. Villon's repetition of the triangle sequence for the hands creates a sense of movement. He also wanted to free Cubism from the severe planes and lines in tones of blacks, grays, and ochres. Here they are replaced with rich blues and greens.

The artist indicated that for portraits of these years, the placement of the limbs and the outlines of the figure were not determined by observed features but by his pre-established mathematical division of the canvas. The canvas is also an oval shape which is unusual for a portrait. Villon did not see the value of repeating the style of nineteenth century family portraiture even though his sitter is Madeleine, Villon's youngest sister.

Orozco wrote that John Quinn, "the most important collector of the epoch, and the person that made the Armory Show possible [and] the father of modern art collectionism [sic] in the United States" had succeeded in convincing the US Congress to overturn the so-called "Payne-Aldrich Tariff Act" of 1909 which put an excessive duty on foreign works of art less if they were less than 20-years-old". Orozco states: "Quinn opened the 1913 Armory Show exhibition with the words: 'it was time the American people had an opportunity to see and judge for themselves concerning the work of the Europeans who are creating a new art'". True to his word, Quinn purchased three Villon works, including Little Girl at Piano (for $ 270).
Oil on canvas - The Museum of Modern Art, New York
1922
Color perspective (Vertical)
Villon explained to the art critic Dora Vallier how he had started to "worry about colors" from around 1920. He said: "[before then] I felt a blue, I used a blue. But from that moment I wanted to base myself on a science of colors. I wanted to create in the absolute. I would have done well, in time, to know the theories of the Neo-Impressionists, my research would have advanced faster. I had to do the whole way again on my own. Little by little, I learned a lot from the experience, and I finally knew how to profit from the science of color. It was around 1930 ".

This painting is composed of superimposed polygonal shapes well defined by straight lines. Pure colors are applied in flat surfaces that both define and break the space. The central yellow area tends to come forward while the other colors recede into specific positions. Villon derived his abstractions from figurative works that he gradually distilled into pure geometric compositions. In the 1920s, he started a series of jockey pictures which portray a horse and rider in motion. It is known that the artist used toy horses and jockeys to study the different angles, sides, and colors as a way of recreating all the figurative combinations in abstract form. The numerous drawings, paintings, and prints testify to the meticulous and deconstructive Cubist methods that Villon held so dear. This painting is the outcome of Villon's research; the yellow area being the ultimate schematization of the jockey on his saddle.

For Villon, color was "a weight in the balance of emotions, and this weight will be all the heavier when Red, Blue and Yellow are in the required balance as dictated by the chromatic scale [...] Colors become values which through their interplay ... produce a state of receptiveness [...] I take one of these two colors first, then the other and each after its place in the color wheel calls up two new colors on the canvas. And, doing so, all the colors come to be placed in the painting according to their interference in the light, and the surface covered by each one depends on the arrangement of the planes".
Oil on canvas - Yale University Art Gallery
1941
The Kitchen Garden at La Brunie
Villon executed many landscapes while he was living in La Brunie during the war. In this painting, nature has been transformed into an intersecting network of geometric forms and thin black lines. The diagonal lines on the foreground suggest the rows of the vegetable garden while the long intersecting lines on the horizon lines seem to refer to the city of La Brunie itself. Tall trees can be spotted in the distance as well as gardeners on the foreground. Villon, thanks to a complex network of lines, reintroduced a clear sense of perspective. The organization of the space is carefully fragmented into small geometric shapes based on a linear grid. The architectural element becomes predominant and creates the dynamism of the whole composition. One can also recognize in the structural construction the many triangles that were so fundamental to the painter's thinking.

At the same time, these lines create an abstract pattern on the canvas. The colors used in the spaces left are not truly representative of Villon's work. He uses here pastel and subdued colors in transparent planes, creating an effect of luminosity by juxtaposing different hues. Art historian Edward B. Henning writes that the colors chosen by Villon, rather than describing the landscapes, "create an autonomous composition of pure color which reinforced and enhanced the linear structure".
Oil on canvas - The Cleveland Museum of Art
1960-61
Man in Jail: The Grand Testament of Villon
In the years between 1959 and 1963, Villon created a series of lithographs and etchings that featured in limited edition books and published portfolios. Made between 1960-61, Villon produced two portfolios dedicated to the poetry of Francois Villon: one consisting of eighteen color ink lithographs without text and published in a limited edition of fifteen; the second portfolio, with text, was a limited edition of 148. All copies were numbered and signed by the artist and were printed, according to Villon's stated instructions, by master printers Pierre Gaudin and Fernand Mourlot after Villon's death in 1963. Reproductions of the original prints were also featured in the anthology, The Grand Testament of Villon (by Francois Villon), published by Henri Jonquieres, also in 1963.

This image shows a figure seated on a long chair in a jail (identified by the title and the bars in the window). The artist relies on straight, parallel, and cross-hatched lines to represent the space and the volumes. His technique of hatching and cross-hatching was developed during his early Cubist experiments and was modified throughout his life. The result in this late career print is a dense work where the lines decompose and compose the figure at once. Villon planned the composition very carefully. The figure seems to advance while the background recedes thanks to contrast between the diagonals of the chair and the cross-hatched background. The empty spaces filled with colors, meanwhile, help define the body shape. The figure is probably meant to be the poet himself. The preface to the book features a quote from the artist: "I did not take the name of this poet by chance, there is between him and me an incontestable spiritual kinship".
Lithograph in color
Biography of Jacques Villon
Childhood
Jacques Villon was one of four - with Marcel, Suzanne, and Raymond - Duchamp siblings to leave a mark on the early-twentieth century artworld. Born Gaston Emile Duchamp, he was the eldest of the six children born to Eugene and Lucie Duchamp. As Notary in the provincial Normandy town of Blainville, Eugene held the most influential civic position and was able to provide a comfortable life for his family. But it was from their mother, herself an accomplished musician and amateur painter, that the Duchamps inherited their love of art.
Gaston's maternal grandfather, Emile Frédéric Nicolle, was a successful maritime broker, and printmaker of considerable repute, working in the northern port-town of Rouen. When the 16-year-old Gaston was sent to the Lycee Corneille boarding school (in Rouen) he would spend his weekends at his grandfather's house where he learned from him the fundamental principles of engraving and printing. Jacques later recalled how he became quickly accustomed to the feel of copper plates, the smell of etching acid, and the sound of melting varnish. He executed his first prints, portraits of his father and his grandfather, in Rouen in 1891.
Eugene had wanted his eldest son to pursue a career in the law and, in January 1894, he sent Gaston to the capital to study law at the University of Paris. He soon returned to Rouen where he took up an apprenticeship with a local law office. He found time to study art part-time at the Rouen School of Beaux-Arts where he became enraptured by the art of Henri de Toulouse-Lautrec. Gaston submitted many drawings to newspapers and magazines, some of them with leftist political orientations, where his talent started to get noticed.
Early Training and Work
Gaston wanted to return to Paris to study art but his father was reluctant to let him leave since Raymond (himself destined to become one of the most important Cubist sculptors) had already abandoned his medical career to pursue the life of an artist. Father and son were, however, able to reach a compromise: Gaston could take art classes with his father's blessing if he did not give up on law school. In 1895, Gaston joined his younger brother in Paris and began study at the Ecole des Beaux-Arts - where he became enamoured by the works of Vincent van Gogh and Chaim Soutine - and frequented the painter Fernand Cormon's studio.
Despite his pact with his father, Gaston quickly lost interest in his law studies. He devoted more and more time to drawing. He drew Paris scenes and people and started to contribute to satirical newspapers such as Le Rire and le Courrier Francais, joining a stable of prominent illustrators including Toulouse-Lautrec, Theophile Steinlen, Adolphe Willette, and Louis Forain. It was around this time that Gaston took the name "Jacques Villon". His adopted surname paid tribute to the French medieval poet Francois Villon, while "Jacques" was derived from "Jack", the eponymous hero of Alphonse Daudet's bestselling novel. Gallerist and Villon collector Jack Leissring suggests that the artist may have decided to adopt a pseudonym so as not to displease his father by disassociating his art from the Duchamp name. He started signing works "Jacques Villon" (even "Jack Villon" on a few of his earliest drawings) and Raymond soon followed suit by adding "Villon" to his own name (Raymond Duchamp-Villon).
After serving his military service as an infantryman in 1897, Villon established his own studio in Montmartre in 1898. He soon met Francis Jourdain, a politically radical painter and decorator, who persuaded him to revive his interest in printing. Many painters were experimenting with lithography around this time but, with the notable exception of Mary Cassatt and Eugene Delatre, color etching was becoming a rather neglected skill. Villon joined their workshop and began exploring the possibilities for the medium. He soon became a master of the techniques of color printmaking using etching and aquatint. Inspired chiefly by the milieu of the bohemian "village" of Montmartre, Villon presented a vivid portrait of the capital at the turn of the century. In 1899, the esteemed publisher Edmond Sagot took Villon under his wing. He produced about 175 color prints and posters for Sagot, all of which sold. Such was his success that in 1903 Villon helped organize the drawing section of the first Salon d'Automne (soon to become one of the most significant annual modern art exhibitions). In 1904 Villon engraved Sagot's business cards and Delatre's greeting cards as a token of his appreciation for their support and patronage.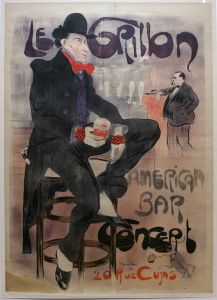 Art Historian Miguel Orozco writes that Villon had found "a style, a formula and a niche and could have been content with such easy success". However, the artist feared he was becoming repetitive and grew increasingly drawn to painting. Between 1904-05, he studied at the Academie Julian where he painted in a Neo-Impressionist idiom. His first gallery exhibition, which he shared with Raymond, was held at Galerie Legrip in Rouen, in 1905. He also exhibited at the 1905 Salon d'Automne which was witness to the public inauguration of the Fauve movement.
Villon was, however, tiring of the Parisian life and in 1906 he relocated to the quieter suburban town of Puteaux with his favorite model Gabrielle Boeuf. He later rued, "If I hadn't left Montmartre then I wouldn't have done a thing in the whole of my life". A year later, Raymond followed him and moved into a nearby studio apartment with his wife Yvonne. Marcel (Duchamp) was then living in Neuilly, a nearby city and would frequently visit his brothers. Puteaux was also home to other artists, including the Czech painter and graphic artist, Frantisek Kupka, with whom Villon remained friends throughout his life.
Mature Period
In this quieter environment, Villon devoted more and more of his time to painting. He became much closer to his brother Raymond who was a cheerful and enthusiastic man and may well have played a role in his elder brother's full-time conversion to painting. They would meet frequently with other artists, including Kupka, Albert Gleizes, Robert Delaunay, Fernand Léger, Francis Picabia, and poet Guillaume Apollinaire. On Mondays, the brothers would meet at Jean Metzinger studio in nearby Courbevoie, and on Sundays at Puteaux, in Villon's residence. Far from central Paris, the Puteaux Group, as they became known, would debate the on-going artistic developments of the capital and share their ideas on new innovations.
It was during these gatherings that Villon became aware of the potential for Cubism. It represented for him an approach based on rigor, order, and the search for a sculptural and volumetric effect (rather than the "simple" representation of the subject). The Group, which was critical of the dour palettes preferred by Picasso and Braque (neither of whom ever joined a Puteaux meeting), started discussing the stylistic and conceptual possibilities for this otherwise revolutionary practice. As the art historian Miguel Orozco writes: "Villon wanted to free cubism from the severe planes and lines in tones of blacks, grays and ochres. Puteaux actually opened the way to Synthetic Cubism, characterized by simpler shapes and brighter colors. Villon wanted to saturate color, to give it all its brilliance and depth".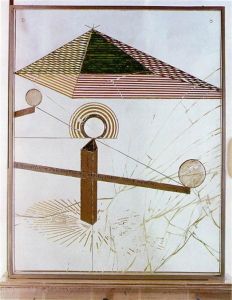 Villon was profoundly influenced by Da Vinci's Treatise of Painting, especially the Renaissance master's theory of pyramidal perception. Villon was fascinated with the pyramid and ideas on how proportions might further develop through Cubism. Villon declared that "By superimposing on the painting this pyramidal form [...] one gives it a density in which the interaction of echoing colors produces depth - a depth creating space". For Villon, Da Vinci's pyramid and the balanced golden section principle could provide the symmetrical structures to render Cubism a classical art form. (Such was the intensity of his drive to intellectualize art, his brother Marcel wrote a mocking pun on one of his glass paintings which read: A regarder d'un oeil, de près, pendant presqu'une heure (To Be Looked at, With One Eye, Close to, For Almost an Hour). Beneath this de-facto title, Duchamp added the comment "Nobody would want to look at anything following this prescription".)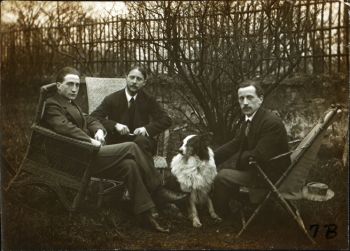 Villon's print production significantly decreased during these transitional years and, in 1910, when the publisher of Le Courrier Francais died, he ceased his work with the newspapers altogether. The illustrative aspect of his art had all but disappeared with his former patron Sagot refusing to edit and sell his prints. Meanwhile, the gatherings at Puteaux were providing real intellectual stimulus for Villon as it was for other participants; especially Metzinger and Gleizes who developed many of their ideas about the new painting technique. When Futurism arrived in Paris in 1911, it was a topic of great interest to the Puteaux group. Marcel Duchamp was one of the most interested in their development, even though he never formally aligned with any single movement, while "new" artists joined the Puteaux discussion group, including Juan Gris and Alexander Archipenko.
Cubism was by now taking hold within the Parisian art scene and many avant-gardists were trying to expand its aesthetic boundaries, including the Puteaux group. At the 1911 Salon des Independants, they even exhibited in the same hall as the Cubists. The following year Gleizes and Metzinger published Du Cubisme based largely on the discussions in Puteaux. It proved a landmark publication that became a kind of instruction manual for the group. The Puteaux artists soon decided it was time to put on their own exhibition and Villon choose the group/exhibition title: La Section d'Or, or the Golden Ratio, in homage to Da Vinci's sacred proportions. The mathematical reference clearly signalled the difference in method to the more intuitive approach of Picasso and Braque.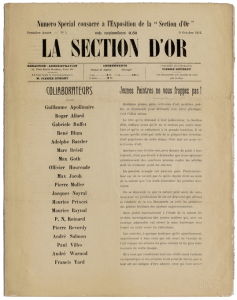 The Section d'Or show opened in October 1912 at the Galerie de la Boetie. The inauguration was held from nine until midnight, invitations were widely distributed prior to the show, and many of the guests had to be turned away on opening night. Lectures by Guillaume Apollinaire, Olivier Hourcade and Maurice Raynal were advertised, and a review, also named La Section d'Or, was published and distributed amongst attendees. The review featured contributions by, among others, Apollinaire, Roger Allard, Max Jacob, and André Salmon. Twenty-one artists exhibited more than 200 works. it was the most exhaustive pre-war exhibition devoted to Cubism and the new, but related, movement of Orphism (associated chiefly with Robert and Sonia Delaunay and named by Apollinaire after the Greek poet and musician, Orpheus, because of its colorful fluidity and its leanings towards an abstract "musicality").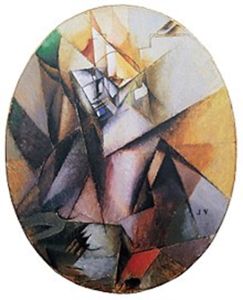 Attending the inaugural Section d'Or exhibition was the American planning committee for the famous Armory Show which would introduce European avant-garde art to an American audience. Walter Pach, Arthur B. Davies, and Walter Kuhn selected nine of Villon's works for the 1913 exhibition. Although the Armory Show was a career high for Villon, it also marked the point when Marcel, the younger brother whose talent he had nurtured till now, produced the Show's most infamous, and most successful, exhibit, Nude Descending a Staircase No. 2. Marcel had in effect overtaken Villon to become the most important of the Duchamp siblings.
Busy as he was with his artistic endeavors, Villon and Gabrielle Boeuf married in October 1913. They would remain married for the rest of his life. Villon represented Gabrielle many times in his work (starting as early as 1904 in fact) and she was great support to her husband throughout his life. The war, meanwhile, brought an abrupt halt to the artistic effervescence of the Parisian avant-garde. Villon enlisted in 1914 and he fought on the Champagne and Artois fronts before joining the camouflage unit in 1916. Several artists were mobilized there, in fact, and Villon became closely acquainted with Dunoyer de Segonzac and Andre Mare.
The return to Paris in 1920 was hard for Villon. His brother Raymond had died in October 1918 having contracted typhoid while fighting on the front. Marcel kept in touch from New York where he was now living, while his youngest sister, Suzanne (and closer to Marcel in age and in character), married the Dada painter Jean Crotti and was setting out on her own artistic career in Paris. Villon had his first solo exhibition in the United States at the Societé Anonyme, New York, in 1921 but that event aside, he was unable to work freely on his painting since his involvement in the war meant he had no paintings to sell.
Villon was obliged to accept two projects which consumed most of his time during the 1920s. For the review Architectures, published by the Éditions de la Nouvelle Revue Française, Villon engraved 36 detailed black and white architectural drawings made by Andre Mare, Louis Sue, and Paul Vera. For the other project (arranged for him by his new brother-in-law, Crotti) Villon worked for the Bernheim-Jeune gallery in Paris making interpretation prints based on the works of modern artists such as Cézanne, Van Gogh, Renoir, Matisse, Picasso, and Modigliani.
During the 1920s, he had such little time to spend on his own work that he etched fewer than twenty plates, all printed in black and white, and all in an abstract style. His lack of original output meant that his standing within the Parisian art world slipped considerably. The master printer Fernand Mourlot, who worked with many important artists and on interpretation prints, revealed in his second book of memoirs that Villon had described to him how Matisse had rebuked Villon (who had addressed him informally) by telling him to "call me Mr. Matisse". Nevertheless, print curator William Lieberman explained that Villon worked on his commercial work without the aid of photomechanical processes and that "the resulting prints are miracles of the engraver's art" (indeed, most of these plates have since been acquired by the Chalcographie du Louvre). Little by little, Villon's finances improved and, after finishing the Bernheim-Jeune project, he was finally able to focus once more his energies on his own art.
Late Period
The 1920s and 1930s had been witness to the rise of Dada, and then, Surrealism. Villon, however, had remained steadfast in his commitment to geometric investigation. In 1932, the painter began to exhibit with the Abstraction-Création group. This new group formed a challenge to the Surrealists and included amongst its members Theo van Doesburg, Jean Arp, Jean Helion, Auguste Herbin, František Kupka, and Albert Gleizes. Villon exhibited with the Group in several exhibitions and produced abstract paintings that saw the artist focusing more on color theory.
Villon's affiliation with the Abstraction-Création Group was short lived because he could never give up completely on figuration: "I did not feel at ease despite great sympathy for the movement - but impossible to let the earth go", he later stated. Villon immersed himself rather in scientific treatises on color, such as those formulated by the American physicist Ogden N. Rood and Rosenthiehl's 1934 publication, Traite De La Couleur, whose color charts were especially inspirational for the Frenchman.
By the mid-1930s Villon had started to work on landscapes and developed color theories of his own. By his own admission, his choice to work in near isolation meant he was ignored or, at best, regarded as a marginal figure, within the French art fraternity. Villon was still well regarded in America where his works graced several avant-garde collections. Indeed, he and Gabrielle took a brief excursion to New York in 1936 where he painted two notable cityscapes (featuring the New York skyline). Upon his return to France, Villon continued to work almost exclusively on landscapes. When the Second World War broke out, the Villons fled to Tarn in the safe Occitania region of Southern France.
While in Tarn, Villon was able to paint landscapes for long periods without interruption: "I sat for three months almost every evening in front of [...] nature and I drew wisely by measuring and painting" he said. Speaking of his preference for landscapes over still lifes of isolated human figures (the two thematic preferences of the Cubists) he added that the "superiority for me of landscapes [...] is that there is a group, a whole: the trees, the houses, the sky and the earth [which] play a drama or a fairyland; there is a dynamism that only needs to be highlighted". Villon did not abandon his penchant for philosophical enquiry, however, and sought ways of marrying Cubists concepts with the scientific theories of the Impressionists. Indeed, this unique field of experimentation saw Villon sometimes referred to by some as the "Cubist-Impressionist".
Once it was considered safe to do so, the Villons returned to Puteaux. Then, in 1944, on the back of an important presentation of his work at the Galerie Louis Carré, Villon signed a contact with the dealer Louis Carré who had recently opened a gallery in Paris. Carré purchased Villon's fresh stock of paintings and even paid for the installation of electricity at his Puteaux studio. As his exclusive dealer, Carre organized a solo exhibition in 1945 which boasted a catalogue prefaced by the poet Rene Char. Villon was finally beginning to achieve the widespread recognition that had hitherto eluded him. His ascendency was confirmed in 1950 when he won first prize at the Carnegie International exhibition of paintings and the Grand Prize for Painting at the 1956 Venice Biennale. The following year, the National Museum of Modern Art in Paris dedicated a vast retrospective to the 76-year-old's career.
During these later years Villon continued to work out of his studio in Puteaux. He would take on many more projects, including, with Marc Chagall and Roger Bissière, stained glass window designs for the Metz cathedral in 1957. In 1960 he produced the illustrations for a book by the poet from whom he borrowed his last name. In 1963, he was named Chevalier of the Legion d'Honor (posthumously promoted to Officier and then Commandeur) and died soon after, in his studio, on June 9, 1963, aged 87. He was buried in the Rouen cemetery in a tomb where he rests with the other members of the Duchamp clan.
The Legacy of Jacques Villon
Adverse to self-promotion, and eclipsed somewhat by the celebrity of his brother, Marcel Duchamp, Villon's achievements were nevertheless substantial. He is remembered mostly today for his contribution to the advancement of Cubism in the early 20th century. As co-founder of the Puteaux Group, he developed a Cubist art based on pure mathematical concepts and was instrumental in the staging of the landmark Salon de la Section d'Or exhibition of 1912 (which he also named). Paris based artists including the likes of Henri Fautrier and Serge Poliakoff took inspiration from his work but as the so-called "Modern School of Paris" yielded to the "New York School" as the citadel of modern art, Villon's latter career, which featured figural and landscape painting, was somewhat overshadowed.
His impact on the art of engraving and etching was also impressive. Indeed, Stanley William Hayter, founder of the Atelier 17 printworks studios in Paris and New York, and perhaps the most important printmaker of the Anglo-Saxon world, called Villon the "unacknowledged father of modern printmaking". In the preface for the exhibition at the Museum of Modern Art in 1961, curator and historian Bill Lieberman added that, "six decades after his first etching in 1891, Villon can look upon a production of printed work which in variety and technique is surpassed by no other living artist".
Influences and Connections
Influences on Artist

Influenced by Artist
Friends & Personal Connections
Edmond Sagot
Artists
Jean René Bazaine

Henri Fautrier

Serge Poliakoff

Roger Bissière
Friends & Personal Connections
Pierre Gaudin

Fernand Mourlot

Olivier Hourcade

Maurice Raynal
Movements & Ideas
Abstraction

Colorism

Modern School of Paris
Useful Resources on Jacques Villon
Books
The books and articles below constitute a bibliography of the sources used in the writing of this page. These also suggest some accessible resources for further research, especially ones that can be found and purchased via the internet.