Artists
Kiki Smith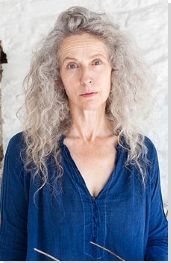 Born: January 18, 1954 - Nuremberg, Germany

"My suffering is that I see that there are these really great forms. They're holy in a way, like they have this really incredible power about them. And all I can do is recognize it."
Summary of Kiki Smith
Kiki Smith is one of the most widely recognized people in the art world today, and one of the most prolific artists of her generation. Coming of age during the waning days of performance art in the late 1970s, Smith and others of her era, such as Barbara Kruger, Kara Walker, and Cindy Sherman, comprised the end of the second wave of Feminist art and found new ways to explore the social, cultural, and political roles of women. Smith was fascinated by figurative art and became known for her visceral, often disturbing artworks that depict the human body in detail, focusing on themes of women from mythology and folklore, or that reference her Catholic upbringing. Her unique vision, breadth of experience, and prolific output, which includes books, painting, sculpture, prints, and collaborations with other artists, cements her position as one of our most important voices of contemporary Feminist art.
Key Ideas
Surprisingly, Smith's art emerged from her upbringing within the spheres of
Minimalism
and abstract art. Abstraction was such an innate part of her world, it was "like air, completely natural...," and thus it did not hold the attraction for her as that presented by the novelty of representational art. In many ways the course of her development was diametrical to that of a great many artists, as early inventors of abstract art began as figurative artists who arrived at abstraction through efforts to distill and simplify their subject matter.
Smith forged a unique path within Feminist art, concentrating on the human figure when abstraction and
Performance art
were more popular. Early on she made her creative statements primarily through visceral representations of men and women, and individual body parts, depicting in graphic detail the internally toxic effects of illness, long-held guilt, shame, or humiliation on the human body. In this way she brought further awareness to the AIDS crisis, while simultaneously dealing with the loss of her sister and many friends to the disease.
The wolf in Smith's art is as detailed and naturalistic as her human figures, but it also symbolizes the wild woman, or 'she-wolf'. Found in many feminist and cultural narratives, she-wolves are women who act instinctively, according to their intuition. By depicting women and wolves together Smith represents the idea of 'Embracing one's Inner Wolf' - the self-knowledge and self-acceptance gained from deep personal introspection. Thus, her artworks may be understood on a multiplicity of levels - as highly detailed naturalistic figures, exploration of overlapping figures from different mythologies/religions, and as feminist dialogue inspiring self-acceptance.
Other works by Smith depict woman as feral, responding to her most basic animal nature. In cultural and narrative traditions such figure types operated outside of societal boundaries and were often viewed by others with suspicion, even fear. In Jewish tradition, Lilith, the first wife of Adam shunned the world of male dominance to reside within the demon realm. The object of the story was to characterize this woman living on the margins of society as uncivilized, without male guidance, and therefore dangerous - even demonic. One sees, from such traditions their influence on cultural models, hence, the presence within many medieval fairytales of the old hermit woman/witch who lived in the forest.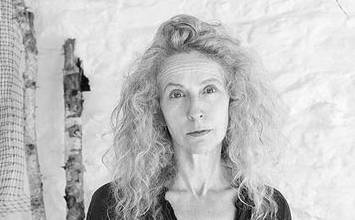 Kiki Smith was born in 1954 to American parents living in Nuremberg, Germany. Her father was minimalist sculptor Tony Smith and her mother was Jane Lawrence, an American actress and opera singer working in Germany at the time Kiki was born. Her artistic lineage also claims her grandfather, who was an altar-carver. When Smith was still an infant her family moved back to the United States to live in her father's childhood home in South Orange, New Jersey. Family friends who visited the house included Jackson Pollock, Barnett Newman, Tennessee Williams, and Mark Rothko. Art, especially contemporary art was present at every stage of Smith's life; she often helped her father make paper models for his sculptures in their living room, and in his studio, after school. Her younger twin sisters, Seton and Beatrice (Bebe), also followed creative paths. Seton is an artist, most noted for her cibachrome (now known as 'Ilfochrome') photography, and Bebe was an actress. They were a tight-knit family and Smith remains close with Seton today.
Important Art by Kiki Smith

The below artworks are the most important by Kiki Smith - that both overview the major creative periods, and highlight the greatest achievements by the artist.


Artwork Images

Untitled (1990)

Artwork description & Analysis: One of her early large-scale wax sculptures, Untitled explores the human body from within a variety of themes such as religion, procreation, life, and death. The sculpture consists of two life-size, nude figures (one female and one male) placed near one another, each held slightly aloft by vertical props. The anonymous-looking, unidealized figures are Caucasian, depicted in mostly naturalistic skin-tones with areas of red-tinted mottling on each (the male figure is of noticeably ruddier complexion). Both figures slump forward, eyes closed, hanging limply and puppet-like, as if dead. Milk has leaked from the breasts of the woman and runs down her torso, while semen has dripped down the legs of the man.

Although each figure is separate, the similarity of treatment suggests that they are to be viewed as a unified composition. Elevated as they are, their limp postures hint at ideas of death and suffering, perhaps crucifixion, while their gendered presence (along with their bodily fluids) invite associations with procreation and sexuality, and tie them to such religious concepts as Adam and Eve, and, ultimately, notions of Original Sin.

Examined more closely, Untitled characterizes Smith's self-confessed preoccupation with visceral functions associated with life giving bodily fluids - exemplified here by the milk and semen. In contrast to those secretions tied to procreation, the red tinted coloring on both figures (the male more so, imparting a somewhat ruddy hue to his features), certainly implies blood, but might also remind the viewer of the ancient burial practice of adorning the dead body with red ochre. Of further significance is the life/death dichotomy that blood represents as the vector for deadly diseases such as AIDS, from which her sister had recently died and which was then reaching epidemic proportions worldwide.

Smith's prosaic figures are entirely human, with the blemishes, defects, and weaknesses intrinsic to humanity. They challenge the viewer to see the body as more (and less) than beautiful, idealized objects of veneration or attainment; they demand honest self-reflection by the viewer, and acceptance of the frailty, carnality, and vulnerability that are inherent in living in the flesh.

Beeswax and microcrystalline wax - Whitney Museum of American Art, New York, NY


Artwork Images

Virgin Mary (1992)

Artwork description & Analysis: Smith's interest in the elemental functions of the human body, particularly with female anatomy, merges with her Feminist perspective, and the iconography of her Catholic religion in her sculpture, Virgin Mary. She has appropriated the image of the revered matriarch of her faith and removed the luster generated by centuries of veneration to investigate those vital differences that place her above all women.

Nearly life-size, the wax figure stands, feet together, arms at her sides turned slightly outward, palms up. Her body is depicted nude, but without skin, so that the musculoskeletal system is all that remains, except that her head, hands, breasts, genitalia, and feet all retain their pale flesh. Her head is hairless, the facial features barely discernable. The impersonal nature of the figure, with its reddish-pink layers and bands of muscle, sinew and pale bone brings to mind anatomical models and medical textbook illustrations.

The open-arm posture, however, suggests images of a Eurocentric 'Virgin Mary', for which this sculpture is named, and is reminiscent of Orans figures of early Christianity. Familiar posture aside, Smith withholds Mary's traditional attributes: the halo, blue robe, bejeweled crown, lilies, roses, nursing infant, which generate an otherworldly sort of aura meant to elevate her above all women. Instead, the viewer is asked to acknowledge the woman beneath the veneer of holy mysticism. This Mary offers the viewer no gentle countenance or spiritual comfort. Rather, by removing her skin yet retaining those portions for which she was adored - her breasts, uterus and hands - Smith's sculpture reveals the affinity Mary shares with all women, the blood and bodily functions, the muscle, sinew, and bone. Once examined, the viewer is obligated to acknowledge that those functions for which Mary was revered (and for which women have, historically, been condemned by the Church as unclean) are what actually made her a woman, and that in her humanity she was simply flesh and blood. This leaves viewers with a conundrum, as they must decide either that the venerated figure was simply human or that a woman's body is actually sacred.

Beeswax, microcrystalline wax, cheesecloth, and wood - Pace Gallery


Artwork Images

Sueño (1992)

Artwork description & Analysis: It is important in understanding Smith's contributions to art to examine other media beyond sculpture, which are far ranging. Smith had considerable experience in printmaking, having experimented with monotype, and screen methods since the late 1970s. But, her work in etching was new.

Sueño (Spanish for "dream") is a two-color intaglio print depicting a life-size figure curled into a distorted semblance of a fetal pose in the center of a large sheet of Japanese paper. It is impossible to discern the figure's gender (though Smith herself posed for it, while assistants traced her), reinforcing its enigmatic quality. Negative space surrounds it creating a sense of vulnerability. It curls awkwardly, with its back curved upward and slightly torqued, legs drawn up, its right foot tucked behind the left leg, arms pressed open from the shoulder, and its hairless skull facing downward in profile.

The figure appears to be without skin, its striated musculoskeletal system etched intricately in thousands of lines of black ink, heightened by tints of red. A single, thin outline hovers slightly away from the figure, traced most of the way around, representing the outer skin, similar to an x-ray. The stark contrast of ink against pale ground strengthens the aura of defenselessness, while the detailed linear treatment and braiding of the muscles highlights the unnatural pose.

Although Sueño parallels Virgin Mary in its depiction of a flayed figure, it leads the viewer to a different conclusion laced with irony. Although the viewer sees the figure in amazing detail, it is still completely anonymous. And, for all that this flayed individual appears very vulnerable, by virtue of its location within the composition, one also experiences a sense of discomfort, even unease due to the unnatural placement of limbs and unresolved posture.

Etching and aquatint on Japanese paper - Museum of Modern Art, New York, NY
More Kiki Smith Artwork and Analysis:
Influences and Connections
Influences on Artist
Artists, Friends, Movements
Influenced by Artist
Artists, Friends, Movements

Interactive chart with Kiki Smith's main influences, and the people and ideas that the artist influenced in turn.
View Influences Chart

| | | | | |
| --- | --- | --- | --- | --- |
| Artists | | Personal Contacts | | Movements |

Influences on Artist

Kiki Smith
Years Worked: 1970s - present
Influenced by Artist

| | | | | |
| --- | --- | --- | --- | --- |
| Artists | | Personal Contacts | | Movements |
If you see an error or typo, please:
tell us
Cite this page

Content compiled and written by The Art Story Contributors
Edited and published by The Art Story Contributors
" Artist Overview and Analysis". [Internet]. . TheArtStory.org
Content compiled and written by The Art Story Contributors
Edited and published by The Art Story Contributors
Available from:
First published on 11 Mar 2017. Updated and modified regularly.


[Accessed ]