Artists
Barbara Kruger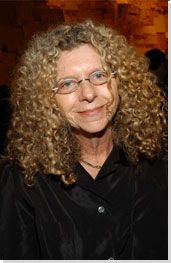 Born: January 26, 1945 - Newark, New Jersey

"Do you know why language manifests itself the way it does in my work? It's because I understand short attention spans."
Summary of Barbara Kruger
Barbara Kruger is best known for her silkscreen prints where she placed a direct and concise caption across the surface of a found photograph. Her prints from the 1980s cleverly encapsulated the era of "Reaganomics" with tongue-in-cheek satire; especially in a work like (Untitled) I shop therefore I am (1987), ironically adopted by the mall generation as their mantra. As Kruger's career progressed, her work expanded to include site-specific installations as well as video and audio works, all the while maintaining a firm basis in social, cultural, and political critique. Since the 1990s, she has also returned to magazine design, incorporating her confrontational phrases and images into a wholly different realm from the art world. Associated with postmodern Feminist art as well as Conceptual art, Kruger combines tactics like appropriation with her characteristic wit and direct commentary in order to communicate with the viewer and encourage the interrogation of contemporary circumstances.
Key Ideas
The economy of Kruger's use of image and text facilitates a direct communication with the viewer. Within a short declarative statement, she synthesizes a critique about society, the economy, politics, gender, and culture.
Kruger merges the slick facade of graphic design with unexpected phrases in order to catch the viewer's attention using the language of contemporary publications, graphic design, or magazines. Rather than attempting to sell a product, her works aim to sell an idea to the viewer that is meant to instigate a reconsideration of one's immediate context.
Kruger appropriates images from their original context in magazines and sets them as the background against which she emblazons confrontational phrases. From her use of clearly legible font to her jarring palette of red, white, and black, each element of the final artwork is crucial to its effectiveness as both an artistic expression and a protest against facets of postmodern life.

Entrance to Kruger Exhibition: Belief + Doubt at the Hirshhorn Museum and Sculpture Garden, Washington, DC
Recalling "Even when I was a little girl, I remember going to the Museum of Modern Art.. And what I really remember is the design collection," Kruger's first artistic inspiration evolved into her bold graphic prints that powerfully confronted social issues.
Important Art by Barbara Kruger

The below artworks are the most important by Barbara Kruger - that both overview the major creative periods, and highlight the greatest achievements by the artist.


Artwork Images

Untitled (You invest in the divinity of the masterpiece) (1982)

Artwork description & Analysis: For this early work Kruger appropriated a portion of Michelangelo's renowned Sistine Chapel ceiling fresco notably the image of God's hand touching Adam's at the moment of creation. Through her use of the pronoun "You," Kruger directly addresses the viewer, inviting them to impose their own narrative on Michelangelo's masterpiece. The inference of personal responsibility in this work, however abstract, is a consistent theme through Kruger's work. She suggests that all of us are somehow implicated in a historical narrative; in this case, that of Western ideology, society, and art and as viewers of works of art, our opinion about the importance or role of the work of art is influenced, and sometimes even predetermined, by our own religious or philosophical, cultural, and ideological beliefs. Participating in postmodernism's ideal of questioning the progression and narrative of modernism, Kruger uses this piece to help the viewer acknowledge their role and agency when viewing art.

Photostat - Museum of Modern Art, New York


Artwork Images

Untitled (Your body is a battleground) (1989)

Artwork description & Analysis: Kruger designed this print for the 1989 reproductive rights protest, the March for Women's Lives, in Washington, D.C. Utilizing her signature red, black, and white palette, the woman's face is split along a vertical axis, showing the photographic positive and negative sides, suggesting a highly simplified inner struggle of good versus evil. The political and social implications of the work are self evident, but Kruger emphasizes the directness of her sentiment by having her subject stare straight ahead through the print, frankly addressing the viewer through both her gaze and the words emblazoned across her face. The message unequivocally addresses the issue of the continued feminist struggle, connecting the physical body of female viewers to the contemporary conditions that necessitate the feminist protest. Kruger's slick graphic aesthetic and use of dramatic found imagery also place this work within the purview of postmodernism, tying it not only to contemporary critique, but to the larger social and cultural responses within the period.

Photo silkscreen on vinyl - The Broad Art Foundation, Santa Monica


Artwork Images

Installation view of self-titled solo exhibition at Mary Boone Gallery, NYC (1991)

Artwork description & Analysis: For her third solo show at Mary Boone Gallery, Kruger transformed the gallery space into pure experience, with wall to wall and floor to ceiling displays in black, white, and red. Upon entering the gallery, visitors were greeted with the following text, printed in white letters on a vermillion background: "All that seemed beneath you is speaking to you now. All that seemed deaf hears you. All that seemed dumb knows what's on your mind. All that seemed blind sees through you." This confrontational epithet set the tone for the entire installation, which implicates the viewers in Kruger's critique of the dynamics of power in the early 1990s. Kruger used bold white text within a virtual sea of red, pitting a flood of language against billboard-sized images that collide on the walls. Two images of a child's screaming face confront the viewer with the phrase "All violence is the illustration of a pathetic stereotype," while a sensational image, tucked in the back room of the gallery, portrays a naked woman on a cross wearing a gas mask, emblazoned with the words, "It's our pleasure to disgust you," a brazen challenge aimed at the conservative elements of American society. The hostile tone of Kruger's language, as well as the nature of the entire installation, is intended to activate viewers' emotions in order to consider the circumstances that led Kruger to make such incisive statements. Her first foray into site-specific installation, this exhibition represented a major departure from her earlier two-dimensional work.

Photographic collage - Mary Boone Gallery, New York
More Barbara Kruger Artwork and Analysis:
Influences and Connections
Influences on Artist
Artists, Friends, Movements
Influenced by Artist
Artists, Friends, Movements

Interactive chart with Barbara Kruger's main influences, and the people and ideas that the artist influenced in turn.
View Influences Chart


Influences on Artist

Barbara Kruger
Years Worked: Years
Influenced by Artist

If you see an error or typo, please:
tell us
Cite this page

Content compiled and written by Justin Wolf
Edited and published by The Art Story Contributors
" Artist Overview and Analysis". [Internet]. . TheArtStory.org
Content compiled and written by Justin Wolf
Edited and published by The Art Story Contributors
Available from:
First published on 01 Oct 2012. Updated and modified regularly.


[Accessed ]