Artists
The Guerrilla Girls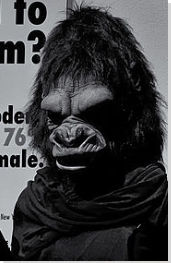 Started: 1984

"If you're in a situation where you're a little afraid to speak up, put a mask on. You won't believe what comes out of your mouth."

Summary of The Guerrilla Girls
In 1985, a group of vigilantes wearing gorilla masks took to the streets. Armed with wheat paste and posters, the Guerrilla Girls, as they called themselves, set out to shame the art world for its underrepresentation of women artists. Their posters, in the words of one critic "were rude; they named names and they printed statistics. They embarrassed people. In other words, they worked." In addition to posters (now highly-valued works of art), billboards, performances, protests, lectures, installations, and limited-edition prints make up the Guerrilla Girls' varied oeuvre. Their unorthodox tactics were instrumental in making progress. The group is still going strong, reminding the art world that it still has a long way to go. Referring to themselves as "the conscience of the art world," wherever discrimination lurks, the Guerrilla Girls are likely to strike again.

As their reputation has grown, they have encompassed targets beyond the art sphere, like Hollywood, right wing politicians, and same-sex marriage. They have collaborated with institutions that once shunned them, including the Tate Modern and MoMA, and yet their tactics remain as radical as ever. In a 2012 interview they revealed, "We've been working on a weapon, an estrogen bomb...If you drop it, the men will drop their guns and start hugging each other. They'll say, 'Why don't we clean this place up?' In the end, we encourage people to send their extra estrogen pills to Karl Rove; he needs a little more estrogen."
Key Ideas
The Guerrilla Girls' marketing tactics were more sophisticated than that of any previous feminist campaign. Imitating advertising, and appealing to the eye of the educated mass consumer, they engaged a much broader audience.
Gorilla masks are funny. Coopting this and other elements of humor into their communicative strategy helped dispel the notion that feminists have no sense of humor.
The Guerrilla Girls made feminism seem like a glamorous club one could join. As New York Times art critic Roberta Smith has written, they took "feminist theory, gave it a populist twist and some Madison Avenue pizazz and set it loose in the streets." In admitting women only, and exclusively by invitation, the group mirrored power circles in the male-dominated art world.
While adopting masks and pseudonyms like Frida Kahlo, Gertrude Stein, and Kathe Kollwitz heightened the theatricality of their public appearances, it also served a practical purpose. It afforded anonymity for working artists who had every reason to believe the institutions would launch counter attacks on their professional reputations.
Their decision to remain anonymous is pointedly connected to the history of women in art. In the 1980s, many art history courses did not include a single woman artist, and many of the women artists whose works are now well known were relatively undiscovered.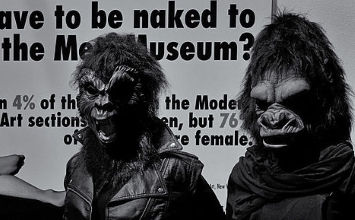 Two main events inspired the formation of the Guerrilla Girls. One was the publication of the influential feminist essay "Why have there been no great women artists?" in 1971 by art historian Linda Nochlin. As the title suggests, Nochlin accepts that throughout history, women have failed to achieve greatness on a par with the Michelangelos and Picassos of the art world. Nochlin blames the art world, eschewing the oft-repeated explanation that women must be somehow biologically or intellectually inferior. In a deeply segregated system with long-entrenched institutional biases, she argues, women had never had the opportunity to compete on a level playing field with their male peers. Laying the blame squarely on the art world, Nochlin writes: "The fault lies not in our stars, our hormones, our menstrual cycles, but in our institutions and our education."
| | | |
| --- | --- | --- |
| The Guerrilla Girls's childhood, life, career, and various anecdotes | | Read The Guerrilla Girls's Biography |
Important Art by The Guerrilla Girls

The below artworks are the most important by The Guerrilla Girls - that both overview the major creative periods, and highlight the greatest achievements by the artist.

Dearest Art Collector (1986)

Artwork description & Analysis: Shortly after forming their group, The Guerrilla Girls sent this poster to well- known art collectors, pointing out how few works they owned by women artists. Addressed "Dearest Collector", and made to resemble a hand-written letter on powder-pink paper, the rounded cursive script crowned with a frowning flower oozes femininity, exemplifying the scathing sarcasm for which the Guerrilla Girls were known. This send up of femininity is aimed at the expectation that, even when presenting a serious complaint, women should do so in a socially acceptable 'nice' way. "We know that you feel terrible about this" appeals to the feelings of the recipient. The group later transcribed it into other languages and sent it to collectors outside the U.S. A practical joke with serious implications, this poster is now (somewhat ironically) a collector's item.

Poster - Tate Museum, London; Walker Art Center, Minneapolis

The Advantages of Being a Woman Artist (1988)

Artwork description & Analysis: The so-called "advantages" on this list numbers thirteen (i.e. an unlucky number) ways in which women are systematically excluded from art textbooks, exhibitions, and literature. "Seeing your ideas live on in the work of others" alludes to women's innovations that have been misattributed to men. "Knowing your career might pick up after you're eighty" refers to Louise Nevelson, Lee Krasner, Barbara Hepworth, and countless other women artists whose contributions to the history of art were only acknowledged at the very end of their careers. "Having the opportunity to choose between career and motherhood" addresses the persistent social expectation that women must choose (for men, there was no equivalent expectation). The list ends with a self-referential flourish: "Getting your picture in the art magazines wearing a gorilla suit." The Guerrilla Girls, working artists, were finding that they got more attention when dressed as gorillas, an irony that did not escape them. As they put it, "we discovered that the art world takes feminists more seriously when they use humor and wear a gorilla disguise." A prime example of the Guerrilla Girls' early work, this poster, distributed widely in Manhattan in 1988, uses wit and sarcasm to expose inequities of the art world.

Poster - Tate Modern, London; Walker Art Center, Minneapolis

When Racism & Sexism Are No Longer Fashionable, What Will Your Art Collection Be Worth? (1989)

Artwork description & Analysis: At the end of the 1980s, contemporary art prices rose to astronomical heights. Work by contemporary women artists, however, did not rise to reflect this spike in the market. This poster reminds art collectors that the "art market won't bestow mega-buck prices on the work of a few white males forever," and that with the 17.7 million one Jasper Johns painting was worth in the present, the collector could buy at least one work by all of the sixty-seven women artists and artists of color on this list, which would presumably be worth much more in the future. The list includes well-known women artists, both contemporary and historical, such as Diane Arbus, Mary Cassatt, Sonia Delauney, Georgia O'Keeffe, Dorothea Lange, Angelica Kauffmann, and Rosa Bonheur. Women artists of color are also included, such as Frida Kahlo, Tina Modotti, Remedios Varos, and Edmonia Lewis. Indeed, if the collector had listened, and acted as directed here, he or she would now be a billionaire.

This poster returns to a point raised three years earlier in the pink letter written to collectors. Instead of appealing to feelings, however, it makes a financially viable argument. By pointing out that one work by Jasper Johns was valued more highly than the work of all these women artists and artists of color put together, the Guerrilla Girls highlight the absurdity of the art world's sexist system of valuation. They also make the point that in order to remain competitive as an investor, a collector not only should, but must diversity his (or her) "art portfolio", by buying work by women and artists of color.

Poster - Tate Museum, London; Walker Art Center, Minneapolis
More The Guerrilla Girls Artwork and Analysis:
Influences and Connections
Influences on Artist
Artists, Friends, Movements
Influenced by Artist
Artists, Friends, Movements

Interactive chart with The Guerrilla Girls's main influences, and the people and ideas that the artist influenced in turn.
View Influences Chart


Influences on Artist

The Guerrilla Girls
Years Worked: 1984 - present
Influenced by Artist

Artists

| | |
| --- | --- |
| | Coco Fusco |
| | Pussy Riot |

Personal Contacts

Movements
If you see an error or typo, please:
tell us
Cite this page

Content compiled and written by Rebecca Seiferle
Edited and revised, with Synopsis and Key Ideas added by Ruth Epstein
" Artist Overview and Analysis". [Internet]. . TheArtStory.org
Content compiled and written by Rebecca Seiferle
Edited and revised, with Synopsis and Key Ideas added by Ruth Epstein
Available from:
First published on 02 Mar 2017. Updated and modified regularly.


[Accessed ]