Movements, Styles, and Tendencies
Street and Graffiti Art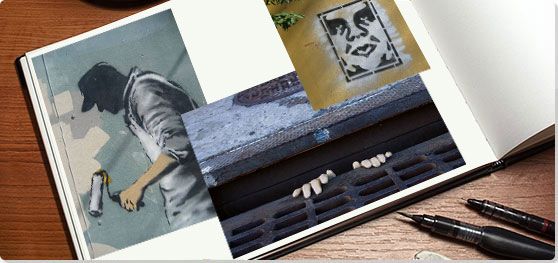 Street and Graffiti Art
Started: 1967

"I've always wanted to make work that communicates to the masses, not the minority."
Summary of Street and Graffiti Art
The common idiom "to take to the streets" has been used for years to reflect a diplomatic arena for people to protest, riot, or rebel. Early graffiti writers of the 1960s and 70s co-opted this philosophy as they began to tag their names across the urban landscapes of New York City, Los Angeles, and Philadelphia. As graffiti bloomed outward across the U.S., Street Art evolved to encompass any visual art created in public locations, specifically unsanctioned artwork.

The underlying impetus behind Street Art grew out of the belief that art should function in opposition to, and sometimes even outside of, the hegemonic system of laws, property, and ownership; be accessible, rather than hidden away inside galleries, museums, and private collections; and be democratic and empowering, in that all people (regardless of race, age, gender, economic status, etc.) should be able to create art and have it be seen by others. Although some street artists do create installations or sculpture, they are more widely known for the use of unconventional art mediums such as spray paint, stencils, wheat paste posters, and stickers. Street Art has also been called independent public art, post-graffiti, and guerilla art.
Key Ideas
A central aspect of Street Art is its ephemerality. Any unsanctioned public work runs the risk of being removed or painted over by authorities or by other artists. No one can own it or buy it. Viewers are seeing a one-of-a-kind work that is likely not to last. This temporariness creates an immediacy and electricity around the work.
Street Art can often be viewed as a tool for promoting an artist's personal agenda surrounding contemporary social concerns, with city facades acting in the same role as the old fashioned soapbox; a place to extol the artist's opinion on a myriad issues ranging from politics and environmentalism to consumerism and consumption.
Many street artists use the public canvas of buildings, bridges, lampposts, underpasses, ditches, sidewalks, walls, and benches to assure their individual messages are seen by a wide swath of the population, unfiltered by target demographics or being accessible only to art world denizens.
As advertising infiltrates, the communal consciousness on a constant daily basis, Street Art has oftentimes been coined a counter attack. Popular street artist
Banksy
has said, "To some people breaking into property and painting it might seem a little inconsiderate, but in reality the 30 square centimeters of your brain are trespassed upon every day by teams of marketing experts. Graffiti is a perfectly proportionate response to being sold unattainable goals by a society obsessed with status and infamy. Graffiti is the sight of an unregulated free market getting the kind of art it deserves."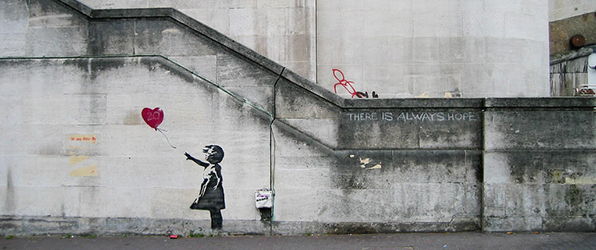 Banksy's iconic image of girl and balloon in South Bank, London
Street Art is supposed to be the ultimate in democratized art; seen by everyone, owned by no-one. But this hasn't stopped a Banksy becoming the movement's ultimate collectible; with celebrities including Justin Bieber, Serena Williams and Angelina Jolie, having acquired the elusive artist's work.
Important Art and Artists of Street and Graffiti Art

The below artworks are the most important in Street and Graffiti Art - that both overview the major ideas of the movement, and highlight the greatest achievements by each artist in Street and Graffiti Art. Don't forget to visit the artist overview pages of the artists that interest you.


Artwork Images

Untitled (Tag on Pole) (1973)

Artist: TAKI 183

Artwork description & Analysis: This work serves as an early example of tagging, the type of graffiti writing in which the writer scrawls his/her pseudonym (also known as their "tag") using spray paint or marker, as quickly as possible in as many locations as possible, with the goal of "getting up", or gaining credibility and fame for proliferating one's name around the city. An artist's tag is a pseudonym, which protects both the individual's identity and anonymity, while simultaneously providing the writer an opportunity to develop a new identity or persona (much like a digital avatar). In fact, TAKI 183 is often credited as being the first tagger (although some argue that CORNBREAD of Philadelphia was the first). As journalist Norman Mailer paraphrased the words of graffiti artist CAY 161, "the name is the faith of graffiti." More than anything else, graffiti writers convey their identity and their existence by painting their tag in public spaces. Although considered more as vandalism than art, tagging proliferated the idea that one could become known by demonstrating their presence in public spaces, thus providing the raw foundation for artists to evolve out from within.

Permanent Marker - New York City


Artwork Images

Untitled (New York Subway Graffiti) (1982)

Artist: TRAP, DEZ and DAZE

Artwork description & Analysis: The text in this "piece" (the common term for a work of graffiti art) reads "TRAP DEZ DAZE" (the tags/pseudonyms of the artists), although the style and placement of the letters may make it difficult to discern for viewers not familiar with this style of lettering. The text uses several bright colors, and employs outlining and shading to give the impression of three-dimensionality. This piece, like much New York graffiti of the 1980s, was completed on the side of a subway train. This choice of location would have garnered greater prestige for the artists, as writing on subway cars put them at very high risk of apprehension by the authorities, and thus considered more daring. Writing on subway cars was also a sure way to rapidly increase one's fame, as the artwork would then travel around the city's subway system, being seen by a far greater number of people than would a stationary piece on a wall.

This piece is a typical example of "wildstyle" graffiti, which includes complex, interlocking or overlapping letters, and sometimes cartoon-like characters and other images, all painted in bright colors. Photojournalist Martha Cooper noted in 1982 that "inaccessibility reinforces that sense of having a secret society inaccessible to outsiders [...] a writer will therefore often make a piece deliberately hard to read." As well, graffiti writers frequently attempt to create a sense of depth and three-dimensionality in wildstyle works. These types of pieces garner higher levels of respect for writers as opposed to "throwups" (simpler pieces using maximum two or three colors to create two-dimensional bubble text) or "tags", because wildstyle work involves more artistic prowess and takes longer to complete, thus putting the writer at a higher risk for run-ins with police.

Spray paint - New York City


Artwork Images

Tango (1985)

Artist: Blek le Rat

Artwork description & Analysis: This work, created by spray-painting onto a wall over a pre-cut stencil, depicts a couple in the midst of dancing. As we can see, the use of the stencil allowed the artist to create a striking, sharp image with clean, crisp lines, using only black spray paint over a white surface.

In 1971, Blek le Rat took a trip to the United States, where he was amazed by the graffiti he saw all over the city centers. When he returned to Paris, he began to try his own hand at this form of expression. Seeing Fascist stencils in Italy during his youth, as well as political paintings in French Algeria, left a lasting impression on him, and in 1981 he decided to start making his own stencil works around Paris, beginning with small rats. Like Bristol's Banksy, Blek le Rat sees the rat as an ideal symbol for the graffiti artist, as both operate under cover of darkness to evade capture and eradication. Blek le Rat explains, "I began to spray some small rats in the streets of Paris because rats are the only wild animals living in cities, and only rats will survive when the human race disappears and dies out." He then moved on to larger stencil projects, becoming the first known artist to work with stencils to create pictures rather than just text. He explains the benefits of working with stencils, saying, "There are no accidents with stencils. Images created this way are clean and beautiful. You prepare it in your studio and then you can reproduce it indefinitely. I'm not good enough to paint freehand. Stencil is a technique well suited to the streets because it's fast. You don't have to deal with the worry of the police catching you."

Spray paint - Frasso Telesino, Italy
More Street and Graffiti Art Artwork and Analysis:
If you see an error or typo, please:
tell us
Cite this page

Content compiled and written by Alexandra Duncan
Edited and revised, with Synopsis and Key Ideas added by Kimberly Nichols
" Movement Overview and Analysis". [Internet]. . TheArtStory.org
Content compiled and written by Alexandra Duncan
Edited and revised, with Synopsis and Key Ideas added by Kimberly Nichols
Available from:
First published on 17 Apr 2019. Updated and modified regularly.


[Accessed ]