Artists
Catherine Opie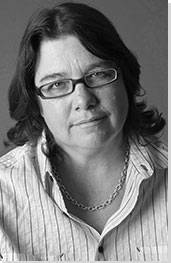 Born: 1961 - Sandusky, Ohio

"I have vivid memories of going to the National Portrait Gallery. I was probably eight or nine. So often, we relate much easier to a visual world."
Summary of Catherine Opie
Catherine Opie is a contemporary photographer who came to prominence in the 1990s for her uncompromising portraits of her peers in the lesbian, queer, BDSM and leather communities in Los Angeles and San Francisco. As an openly lesbian artist who is part of often denigrated queer subcultures, Opie has spent much of her career documenting underground, subversive, and outsider communities - using extremely stylized, formal conventions of portrait photography to frame unconventional subjects, including herself. These photographs range from intentionally disturbing images of herself wearing a gimp mask with multiple needles protruding from her arms, to touching domestic scenes of lesbian couples in their homes.

Moving away from explicitly portraying queer, gay, and BDSM (bondage, discipline, sadism, masochism) subcultures, Opie began to photograph members of other American communities, such as surfers and footballers, continuing to make portraits towards fostering empathy between sitter and viewer. Opie's most recent work is portrait photographs of contemporary artists of all ages, showing their humanity and bodily fragility.
Key Ideas
Catherine Opie's chief contribution to contemporary photography is her use of classical, formal portrait conventions to portray unconventional subjects, such as butch lesbian mothers and BDSM practitioners, each pictured as important, worthy and individualized subjects for formal portraiture.
As a lesbian herself, Opie has documented and shared varied lesbian experiences more than any other contemporary photographer. Her photographs of lesbian mothers, gimps, girlfriends, and drag kings show the humanity and complexity of lesbian women to a broader population.
Important feminist theorist, Judith Butler, wrote that gender is "performative" and that identity is comprised of layers that appear over time according to the actions an individual performs, not just something we are born with. Opie's photographs play with gender - masculinity and femininity are often both present in the same image, and a subject's gender identity is often ambiguous. This is unusual in conventional portraiture, and helps viewers to think about how our own identity is constructed.
Opie's later photographs provide a thorough and original documentation of important contemporary artists working now. These photographs allow us insight into the real identities of these loved and respected artists, and Opie does not shy away from imperfections on the artists' bodies and clothes, allowing us to see them as real humans, as well as important creators.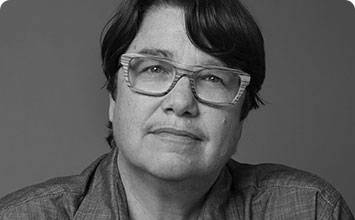 Catherine Opie was born in Sandusky, Ohio. At eight years old she wrote a school book-report on the photography of Lewis Hine and was moved by his appetite for social reform. "Hine was able to change the law through his images of child labour and I got very attached to the idea of what those pictures could do. I haven't stopped using the camera since," she said.
Important Art by Catherine Opie

The below artworks are the most important by Catherine Opie - that both overview the major creative periods, and highlight the greatest achievements by the artist.


Artwork Images

Bo (1991)

Artwork description & Analysis: In Bo, we see a young Catherine Opie staring intensely back at the viewer. She is wearing a fake mustache and carries the both comical and unnerving expression of "a serial killer from the Midwest who's a used aluminum-siding salesman".

The mustard-yellow background echoes Hans Holbein portrait paintings, as well as more recent Pop Art aesthetics. The image presents Opie's signature style; the highly focused, studio print of a human subject against a bright background as she merges past aesthetics with present politics. It is a device to add gravity to the image; to confer authority to the marginalized.

The Being and Having series consists of 13 photographs of Opie herself (as in Bo) and her lesbian friends playing with exaggerated, camp signs of masculinity - mostly fake moustaches and beards. The work is a playful representation of Judith Butler's ideas that gender is something that is performed, and layered, as opposed to a natural thing we are born with. The photograph also documents popular forms of dressing up and male drag amongst Opie's own lesbian community.

The piece subverts traditional visions of female beauty presented in art, by allowing the subject (also the artist) to have agency in looking straight at the viewer, and by covering 'beautiful', 'feminine' features with fake moustaches and beards. "My women embody space, they look back at you, they look off at you. I've always treated women in relationship to holding a sort of power within the frame and a lot of male photographers photograph the woman only as object."

In creating Bo as an alter ego, Opie subverts the traditional male gaze, in which men create 'beautiful' images of women for other men to look at. Instead, Opie looks straight at the viewer out of the picture. She takes on the role of photographer and subject, creating an ambiguous image of masculinity, in place of the expected feminine subject.

Photographic Print - Regen Projects - Los Angeles


Artwork Images

Self Portrait - Pervert (1994)

Artwork description & Analysis: In this unsettling image we see a topless Opie, sitting up straight, facing the camera with her hands crossed. Her chest is bleeding and her arms are pierced 46 times from the shoulder down to the wrist with two-inch needles. She is dressed in leather and a gimp mask hides her face. Scratched into her sternum is the word "pervert", embellished beneath.

Catherine Opie was an active member of leather, kink, and BDSM scenes, denigrated by some members of the gay community. Her connection with the BDSM scene was as political as it was sexual. "We talked philosophy in those dungeons. And for me it was a way of coming to terms with my own body," she said.

The piece is deliberately confrontational, using blood and the word 'pervert' - often ascribed to queer people just for being queer - to challenge the American Christian Right and the Congressmen and women who were campaigning against funding AIDS research at the time of this photograph's first display at the Whitney Biennial in 1995.

In Bo (1991) the artist looks directly out of the picture to the viewer. In Self Portrait - Pervert (1994), her gaze is completely absent, hidden under a black gimp mask. This forces a viewer to read her identity only as it is inscribed on her body, in blood - mirroring the way people judge whole communities without understanding individual people and identities. The work is at once a celebration of sadomasochistic practices within the lesbian community, and a critique of the way this community is vilified by outsiders as faceless, homogenous, and dangerous.

Art critic Linda Yablonsky said in 2008: "Sensational content combined with formal virtuosity has set Opie's work apart since her breakthrough at the 1995 Whitney Biennial. Women's bodies have been the site of political discourse in art across the ages, and Opie's skillful technical ability paired with her thought-provoking subject matter brings this conversation into a new light."

The piece disturbs Opie now, and she says she struggles to look at it.

Photographic print - Guggenheim Museum, New York


Artwork Images

Self Portrait Nursing (2004)

Artwork description & Analysis: In Self Portrait Nursing we see Opie using the autobiographical approach once again to challenge gender and bodily norms, but also to reveal something deep and personal. In this Madonna-and-Child tribute, we see the top of Opie's unclothed body filling the frame as she breastfeeds her naked son. The image of their bodies is sumptuous, fleshy, and tender, and they are set against an ornate red and gold background in tribute to Renaissance art. In the past she has used blood to make a point, but in this image the color red is darker, comforting, and womblike.

The subject of the photograph, Opie herself, is in her 40s, butch, tattooed, topless - challenging preconceptions about what motherhood should look like. Her scars are visible on her skin but the blood is gone. This time she is not looking at the camera - all her attention is on her young son as he gazes back into her eyes. Her breasts, full of milk and being happily clutched by her hungry baby, provide a sharp contrast to the airbrushed sexualized images shown in commercial photography today. At the bottom of the frame are Opie's hands, broad and strong, capably enveloping her young child's body. It is a glorious rebuke to traditional images of maternity and of the societal expectation that women exhibit "modesty" in nursing.

Considered alongside Opie's other self portraits, Self Portrait Nursing demonstrates the range of possibilities, desires, and uses for the artists own body, and for lesbian and women's bodies more generally.

Photographic Print - Guggenheim Museum, New York
More Catherine Opie Artwork and Analysis:
Influences and Connections
Influences on Artist
Artists, Friends, Movements
Influenced by Artist
Artists, Friends, Movements

Interactive chart with Catherine Opie's main influences, and the people and ideas that the artist influenced in turn.
View Influences Chart

| | | | | |
| --- | --- | --- | --- | --- |
| Artists | | Personal Contacts | | Movements |

Influences on Artist

Catherine Opie
Years Worked: 1970 - present
Influenced by Artist

| | | | | |
| --- | --- | --- | --- | --- |
| Artists | | Personal Contacts | | Movements |
If you see an error or typo, please:
tell us
Cite this page

Content compiled and written by Sarah Ingram
Edited and published by The Art Story Contributors
" Artist Overview and Analysis". [Internet]. . TheArtStory.org
Content compiled and written by Sarah Ingram
Edited and published by The Art Story Contributors
Available from:
First published on 19 Jul 2018. Updated and modified regularly.


[Accessed ]