Artists
Nan Goldin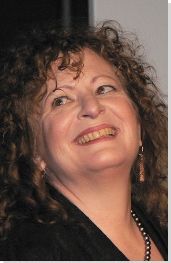 Born: September 12, 1953 - Washington, D.C., United States

"My desire is to preserve the sense of people's lives, to endow them with the strength and beauty I see in them. I want the people in my pictures to stare back."
Summary of Nan Goldin
Nan Goldin is a contemporary American photographer who became famous in the 1980s for her gritty, intimate, often chaotic images of friends, lovers, and herself in the Boston queer and party scenes of the time. Her most famous body of work The Ballad of Sexual Dependency has become an invaluable record of a creative community soon to be torn apart by the AIDS crisis - with many of the artist's photographs now haunting memorials of friends and lovers lost to the disease.

Since the 1980s Nan Goldin has changed the nature of art and documentary photography. By taking her camera everywhere she goes and shooting intimate photographs of otherwise invisible, underground moments in her community, she has turned photography of everyday people, of parties, of sexual moments, and private events into something important and worthy of attention - exhibiting in major galleries around the world.

In later work, Goldin's photographs are placed alongside images of famous works by Old Masters in the Louvre. Here, she expands her interest in desire, violence, and looking to encompass the Western history of art and image-making, and shows viewers that these interests have always been important to us, whilst also unsettling the languages of desire in paintings by male artists, through her own complex visions of sexuality, gender, and intimacy.
Key Ideas
Nan Goldin is part of 'The Boston School', with her friends Mark Morrisroe and David Armstrong. This group, and particularly Goldin herself, is known for completely changing documentary and art photography, particularly portraiture, by opening up the possibilities for un-posed, badly lit, grainy, and hurriedly composed images to be accepted into galleries, books and art schools, privileging intimate, authentic images over technical expertise.
Although Goldin is famous for gritty, "in the moment" photographs, a lot of her portraits, particularly self-portraits are carefully posed. In each of these photographs she does something new and exciting with "the gaze" of her subjects - the various gazes taking place between photographer, subject, and viewer. Laura Mulvey wrote about the "male gaze" in which images of women are produced by men for male pleasure. And, in Ways of Seeing (1972), John Berger describes various ways that people in images look at each other, and at the viewer, as a way to read power dynamics in painting and popular culture, stating that women are presented to be looked at, while men do the looking. Goldin's photographs upheave these traditional representations, by inviting viewers to share her erotic gaze towards a naked man, or staring straight out at the viewer confrontationally. Her photographs are extremely important challenges to traditional power relations as they are played out in images in art and everyday life.
Goldin predominately photographs people living lives considered by many to be improper or illegitimate - drag queens, clubbers, drug-takers, and people from the LGBTQIA community are all sensitively and empathetically portrayed and exhibited in museums and galleries around the world, including the Louvre. Goldin has helped a broader public to understand that universal human experiences of desire, love, violence, and death are shared between all of us, and to foster understanding between mainstream and subcultural societies.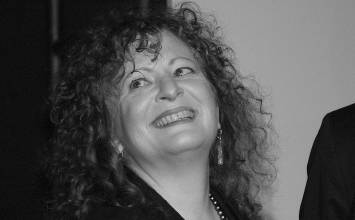 Nan Goldin was Born in Washington, D.C. and raised by middle-class Jewish parents in the suburbs of Lexington. Goldin's father worked in broadcasting and served as chief economist for the Federal Communications Commission. When Goldin was only eleven, her 19-year-old sister, Barbara, committed suicide. In 1965, teenage suicide was a taboo subject and people didn't talk about issues of mental health, especially amongst young people. Even as a child, Goldin realized the role sexual repression, gendered expectations of conduct, and mental illness played in the death of her sister, who had been confused about her sexuality and often got into "trouble with boys", rejecting social expectations of ladylike behaviour. This early realisation influenced Goldin's photographs of friends and lovers who similarly do not fit into society's expectations of who they should be.
Important Art by Nan Goldin

The below artworks are the most important by Nan Goldin - that both overview the major creative periods, and highlight the greatest achievements by the artist.


Artwork Images

Nan and Brian in Bed, New York City (1983)

Artwork description & Analysis: In this photograph, Nan Goldin sits with her lover, Brian, on a bed. Goldin is lying down behind him, her head on a pillow and half obscured by her black sweater. She is looking at Brian while he looks down and off at something outside of the frame. He is smoking and the sun highlights his face and shirtless body.

The ambient lighting, seemingly unaware male protagonist, and bedroom setting suggest an intimate, rarely captured moment between lovers - although the presence of the camera; presumably set up with tripod and timer by the artist, or composed by the artist and then photographed by a friend - complicates this simple façade of closeness. The photograph may not be posed in a traditional sense, but it is certainly planned.

The most exciting and unique part of this photograph has to do with the "gaze", or where and how the photograph's subjects are looking. In Nan and Brian in Bed, New York City, both Nan, the artist and female protagonist, and the viewer are looking at Brian's naked back. Brian, in turn, looks away from us both. This arrangement of looks establishes an uneasy and unusual power dynamic. The predominance of "the male gaze", an idea first put forward by Laura Mulvey in 1975, usually means that images (including classical nudes, horror films, advertisements) are made of naked women, by men, for other men. In this photograph we immediately empathize with the clothed woman in bed, Nan Goldin, both artist and subject, because we share her gaze towards a naked man.

Nan Goldin's expression, as she gazes at her lover, is an uneasy one that makes the image difficult to look at. Instead of admiration, kindness, softness, Goldin's face is one of longing, distrust, and weariness. This photograph portrays the unequal balance of power in heterosexual relationships and how this power balance plays out in art and images, with a nuance, emotion, and sensitivity that is unparalleled in art and photography.


Artwork Images

Nan One Month After Being Battered (1984)

Artwork description & Analysis: Nan One Month After Being Battered is perhaps Goldin's most famous self-portrait, and is a unique and vital contribution to photography, portraiture, and contemporary art in that it draws attention to domestic violence against woman and shows the artist herself as a survivor of this violence - reminding us domestic violence can happen to anyone, and any woman especially. About the photograph, Goldin has said, "I wanted it to be about every man and every relationship and the potential of violence in every relationship."

The artist sits square in the picture frame in front of domestic lace curtains, with the top of her large curly hair cut out of the photograph. Looking straight on, Goldin displays her face, clearly beaten and bruised. Her left eye is barely open, but through a swollen lid we see it, red and glossed over. Goldin wears striking make up, glossy red lipstick, silver earrings, and a pearl necklace. The red lipstick is particularly striking in its color and application, matching the blood red of her injured eye and drawing parallels between stereotypical markers of femininity - such as red lipstick - and the potentiality for violence - as in her black and swollen eye.

The self-portrait is confrontational. Goldin looks straight at the camera, making direct eye contact with the viewer. She wants to be seen, and challenges you to see her as both victim and survivor of domestic violence.

While this portrait, like many of her others, is credited to Goldin, the self-portrait photograph was taken by a friend, though composed by the artist (and subject).

- Tate Modern, London


Artwork Images

Misty and Jimmy-Paulette in a taxi, New York City (1991)

Artwork description & Analysis: In this portrait, two drag queens sit in the back of a taxi. The background of the portrait looks outside the car's windows, capturing other NYC taxis sharing a busy street. The flash of the camera highlights the subjects' glossy outfits and heavy makeup. Misty, on the left, wears a blue wig with bright, disco ball heart-shaped earrings, her tight black clothing reflecting the overly bright flash. Jimmy-Paulette, on the right, wears a sleek gold wig, her curls falling into her heavily made up face. She looks directly at the camera, her mouth slightly open and is wearing a torn white mesh top and gold bra with the straps falling off her shoulders. Both queens look at the camera with a mixture of boredom and disdain - a far cry from the glamorous personas drag queens put on to perform.

Goldin captures an everyday moment of banality in this close up shot of the back of a taxi. Usually associated with high production, glamour, and performance, Goldin's queens are in the middle of a commute - an unglamorous and easily recognizable part of drag queens' work that is rarely documented or considered. Here, Misty and Jimmy-Paulette are workers on their way to perform - they are people we can empathise with and understand, documented as friends rather than glamorous performers. Furthermore, the image complicates the popular idea that drag queens are just men dressed as women to perform. Who are Misty and Jimmy-Paulette? Are they on their way to or from work? Gender identity here is ambiguous, constructed, and ambivalent.

This photograph is one of 800 images used in Goldin's most famous body of work, The Ballad of Sexual Dependency, which comprises of candid photographs of friends, lovers, and the artist while she was actively involved in queer, party, and drug scenes. The series is shown in several ways: as an artist's book, as a 45-minute projected slideshow, or printed and hung in an exhibition space. In recent years, Goldin has adapted the collection further, adding a soundtrack and additional images to the collection. The decision to continually update The Ballad of Sexual Dependency keeps the work fresh and alive, allowing viewers to come back to the emotional journey over and over again to see it anew.
More Nan Goldin Artwork and Analysis:
Influences and Connections
Influences on Artist
Artists, Friends, Movements
Influenced by Artist
Artists, Friends, Movements

Interactive chart with Nan Goldin's main influences, and the people and ideas that the artist influenced in turn.
View Influences Chart

| | | | | |
| --- | --- | --- | --- | --- |
| Artists | | Personal Contacts | | Movements |

Influences on Artist

Nan Goldin
Years Worked: 1968 - present
Influenced by Artist

Artists

Personal Contacts

| | |
| --- | --- |
| | Cookie Mueller |
| | David Armstrong |

Movements

| | |
| --- | --- |
| | Boston school of photography |
If you see an error or typo, please:
tell us
Cite this page

Content compiled and written by Alden Burke
Edited and published by The Art Story Contributors
" Artist Overview and Analysis". [Internet]. . TheArtStory.org
Content compiled and written by Alden Burke
Edited and published by The Art Story Contributors
Available from:
First published on 02 Aug 2018. Updated and modified regularly.


[Accessed ]