Artists
Garry Winogrand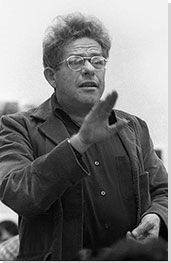 Born: 1928
Died: 1984

"When I photograph I see life. That's what I deal with."

Summary of Garry Winogrand
Garry Winogrand's bizarre and visually compelling photographs of American life during the 1960s catapulted his status as one of the most influential photographers of the 20th century. Throwing away the established traditions of Street Photography set forth by his predecessors, his photographs often appear haphazard, tilted, and poorly composed - what came to be called the 'snapshot aesthetic'. However, this unique aesthetic helped emphasize his subject matter, which challenged preconceptions of American society and the post-WWII optimism captured by commercial photography. His skewed and off-center images paradoxically united discordant elements into one composition, allowing the viewer to engage with his subjects in new and unusual ways. In so doing, Winogrand influenced an entire generation of photographers and artists to push the boundaries of what photography as a medium could be and what it could expose. Winogrand's prolific body of work is best known through the photo books he published.
Key Ideas
Rather than allowing the scenes he photographed to happen as he maintained a passive stance, as traditional street photographers had done, he intruded into his subject's physical space. This allowed him to startle and provoke his subjects as he shot them and thus to capture their startled and strange glances. For Winogrand, the photographs that most interested him were ones that both shocked himself as well as his audience. This resulted in images with a novel point of view that challenged viewers to question what photography's role was in American society, and what photography could reveal.
Known for walking down the streets of New York City snapping the shutter with the camera held ajar and far away from his eye, Winogrand intentionally broke the rules of composition - his images are frequently blurry cut off his subject's bodies. Deviating from the glossy, balanced compositions of his predecessors, Winogrand captured the unusual moments that radiated the tension and unease of life as it really was - messy, frenzied, and ill composed.
Winogrand's images exposed a raw truth of American society. Shunning the wholesome and optimistic images published in magazines and newspapers by his contemporaries, his cynical and startling images captured what he himself considered to be the truth of everyday life. The subtly of his social and political commentary in his images of the turbulent 1960s requires a close inspection of what precisely is the underlying truth depicted in his photographs. It is this aspect of Winogrand's outsider aesthetic that inspired the next generation of artists and photographers.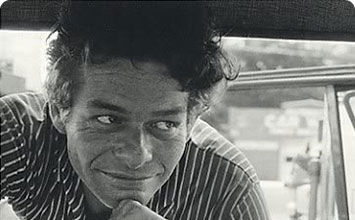 Garry Winogrand was born in 1928, and along with his sister, Stella, grew up in a Jewish, working-class neighborhood of the Bronx in New York City. His parents immigrated to the United States from Hungary and Poland in the hopes of having a better life in the United States, but then the Great Depression hit the country a year after Winogrand was born. His parents tried to make ends meet working in the garment industry- his father was a leather maker, while his mother made neckties. Not one to particularly concern himself with academics, Winogrand graduated from high school in 1946 and, in the immediate aftermath of World War II, entered into the United States Army, where he served for one year. After which he studied under the G.I. Bill at City College in New York City, but transferred to Columbia University to study painting the following year. It was at Columbia that a fellow student and photographer for the school paper showed Winogrand the school's dark room. Shortly after this introduction, he switched his major from painting to photography and never looked back.
Important Art by Garry Winogrand

The below artworks are the most important by Garry Winogrand - that both overview the major creative periods, and highlight the greatest achievements by the artist.


Artwork Images

El Morocco, New York (1955)

Artwork description & Analysis: This photo depicts a close up snap shot of a couple dancing at the popular New York club called El Morocco in 1955. It stands out for the strangeness of the moment Winogrand chose to capture. Rather than selecting a more flattering shot of the dancing couple, this image instead reads as slightly terrifying. The close cropping of the image lends it a claustrophobic feel, and the perfectly pointed manicure of the woman reads as claws clutching the man's shoulder. The man's back is to the camera, making it unclear whether he shares his dance partner's exuberance. With the woman's face as the only visual cue, Winogrand creates an image charged with energy and desperation. The woman's wide open mouth, presumably captured mid-laugh, gives the image its unhinged and frenzied tone.

When this image was taken during the 1950s, there was a sense of optimism in America. The war was over, the Allies had won, and after decades of living through an economic depression, America was prospering once more. Magazines and periodicals were only interested in depicting this feel good, new American way of life. This photograph is a careful balance of representing the post-war enthusiasm that earned photographers spreads in Life Magazine (and thus assured photographers a way of living) and a subtle expression of the cynicism and social critique that came to define Winogrand's artistic style. The woman's manically happy face paired with her claw-like manicure captures the willfully ignorant tone of American media at this time, which was intent on glossing over the darker ills of society in favor of an overly exuberant optimism.

This image was taken when Winogrand was starting to think more artistically about his work. As the head of photographs at the National Gallery of Art in Washington D.C., Sarah Greenough, explains "Winogrand worked at a moment when the boundaries between journalistic and artistic photography were less certain than they had ever been, yet it was also a time when the most advanced photographers were consciously abandoning journalistic values." The blurriness of the image and its chopped, tilted frame show the emergence of Winogrand's signature style that was reflective of his personal philosophy that it was more important for photography to capture a fleeting moment than to ascribe a particular meaning.

Gelatin silver print - The Metropolitan Museum of Art


Artwork Images

Marilyn Monroe, New York City (1955)

Artwork description & Analysis: Many know this iconic image of Marilyn Monroe, shot on the set of the movie The Seven Year Itch. Monroe's strategic positioning over the subway grate at Lexington Avenue and 52nd Street meant that as a train passed by underneath, the resulting air rushed above and sent her dress flying up. Monroe's thrown back head and gregarious laughter assured that this image captured her ebullient sexuality. The original photograph was taken as a publicity stunt for the movie, where over 20 photographers, including Winogrand, were invited to photograph Monroe, as the public also watched on adoringly. Take after take, Marilyn played to the lascivious crowd as much as to the cameras.

Winogrand's original photograph won the attention of the producers, despite the fact that Monroe's underwear was in full view of the camera lens. The scene was then reshot on a soundstage in Los Angeles because showing Monroe's underwear was deemed too risqué for the film. Despite its provocative content, this image was still used for promotional ads, helping make the film the biggest hit of 1955. Monroe's exposed legs that invited a desiring gaze of her body in this image solidified Monroe's sex symbol status, but it also signaled the end of her brief marriage to Joe DiMaggio. Present during the filming of the scene, DiMaggio couldn't tolerate Monroe's exhibitionism and the crowd's loud and approving response. He filed for divorce shortly after filming ended.

In terms of Winogrand's own work, this image shows that even early on in his career he was already a master at capturing the perfect candid moment, or what Henri Cartier-Bresson referred to as the 'decisive moment.' As Cartier-Bresson himself explains, "[photographers] work in unison with movement as though it were a presentiment on the way in which life itself unfolds. But inside movement there is one moment at which the elements in motion are in balance. Photography must seize upon this moment and hold immobile the equilibrium of it." As Winogrand's career progressed, he moved away from the foundational legacy of Cartier-Bresson, instead embracing slap-dash compositions and subject matter that came to embody a darker and more critical stance towards society.

Gelatin silver print - Museum of Modern Art


Artwork Images

Hand Feeding Elephant Trunk, Zoo (1963)

Artwork description & Analysis: Hand Feeding Elephant Trunk, Zoo is from Winogrand's first book, The Animals. Taken at the Central Park Zoo, the image depicts the long trunk of an elephant reaching over its enclosure to catch peanuts falling from the open hand of a man. Leaving out both the body of the man as well as that of the elephant, this image is reflective of Winogrand's unusual shooting style that would come to define his career. This image can also be read as a brilliant twist on Michelangelo's painting The Creation of Man from the Sistine Chapel, in which God's outstretched hand reaches for Adam's in a symbolic gesture to give him life.

However, in Winogrand's image, there is a darker side to the man's outstretched hand. As art historian, Janet Malcolm explains, "[Winogrand] shows the Central Park Zoo for the dirty prison it was, focusing on the bars, the concrete floors, the dispirited ugly animals, the dumb (for thinking they are enjoying themselves), ugly people, and the grubbiness and meanness..." In this particular image a wall divides the man and elephant, physically separating them and emphasizing the divide between freedom and the lack thereof. And while the gesture of feeding the elephant may seem like an act of kindness, the wall is a reminder that humans imprisoned this once wild animal - its survival now dependent upon us.

Gelatin silver print - Metropolitan Museum of Art
More Garry Winogrand Artwork and Analysis:
Influences and Connections
Influences on Artist
Artists, Friends, Movements
Influenced by Artist
Artists, Friends, Movements

Interactive chart with Garry Winogrand's main influences, and the people and ideas that the artist influenced in turn.
View Influences Chart

| | | | | |
| --- | --- | --- | --- | --- |
| Artists | | Personal Contacts | | Movements |

Influences on Artist

Garry Winogrand
Years Worked: 1952 - 1984
Influenced by Artist

If you see an error or typo, please:
tell us
Cite this page

Content compiled and written by Katelyn Davis
Edited and published by The Art Story Contributors
" Artist Overview and Analysis". [Internet]. . TheArtStory.org
Content compiled and written by Katelyn Davis
Edited and published by The Art Story Contributors
Available from:
First published on 04 Jun 2017. Updated and modified regularly.


[Accessed ]