Artists
Henri Cartier-Bresson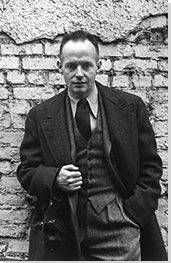 Born: August 22, 1908 - Chantelop-en-Brie, France
Died: August 3, 2004 - Montjustin, France

"There is nothing in this world that does not have a decisive moment"

Summary of Henri Cartier-Bresson
Cartier-Bresson's work spanned photographic genres for the entirety of his long career. He is regarded as a pioneer of candid and street photography but he is also well-known for having produced some of the most compelling photographic portraits of notables ranging from Jean-Paul Sartre and Leonard Bernstein to Marilyn Monroe and Malcolm X. An early user of 35mm film, Cartier-Bresson preferred never to use the darkroom to adjust his photographs, a choice that enhanced the spontaneity of his images and emphasized what he called "the decisive moment." No single photographer is more closely linked to the development of modern photojournalism than is Cartier-Bresson, whose itinerant nature brought him to some of the most momentous events and sites in modern history - from the liberation of Paris from Nazi occupation to the assassination of Mahatma Ghandi.
Key Ideas
To enhance his capacity to take the kind of candid shots he preferred, Cartier-Bresson often wrapped his Leica camera in black tape to make it less obtrusive. Assuming the role of the modern flâneur, his camera became an extension of his eye as he wandered, seeking visually, psychologically, and intellectually stimulating visual material. Ironically, while Cartier-Bresson could linger for hours observing, patiently awaiting the perfect shot, he was always poised to make the snap decisions required to seize a given moment to fix in time.
Cartier-Bresson co-founded The Magnum Photo agency - a cooperative owned by its members -that connected the photographers with clients around the world. The agency's mission was to widely disseminate photographs that were in one way or another exemplary of the modern era and also inherently humanitarian.
In addition to still photography, Cartier-Bresson was an accomplished filmmaker, who first became interested in the medium when he worked with Jean Renoir. His filmography includes nearly ten films and he is regarded as an influential figure in the development of cinéma verité.
Cartier-Bresson's earlier inclination toward painting endured even after he stopped painting to pursue a long and fruitful career in photography. While he didn't return to producing canvases actively until late in life, the formal training informed his photography, disciplined his eye, and compelled him not only to continue to cultivate relationships with the notable, avant-garde painters of his era but also to regard his own photographic style as a kind of nexus between painting and photography.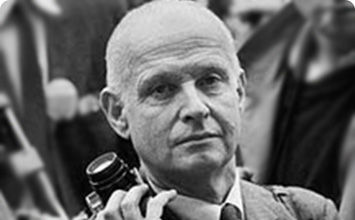 Born in Chanteloup-en-Brie, France in 1908 to a wealthy textile merchant, Henri Cartier-Bresson was the eldest of five children. His mother, Marthe, exposed him to the arts including taking him on trips to the Louvre in Paris, attending chamber music concerts, and regularly reading him poetry. His father, Andre, was a severe man, consumed with the role of paternal duty and dedicated to his successful textile business. In response to his father's defection to the world of business, Henri vowed at an early age never to follow in his father's footsteps.
| | | |
| --- | --- | --- |
| Henri Cartier-Bresson's childhood, life, career, and various anecdotes | | Read Henri Cartier-Bresson's Biography |
Important Art by Henri Cartier-Bresson

The below artworks are the most important by Henri Cartier-Bresson - that both overview the major creative periods, and highlight the greatest achievements by the artist.


Artwork Images

Place de l'Europe Gare Saint Lazare (1932)

Artwork description & Analysis: Place de l'Europe is one of Cartier-Bresson's most successful images. The snapshot of a man gleefully hopping over a flooded area in Paris captures the moment just before the man's heel hits the water. The instant is filled with a sort of dynamic anticipation. A hazily-captured building in the distance contrasts with the richly ornamented, spiked fence and the two diverse elements combine in an alchemy of lines, curves, and reflections that creates the urban background for the jumper. Diagonal to the figure is a poster featuring a finely-drawn image of a female dancer leaping gracefully into the air. The poster for a circus called "Railowsky" is a visual play on the jumper's stiff stride that extends in a blur across the picture frame.

The spontaneity of the photo, which was captured in the bustling urban space, the Place de l'Europe outside of the busy Paris train station of Saint Lazare, epitomized the new, fast-paced environment in Europe with its trains, cars, and factories. Modern motion is celebrated by the fact that it is forever stopped, the leaping man will never hit the puddle, the split-second image is permanently frozen in time. The improvements in camera technology allowed for such images to be made and this progress is celebrated in Cartier-Bresson's photographs.

The iconic railway served as the setting for many famous 20th-century painters such as Manet, Caillebotte, and Monet, all of whom had been influential in Cartier-Bresson's own artistic development. This photo would also come to embody what he later described as the "decisive moment" - that instant a photographer decides to press the shutter and the event it memorializes.

Place de l'Europe is one of only a few photographs that Cartier-Bresson ever chose to crop. Ordinarily, he avoided adjusting his work after originally framing a shot and instead embraced unmediated chance encounters, an aesthetic preference and practice that made him one of the founders of street photography. A fragment of the fence that he is behind can be seen in the original shot and partially obscures the view.

Gelatin silver print - Museum of Modern Art, New York, New York


Artwork Images

Hyéres, France (1932)

Artwork description & Analysis: Hyéres, France is an example of Cartier-Bresson's commitment to a sense of geometry and order. The stair rail leads the viewer's eye spiraling down to the street where the cyclist is frozen in the exact void between the building and the stair railing. The combination of architectural elements and the blurry image of the biker emphasize movement through their spirals, curves, and slight distortion. Cartier-Bresson's taste for construction through a tight, clear system of carefully ordered forms stemmed from his art teacher, Lhote, who was a Cubist painter. Paired with the aid of his Leica, Cartier-Bresson discovered the possibility of creating geometrical constructions in photography, structures that were enclosed within a perfect proportion (2:3) of the frame.

Cartier-Bresson took Hyéres while on vacation in the Cote d'Azure region. In what became his trademark style of casually walking around town looking for subject matter or perching in opportune vantage points, he chose a spot at the top of a staircase from which he could peer down on a small turn in the road. With this image, he succeeded in capturing what the Surrealist Andre Breton described as the consummate photograph: when '"shadow and prey mingled in a unique flash."

Gelatin Silver Print - Museum of Modern Art, New York, New York


Artwork Images

Seville, Spain (1933)

Artwork description & Analysis: This photograph captures a group of children playing in the rubble in Seville, Spain. Framed by the empty, bombed-out section of a wall, the children interact joyfully and uninhibitedly among the ruins and desolation, in a space that is profoundly unchildlike. They are completely unaware that they are being observed. The ragged edges of the white, stuccoed wall could just as easily be the very surface of the photograph tearing open and inviting the viewer to look on undiscovered. The ambiguity of the picture space is a testament to Cartier-Bresson's engagement with Surrealism, of which visual puzzles were a major feature.

Cartier-Bresson was aware that, if the subjects in the snapshot knew they were being photographed, spontaneity would be compromised. In order to avoid being detected, he painted the shiny parts of his Leica black so as not to draw attention to himself. The voyeuristic nature of the photographer's vantage point - peering at the children from beyond the bombed-out wall - adds a more complex, psychological dimension to the image: the children become, in a sense, actors on a stage. The play itself seems completely incongruous with the set.

Gelatin Silver Print - The J. Paul Getty Museum, Los Angeles, California
More Henri Cartier-Bresson Artwork and Analysis:
Influences and Connections
Influences on Artist
Artists, Friends, Movements
Influenced by Artist
Artists, Friends, Movements

Interactive chart with Henri Cartier-Bresson's main influences, and the people and ideas that the artist influenced in turn.
View Influences Chart


Influences on Artist

Henri Cartier-Bresson
Years Worked: 1908-2004
Influenced by Artist

| | | | | |
| --- | --- | --- | --- | --- |
| Artists | | Personal Contacts | | Movements |
If you see an error or typo, please:
tell us
Cite this page

Content compiled and written by Jackie Meade
Edited and revised, with Synopsis and Key Ideas added by Brynn Hatton
" Artist Overview and Analysis". [Internet]. . TheArtStory.org
Content compiled and written by Jackie Meade
Edited and revised, with Synopsis and Key Ideas added by Brynn Hatton
Available from:
First published on 19 Nov 2016. Updated and modified regularly.


[Accessed ]